Every once in a while I come up with something so smart, so cute, so useful, so great I can't even believe how amazing I am.
Then the fella walks by and says, I don't like it.
And just like that I'm locking myself in the nearest closet to pout and second guess myself.
Although I don't tell him that because ... to do so would be admitting defeat. And ... it would be stupid. But I did second guess myself. And the truth is, to make anyone second guess themselves, there has to a teeny, tiny bit of self doubt niggling away at the back of their brain (behind the part that stores the first number from your locker combination in highschool) already.
The fella, who thinks he knows me better than I do, said it wasn't "me". It was too kitchy. Too ... stupid.
You aren't posting about that are you?
Well. Yes, that was the plan.
You shouldn't.
Oh.
So here I am posting about something the fella doesn't like, but I do, although I agree with him that it could be better.
The thing is ... it's as handy as a pocket on a shirt.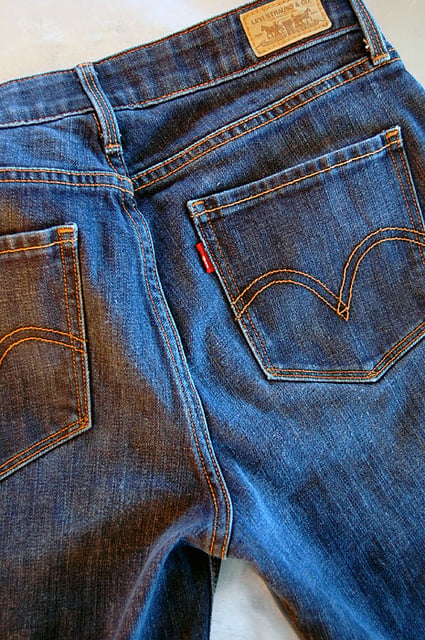 It is kitchy. A little bit like something you'd find in a 1970's crafting book with two hippies wearing brown and gold crocheted vests on the cover.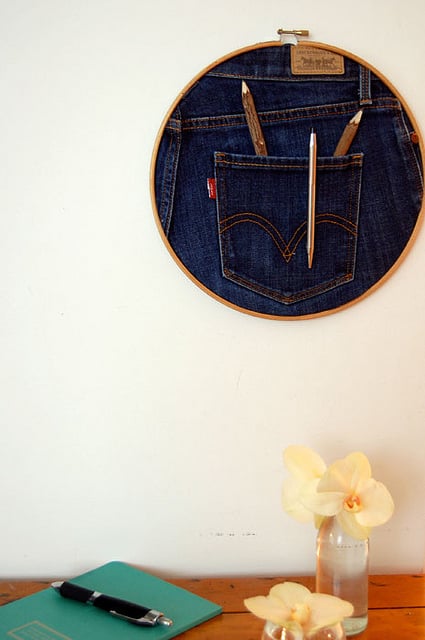 But since putting it up and can't stand the thought of taking it down. It eliminated the pencil / pen holder I had on my desk all last year. Which I loved, but always looked a tiny bit messy and took up desk space.
PLUS, after I took these pictures I realized the small notebook I use every day to jot things down fit inside the pocket perfectly.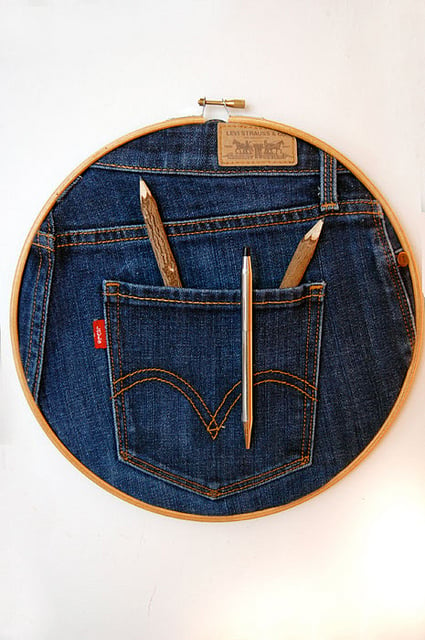 So while I'll agree I could, and probably will, improve on this (I'd prefer white Levi's for instance with a painted white embroidery hoop) I still love it and the fella can suck it. The last crafting adventure he embarked on was Crazy Gluing my finger together. What does he know.
So the pocket stays. Because ... it's as handy as a pocket on a wall.