I was at a baby shower for my cousin Kelly a couple of Sundays ago. It was your typical baby shower. There were cupcakes and babies and coffee. And there was a bow. This wasn't just any bow. It was a magnificent bow. The kind of bow that overshadows the impending birth of a sweet smelling human baby.
The kind of bow that incites normally kind hearted women to kidney punch each other in order to get a closer look at it. My own mother came crawling across the living room floor to stage whisper in my ear that I should take a look at "The Bow". I could put it on my "plog"! She poked me and then poked her finger towards "The Bow". She demanded I stand up and get a closer look so I could try to figure out how to do it.
It was at exactly that point that my niece, who was sitting beside me, let out an exasperated sigh and informed my mother that I had made "The Bow". Indeed. I made the bow. "The Bow" was my bow.
It's actually a tissue paper pom pom. You may remember making these in kindergarden out of Kleenex. Yes. A kindergarden craft was the hit of the shower. If I'd known I'd have such an easily excitable crowd I would have stuck a Cupfake on top of the present too. See if I could get someone's nose to bleed.
Tissue Paper Pom Poms
You'll need:
Tissue Paper
&
Pipe Cleaners

Technique
Cut your tissue paper into squares.
The bigger the square, the bigger the Pom Pom.
The more pieces of tissue, the fuller the Pom Pom.
I cut 12 pieces of tissue paper into 10″ squares.
I used 3 different colours.
You can use one colour, 2 colours, 3 colours, 12 colours.
If you make a 12 colour bow be prepared for people to spontaneously combust.
Accordion pleat the tissue paper.
No need to get out the ruler, just eyeball it.
You'll be fine.
Pinch your paper together and get your pipe cleaner.
Hopefully it's within reach. Otherwise … well … you'll be using language as colourful as your bow.
Twist the piper cleaner tightly around the centre of the paper.
Don't worry if the colour doesn't match. You won't see it.
Fan your pleats out.
Carefully pull each piece of tissue paper to separate it.
If your bow has 12 pieces of tissue, you want to fluff out 6 pieces of tissue paper on the left side …
… and then 6 pieces of tissue on the right side.
Flip your bow over and do the same thing on this side.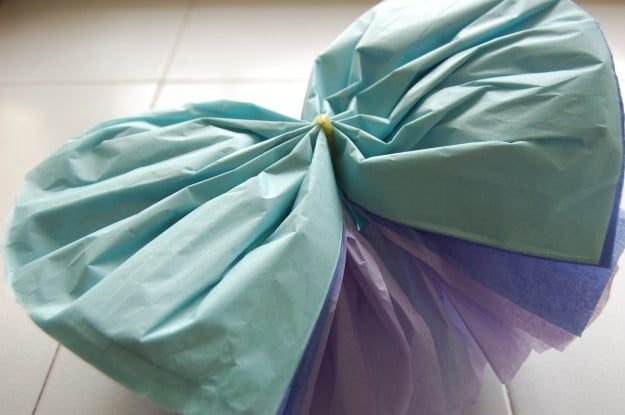 Once all your pieces of tissue are pulled out, fiddle around with the Pom Pom.
It won't look perfect to begin with. You have to fluff it into a round ball.
If you're going to use the Pom Pom as a bow, you can flatten the bottom out a bit so it lays nicely on the gift.
When flattened this way it looks like a flower. Sort of. If you squinch your eyes a bit.
If you click on a picture below you'll see a pretty pop up gallery of more pom pom pictures! I'm dabbling with a new picture viewer for this site. And alliteration.
[nggallery id=1]
So now that you all know how to make the Pom Pom, you'll be prepared when I incorporate them into an Easter craft next week. So get practicing!
And just for fun … crash a baby shower this weekend with one of these things. You won't regret it. Plus you'll probably be able to score some cupcakes and a coffee. If you make a really good bow, I recommend seeing if you can get some sort of Pay-Per-View deal prior to the shower. Just in case.