When I was around 14 I decided I was going to become a vegetarian.
If you have kids I'm sure you're familiar with the "vegetarian" epiphany. Every 14 year old is pretty sure they've come up with the idea that eating meat is archaic and all living things deserve to be revered not roasted.
I spewed my thoughts in the idealistic, pompous and patronizing way that only a 14 year old girl in brand new Topsiders can muster up.
So off I went to the local health food store. I came back home with the ingredients for vegetarian chili. From what I remember it was some sort of spongey meat substitute that came in a cardboard box. It had the uncanny ability to both resemble and taste like silly putty, without actually being silly putty.
I cooked it. I ate it. I quietly hated it. I did not become a vegetarian.
Things have improved greatly on the vegetarian cooking front since then. And even though I'm not even close to being a vegetarian I try to make sure we eat at least one meal a week that doesn't include any meat.
Sometimes that involves the dreaded tofu. I happen to like tofu because it takes on the taste of whatever you marinate it in. It took me a couple of years to figure out a marinade I really liked for it.
And this is it.
Ingredients:
Red Wine Vinegar
Unseasoned Rice Vinegar
Toasted Sesame Oil
Tamari Soy Sauce
Allow your tofu to drain a little bit and then pat dry.
I like to cut off the outside "skin" of the tofu to make it easier for the tofu to absorb the marinade.

Cut your tofu into bite sized pieces. I always use extra-firm tofu.
Set tofu in marinade for 1-2 hours, making sure tofu is covered with Saran Wrap to keep it from drying out.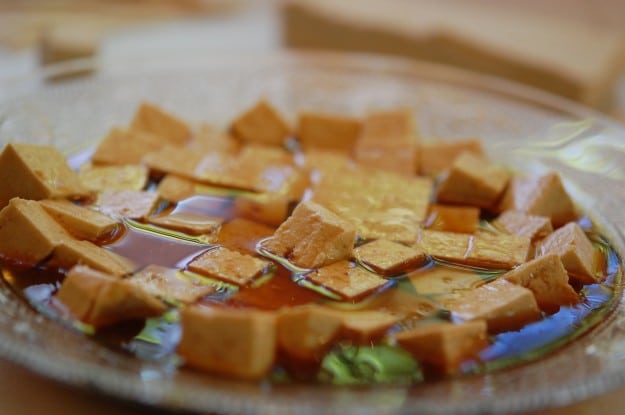 Print Recipe
Tofu Marinade
Because tofu isn't just for dirty hippies anymore.
Ingredients
3

tbsp

Tamari Soy Sauce

3

tbsp

Sesame Oil

(toasted sesame oil)

2

tbsp

Red Wine Vinegar

2

tbsp

Rice Vinegar

Unseasoned
Instructions
Mix all the ingredients together well.

Chop tofu into bite sized pieces and marinate for at least 1 hour.
If the marinade doesn't completely cover up the tofu I stir it every so often over the time it is marinating.
I usually add this tofu to some brown rice and top it with bean sprouts and peanut sauce. More on that particular recipe at a later date.
If you don't like the texture of tofu, don't try this recipe. If you don't like the basic taste of tofu, don't try this recipe. If you don't like the look of tofu, don't try this recipe. You either like tofu or you don't.
I'm not going to look down on you, chastise you or preach to you if you don't want to eat tofu.
Because I'm not 14 anymore.