I first heard about the Tough Mudder about a year ago. At the time it was an event but not the worldwide extravaganza it's turned into. At less than 3 years old the Tough Mudder obstacle course is the fastest growing fitness event in the world. I had no idea there were sooooo many stupid really fit people.
The Tough Mudder is a 16 – 19km (10 – 12 mile) obstacle course designed by the British Special Forces. Obstacles include propelling yourself up a half pipe, crawling through mud under barbed wire, running through a field of live electrical wires, and running straight up a mountain. Repeatedly.
It's a public relations dream this thing. And I'm pretty sure the creator intended that.
The Tough Mudder event wasn't invented by a group of athletes, or a former gym trainer.
The Tough Mudder was created by a graduate of the Harvard Business School. Will Dean.
All of his professors told him his idea would fail. It sucked. He was a loser.
In this, its second full year of operation, Tough Mudder will make $70 million dollars.
Part of its success is the marketing of the course. Associating it with the military, having you sign a death waiver prior to doing the course, giving participants a beer instead of a banana at the finish line.
And good for them. In 2010, Will Dean took a $300 website and a $20 Facebook advertisement and turned it into a money making machine and a badge of honour for anyone who has entered it. One $90 ticket at a time.
The race takes anywhere from 2 (if you're young, lithe and insane) to 5 or 6 hours (if you're old, lumpy or injured). The thing about the Tough Mudder though is they won't call it a race. They do not time you and say the goal is to finish and help others finish it. It's not a race. It's a challenge.
That the fella completed in 2:55 minutes.
The start line.
The obstacles began before they even began. Just to get INTO the starting section participants have to scale a flat wood wall. It's hard to see the height here, but it's around 8′ high.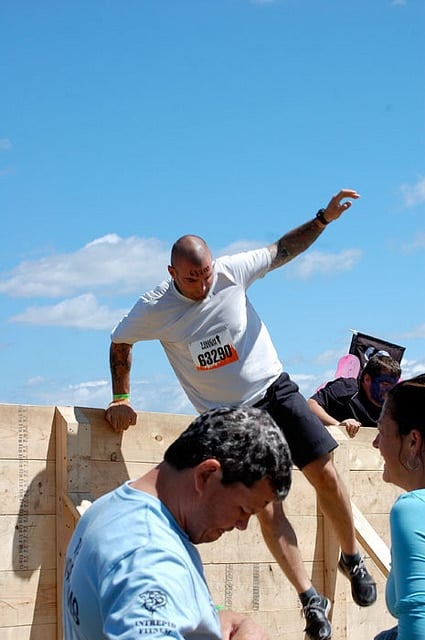 Every 15 minutes a new group of people burst through the start line. The Tough Mudder took part over 2 days with people starting the race every 15 minutes. Thousands took part. Which kind of leads me to believe, if that many people could do it .. is it really that tough? I mean I'm sure it's tougher than sitting on the couch watching TLC, but …
The second obstacle on the course was the Arctic Enema. A tub of ice water the Mudder had to jump into after running up and then down a mountain. To ensure it was sufficiently cold to send your gonads into your ear canals, fresh ice and snow was dumped in regularly.
In, swim across, out the other side. According to what people who did it told me it was the 2nd worst obstacle on the course in terms of sheer pain.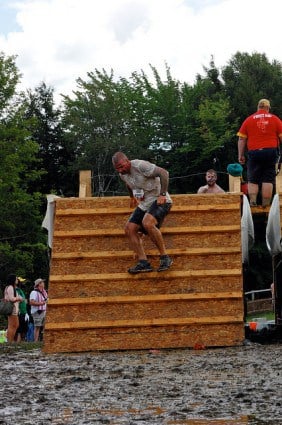 And … back up the mountain.
And that, my friends, was the last I saw of the fella for the next 2 hours.
You see, as well thought out a business venture as the Tough Mudder is, there are still a few kinks.
The spectator paths were non existent. There were random "Spectator Path" signs placed here and there but they were spaced about 3 km apart.
Which isn't as helpful as you'd think.
Neither was the map they provided us with.
It was almost impossible to make sense of and no I'm not saying that because I'm a "girl" and girls can't read maps.
I can read a map with the best of them, and this one was useless. Everyone walking around said so. My mother and I even picked up a stray girl who lost her friends as we wandered around. She was around 30. But still. She was a stray.
It's hard to get the right perspective from this photo but my 77 year old mother and I walked up this mountain looking for the fella.
My mother is 77. It's a mountain. She walked up it. In Fit Flops.
This gives you some idea of the strength, stamina, drive and determination it takes to get through this course.
People literally dragged themselves through it.
After wandering kind of aimlessly by way of the useless map, I finally made the decision to just head towards the end of the course. By this point I had no idea what obstacle the fella could possibly be at or what kind of time he was making. I could end up sitting at an obstacle he'd already done and never see him again. Until we found each other and had our car ride home.
So after 2 hours of being lost I figured out how to get to Obstacle 14, where we waited, hoping the fella hadn't already been by. Out of a clump of trees he came. Running way faster and looking much happier than he did when he ran The Around the Bay Road Race.
Obstacle #14.
The Funky Monkey.
A monkey bar obstacle that runs up to the peak of a roof and then down. Over water.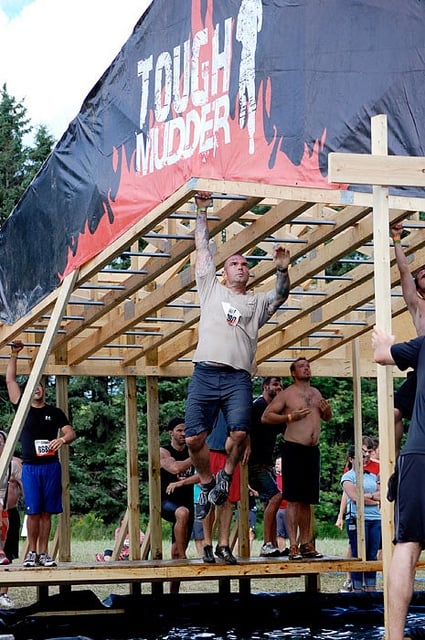 You could see obstacle #15 in the distance so I sprinted to it to make sure I got to see it.
You see … Obstacle #15 is kind of special.
Obstacle #15
The Electric Eel.
Competitors have to crawl in water through rows and rows of live wires.
Warning.
Viewer Discretion is advised for this next picture.
Graphic Content.
My foot got dirty. I'm sorry, I probably shouldn't have shown you that. Look away.
Obstacle #18
Everest.
A slippery, plastic half pipe at nearly the very end of the race that exhausted Mudders had to run UP. Up the slippery, 30′ or so of almost vertical plastic pipe.
One of the girls on the fella's team ran head first into the wall.
She got 11 stitches.
She finished the race.
Pondering the stupidity to come.
The fella climbed Everest.
After Everest the Mudders only have 1 more obstacle to go, so they round the corner after Everest kind of giddy.
They're grinning and smiling and high fiving people. Then … without fail … once they rounded the corner, they all came to a halt.
For the path to the last obstacle and the finish line led them straight back up the mountain again.
My mother and I sat there for a while watching people's reaction. They swore, they cried, the crawled.
But they did it.
Obstacle #19
The final obstacle
Electroshock Therapy
A field of lives wires, some carrying as much as 10,000 volts the Mudders have to sprint through.
I saw more than one person get knocked right off their feet and onto the ground from it.
19 obstacles, 18 kilometers, 2 rounds of electric shock and 1 very large mountain later … it was done.
And all for the joy of receiving a beer and this.
The coveted orange Tough Mudder headband.
And the right to call yourself a Tough Mudder.
The Tough Mudder enterprise has aligned itself with The Wounded Warrior Project and donates a portion of the proceeds to them. The charity supports wounded veterans and their families.
To date Tough Mudder has raised $3, 500,000 for The Wounded Warrior Project.
The moral of this story? Harvard Business professors are stupid.
Curious about what kind of shape I was in after watching the Tough Mudder? Click here.