Name: Linda Crago
Occupation: Farmer
Land Size: 9 acres (grows on 2.5 – 4 acres depending on the year)
Crops Grown: I couldn't even BEGIN to name them all. Seriously. I've never heard of most of them.
Photo courtesy of Niagara Watch
Living where I live, doing what I do, you can't throw a head of lettuce without hitting a vegetable gardener that hasn't heard of Linda Crago and her heirloom farm Tree & Twig.
Linda wasn't always a farmer, in fact for 13 years she was a social worker. Fulfilling work. Down and dirty work. But she wanted to get her hands dirty in a different way. After buying her house and putting in a regular sized garden the first year she thought she was satisfied. Until the next year when she made her garden bigger. The next year … it was even bigger.
That continued on until she got to the point she's at right now. A full fledged farmer who gave up her career and the security it would provide for a rainy day. She traded it in to walk around barefoot through rows of experimental vegetables and tried and true heirloom varieties. Now she relies on the occasional rainy day.
In the past 15 years, Linda's small vegetable patch has grown into (among other things) a full fledged CSA (Community Supported Agriculture). A CSA is where you buy a "share" in a farm. Basically you give the farmer money and the farmer delivers their farm grown produce to you every week for a season. In some cases you pick it up. You can usually get half or full shares and they generally range from $200 – $400 for a season.
So that means being part of a CSA every week you get a basket full of vegetables to feed your family. Everything from leaf lettuces to garlic, beets, potatoes, strange vegetables you've never seen, beans, peas, carrots … you get the idea.
You have no idea what you'll be getting for the week. If it's a bad year for potatoes … not a lot of potatoes. If it's a great year for beets … lotssa beets. There are usually at least 8 or so different types of vegetables in your basket.
Along with selling her wares to local families, markets, restaurants and people like you and me, Linda also sells seeds and seedlings. Every year she takes one day in the late spring to sell a TON of plants on her farm. All seedlings she starts herself from the seeds she's harvested and saved herself. She also sells her seeds and the occasional seedling online.
Tree & Twig farm is where I ordered all of my tomato seeds from this year as a matter of fact. (except one … more on that disaster in another post) At the time I was ordering my seeds, Linda invited me to come have a look at her farm. I think she invited me because I asked her if I could come to see it. I kind of begged her. So she said yes.
Last Wednesday I spent what was supposed to be an hour and a half at her farm. It was probably closer to the entire day.
I was really full by the time I left. Linda doesn't know that. Look. You can't leave me alone in 9 acres of food and not expect me to eat it. You just can't.
These are just a FEW of the things you could find on your doorstep if you were to buy a share in a CSA near you.
Cherry sized tomatoes
Tendence Bleu
Hot peppers
Filius Blue
Pole beans
Flowers
Heirloom tomatoes everywhere. As far as the eye could see there were tomatoes.
And not one of them caged, staked or strapped to anything.
Linda's farm is a real farm. She has a passion for farming and vegetables that I wish more grocery store produce managers had.
There's random garden related stuff. EVERYWHERE.
To extend her growing season year round she has "hoop houses". One of 3 hoop houses on the property.
In the spring her seedlings go in them, in the summer she fills them with plants she wants to save the seeds from and fall and winter they're home to dozens of greens, so she has fresh lettuce all year round.
Joey. Joey's a real pig.
You will not find Joey in your CSA basket.
Joey is a pet. Joey's not for eatin'.
Linda and her daughters are all vegetarians.
Unripe black tomato which I accidentally knocked off a vine. Which I accidentally walked around with for the rest of the day.
Which I accidentally took home with me.
Indigo Rose
Apparently, according to Linda, there have been studies done and there's no difference at all between a tomato that's ripened on the vine and one that's ripened on your counter. After it ripens at my house in the kitchen, this little tomato will be as nutritious and delicious as if I picked it ripe off of the vine.
The back field.
It was so quiet here I could have cried.
The sounds of my chickens clucking is often drowned out by traffic noise and the fella laughing at television commercials.
Meow.
I tried to do the same thing with this cat as I did with the tomato. Didn't work.
She wanted nothing to do with being shoved in my pocket.
Tomatillo. Ole.
The #1 important ingredient in a Salsa Verde.
Basil. Rows and rows of Basil.
Without a doubt, the absolute BEST tasting one was Lime Basil.
It was astonishing.
If you can find it anywhere, BUY IT.
L I M E B A S I L!
The star of this show is obviously Linda.
Here is the fantastic shot I got of her.
Yeah.
Those are her fingers.
I was kind of overwhelmed by the vegetables that day, to the point of dizziness actually.
This right here is mint. But not just any old mint … it's spicy licorice mint. And it's sweet.
And delicious. And would be great in a Fennel/Apple salad.
And I should have stolen some to root and plant.
Korean Licorice Mint
That's its home right there in the wheelbarrow.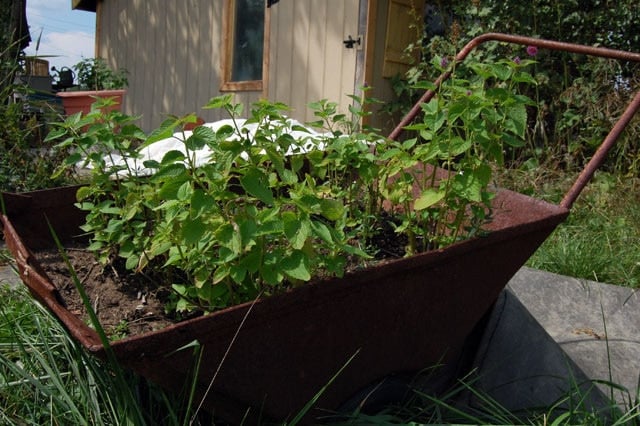 I tried my very first Ground Cherry there.
Insert joke here. If ya know what I mean.
I ate it then screamed I think.
I'm not sure but I think I screamed.
It almost tasted like pineapple.
I liked it. A lot. It was infinitely more memorable than my first cherry experience.
Tomato. Cute, cute, tomato.
If I remember correctly I shared it with the pig. Joey.
Guernsey Island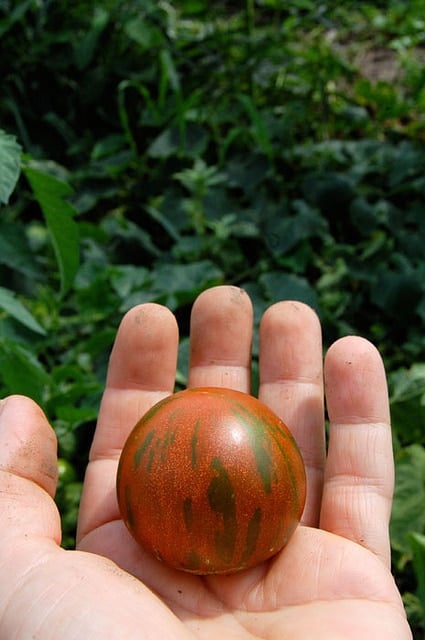 Linda has several chickens,
one of which she's had for 11 years!
Her 11 year old chicken is named Winnifred and she's a Mottled Java chicken.
She manages to squeeze out an egg or two … a year.
Barred Rock Chicken (not Winnifred)
I'll bet you think this looks like another tomato.
It's not. It's an eggplant.
Can you even imagine getting a basket of food delivered for the week and this beauty being in it.
Not all CSAs do this, but Linda includes recipes and serving suggestions for some of the rarer, lesser known vegetables.
Turkish Orange Eggplant
Probably the only thing, other than the cat, that I recognized immediately at the farm.
Duck. I named him/her Daffy. Linda doesn't know that.
Won't she be surprised when this duck doesn't come when she calls him/her anymore.
Farm humour.
General farm life prettiness.
Not Martha Stewart farm prettiness.
Real farm prettiness.
(although I have nothing against Martha Stewart farm prettiness)
I can say without a doubt, that I learned more from Linda and her little farm that day than I have in the past several years about gardening. I'll be sharing some of Linda's tips and tricks next week.
And on Friday I'll have the strangest of the strange things that Linda is growing. Things that made me laugh out loud when I saw she was growing them, and other things that made me think … I had no idea that was even growable.
In the meantime, if you're interested in looking into CSAs in your area to have your vegetables provided by a local farmer, take a look at a few of the links below.
If you can't find the information you're looking for there just Google CSA and your province or state. Many of the farms in North America provide baskets for all the seasons. Spring, Summer, Fall and Winter. Some of them will include farm fresh eggs and meat as well.
But not Joey. Never Joey.
USA
http://www.localharvest.org/
http://www.wilson.edu/about-wilson-college/fulton/robyn-van-en-center/csa-search/index.aspx
http://find.mapmuse.com/map/csa/54.80068,-125.50781,5
CANADA
Alberta http://www.csaalberta.com/index.html
Ontario http://csafarms.ca/CSA%20farmers.htm
Vancouver and a large portion of the USA http://find.mapmuse.com/map/csa/54.80068,-125.50781,5