One of the shows I hosted when I was a famous television host who hosted things and was famous, was a makeover show called Stylin' Gypsies. A bunch of experts (and I) travelled around in a dilapidated RV giving women in small towns, big city makeovers. I was the host. I did none of the making over.
The show ran for a few seasons (at one point we were being renewed on an episode by episode basis, so that was fun.) which meant for a few years I spent a lot of time travelling for work. Being a television host that means lots of champagne, the finest hotels, luxury sheets and a personal concierge. Unless you're a Canadian television host, in which case it means ucky motels that may or not have been a women's prison in a former life.
So for many months I was on the road going from town to town and motel to motel. They weren't all bad. One of my rooms even had some very rare and specific porn tucked into the extra blanket in the closet. It's hard to put a value on that kind of perk but if I remember correctly it came at $39 a night. That price included not only the porn but a continental breakfast of soup crackers and a cup of juice with a peel back foil lid. Also there was lots of hair in all the bathrooms so there was value added if you were interested in a) wig making or b) vomitting.
What are the chances after multiple encounters like that, that I'd come up with one of my most favourite housekeeping tips ever based on … the practices of a filthy motel? Slim. The chances are very slim, but yet it happened.
Let's fast forward to the present shall we. I have two cats. You may know them as Ernie and Cleo.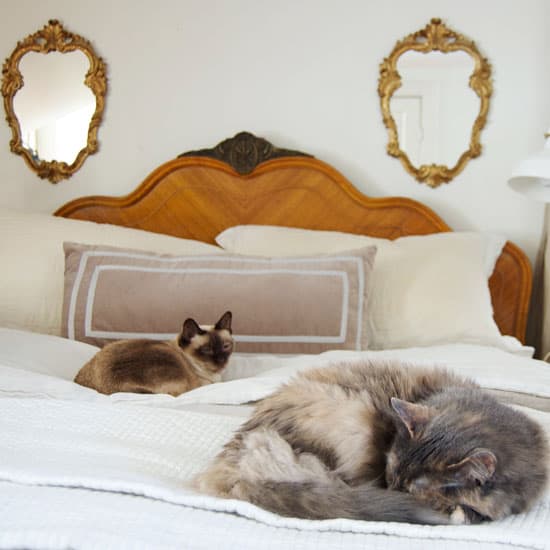 That's Ernie in the front and Cleo in the back. Never did the phrase business in the front, party in the back make more sense. Ernie is quiet, reserved, always does the right thing and is a constant model of impeccable manners and good behaviour. She comes when I call her, stops dead in her tracks if I even look at her sideways and never goes to the bathroom outside of the litter box. When it's bedtime Ernie jumps up on bottom of the bed, curls into a ball and goes to sleep for a good 17 hours. Ernie is all business.
Cleo on the other hand is the party of this metaphor. Cleo routinely tangles herself under my feet, runs around at breakneck speed or sits in the middle of a room screaming at the top of her lungs. She has bad breath, she toots, she walks on me and she sometimes pees in the litter box. Sometimes she doesn't.
Come bed time, Cleo's routine is slightly different than Ernie's. You have to remember that this happens every SINGLE night exactly as I'm about to describe it.
Once Ernie is on the bed Cleo jumps up and whacks Ernie on the head out of nowhere, Crouching Dragon Hidden Tiger style. This initiates the next 5 minutes of chasing, hitting and hissing which I watch from behind whatever book I'm reading. Once the opening ceremony is over, both cats jump back up on the bed and take their places. Ernie at the foot of the bed, Cleo on my throat.
Cleo may have been weaned a little early. And by early I mean I have a feeling someone reached into her mother and pulled Cleo out 5 minutes after she was conceived. Cleo is a bit needy.
Since laying on my throat between my eyes and my book isn't conducive to reading or getting oxygen into my lungs, I remove Cleo from my throat and put her beside me. She then immediately moves to my stomach and stays there until she knows I'm about to fall asleep. She knows this because when I'm about to fall asleep I roll over on my side and say "I'm about to fall asleep" out loud in cat talk. Once rolled over Cleo jumps up, walks across me, climbs up on to the bedside table (which is a desk), walks across that, turns around, walks back towards me onto the bed and starts bashing her head into my chest. Hard. Like really hard. She bashes like a little Siamese impact driver. I lift the duvet slightly, Cleo beelines down, inside the bedding, turns around, shoots back up until just her head is outside of the covers … and goes to sleep.
Until precisely 4:07 a.m. when she wakes up, crawls over my face, jumps on the desk beside my bed and drinks every last drop out of my water glass. Lick, lick, lick, lick, lick, slurp, slurp, slurp, slurp, lick. Stop. Lick, lick, slurp, lick, lick, lick.
Every.
Single.
Night.
And day for that matter.

I used to bring plastic bottles of water up to bed with me but I don't buy plastic bottles of water anymore. Plus she was always knocking the bottles over. I bought a few glass bottles but they were kind of cumbersome and I always dribbled when I drank out of them.
I like a glass. It looks good, doesn't topple over often and it's an easy thing to grab when I dry cough myself awake in the middle of the night.
And then as I was going to bed one night I had an epiphany. I don't know why I never thought of doing it before and I don't know why I'm even telling you about it because it's so stupid. Yes I do. I know why I'm telling you. Because it's also incredibly effective.
This is what I did …
Yeah, I cut a motel style paper cover for my glass.
Here. I'll even give you directions.
Turn your favourite glass upside down over a piece of paper, lightly trace around the rim of the glass. Cut the circle out, adding 1/2″ all the way around. With scissors.
That's about as detailed as I can get on this.
Then just put your circle of paper over the rim of your glass and smash the edges down.
You now have a super-cool motel style paper cover to ensure the superior hygienic nature of your glass. (I mean it does that at home, at a genuine seedy motel, always proceed with caution. And in many cases rubber gloves)
Before I go, the date for my The Art of Doing MORE Stuff workshop has been changed. The course will now start on May 5th.
So if you wanted to take it but couldn't because it didn't work with your schedule you're in luck. The Art of Doing MORE Stuff: Complete 3 things from your to-do list in two weeks, guaranteed!
Have a good weekend!
→Follow me on Instagram where I often make a fool of myself←