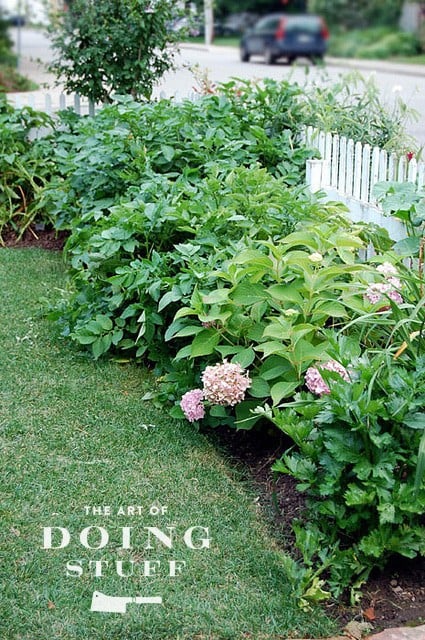 The color of your hydrangea flowers is determined by the acidity of the soil they're planted in.  That is it. That's the only reason.  So if you wander into Costco looking to buy yourself some pillow case sized bags of potato chips, half a cow, 35 bottles of Windex and a jar of pickles big enough to drive ... don't pass up on the potted pink hydrangeas just because they aren't blue.  You can change that. You can turn your pink hydrangeas blue.
(Speaking of potato chips did you try a new food? Did you send me a photo of it? A blog post featuring allllll the new foods you tried (the good, the bad, and the ugly, coming up in a week or so!  Don't forget to include a little description of what you made and why in the email. Send photos to karen@theartofdoingstuff.com)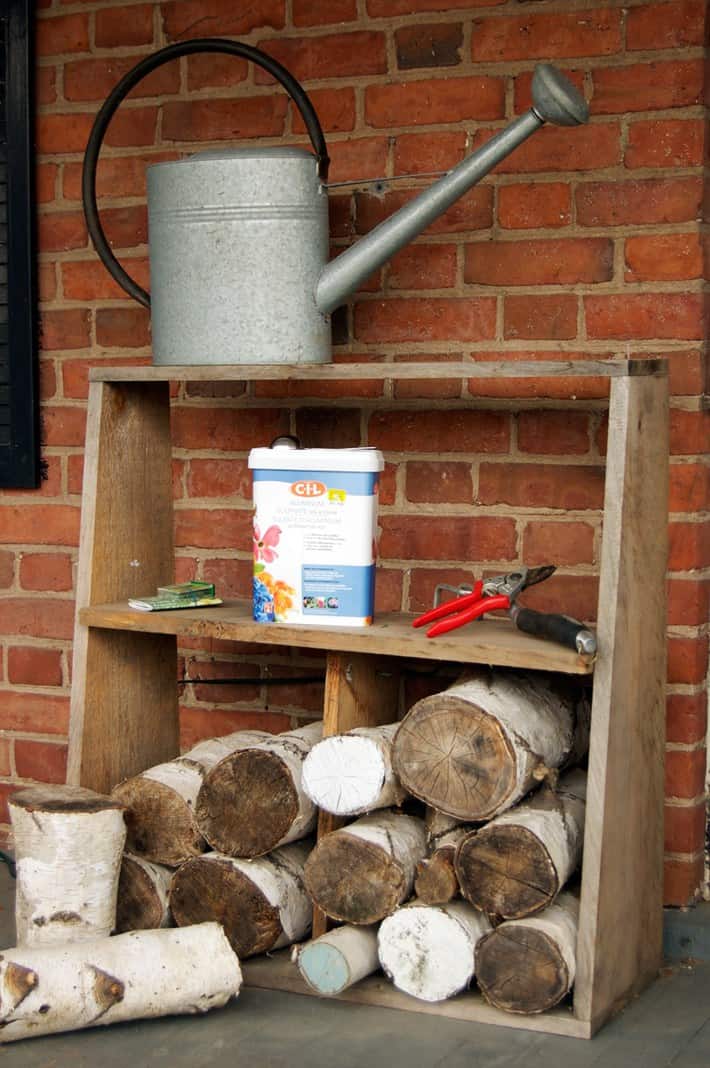 Generally speaking you can turn those pink hydrangeas blue just by changing the acidity o the soil they're in and if they're in a container it's even easier to do.  Problem is, you can't change the colour that the flowers are once they've bloomed.  What you have to do is change the acidity of the soil before the flowers bud and bloom.
It's not hard but you do have to buy one special ingredient.  Love.  Just kidding.  You can't buy love unless you're Rupert Murdoch.
What you do need to buy is Aluminum Sulfate, which sounds like the kind of thing  you could only find in a lab, but you can find it right there in gardening aisle of your local hardware store, or garden centre. It's perfectly safe (and in fact it's used for purifying water) and it's cheap.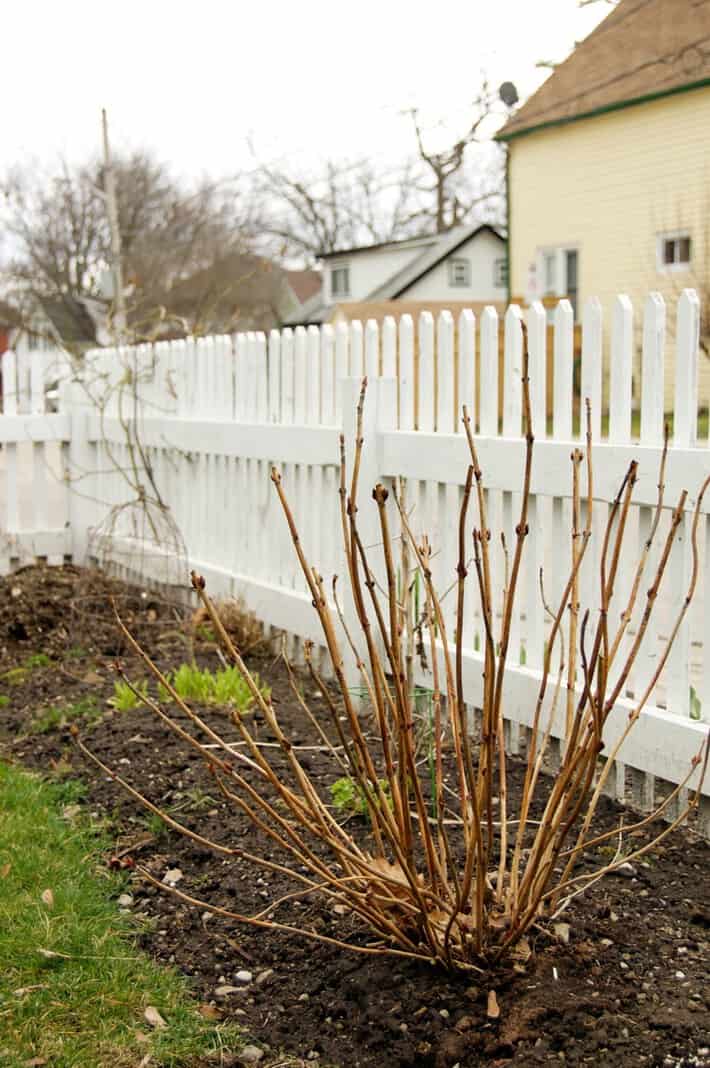 If your hydrangea bush still looks like this you still have time to change the colour of your flowers.  If they grow pink even though when you bought your hydrangea it was blue, this is why ...
Soil that has a pH above 6.0 will produce pink hydrangeas. Soil that has a pH below 6.0 will produce blue hydrangeas. So if you bought a potted hydrangea that was blue, once you put it in your soil it didn't have the proper acidity to grow blue anymore.  So how do you know what the pH of your soil is? You can buy a little kit that's like a pool testing kit to check the pH of your soil. You just put a little soil in the container, add the pH testing powder, some water and give it a shake.
I tested the soil around my hydrangea plant and it's pretty off the mark for a blue hydrangea, with a pH of between 7 and 7.5. So that's going to produce a very pink hydrangea. Which is nice, but it's also nice to experiment a little. I want to try to get blue hydrangeas this summer which means dropping that pH to below 6.
Aluminum lowers the pH of soil so I need to add aluminum. Since crushing cans and turning them into powdered form seemed like kind of a pain, I just bought a container of Aluminum Sulfate. Adding this to soil is the easiest way to get a blue flower.
But honestly, you don't need to test your soil for acidity.  If your hydrangea flowers are pink, you know that your soil acidity is wrong for producing blue flowers, so just grab some aluminum sulphate (aluminum sulfate) and start stirring it into some water.
Add 1 Tablespoon of Aluminum Sulfate to 1 gallon (16 cups) of water and water the hydrangea. Do this once a month starting now (before the flower buds on your hydrangea start to form) and you'll be closer to having blue hydrangeas than you were before.
I say "you'll be closer to having blue hydrangeas" since I can't guarantee this works because even though everything I've read about the subject says it will, I've never tried it myself.   I have every reason to believe it will work though because I read about it on the Internet.
HAHAHAHAHAHAHAHAHA.
You can try doing this with other soil acidifiers like coffee grounds or pine needles but unless you have an almost pathological addiction to coffee, chances are you won't have enough grounds to alter your soil pH enough to make a really vibrant blue.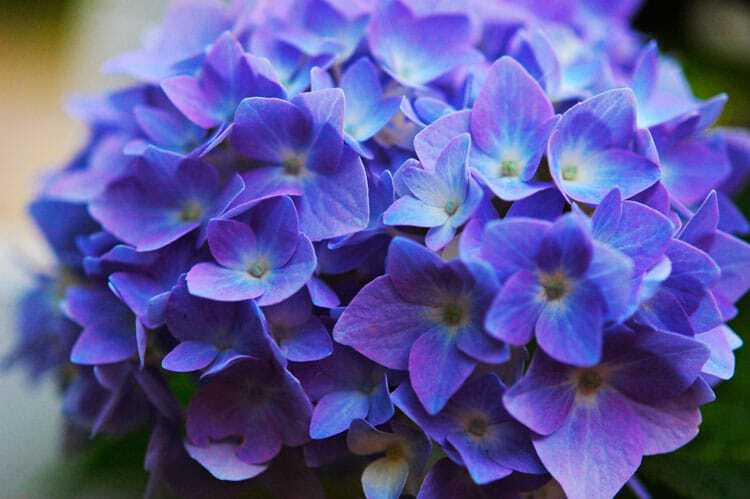 It's almost guaranteed to work if your hydrangea is in a pot because you're dealing with just a small amount of soil that you need to change the pH of, but hydrangeas in the garden are a bit harder to fiddle with. Also you'll never be able to turn a white hydrangea blue. This only works with hydrangeas that are already pink or blue. The only thing a white hydrangea might become is tinged with pink because of the soil acidity.
This method I'm talking about here is meant for turning a pink hydrangea blue. Hopefully.
I've watered my hydrangeas with this solution twice now and I'll keep doing it once a month or so until I know if it worked.
I don't like putting things on my blog here if I don't know for sure that they work, but if it does indeed work that's a whole summer of blue hydrangeas I'm cheating you out of.  Now if it doesn't work for you don't blame me.  I warned you.  It's not my fault.  I'm in the same boat you are, trying it to see if it's successful.
If it doesn't work for you, you can just hop in your pickle jar car, drive over to the King of the Internet's house and complain. He's usually easy to spot in his front window. He's often seen hopping around in flaming pants, knocking lamps off of tables with his nose.