My mother doesn't believe in massage.  The same way one wouldn't believe in unicorns or pimple cream.
I, on the other hand, do believe in massage and if push came to shove I could probably make a solid argument for unicorns based on a theory I have involving magic, hallucinogens and Neapolitan ice cream.
And even though I believe in massage I wouldn't say I enjoy it.  This is probably because I've only ever had therapeutic massages, which are exactly as relaxing as walking through your local grocery store naked while being pummelled by canned hams.  But I do get a massage to break up the knots in my shoulders and neck every once in a while because like you I'm sure, come wintertime I can count on two things;  moving less and eating more. I spend more time typing away at my desk with my shoulders jammed up near my ears and less time moving and stretching my way through the garden.
Even if we get big snowfalls and I have to shovel a couple of times a week, and chop wood and jump up and down 25 times to get my jeans over my thighs,  the winter exercise doesn't even come close to how often I'm moving around in the summer.  Even with The DIY walking desk I implemented last year I'm a bit of a lump.
And that's O.K.
It's part of what I love about living in an area of the world that gets 4 distinct seasons.  You have 4 distinct lives.  There's spring life (happy and optimistic), summer life (sweaty and exhausted), fall life (exhilarated and nesting) and winter life (cocooning and lumpy).   Each also has it's own clothing and food requirements.  For instance, thou shalt not feast on stew in summer.  Because, gross.  A thick, heavy, bowl of stew sitting in your gut makes it really hard to chase fireflies.  And yuck.  That's meat sweats on top of humidity sweats and that's just stupid.
But a warm, nutritious bowl of beef stew with root vegetables and steaming dumplings on a cold winter's night?  That make sense.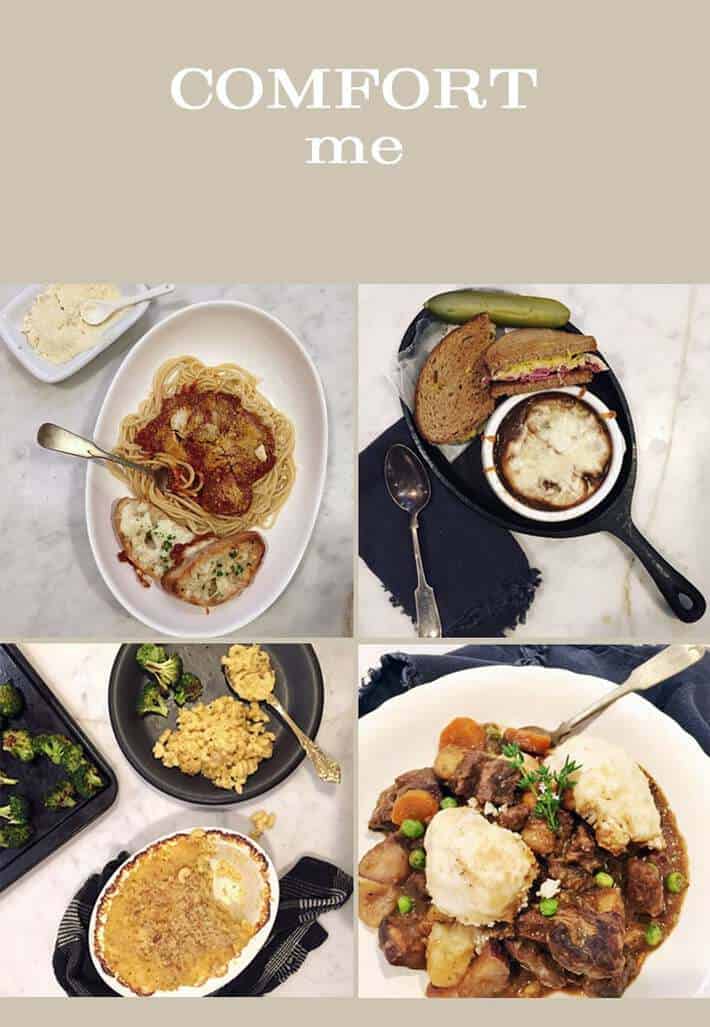 And that's exactly what I had the first cool night this fall.  I whipped up a bowl of stew and *just* like that my new life had begun.  The lightweight blanket on the couch got tucked away and the thick, fluffy one was pulled out.  The heated floors in the kitchen were turned on, the pumpkin scented candles lit and from the back of the pile I found my flannel pajamas which had been in hiding for 6 months.  They smelled like drawer.
I plan on filling the next 6 months or so with bowls of comfort food.  It's a well known fact that comfort food almost always comes in a bowl.  At least true comfort foods do.  The 4 comfort foods making the top of my list are in no particular order:  Macaroni & Cheese, Spaghetti & Meatballs, French Onion Soup, and Beef Stew.  Honourable mention to Chili Con Carne with toast.
Those meals will be on rotation, interspersed with my favourite soups (you can read all my favourite soup recipes here) for the foreseeable future and I'm smiling just thinking about them.
As committed as I am to these comfort foods for myself, I'm open to suggestions (as long as those suggestions don't include brussels sprouts because there's nothing comforting about those satanic little cabbages).
Let me know … WHAT IS YOUR FAVOURITE COMFORT FOOD?  If you have a picture, include a picture! If you have a link to the recipe, include the link!
Aw shucks.  If you're convincing enough I may even be moved to try a brussels sprouts recipe.
And if you believe that, I have a unicorn for sale.
Have a good weekend, and I'm looking forward to hearing about what your favourite comfort food is.