There are 2 things I do every night before going to bed. It's my ritual.
The first thing I do is point our television converter into our neighbour's window and change the channel on their television.
Then I laugh my head off and eat a couple of cookies. It used to be chocolate chip, but I've moved onto Gingersnaps. Chocolate chip cookies incidentally were invented in 1937 by Ruth Graves Wakefield of Whitman, Massachusetts. She and her husband owned and ran The Toll House Restaurant. One night while making cookies, Ruth realized she was all out of Bakers chocolate so she substituted bits of a Nestle chocolate bar in her cookie recipe. She figured the chocolate bits would behave the same way as the Baker's chocolate, melting and turning the whole cookie chocolate. They did not. Instead the Nestle chocolate bits just sat there in the cookie, getting soft but keeping their shape. The Nestle Toll House cookie was born.
I have a similar story that involves lumps that won't melt away in my gravy, but so far it hasn't caused an international craze.
Since I have a thing for eating cookies every night, I also have a thing for cookie jars. I only have 2 jars, so it isn't like I have some huge collection, but I definitely think everyone should have at least 1 cookie jar. For one thing they hold cookies. For another, they can add personality to a kitchen. And I don't mean to be judgemental here, but from what I see in magazines, a lot of kitchens could use a little dose of personality.
Because it's personality that I'm after, I'm partial to vintage cookie jars, even if you have a sleek, contemporary kitchen. It's always good to have something a little "off" in your house. Something that people will look at and think, Huh? Something that proves you, are NOT boring. YOU are full of personality! YOU screw around with your neighbour's television every night!
I found my cookie jar at a garage sale several years ago. It was at the very back of the garage, on the floor, covered in dirt. It didn't have a price on it, and I'm still not convinced it was actually for sale, but when I offered them $5 for it, they accepted. The Monk and I drove home where I gave him a bath. For the next week.
He has a little signature on his nose that appears to say "S.V.". This indicates the piece was hand painted.

I've never seen/found this particular cookie jar before so I can't give you a price reference.
There are hundreds and hundreds of vintage cookie jars around but these are some of the most popular from over the years. You'll always be able to find them at antique stores, on Ebay or other online auction sites. Or of course if you're really lucky you'll find one at a garage sale or in your mother's basement.
The cookie jars I've selected here do not have a history of being copied or reproduced, so if you find one, chances are it's original.
$50 - $150
This one is for sale on Etsy for $129.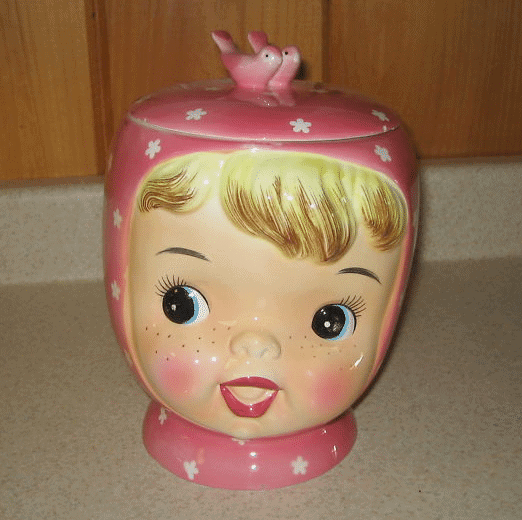 $100 - $300
This one is being auctioned on Ebay right now.

$35 - $50
This one is on Ruby Lane right now. It also happens to be the other cookie jar I own. It belonged to my grandmother.
This cookie jar is "cold painted" which basically means it isn't fired after painting, so the paint wears off.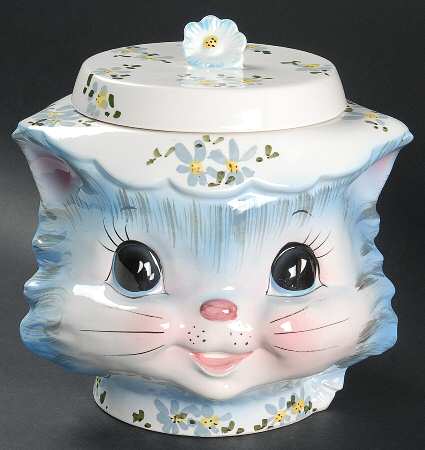 $75- $150
This one is for sale on Ruby Lane right now.
$150 - $250
As you can see, vintage cookie jars don't come cheap. But if you're willing to accept a small chip or hairline crack you'll be able to get it for less than half the price in most cases. And the way I see it is, if it already has a chip in it, I don't have to worry about chipping it myself. Right? Right.
Add that to my list of money saving tips I guess! Buy stuff that's already broken if you know if the future you're going to break it anyway. And most things eventually break.
My neighbours, for instance? They have an almost brand new television and they tell me that after only a few months it's already acting crazy. Go figure.