I appear/appeared on the Steven & Chris show today (depending on when you're reading this post)!  You may have guessed this because you are an astute and well informed Art of Doing Stuff reader. Plus, there's that picture of me with the two of them right there at the top of the post. Yeah! That's me!  If you look at the picture while listening really closely, you can actually hear me singing my #9 hit "I Ran (so far away)".
It was my first week with a new haircut.  I'm a little more used to styling it now.
The Steven and Chris show airs on CBC in Canada at 2 p.m. (Toronto time).  It also airs in the States on channels I am not aware of.  If I can't even figure out if Toronto is Eastern Standard time or Central or Pacific or whatever, what are the chances I'm going to be able to figure out what American channels Steven & Chris are on?  Slim.  Let's just say I'm not great with numbers in any capacity.
Steven and Chris have a television show, a product line, and have had their work appear on Oprah.  Yes, that Oprah.
As a welcome to all  of you who saw the Steven & Chris show and took the time to stop by my  website I've gathered up a few of my most popular posts to give you an idea of what The Art of Doing Stuff is all about.  Aboot.  (I'm Canadian)
Plus for my already dedicated readers … a couple of my personal favourites you might have missed.
I'm going to start things off with the personal fire pit I showed Steven & Chris how to make today.
Most Popular
How to Build a Personal Fire Pit
The Dollar Store Mirror Box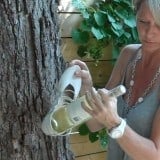 Video – Opening a Bottle of Wine with a Shoe and a Tree Trunk
How I Rebuilt My Entire Backyard and How You Can Too!  If You're An Idiot, that is.
How to Recover a Chair in 5 Minutes!
How to Raise a Monarch Butterfly
A Couple of my Personal Favourites.  Or Favorites for my American readers.
Tie Dye Beets
Ode to the Ikea Hot Dog
Video – The Art of Catching a Fly
The Art of Doing Stuff is about how it's not all that difficult.  None of it. I'm an average gal with below average math skills.   If I can do it, YOU can do it.  It's as simple as that.
Oh.  And, just so you know.  As a general rule, my posts usually contain at least one curse word.  Please accept this curse-free post as my introductory offer.
If you stopped by after watching Steven & Chris let me know! Just say "Hi!" in the comments section. I know it's scary to leave a comment. I think so too. I have no idea why, because it's a totally unreasonable thing. But so is composing a poem in honour of an Ikea Hot Dog so … 🙂