I just returned from a trip to the most Canadian place in America. Only friendlier and with a lot more shot glasses for sale. Memphis, Tennessee even looked like Canada. I don't know what I was expecting exactly, but once we got off the plane and were heading to the hotel, everywhere I looked seemed just like Ontario, Canada. The buildings, plants and trees were all the same. Everyone said thank you, you're welcome and I'm so sorry every chance they got. The only difference between someone from Canada and someone from Memphis is the person from Memphis apologizes with a southern drawl while wiping away some breakfast BBQ sauce from their cheeks.
Memphis, home to Elvis, BBQ and deep fried everything.
Bless their hearts.
Not one to miss an authentic food opportunity I enlisted the help of my southern readers and a professional BBQing acquaintance to help me decide where we should eat over our 4 days in Memphis. I got a lot of suggestions and after cross referencing with Google I decided that the two must hit spots were The Rendezvous and Gus's. I was hoping to get Central BBQ in as well or Corky's but we didn't make it.
The Rendezvous was recommended by everyone except my professional BBQing friend, who is on Team Canada's BBQing team. He said the ribs there were good, just not what they once were. ( He's the one I got the beautiful, glazed smoker I use to make bacon and ribs in my backyard from. ) He's also the one who taught me most of what I know about smoking ribs (along with another professional, competitive BBQer, DivaQ). So I was curious about what the ribs were going to be like.
Their smoked beans were absolutely fantastic, and the ribs were really good, but they weren't great. I don't know how it's even possible, but I didn't see any smoke ring on the ribs and they were a tiny bit dry. For anywhere else they would have been great ribs, but for a place that's made it's name as the GO TO place for ribs, they could have impressed me more. I'm sorry. Like I said, the beans were really great though and I'm going to smoke a pot of my own in the near future.
In a bizarre twist of fate the restaurant right across from our hotel was the Kooky Canuck. A restaurant owned by Montrealer Shawn Danko specializing in Canadian food and specifically fantastic hamburgers. We ate there at around noon and by 9 p.m. we all decided we'd just forget about having dinner that night because we were still full. Of meat. We were all still full of meat. I'm still full of meat. In my belly at this moment there is meat.
Which is why the morning after the meat belly we ate this.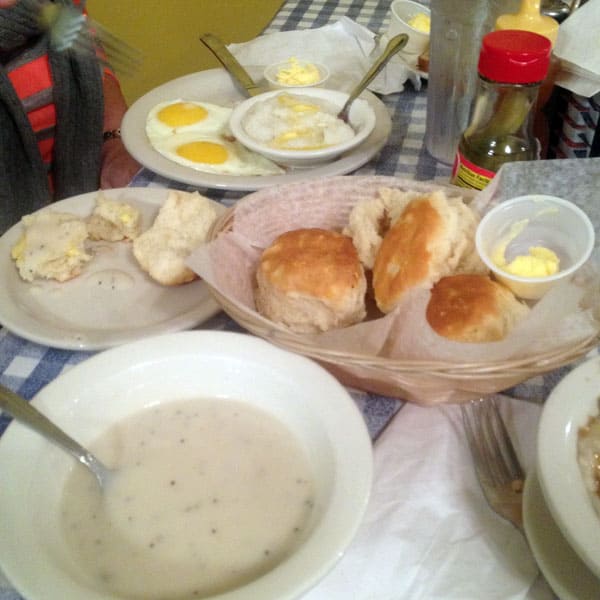 In this photo from top left: eggs, grits, biscuits, corner of oatmeal bowl, sausage gravy.
The beige breakfast. Let's talk about the beige shall we? Beige would imply boring. Bland. Blech. But in this case beige is BISCUITS!!!! I'll tell you I have NEVER had a biscuit like a southern biscuit. It was SO unbelievably delicious I can't even talk about it. I've been silenced by a biscuit. Feel free southern readers to take this opportunity to give me your biscuit recipe. I almost feel like this one was made with Bisquick. Is that possible?
From there we did some touristy stuff that I can't remember because it didn't involve food. After doing those things I don't remember we headed to B.B. Kings for some dinner.
The great thing about eating at B.B. Kings on the world famous Beale Street is you can go upstairs to eat and look right down on at the band playing downstairs.
There I had to get catfish because when in Memphis … This will come as a shock to you but the catfish bites were deep fried. And came with a dipping sauce that was actually a BBQ sauce in disguise. Again, weirdly. By this point in the trip I could not possibly eat another bit of deep fried food so for dinner that night I ate a blackened chicken caesar salad, which isn't worthy of a photo when you're posting about the food of Memphis. It's an embarrassment really. I'm so ashamed.
Finally, I've saved the best for last in terms of our food tour of Memphis. Every SINGLE one of us agreed this was the best meal we had on our trip. It was in a slightly dodgy area of Memphis where the cab driver dropping us off told us to stay safe and keep away from any dark portions of the street when we were walking home. In broad daylight. What was it that had us venturing out to the south side of Beale?
At Gus's you're asked if you'd like chicken or chicken. After a bit of bickering we went with the chicken. The spicy, crispy, as hot as condensate chicken, comes with a serving of coleslaw and beans for about $7. I also ordered a side of mac & cheese because again … when in Memphis.
This trip was proving to be a real workout for all my coronary related parts. Memphis food … exercise for your arteries.
Not wanting to end on a healthy note, we left Memphis with this Southern classic that I had not only never tried, but had never heard of until someone commented about it on my blog a few years ago.
Chess Pie. Chess pie is a custard pie made with eggs, butter, sugar (often brown), vanilla and … cornmeal. That's a cornmeal crust on top of that pie that you see. The cornmeal is mixed in with the rest of the ingredients but apparently magically floats to the top of the pie while baking, forming a crust. I was quite surprised to see it didn't come with a side of BBQ sauce, but I'm sure we could have got one from the waitress without so much as a raised eyebrow.
Bless her heart.
We managed to waddle our way around to a few sites in between wiping grease from our face and grits from our laps. We went to all the typical spots like Beale Street which had an alarmingly large police presence and people drinking out of buckets. I've not experienced drinking out of a bucket but I do see the practicality of having a bucket handy right after you've consumed a bucket of alcohol.
Beale Street is hugely historically significant not only for Memphis but for the rest of the world in terms of music. The street was originally created in 1841. By the 1860's black travelling musicians started to perform on Beale Street and by the early 1900's African Americans turned Beale Street into the birthplace of the Blues as we know it today. (the history of the Blues is way more complex than that, but that's the story in a nutshell) Today the almost 2 mile long street is closed off every night to cars and bar after bar after bar offers live music, most of it revolving around the Blues.
Walking along the sidewalk you'll find musical notes in honour of all the greats that played on Beale including one of my favourites R.L. Burnside. Even if you don't think you like the Blues (whaaa???) you might like this album "Come on In", a remix version of R.L. Burnside's songs done by music producer Tom Rothrock. Or, like one reviewer of the album says, it might make you puke.
Which won't be much of a problem if you have your drinking bucket handy.
Another historical site we visited was the Lorraine Motel. The place where Rev. Martin Luther King Jr. was assassinated. The motel is now the site of the National Civil Rights Museum. That seems fitting, right? We thought so. And then we talked to Jackie.
Jacqueline Smith can be found outside the Lorraine motel on any given day, protesting the closing of the motel and turning it into a museum courtesy of an 8 million dollar renovation in 1988. You see, after King was assassinated, the motel started to decline. The rooms were changed from regular motel rooms to single occupancy rooms. Housing for the poor. Jackie worked at the motel and was also a resident. She lived at the Lorraine for 15 years from 1973 to 1988 and refused to leave when they shut it down to turn it into a museum. For 50 days Jackie stayed in the motel until she was finally forcibly removed. Everyone else went quietly. Jackie did not.
You can read a great article about her protest here but the short version is, Jackie believes the museum isn't in keeping with what King would have wanted. What he stood for. His philosophy. She believes the motel should be used to help the poor, to educate them and house them among other things. Her point is that Martin Luther King Jr. wouldn't have approved of the cost of the project or the eviction of the poor and powerless from the motel to turn it into a museum. He wouldn't have approved of the gentrification of the neighbourhood and the loss of the affordable housing in the area.
We met Jackie as we were walking to the motel to tour the museum. We didn't go in. Even though we were all really interested in the museum and what it might have offered, after talking to Jackie we all just kept walking past the doors.
This post just took a serious turn didn't it?
I can fix that.
Please enjoy Betty in a chicken mask. One of the many interesting things we found in Memphis.
I came very, very, surprisingly close to purchasing this artifact necklace. The carving is an antique encased in a massive locket on a chain with turquoise beads. It was wearable art that I would have put on display when I wasn't wearing it but I just couldn't bring myself to spend the money. How much you ask? Almost as much as the entire trip cost.
Stock and Belle is one of the stores we all loved. It was a combination grocery, salon, vintage clothing and furniture store with a lot of original art pieces thrown in. I've honestly never been anywhere like it. Everything was really, really well priced, especially the original art like these robot pieces.
And thanks to a couple of readers including Jenny, we learned there was a Southern Junkers event going on in town! The only thing my family likes more than junk is foreign junk.
It was a laneway filled with junk, repurposed junk, better than junk junk and more junk. In a bit of a fluke we ran into Ruth, the organizer of the event in her booth and when we told her we were there from Canada she grabbed her camera, told us to smile, then screamed THEY'RE HERE FROM CANADA!
Ruth was kind enough to give me a Junk Drunk tshirt, which were for sale in her booth which you'll be seeing on me in future posts I'm sure.
Walking into the very first booth, I knew this was my kind of place. The ReNewed Intent booth was like home for me. Scary for someone else I'm sure but like a warm hug for me.
I bought a piece of ironstone at the sale; a platter. I only have 700 ironstone platters, so it was very important that I buy another one. But I think my favourite thing at the show was this handmade dresser from The Junkin' Jones Gang. It's a family business and the dresser was designed and made from wood and old dresser drawers by the father, Gene Jones.
I think it was only around $450 which was a great price and if I could have figured out a way to get it home I would have. I would have put it in my front hall and stared at it all day while listening to my arteries.
It would have been great.
After the junkers market we headed to America's largest (I'm totally making that up but I cannot imagine it isn't true) Bass Pro Shop. But we didn't go because of the Bass Pro Shop, we went because it's housed in a GIANT pyramid in downtown Memphis with a restaurant on top.
It was at said restaurant that Betty got carded. The poor waitress had to ask her 10 times to see some I.D. Betty just kept laughing and laughing until I finally told her I think the waitress is serious. Betty stopped for a second, looked blankly at me, then kept laughing and laughing.
Turns out it's the state law. If you order a drink, no matter HOW old you look, no matter what, you have to present I.D. And by the way, just LOOK at the smile on that waitress. That's another thing. People in the south smile a LOT. Every single person we encountered was insanely nice.
In fact the only unlikeable person we met the whole trip was (ironically) a Canadian who was acting like a douchebag in the duty free shop on the way home.
I posted this picture of all of us at the top of the Bass Pro Shop and an astute reader let me know that behind and below us, isn't the Mississippi as I said, but the Wolf River. Betty bought the retro cat eye glasses at the Junkers Market by the way.
The other highlight of the trip was the tour of Sun Studios. The birthplace of Rock and Roll. You can learn all about it here on Wikipedia or at the Sun Studio site.
Sun Studio really is where Rock and Roll was invented by producer and label owner Sam Phillips. Elvis, Jerry Lee Lewis, Carl Perkins and my personal favourite, Johnny Cash all came to you through Sun Studio.
Even the coffee bar where you wait to go through the tour is cool, tended by cool people. Including our tour guide Lahna (who isn't in the photo) who is a musician herself, part of the band Deering and Down.
And this place right here? This is the studio. This is the actual spot where Elvis first sung into a professional microphone with his band. Yeah. Elvis was the lead singer of a band. An unassuming little room that changed the world.
It's at this point I was going to show you pictures of our trip to Graceland. But it's now almost midnight and my post is supposed to be published in 2 minutes. Sorry about that. No photos of Graceland for you. Not today anyway.
If I can fit time in between making biscuits, listening to the blues and convincing Betty she doesn't actually look 21 I'll have a Graceland post up for you tomorrow.
Pfttt. 21. Bless her heart.