I'm still on a bit of an antique show high, 2 weeks after the end of the Christie Antique Show. I enjoyed it more this year than ever before, probably because I wasn't really looking for anything.
I was just there to browse. Wander. I was keeping my eyes open for an nice vintage Jiffy Egg Scale, but that was about it. I didn't find the egg scale, but I did come across 2 things that forced me to part with my money. The first is something for a craft I've been wanting to do for a few months, but I couldn't do it without it's one and only ingredient.
Rope.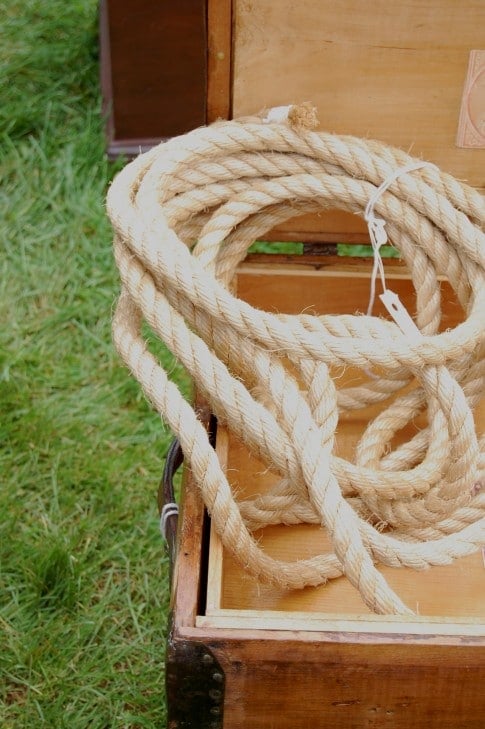 Yessirree Bobby. I bought myself 35 feet of rope. For $12. I think that's pretty cheap as far as rope goes. The reason I bought it is because rope, oddly enough, is difficult to find. You can't walk into your local Home Depot and come out with this size of rope.
I understand that rope, is not something you'd think would be a hot commodity at an antique show. Kind of a weird purchase. Well, really weird. Well ho, ho, the joke's on you because as it turns out my rope was the hit of the show. I couldn't walk two feet without someone commenting on my rope. For instance, I heard things like this:
Hey! Nice rope.
Clever stuff like that.
Those comments were nothing compared to what I got for my box of balls.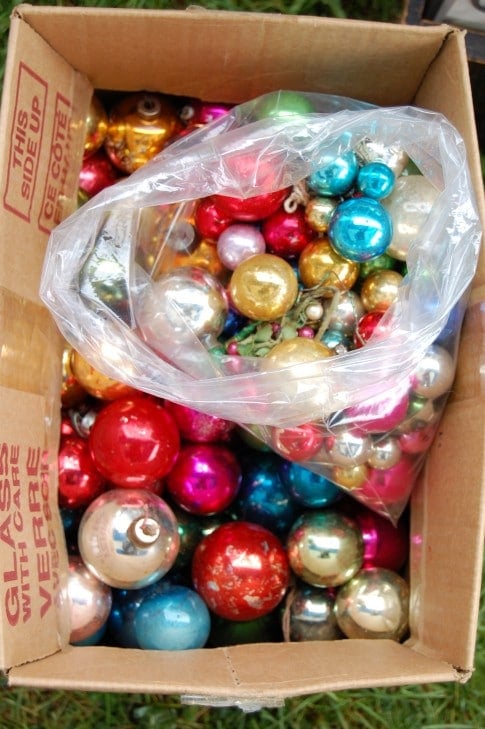 Yep. My second antique show purchase was a box of vintage Christmas balls. $10.
I should let you know that I have not only an obsession with Christmas, but a particular obsession with vintage Christmas balls.
The ones that are uniquely shaped are pricey. I have several of those that I happened to find at garage sales and I'm always terrified of breaking them. I also have an assortment of regular, round, vintage glass balls that I also picked up at garage sales.
I now decorate my Christmas tree solely with antique and vintage Christmas balls. So there's no colour scheme or theme. It's just a big ole tree with a multitude of different coloured and sized glass balls.
Some of them flaking, and most of them losing a bit of colour. That's what makes them so beautiful to me. That and the fact that for some reason the hue of the antique balls can't be duplicated with new Christmas balls.
Below is an assortment of some of my new, old, Christmas balls.
I normally scatter antique balls around the house in bowls as decoration, but now that I have a whole big box of them, I have other plans. If I can gather up a few more, I think I'll have enough balls to make garland. That is my dream and I won't rest until I fulfill it. Dream large Karen, dream large.
As for the rope? I have plans for that too. I just can't let you in on them yet. Firstly, because I don't want to ruin the surprise when I show you what you can do with a coil of rope. (other than, you know, the obvious ... unwinding it all and making a scarecrow wig.) And secondly, I have no idea if it's going to work or not.
If it doesn't work out, no huge loss. I can still make that wig. Or have a sexy-party with the neighbours. There's no end to the rope possibilities.
Have a good weekend! If you're looking for a really good time, spend part of it at an antique mall or garage sale. Or go underwearless.