Wednesday night I got a call from a local historic site asking if I'd like some of the rye from their kitchen garden to take home and make flour out of. After "Would you like to play with this car sized pile of kittens?" there is no other question I'd be quicker to say yes to. Thursday morning I hopped in my wagon (car) and drove directly into Little House on the Prairie.
If Little House on the Prairie were actually a modestly sized castle with a kitchen garden that spans 1 and a half acres.
I think the Dundurn Castle Historic site's kitchen garden is one of my favourite places in the world. And I've been to Etobicoke! (that's only funny to people around Southern Ontario) With coronavirus crawling its way into Canada this spring, my community garden wasn't the only thing on lock down. So was this magnificent historic garden.
Because of the lock down no one could get in and tend to the garden, which means their cover crop of rye that was only meant to get a couple of feet high before tilling it in, got to be full sized.
A few permaculture teams were brought in over the weekend along with a brewer who was going to use it for making some hooch. Or beer. Or – maybe rye whiskey.
I spent an hour wandering through the garden that they're getting back into shape and then cutting down a couple of beds of rye to take home which seemed completely reasonable at the time.
Now I'm the proud owner of enough rye to get an entire pirate ship drunk.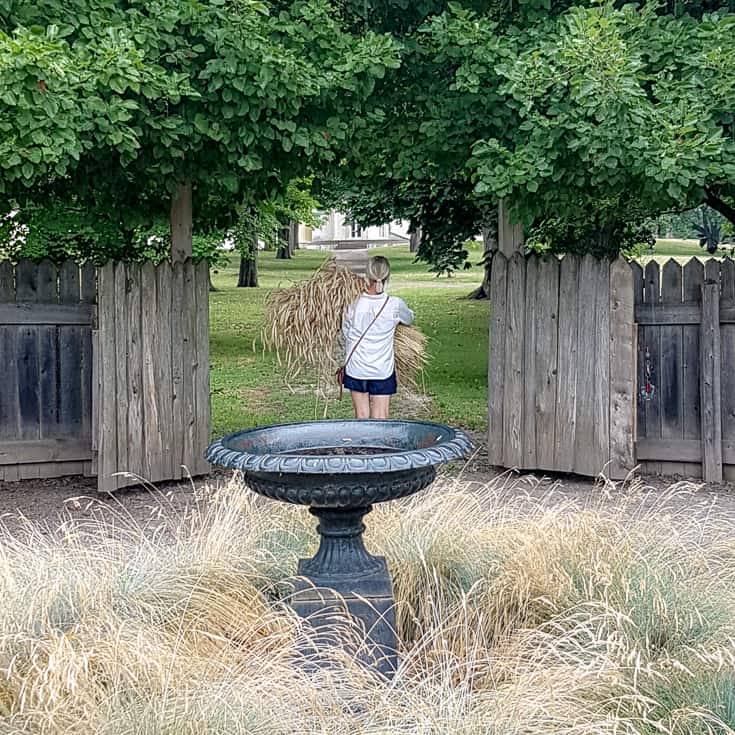 And now I don't want to thresh it. I don't want to do anything with it. It's beautiful. It's all swishy and drapey and gorgeous.
But so is bread.
I'll be forcing myself to thresh it this weekend and then I'll eventually grind it into flour for making Rye bread which all my Danish ancestors will be happy about.
In keeping with the "If they only had hair dryers and Netflix I'd want to live in that time" theme, I'll also direct your attention to this bit of a set from the show Anne with an E. I now want a blue room with a blue ceiling and gold trim and Restoration Hardware can suck it.
THE GARDEN
Do you remember the marigold that tastes like black licorice that I told you about? This is it. I have 10 more plants in the garden like it. Dropshot marigold tastes EXACTLY like sweet black licorice and there are now super secret plans in the works about a really fun way to use this. Which I can't tell you about. Because it's super secret.
---
IF YOU GROW YOUR OWN POTATOES LISTEN UP!
Seriously gross and horrifying Colorado potato beetles are heading your way. I've only ever had a real infestation once and I caught it right away. But this week after I had ALREADY left the garden, I came back because I had forgotten my clippers.
Actually it wasn't my clippers, it was my phone, but saying I forgot my phone at the garden makes me sound stupid.
Actually it wasn't my phone, it was my entire purse. Same reasoning as before for lying to you.
When I went back in to grab it I thought I'd check on my squash plants to make sure I didn't have any vine borer damage. I didn't.
But when I turned around and took a look at my potato plants I noticed I didn't have any potato plants anymore.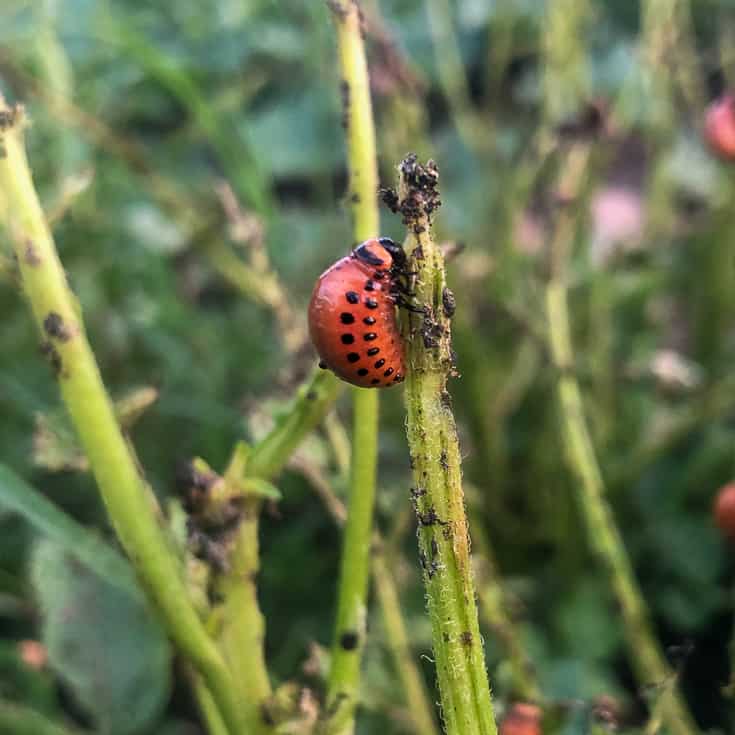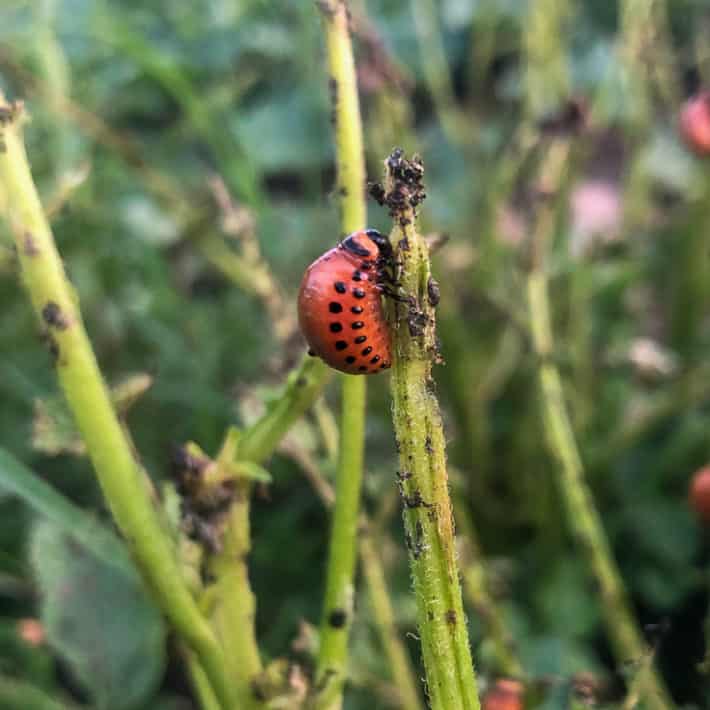 This is the almost mature larvae of a Colorado potato beetle and they can do DAMAGE. They'll not only eat an entire plant, they'll eat an entire crop.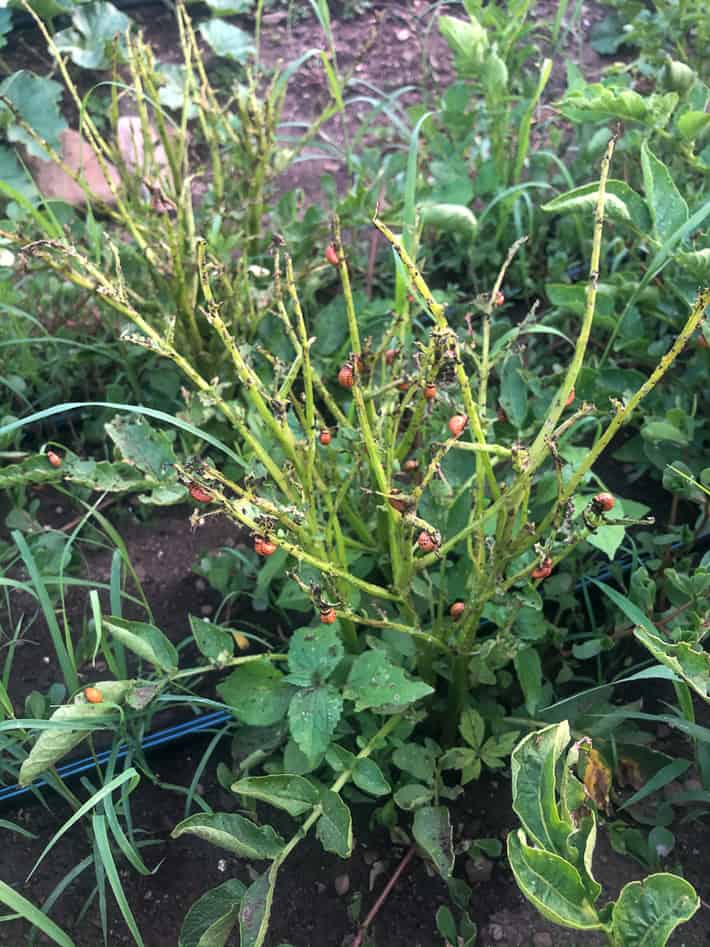 This plant used to be full of leaves. It is now a scrabble of green stems. I'd say around 5 of my potato plants look like this now, but I caught the beetles before they destroyed every single leaf on them so I'm unreasonably hoping that they'll still survive. With the – you know – 4 leaves they have left in total.
---
Last Saturday was my sister Fish Pedicure's birthday so we went to my niece's house for a very small birthday party and I brought this salad from garden pickings.
Radishes, Simpson lettuce, romaine lettuce, cucumbers, nasturtium leaves and flowers all with a classic homemade French dressing. Those cubes are chunks of aged cheddar.
I did not grow the cheese in my garden because even though I wasted 15 consecutive birthday cake wishes on "Let me be able to plant and grow cheese" it has never come true.
That was my week. How about you?!
Have a good remainder of your weekend!
p.s. I randomly bought a Robot vacuum at 1a.m. while researching vacuums for Betty. I do not need a vacuum, I have central vac. Yet here we are. This is the one I got … a Eufy … because a couple of readers said they had it and loved it and it's rated #1 by Consumers Report PLUS it's one of the least expensive ones there are.