Plus the final lettuce update which you're not going to want to miss, especially if you recently bought the Aerogarden.
Listen, I'm sorry if you're bored with lettuce updates but this will probably be the last one because, at a little more than a month after planting it my lettuce has grown up.
That's a single leaf of lettuce on the homemade hamburger (done my way)in the above photo.
Here is a single leaf of the lettuce on my homemade pub style chicken burger 3 weeks ago.
Let's look back at some of her baby pictures.
And now, at week 5.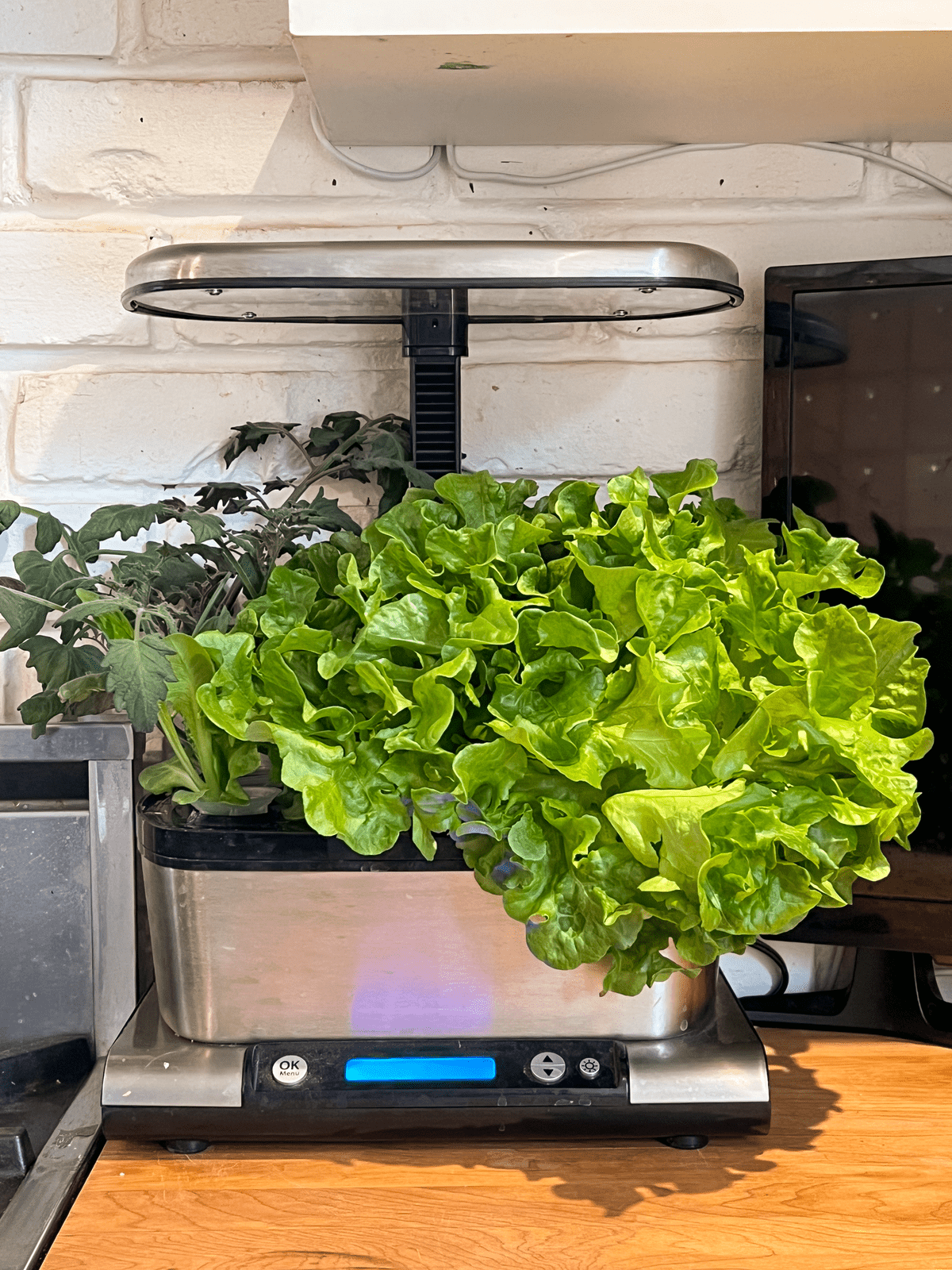 Seriously.
I'm spending more time admiring it than eating it but tonight I'll be making a salad out of it with goat cheese, balsamic dressing, roast chicken and roasted red peppers.
The red peppers are from my garden, in the fall I roasted and froze about 20 red peppers.
Weekend Work
GET OUR GROWING AREAS READY
Speaking of growing red peppers, it's officially seed starting season, so the first thing on my weekend list is to finish setting up my lights and grow area. If you're planning on growing as well you can do the same.
Make sure your lights work.

Wash your pots.

Buy or make your potting soil.

Organize your seeds by the date they need to be planted by. Seed packets specify how early you need to start your seeds based on how many weeks before you can plant them out. You'll be planting any seeds that need a 10-12 week start first, followed by seeds that need 8-10 weeks, and finally the most common 4-6 week plants.

Completely plan out your area - where to place your pots, your soil, your seeds, your table, your water ... ALL of it. The more organized you are to begin with the better success you'll have.

If you missed it last week when I posted about how to start your own seeds, you should read the tutorial.
What I'm Doing Specifically
EVERYTHING seeds
I'm completely redoing my seed starting area this weekend so it's a bit more user friendly which isn't easy in my dungeon of a basement.
Installing these new LED T5 lights on my grow stand.
Adding a new grow area (where????) which is where I'll use the older bulbs from my grow stand.
Washing and bleaching all of my pots. (I'm trying a new thing this year so I'm using plastic pots instead of making my own soil blocks)
Cleaning and rejigging my capillary mat watering system (if you want to make watering easy capillary mats are the way to go)
Making a 4 month agreement with the basement centipedes.
Instead of using pots to start and grow your plants, you can make and use soil blocks.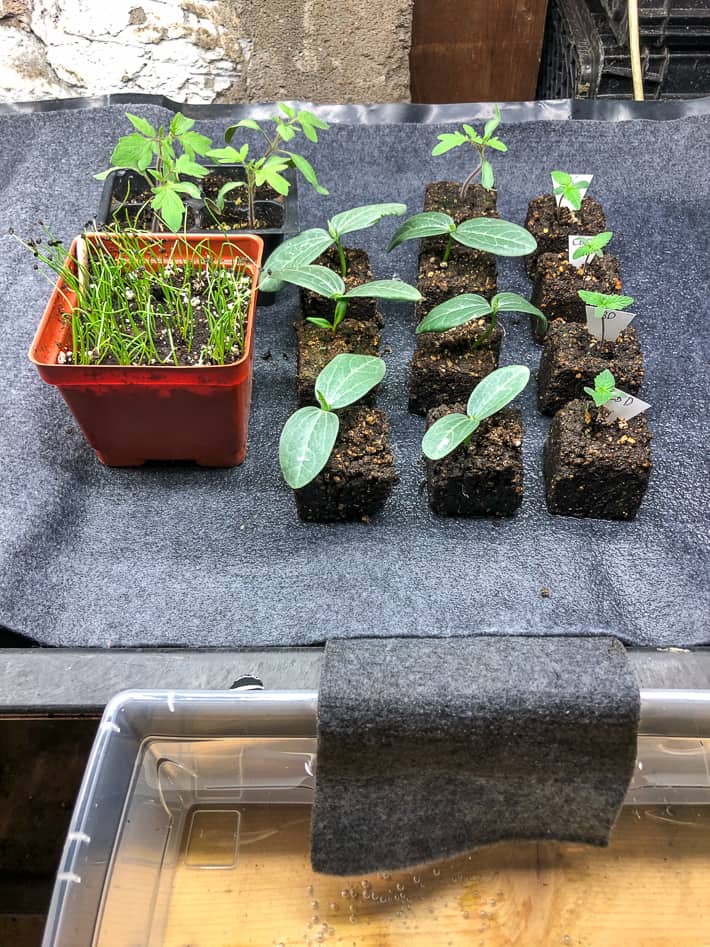 Capillary matting is watering technique using a type of wool felt.
You fill a bucket or container with water. Cut a "wick" from the capillary mat and let it hang in the water. The wick carries the water to the capillary mat where it consistently and constantly waters your plants the perfect amount.
My lights are old so I got new ones - I have a whole post on seed starting lighting coming up next week. Grow lights dim as years go by so it's a good idea to change them.
That doesn't mean you're have to throw them out what it does mean is you can INCREASE THE AMOUNT OF PLANTS YOU GROW.
The used lights won't be as strong as your new ones but you can use them as supplemental lighting.
THE DOG
Plus there's an overdue bath and blow dry that needs to get done.
THE STAND MIXER DECAL
I already have the design and have done most of the work, but I still need to make some changes and do some fine tuning on the decal. So that'll get done while I'm on the couch at night.
A NEW BOOK
I finished Tomorrow, and Tomorrow, and Tomorrow and gave it 5 stars.
Tonight I'll start my new book, The Woman in Cabin 10 by Ruth Ware because Betty just finished it and liked it. I should be able to finish it in a week.
But it will take me 3 months.
---
So if you want to join me in a weekend of doing stuff you're going to get your seed starting area cleaned up, your dog spit polished, and sit around waiting for me to present you with a downloadable stand mixer decal next week.
It doesn't sound like a ton to get done but I know it's going to be a lot.
At least I don't have to do my nails.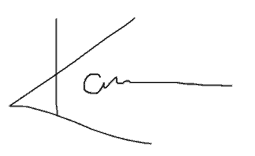 P.S. See you tomorrow with the puzzles.