Hey! I'm not sure if you remember me, but it's Karen. Let me tell you a bit about myself.
My name's Karen and I'm a blogger who does a lot of stuff. What does that involve? At the moment it involves a lot of slack jawed drooling. I've been locked to my desk for the past 2 weeks going through close to 2,000 of my posts deciding which ones to delete and which ones to keep and update. I've also spent a lot of time contemplating some of my life choices up to this point.
To put it plainly this is a nightmare and I hate every single second of it because it makes me antsy and bored at the same time which results in me wanting to scratch everyone's eyes out. I basically feel like I'm in jail without any of the cool stuff like having your meals prepared for you and learning how how to make a shiv out of hardened toilet paper.
So why the hell? Why the hell am I doing this exactly?
The reason I'm doing this is twofold. Because of Google and because of you. So mainly you're to blame and you should be the ones to buy me salve for the chapped corners of my mouth from all the boredom drooling.
A little bit about Google and how it works. You know when you search for something on Google? Say - a hamburger recipe? Well 99% of people will search for that on Google and never scroll beyond the very first page of Google suggestions. Because we figure the ones on the first page are the very best hamburger recipes. So as a creator of content, if you don't come up on the very first page in Google results you're doomed to a life of eating crickets and living under a dirty couch on someone's porch.
Google judges where it "ranks" you by how good your content is. How well written it is, if all of your photos have text built into them (alt text), if you use subheadings to make scrolling for information easy, and how well you cover every single aspect of the topic you're talking about. Google is looking for a certain type of structured post that has up to date, good information that's easy to read. I do that now. That is how I write my posts now. But 3, 4, 5, 6, 7, 8, 9 years ago? No. So I have to go through all those posts and make them friendlier for Google to say Hey! Look at that! That's a good post with updated information and pretty pictures! We like that!
And as far as you go, I have to do the same for you, the readers. I can't just throw a post out 6 years ago and forget about it because that's great information you're not learning about if you're new here. And if you aren't new here, I might have more information about that topic now. Or better pictures, or great tips that I didn't know about 6 years ago. Like garlic. I've been growing garlic since I was a teenager but in the past 6 years I've learned even more about it than when I first posted about growing garlic. So, tomorrow, I'm publishing my new how to grow garlic post. That's "just a for instance."
So my days now consist of waking up, getting a coffee and heading to my jail cell where I have a binder of every single post I've ever written, printed out in order from the most popular to the least popular. I have a cup full of highlighters that I use as I go through the binder from back to front. Blue is for delete, pink is for keep but remove it from Google's search, green is for redirect that post to a newer post with better information, orange is leave it as it is and yellow is update this post.
I'm just about ¾s of the way through the highlighting section of my nightmare. THEN it'll be getting down to the real work of rewriting the hundreds and hundreds of posts that I need to update. So that'll lead to more questions about my life choices.
STUFF I DID THIS WEEK
Other than work, I did do one super-cool thing the other week. I took a cooking class at Dundurn Castle, a historic home in Hamilton, Ontario where you GET TO COOK IN THE ORIGINAL KITCHEN of the home that was built in 1830. It was exactly like cooking in the kitchen of Downton Abbey (before they got electricity). We cooked soups from original recipes of the time using vegetables grown on the grounds of Dundurn Castle. And the most amazing part is none of the vegetables are varieties that would have been introduced to the world after that time. So all the varieties are obviously heirloom varieties of tomatoes, carrots, turnips and everything else.
We cooked on the original stove which was the size of a Buick and was fire fuelled. The kitchen is deep down in the basement (as they were in those days) but had the unheard of luxury of a WINDOW. A very small basement window, but still. That tiny window let in the only light in the room, the rest of it was lit with a couple of gas lanterns. That was it. You could hardly see anything it was so dark. 4 people chopped off fingertips in that class. It was unfortunate but necessary for the true historical experience. You understand.
THIS stack of dishes we used inspired me to go back to using my mixed antique dishes for Thanksgiving this year. LOOK how great it is.
I also harvested a WHACK of stuff from the garden like squash, dried beans, carrots and the last of the broccoli. I still have the regular potatoes, sweet potatoes, more tomatoes and the luffa sponges to pick.
I USED MY OWN TUTORIALS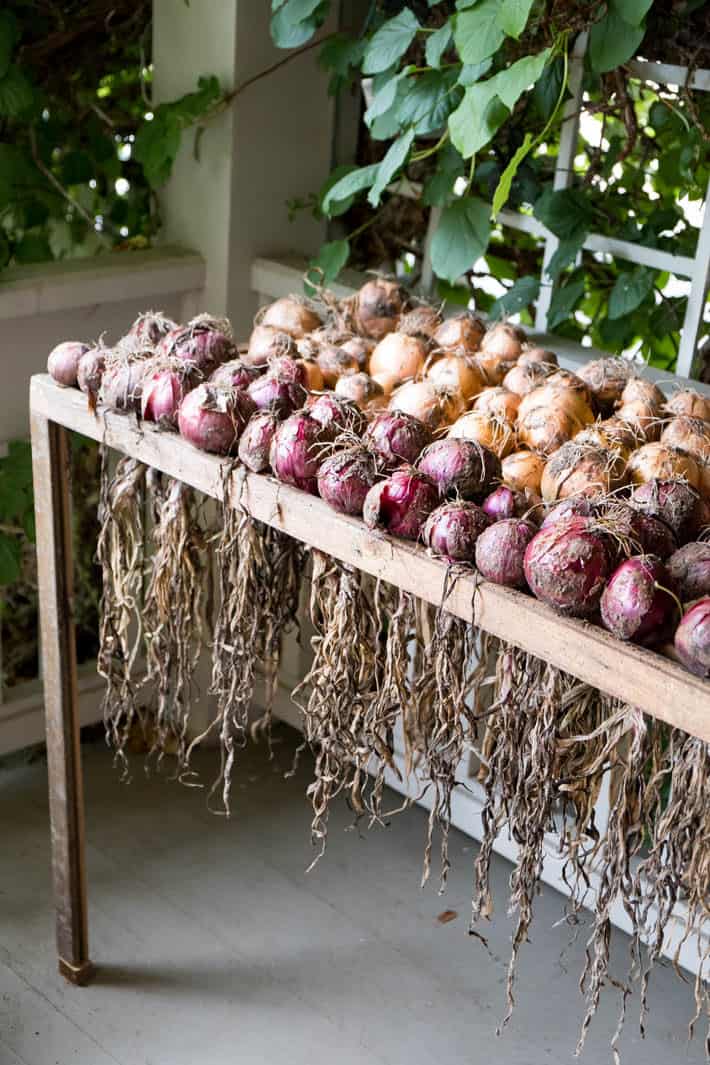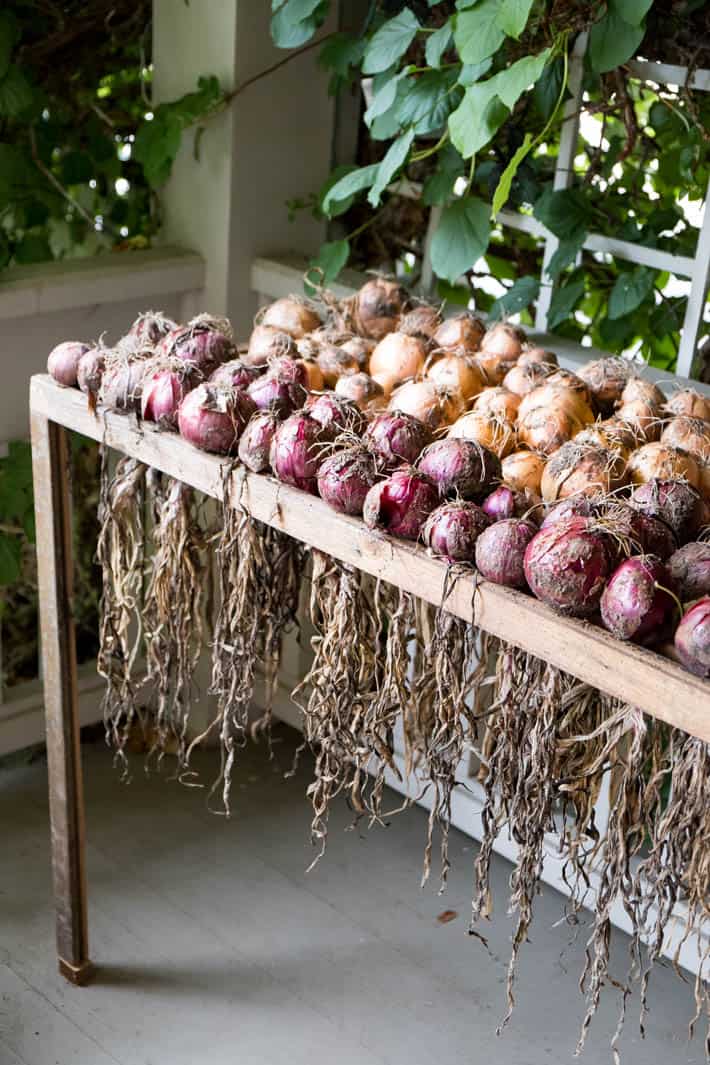 My Herb Drying Rack - My onions finally fully cured on my drying rack - have you seen the drying rack I made? - so I got to take those off of the drying rack to make room for the 400 bean plants I need to dry before I can shuck them to get my dried beans.
Making an Onion Braid! I got to BRAID some of the onions to hang in my kitchen. That's one of those posts I found from AGES ago while I was going through my site that I completely forgot about. How to braid onions or garlic. If you're wanting to braid your own harvested onions click on the link over there to learn how to do it. If you can french braid you can do it. If you don't know how to french braid but can count to three you can do it. If you can't do either of those things you probably operate a phone or laptop either so I'm not worried about it.
I MADE A NEW SOUP
Broccoli & Butternut Squash Soup - I made this Half Baked Harvest recipe when I discovered I not only had every single ingredient on hand, but I had grown or made ALL OF THEM. Bay leaves, broccoli, squash (I used Delicata, my fave), DIY cayenne pepper, garlic, onions - EVERYTHING. I had it all. And best of all, this soup was MIND BLOWINGLY delicious. Like - make it right now good. NOW. The only thing I did differently (other than using a different type of squash) is I didn't have any puff pastry so I used my own homemade croutons, with some white cheddar cheese melted overtop of them.
Wish me luck, keep your eyes peeled for sporadic updated posts and hopefully another post next Sunday.
Have a good week!