Baby bongs, gingerbread churches and airport security alerts round out the trouble I've gotten into in the past couple of weeks. Also, I need vegetables. Anyone else desperately feeling like they need to eat spinach and multi-vitamins for breakfast?
My nephew moved from Ontario to Vancouver, British Columbia a few years ago. Vancouver, if you've never been, is an outdoorsy, crunchy type of city surrounded by mountains, oceans and recycling bins. It's populated by people who wear hand knitted caps that look like they live in the bush but actually live in 3 million dollar condos.
My nephew does not live in a 3 million dollar condo but his place is about the size of one. By that, I mean his apartment is approximately 9 square feet. He doesn't care. The reason for this is, like most Vancouverites, he spends most of his time outdoors biking, climbing mountains, and recycling.
Because of the size of his apartment buying him presents is on the difficult side. He doesn't have a lot of space, so anything I buy him has to be small or something that gets used up. This year I managed to accomplish both goals by getting him a couple of things from the skincare line I use (Dermalogica).
He comes home for a few days at Christmas, and only flies with carry-on luggage, so I made a mental note not to give him a bundle of steak knives - like I did last year. A passenger carrying an arsenal of knives in their carry-on, sets off nearly as many alarm bells as someone going through security drinking a bottle of water while wearing shoes.
This year I knew he would be safe travelling through airport security with the skin smoothing serum, and SPF 50 moisturizer I got him. OBVIOUSLY anyone carrying around an SPF 50 for their skin isn't a reckless, danger seeking threat to air travel. They are a person of caution and responsibility with the utmost respect for preventing future wrinkles. Sporting an SPF 50 is basically the skin care equivalent of tattooing the John Lennon & Yoko Ono bed-in image on your face. Peace, man, I'm harmless.
Any security personnel of integrity checking his bag would recognize this, give him a wink and push him toward the plane with a complimentary set of headphones and whatever fun stuff they confiscated from the woman ahead of him.
This is not the scenario that played out.
Instead, all manner of mishaps and misunderstandings occurred mainly due to his travelling with a 10 pound cast iron skillet in his carry-on. This year's Christmas weapon was a gift from his mother.
It's a skillet you understand. A frying pan. You might not realize the importance of knowing the proper term for your cookware until you're standing in security at the airport with a line of interrogators asking you if you have some pot in your luggage.
If they had asked about a skillet, this wouldn't even be a story. But they asked if he had some pot.
He stated emphatically "NO WAY ABSOLUTELY NOT", knowing he was not travelling with cannabis. He had pajamas, skin care and a skillet. You know. The things most adult men travel with.
LIAR! was the response of security as they flung open his carry-on and pointed animatedly at his unblinking frying pan. Which in fact, is no more a pot, than a swimming pool is. Nor is a frying pan cannabis.
My intel after this is sketchy, but from what I can understand through the texts he sent to my sister, being branded a man who lies about the transport of primitive cookware, made security suspicious of him in general and therefore his skincare products. I have mixed reports on whether or not he got to keep his pot, serum or SPF 50.
But if security threw his Dermalogica out, so help me, the next time I go through security I'm going to fart the whole time they're waving that wand over me.
---
Also this past week I made a bunch of tiny gingerbread houses and then ate them. This year upping my game by including tiny stained glass church windows made of melted coloured sugar. You can see those in the photo at the top of this post.
I made the windows with the encouragement of my neighbour (and professional ice cream maker!) Laurel who was here making tiny gingerbread houses with me one night.
Laurel meant to be here for just a little while I'm sure but by the time we were just hitting our groove her 12 year old daughter appeared at the door. When we started the tiny gingerbread she was just 9.
To make the glass I melted a tiny bit of sugar in a kitchen spoon with a lighter. Had they been peeking in the windows of my kitchen, this would have made airport security's head explode what with it looking exactly like we were doing crack or meth or heroin or whatever else it is you do with spoon and a lighter.
The millisecond the sugar is melted I poured it onto parchment paper where it spread out. Laurel could then press a piece of gingerbread on it and it would immediately stick and harden to the gingerbread facade.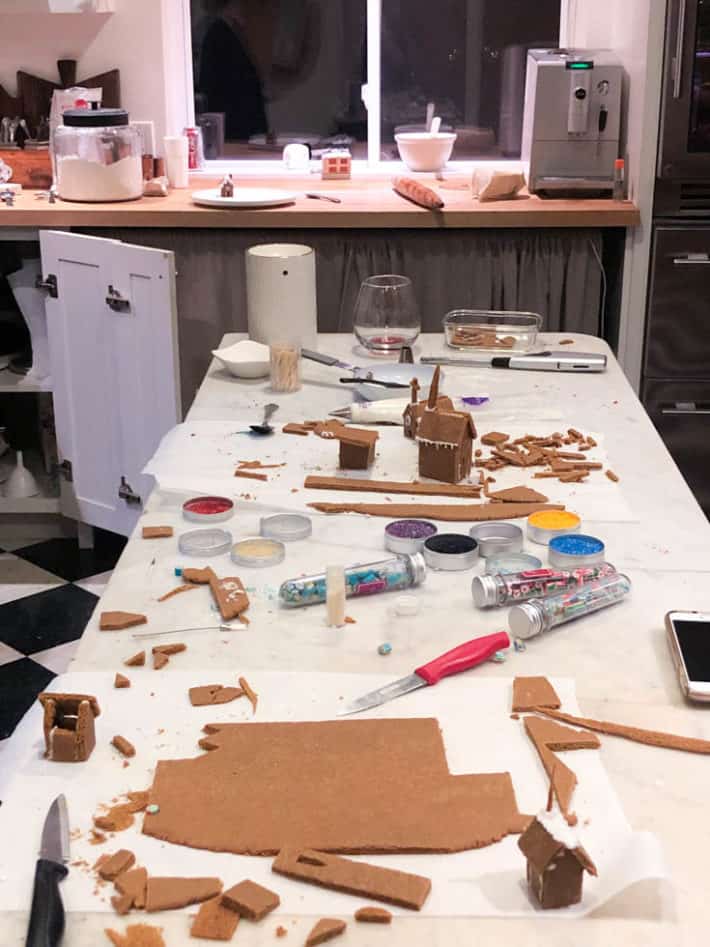 Most people would dread cleaning up this kind of kitchen mess, but not me. On the recommendation of my friend Andrea, I just sold my house instead. I plan to use the proceeds for SPF airline safety education.
---
Me. At the garden on December 27th without a coat or mascara on (not that I shouldn't have had either on, I'm just saying I didn't) cleaning up the garden and dealing with my compost bins for several hours. It was an incredibly warm day for December with a high of around 13 degrees (55 F) so I took advantage of it and got outside.
I was partly pulled to the garden because of an unquenchable craving for food with vitamins. After a week of Christmas food I'm feeling a bit like a cement block.
While I was up at the garden I noticed that one of my tunnels had a couple of beets that could be picked so I grabbed those as I was leaving. The reason this weather was so exciting is not just because it was a bit more pleasant to work outside in than an ice storm for instance, but because it had been over freezing for a few days which means the ground is thawed enough to pull stuff like dead plants out of it.
I leave some dead plants in the ground because the roots are great for feeding worms and keeping them in your soil, but I didn't want to leave absolutely everything in the ground until spring because that just makes for a bigger cleanup in April. Another thing you can do if you want is to just cut the stalks off of the plants, and leave the roots where they are to decompose or get eaten by buggy bugs in the soil.
---
Coming up Next Week in My Life
P.S. I gave Betty a pink, hand blown glass marijuana pipe for Christmas. It's not to use, it's way too small for wine, but because she thought it would be pretty on the coffee table.
I wonder what airline security would think of that.
---
update: I just heard from my nephew and he assures me it was all just a big mixup and he is in possession of the skillet, face serum, and moisturizer. No one knows where the pot is.
---