I've been doing a whole WHACK of harvesting this week and flying around like a chihuahua on speed trying to get things picked, covered up, protected from random frosts and given a few more weeks to produce. Also Thanksgiving is 1 week away and I still have no idea whether I'm allowed to have it or not.
In an impressively wishy-washy statement, the Ontario provincial government has declared residents CAN ONLY HAVE THANKSGIVING DINNER WITH PEOPLE WITHIN THEIR OWN HOUSEHOLDS. Unless you live alone and want to visit your mom who also lives alone, then you can go and see her for Thanksgiving because mental health is important. Or if you have friends that you've spent time with the past few months because you don't have family, so they're "like" family but only if those friends don't have OTHER friends who may or may not have been in contact with someone with Coronavirus.
To put it a little bit more simply; the government is drunk.
And not a good drunk. It's like a Peach schnapps drunk.
At the beginning of all of this we were given real rules. Like, don't leave your freaking house unless it's on fire, you're on fire or you have just finished watching Tiger King and have become temporarily hysterical.
Now? Now we're given the kind of directives that absolve the government of any real responsibility for fallout that might occur one way or the other: economic or health.
Taking the lead from my provincial government, I too am being wishy washy and haven't committed to either having or not having Thanksgiving. Maybe I'll get lucky and the weather will warm up and we can just have dinner safely outside.
Except there's this …
That's a great big hole where my massive century old maple tree used to be. It's been Fargoed. Sent to the big wood chipper in the sky. I'll have to put some boards across it until I buy replacement flagstone to put down.
Just days before, I had gone outside to replace the water in the water dish I leave outside for dogs and instead pivoted and ripped up part of my walkway to redo it.
This is how it ends up taking me a minimum of 17 hours to do anything. Ever. I did fill the water dish eventually.
Back to the harvesting, I dug up the sweet potatoes a week ago and ended up with just over 25 pounds of them from 6 large pots.
But now they have to cure to develop their sweetness (the starches will turn into sugars) and to slowly harden their skins so that it traps the moisture inside the sweet potato. That way they'll store much longer than if you just threw them in a bin.
The flowers are realllyyyyy late this year in part because of the fact that it actually snowed on the first long weekend of this summer and then someone flipped a switch and we had blinding heat and drought for the rest of the summer.
This confused me, the plants, the pests and I'm guessing, the provincial government.
I'm still have a ton of red, yellow and hot peppers to pick which are protected from wind and frost by the thin layer of insect netting they have over them from the hinged hoop houses.
I still have the luffas to harvest and this weekend I covered them up at night to keep frost off of them so they have even just another week on the vines.
I have never had such a good crop of luffa.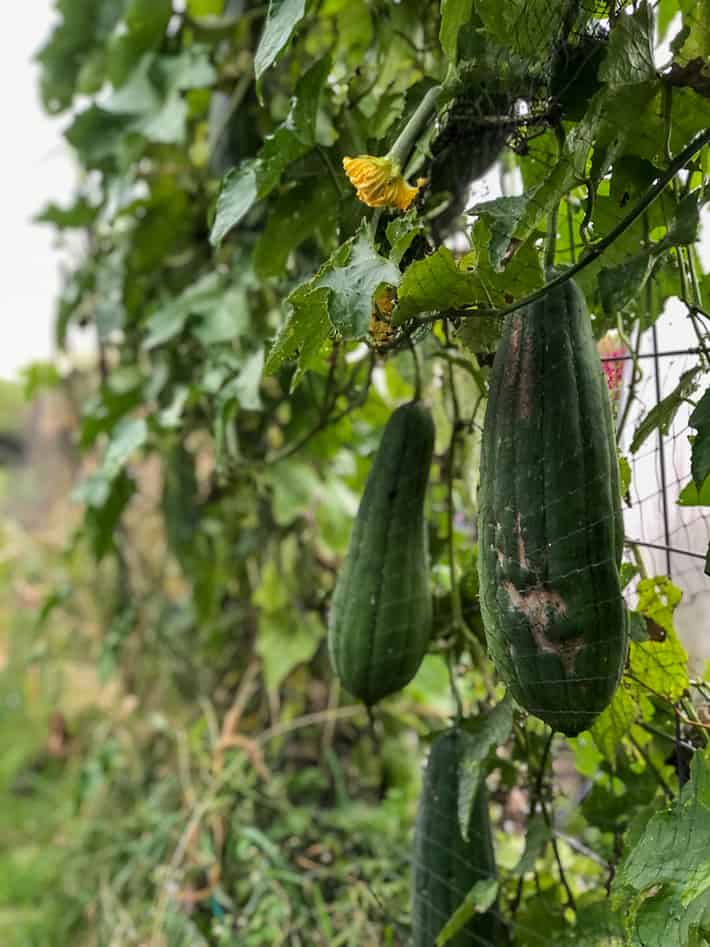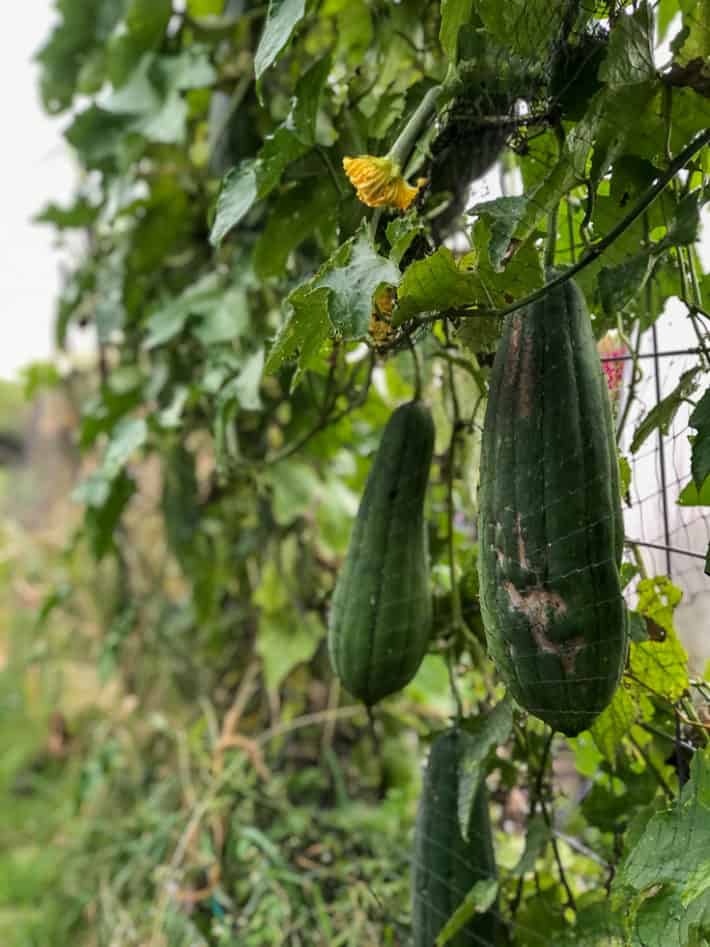 They're everywhere and they're big.
See that luffa sponge up top there? It's close to drying out on the vine which in this climate is almost unheard of.
What can I attribute this explosion of scrubbies to? Consistent watering, an incredibly hot summer and constantly explaining to the plant that my skin is getting old and crinkly. Plants are very sympathetic.
I don't have a lot of time left in my garden this year, especially if winter comes as hard and fast as summer did.
But until then, I'll be tidying, planning, and cover cropping under the glow of a Peach Schnapps sky.
Have a good remainder of your weekend!