Friday the 13th is unlucky. We all know that. How else can you explain the very well known fact that the accordion was given its patent on a Friday the 13th.
But why exactly do we think it's unlucky? I figured it had to be religion because generally speaking religions loves to scare people. After feeding the hungry, extolling the virtues of love and compassion, and having bake sales, scaring the bejesus out of people is religion's favourite thing.
Sure enough, Friday the 13th harkens back to the Last Supper of all things. A nice sit down dinner with friends. There were 13 people at that dinner and one of them turned out to be Judas, who you may know as the dude who betrayed Jesus. So if they'd kept the number for that dinner at 12 …
In fact, that's what Jesus was doing in that very famous painting of the same title. He had just told all of his apostles that one of them would betray him. What you're seeing in the painting is their various reactions. At least what you're seeing is Leonardo Da Vinci's interpretation of how they reacted.
Jesus was crucified the next day. A Friday. I mean this is all kind of word of mouth and its validity sort of depends on who you ask, but it is indeed the generally agreed upon basis for why Friday the 13th was originally thought to be unlucky.
Just so you know, if you're in Spain you have nothing to worry about. It's Tuesday the 13th that's unlucky there. Unlike in Italy where Friday is the unlucky day but only if it's Friday the 17th.
At this point in my Friday the 13th. research, I'm getting a little bit suspicious about the validity of the whole thing.
For one thing, the Olsen twins were born on a Friday the 13th and I LOVE the Olsen twins.
Also the Hollywood sign went up on a Friday the 13th. It actually said Hollywoodland and it was put up as a real estate sign for a new development, but became an iconic and instantly recognizable landmark. So … that seems pretty lucky.
Then there's the whole Friday the 13th movie franchise which I'm sure made lots of money and gave lots of jobs to lots of people. Again – good and lucky stuff.
On Friday the 13th Benjamin Franklin wrote one of the world's most famous phrases. That "… in the world nothing can be said to be certain except death and taxes". If I may, I'd like to expand on that phrase and add cabbage moths.
So as you venture out today, if you're worried about getting into a fender bender, forgetting your wallet at home or any other bad thing that might happen, remember this; Friday the 13th is always followed by the most fun loving of all the days, a Saturday.
Have a good weekend!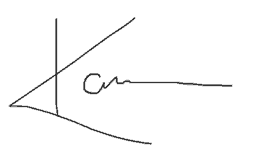 →Follow me on Instagram where I often make a fool of myself←