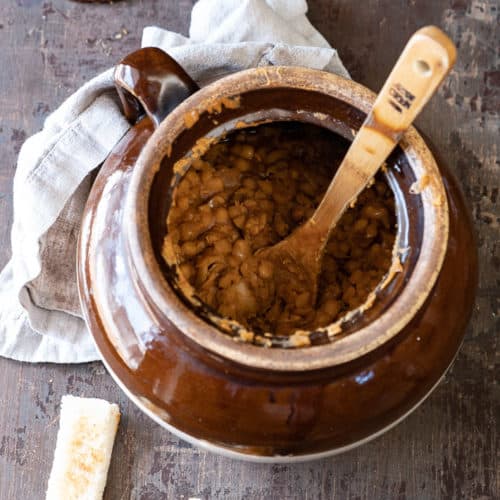 Print
Old Fashioned Baked Beans
Old fashioned baked beans go well with any grilled meat and especially salty pork products.
454

grams

dry beans

white pea (navy) beans

water

enough to cover beans

1

onion

diced

1/2

tbsp

salt

2

tsps

cider vinegar

1/4

lb

bacon

or salt pork

1

tsp

mustard

2

tbsp

brown sugar

1/4

tsp

smoked paprika

1/4

cup

molasses

1/2

cup

ketchup

pinch

black pepper
Soak the beans overnight in water.

The next morning heat the beans to boiling and simmer for around 30 minutes. If the skin of the bean peels back when you blow on it the beans are done.

Drain the beans and SAVE the bean water.

Mix all of the sauce ingredients together and mix in the cooked beans. Put everything in a bean pot.

Add enough of the reserved bean water to the bean pot to cover the beans by 1/2".

Add bacon or salt pork to top of beans, cover and bake at 250 F for 7 hours.

Remove lid and continue to cook uncovered for 2 hours to help the beans develop a dark brown colour.

Serve with grilled meats as a side dish or on toast for a lunch.

Remove from oven and remove bacon or salt pork. If you like your beans with some meat chop it up and mix it into the beans. I prefer to remove the pork entirely and just use it for the flavour and smokiness it infuses in the beans while cooking.
TIPS
To eliminate the overnight soak, you can boil the beans for longer during their initial cook in water. Instead of simmering for 30 minutes, simmer for (apx) 90 minutes.  
If you're vegan or vegetarian and want to eliminate the bacon then double the amount of smoked paprika from 1/4 tsp to 1/2 tsp.
TO COOK BAKED BEANS IN THE INSTANT POT (bleh)  1.  Add your dried beans to the Instant Pot with enough water to cover them quite well.  Cook on high for 25 minutes. They might be perfectly done or they might be overdone and mushy. It depends on the bean. And that's why I don't like the Instant Pot.     2. Drain the beans and return them to the Instant Pot.  Add all of the other ingredients and cook on high for 10 minutes.   
Calories:
2522
kcal
|
Carbohydrates:
405
g
|
Protein:
118
g
|
Fat:
52
g
|
Saturated Fat:
15
g
|
Cholesterol:
74
mg
|
Sodium:
5449
mg
|
Potassium:
7376
mg
|
Fiber:
113
g
|
Sugar:
134
g
|
Vitamin A:
12.3
%
|
Vitamin C:
15.8
%
|
Calcium:
90.4
%
|
Iron:
167.2
%