I was talking with a neighbour of mine the other afternoon. Mainly we were walking around my garden as I snapped things off and we ate them. So a lot of the talk went something like this … "Mmmm, ohhhhh, smack, crunch, mmmmm".
After stuffing her and her kids with ground cherries, Sweet 100 tomatoes and green beans she had to run. It was soccer night. They'd be having a quick snack and not eating until they got home from soccer. She had the same dilemma that every person around the world has around 4:00 in the afternoon.
What the hell are we going to eat for dinner.
I haven't been great with it lately, but as most of you know, I usually write a weekly menu on Friday night. That gives me the weekend to buy my groceries for the week and frees up every afternoon at 4:00 for helping the elderly cross the road. I pretty much do everything I can to get them on the other side of the street; they're pretty grabby with my tomatoes those elderly people.
But even when I do write my weekly menu the odd time something comes up and I can't make the meal I was planning to. I need to make something FAST.
I NEED TO MAKE MY GO-TO, EMERGENCY, I'M IN A RUSH DINNER. This could be due to any number of reasons including transporting a family member to the emergency room, a sudden desire to learn how to yodel – in Yiddish, or just plain laziness.
When any of those things come up I make …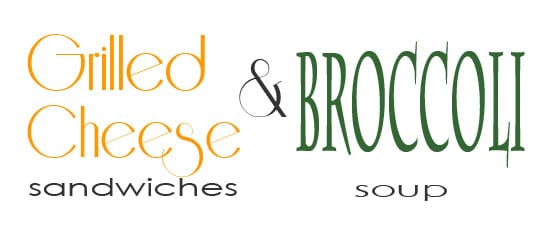 Easy, delicious, and fast. Even with the soup being homemade, it can be done in 10 minutes.  Just boil some broccoli in chicken broth, put it in the blender and add salt & pepper.  DONE.
Since I get some of my best ideas from the comments section of my blog, and … I'm sure you do too … I ask of you now …
I don't care if it's frozen pizza or cereal.  Just lemme know …
Have a good weekend!  Yodel-eh-hee-chutzpah