The books, movies, tv shows and other perfectly archaic ways I'll be entertaining myself this month. This is a Tik Tok free zone.
I take pride in the fact that I know how to spell Tik Tok, yet do not engage in it. Makes me feel hoity-toity to be above all that drivel and more interested in the academic pursuits in life like reading and Instagram.
After last month's publishing of 12 things to read, watch & listen to I realized that this kind of thing is USELESS if you don't know what my tastes are.
So here's a quick review of things I DO and DO NOT like in no particular order.
Love
Geek Love, A Prayer for Owen Meany, The Book of Negroes, Lonesome Dove, Middlesex, A Man Called Ove, Little House on the Prairie series
Shameless, Sex in the City, Doc Martin, Call the Midwife, anything with Chris O'Dowd, Please Like Me, Downton Abbey, VEEP
The Menu, Women Talking, Parasite, Jojo Rabbit, Sing Street, any horrible Hallmark Mystery Movie, The Princess Bride
Don't Love
Remains of the Day, A Gentleman in Moscow, self-help books, American Dirt, Where the Crawdads Sing
You, Game of Thrones, Grey's Anatomy, Fleabag, Westworld, Better Call Saul,
Titanic, Hamilton, Everything Everywhere All At Once, Banshees of Inisherin, Avatar, Deadpool, Where the Crawdads Sing (omgsoawful)
So now you know a tiny bit about my tastes, which like yours are probably all over the place and nonsensical.
Books
Currently Reading ... and LOVING. More than loving. I'm admiring it.
My plan was to read a different book next. Then reader Librarian Nancy alerted me to this book: Remarkably Bright Creatures. The tale of Tova, a widow who takes a night shift janitorial job at an aquarium after her husband dies.
There she befriends an imprisoned (his words) giant Pacific octopus named Marcellus who narrates parts of the story.
Stop rolling your eyes at a narrating octopus. I had the same reaction, but the chapters that are told through the eye of the octopus are the chapters I most look forward to now.
I'm not sure I've ever been so instantly enchanted with a book. I'm currently ⅓rd of the way through so I shouldn't officially recommend it but if you are a fan of literary fiction I think there's very little chance you'll feel anything but love for Remarkably Bright Creatures.
Tomorrow and Tomorrow and Tomorrow
Once There Were Wolves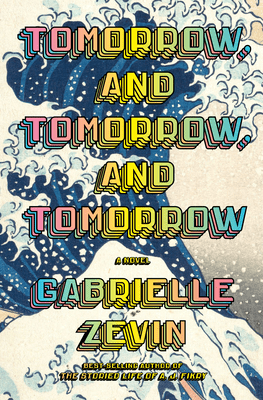 The story of two childhood friends who develop video games.
★★★★★
A biologist releases 12 grey wolves into the Scottish highlands in an attempt to revive the ecosystem.
★★★☆☆
I'VE READ IT
I'VE READ IT
As you might remember I started this book last month. I finished it and loved it.
I never thought I'd say this about a book that's based on gamers and game developers but ...
I can now 100% recommend it.
A Christmas gift from Fish Pedicure, Once There Were Wolves is yes, about wolves.
The writing is beautiful and I always looked forward to cracking it open again at night but I would have been happier with the book if they'd just left it at wolves and the ecosystem. Instead they dilute that plot with romance and murder. Just gimme the wolves and the environment please.
But don't listen to me. Goodreads readers LOVE it. (4.2 stars from over 60,000 ratings)
Even with my complaints I wholeheartedly recommend it.
Horse
The Museum of Extraordinary Things
Lessons in Chemistry
WANT TO READ
WANT TO READ
WANT TO READ
HORSE was supposed to be the next book I read after Tomorrow & Tomorrow & Tomorrow. Instead I went with a reader recommended book.
I may be disappointed by this novel from Alice Hoffman because this genre is one of my favourites. Circus folk.
It'll be hard to beat my favourite, GEEK LOVE.
Set in 1960s California; Lessons In Chemistry is the brilliant, idiosyncratic and uplifting story of a female scientist whose career is derailed by the idea that a woman's place is in the home - something she most definitely does not believe - only to find herself the star of America's best-loved TV cooking show. (from Goodreads)
---
Movies
These are the two I've watched in the past month that I LOVED.
Women Talking
At the beginning of the pandemic I shared a video made by a grade 9 student about the effects of Covid isolation on mental health. The 15 year old girl who wrote, directed and acted in the video is the daughter of a television director I worked with a lot when I was a television host.
Two years later this Etobicoke School for the Performing Arts student is starring in a critically acclaimed, Academy Award nominated feature film. So how'd that happen?
That end-of-school project ended up getting millions of views on Youtube. It struck a chord with a lot of people - one of those people being Canadian director Sarah Polley.
In fact, Sarah Polley liked Liv's video so much they developed an online friendship which led to Sarah asking Liv is she would be interested in auditioning for a movie she was making.
Liv auditioned, and landed the role of Neitje in the award winning movie Women Talking about a group of ultraconservative Mennonite women who after years of physical, mental and sexual abuse by the men in their community finally decide to start talking about it.
Make time to watch this movie.
I have watched (or really, really tried to watch) all of the best picture nominations for 2023.
Women Talking is the one I'll remember in years to come.
We Have a Ghost
This is just a fun, ridiculous popcorn movie. It's no Ghostbusters but it's an easy and enjoyable watch.
---
Television
The Other Two
The Other Two, being the siblings of a newly manufactured child pop star. What happens when you're in your 20s and your 13 year old brother becomes the biggest thing since Justin Bieber? Hilarity, that's what.
Hacks
A legendary, but on the downslide, Vegas comic tries to reinvent her act to stay relevant. She is an absolutely and perfectly AWFUL human being. Which is always fun to watch. But the real reason to watch is for the character Kayla.
Poker Face
A new murder mystery every episode starring Natasha Lyonne as a woman who can instantly tell if someone is lying. I think I'd get bored with multiple seasons of this, but the first season was really good.
You can see the February list here.
As always add some of your recommendations below. It's also helpful if you include some other things you like or don't like.
In conclusion, yes, I really did hate Game of Thrones.