There are two ways to get guaranteed crispy sweet potato fries. In your oven (yes!) or in a deep fryer. But even deep frying plain sweet potato fries won't get them crispy. You need a tiny bit of the secret ingredient - cornstarch.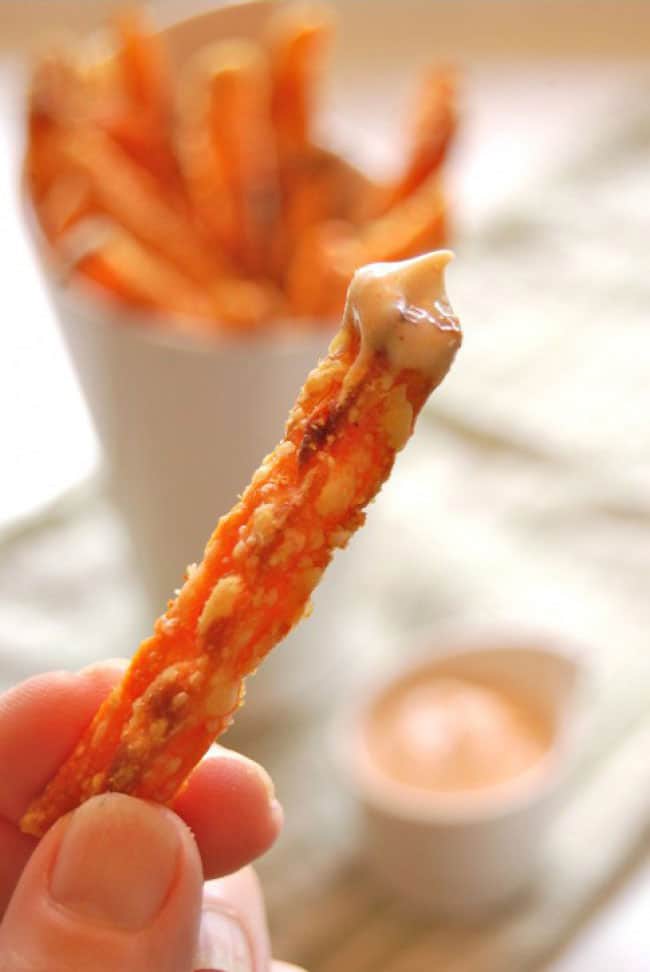 Skip right to the printable recipe.
Right here, right now I am going to teach you how to make crispy sweet potato fries. Even though they're not a real french fry. They are french fry substitutes to be eaten when a real french fry can't be found.
Yes, I know. But you loveeeeeeeee sweet potato french fries. You like them wayyyyyyyyyy better than regular french fries. That's because you're an amateur. I on the other hand, am a french fry professional.
I have been making, eating and gorging myself on theses sticks of potato deliciousness for as long as I can remember. In high school I ate so many of them at lunch that at the end of the year I threw up a ball of grease. So ... clearly ... a professional here whose advice should be followed.
But ... if you're on some sort of stupid meal plan, or you're all out of regular potatoes, or you just feel like having something a little different than regular french fries, why wouldn't you cook up some Sweet Potato French Fries?
Because they're soggy messes. That's why. They'll get brown but they don't get crispy.
I've oven baked them, par boiled them and deep fried them and they don't get crispy. They get brown, but not crisp.
Finally, I've figured out how to make crispy sweet potato fries and the best part is you can do them in the deep fryer or the oven! Either way, you'll end up with crispy fries. Guaranteed.
But like with most things, you're more guaranteed if you do them in the deep fryer.
Here's what you need to do to create this perfect sweet and spicy lunch or side dish.
Gather your sweet potatoes.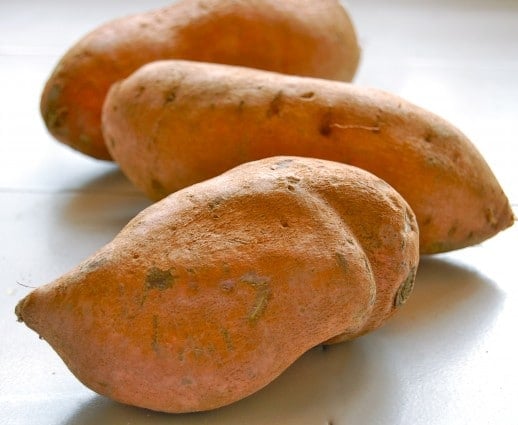 Get some corn starch.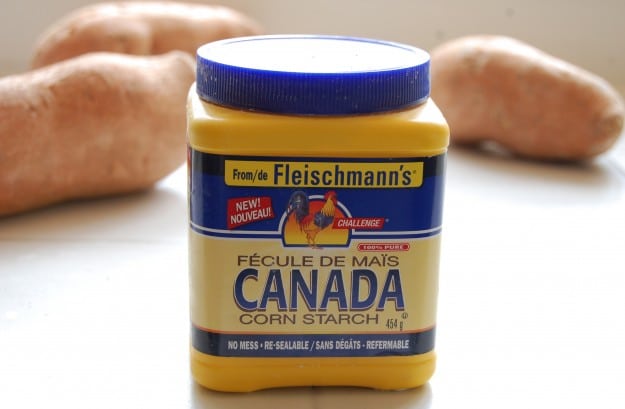 Also get some olive oil. Just the cheap stuff. Not the good stuff like my favourite Lorenzo No.5. Seriously best tasting olive oil ever.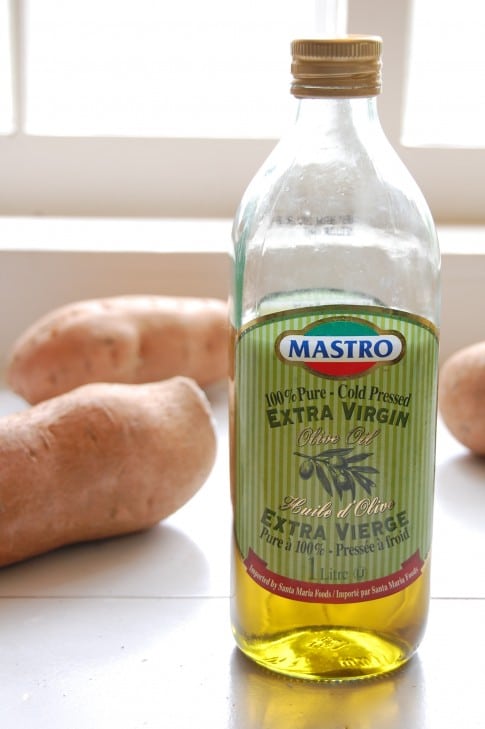 Peel your sweet potatoes. I have used the same brand of vegetable peeler for 15 years now. It's the cheapest, most basic vegetable peeler around and it's pretty much every cook's favourite. It's the Great Lash mascara of the vegetable peeling world.
Cut your sweet potatoes until they're a medium thickness. Not hugely thick cut and not shoestring.
Let potatoes soak in water for an hour - half the day. (not mandatory, but recommended)
Preheat oven to 425°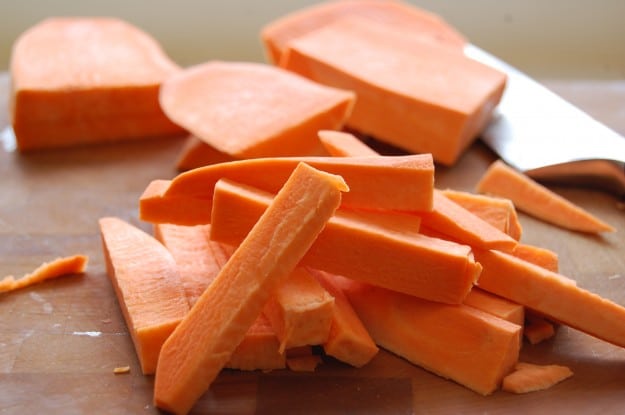 Throw a Tablespoon or two of cornstarch into a plastic bag.
(update: I'm reducing this to a definite 1 Tablespoon of cornstarch because people were reading this as 1 to 2 to 173 Tablespoons of cornstarch. So it's a hard 1 Tablespoon now. Got it?)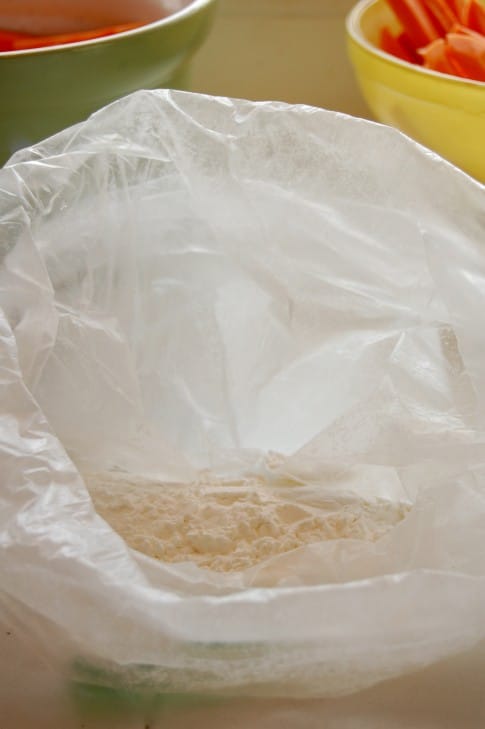 Dump a handful of sweet potatoes into the bag with the cornstarch. You don't need to dry them with paper towels or anything. Just drain the water and then give each handful you drop in the cornstarch a good shake. Twist the top of the bag so it forms a balloon with some air inside and shake the fries around until they're lightly coated with the cornstarch. This is important. Too much water and too much cornstarch and you'll end up with a goopy mess. Plus your fries will taste like cornstarch.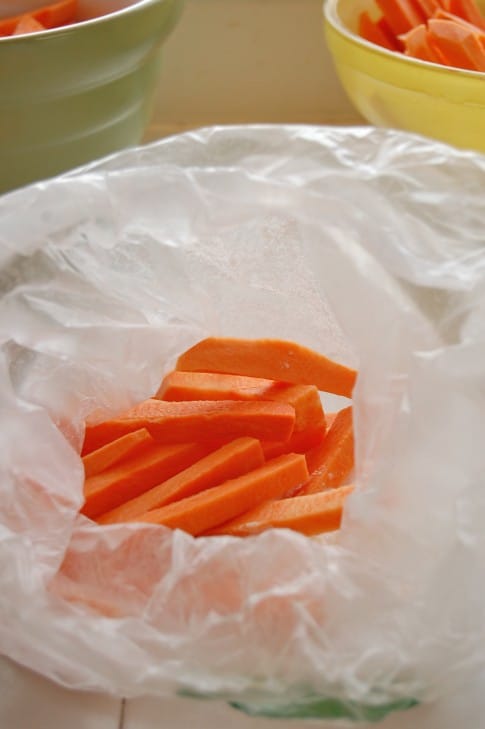 Put them on a non stick cookie sheet. The darker the cookie sheet the better - all the better to brown with.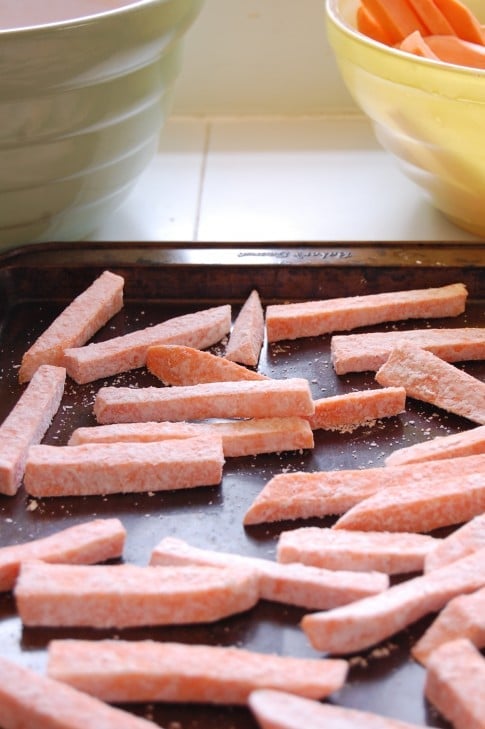 Drizzle 2 Tbsps. of olive oil over the sweet potatoes. This is if you want to be healthy.
Any vegetable oil will work. I've used sunflower, avocado, vegetable etc. etc.
---
Saturated and Unsaturated Fats
Saturated Fats for frying
Monounsaturated & Polyunsaturated Fats for frying
Olive Oil
Canola Oil
Peanut Oil
Sunflower Oil
---
You can use as much oil as you want.
---
(Update: The more oil you use the easier time you'll have of getting the fries crispy but the less healthy they will be.)
---
I usually go the totally unhealthy route to make sure the fries are crispy. Just drizzle the oil across them and then mix them up with your hands to coat well.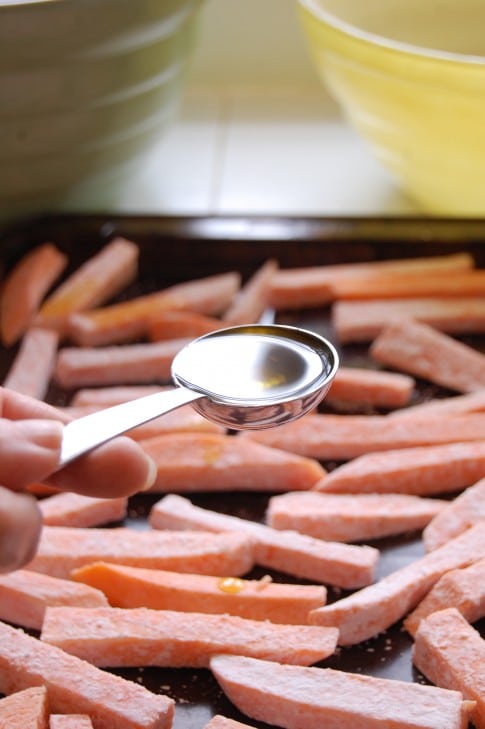 Spread the whole mess out evenly on your baking sheet.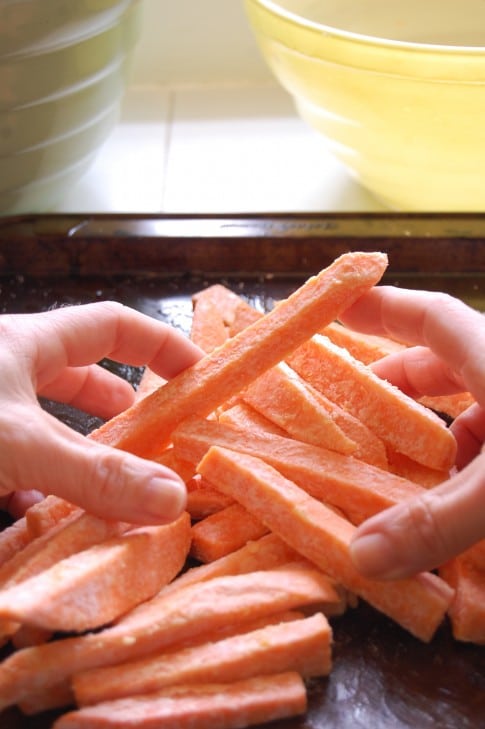 Arrange them so they have space between each fry. The less of them on the pan the better they'll cook. Too many shoved together and they'll never get crispy. They'll just steam. So do NOT overcrowd the pan. Pop the pan into your preheated oven and cook for 15 minutes.
Meanwhile you can make the dipping sauce. Mix together ½ cup of mayonnaise with 1 teaspoon of Sriracha sauce and ¼ teaspoon of Cayenne Pepper.
You can adjust the proportions to taste. Mix it up and taste it then adjust as you like.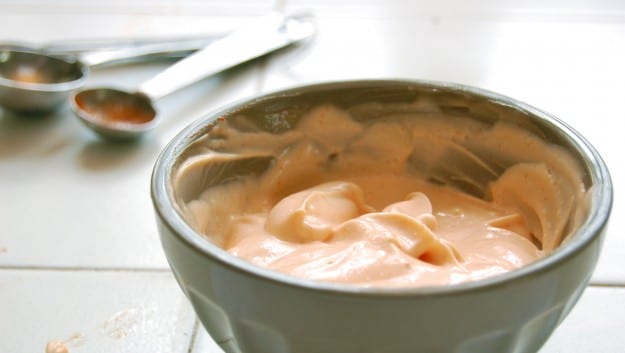 Check them after 15 minutes, flip them over (you might have to use a spatula depending on how "non stick" your pan is) and return to the oven if necessary for another 5 minutes. The timing really depends on the size of your fry, the heat of your oven and how well your pan conducts heat.
(update: You can see the pan I'm using here is very dark, this very dark, old, used pan cooks things faster and crispier. So if you have an old pan like this use it. If you have a shiny, new baking sheet your fries will take much longer to cook, will have a greater tendency to stick and won't get as crispy)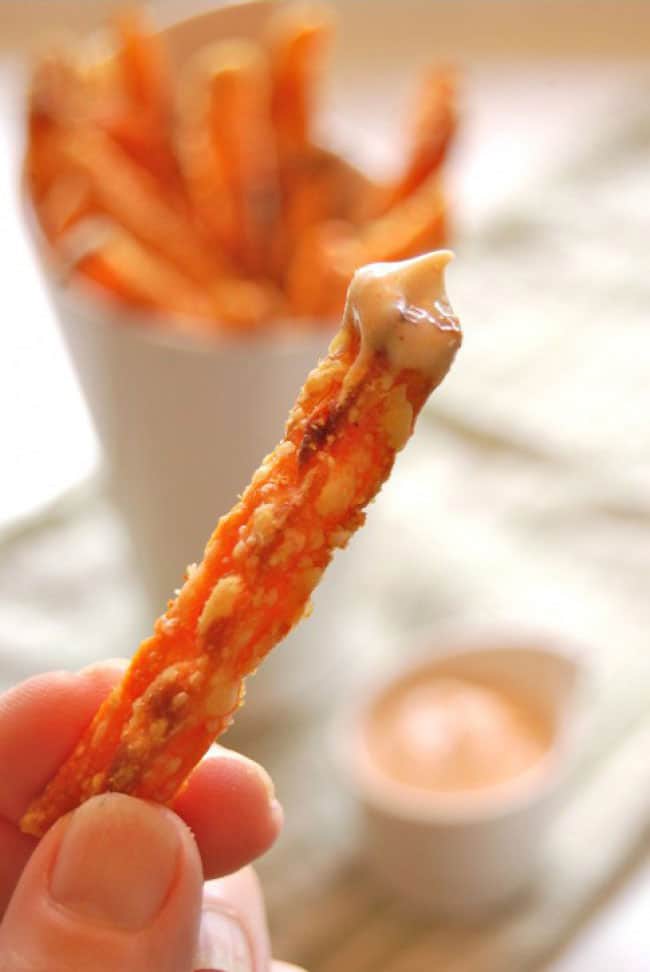 Maxwell Williams French Fry and dipping cup!!
If you prefer your food deep fried, (and who doesn't) throw them in the deep fryer at the highest setting for a few minutes instead of sticking them in the oven. You STILL need to coat them in cornstarch. Even in a deep fryer, sweet potatoes fries won't want to get crispy unless they have a coating of cornstarch.
This is how I do them when I'm in a rush. They're always crispier than those from the oven, but far less healthy.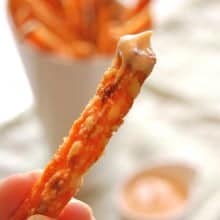 Ingredients
2

large sweet potatoes

1

Tablespoon

of cornstarch

*Dipping Sauce*

½

cup

mayonnaise

¼

tsp.

cayenne pepper

1

teaspoon

or more Sriracha sauce
Instructions
Preheat oven to 425 or deep fryer to highest setting

Peel sweet potatoes, slice into medium thick slices (closer to thin than thick).

Soak potatoes at least 4 hours in water.

Drain water from sweet potatoes and shake dry with your hands.

Put 1 Tablespoon of cornstarch into food safe plastic bag.

Dump sweet potato fries into bag, blow some air into it, and shake bag until fries are coated.

Place fries on cookie sheet, drizzle with a couple Tablespoons of olive oil.

Toss fries until evenly coated with oil.

Arrange on cookie sheet(s) with lots of space in between fries to prevent steaming.

Cook in hot oven for 15 minutes then check.

The fries will release from the pan when they're ready to flip the same way a steak would.

Flip fries, and continue to cook for another 5-10 minutes.

(cooking time depends greatly on the quality of your baking sheet so keep an eye on them)

Dipping Sauce: Mix together mayo, pepper and Sriracha sauce. Adjust to your taste.
Notes
Do NOT use too much cornstarch. It will lead to heartache and raw, powdery tasting fries.
A dark, metal baking sheet will give the best results.
Sweet Potato Fries will get dark fast because of their high sugar content. Don't forget to flip and turn them.
TIPS
Do NOT use too much cornstarch. It will lead to heartache and raw, powdery tasting fries.
A dark, metal baking sheet will give the best results.
Sweet Potato Fries will get dark fast because of their high sugar content. Don't forget to flip and turn them.
Please note : This recipe does have a bit of a learning curve. It may take a few attempts to get your proportions of corn starch and oil correct. It took me several years to figure out how to do this, but with these instructions it shouldn't take you more than a couple of tries.
→Like to Sweat, Swear and do Stuff? GET MY POSTS emailed to you 3 times a week←