O.K. everybody calm down. It's a bold claim, I know. But this really is a great recipe. Perhaps the best curry chicken salad recipe in the land. Chicken, apples, mayo, curry, toasted pecans, celery and raisins. I know. You don't like raisins, right? You can use cranberries if you want.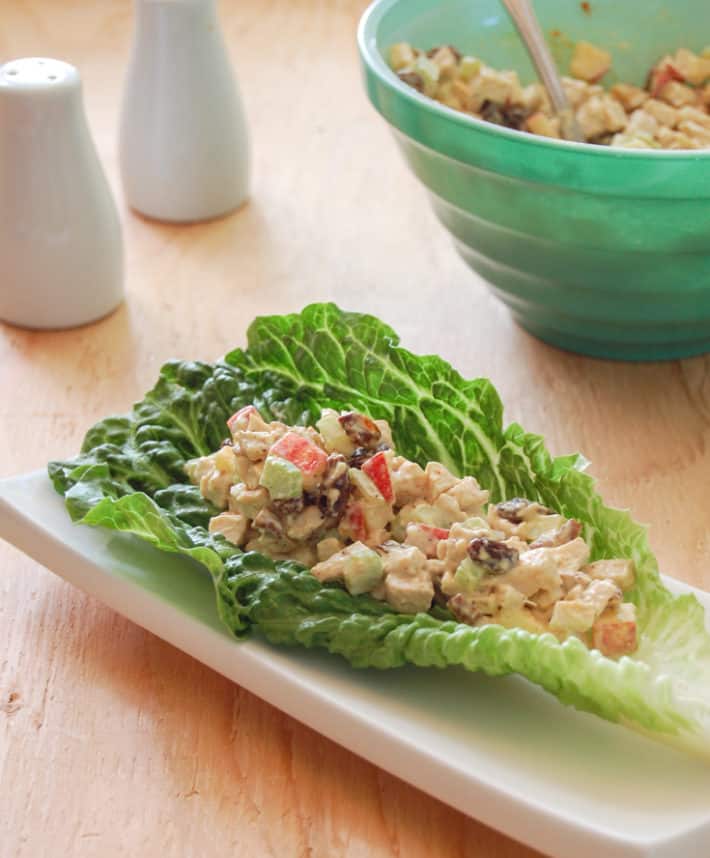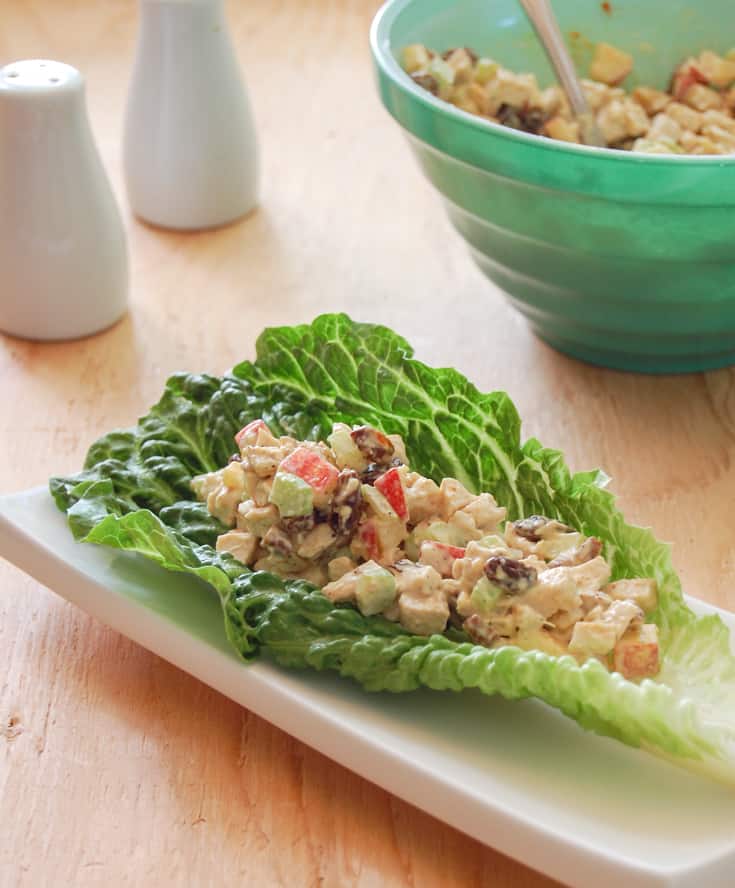 The first time I made this curry chicken salad, I dreamed about it for the next 3 days. The same way I dream about french fries and having a big toe that isn't plagued with a bunion.
I originally got the recipe years ago from a guy who was a Crossfit super-enthusiast. And by Crossfit super-enthusiast I mean any person who has ever done more than one Crossfit class. If a person takes one class and THEN they think it's a good decision to go back for a second Crossfit class, they're automatically a deranged Crossfit enthusiast who will commit to it with a cult-like fervour.
The same guy is where I got my No Cook Hippie Dippy Cookie recipe from. I took one Crossfit class about a decade ago and the best things I got out of it were these two recipes from the gym owner.
I serve this chicken salad cold on a leaf of romaine lettuce (like a leafy pita) which is a habit I got into after the crossfitting lunatic nice guy from the gym, decided limiting carbs was a great idea.
Because of how blindly I follow the instructions of someone with a 6 pack, I don't ever eat this salad on bread. Only lettuce. Usually.
Gather your ingredients Martha Stewart-style. Get everything ready to go. You're going to be working with apples, celery, grilled chicken, and lots of other good stuff. The full printable recipe is at the bottom of the post.
Curry Chicken Salad Ingredients
chicken
celery
apples
raisins
pecans
mayo
cayenne
curry
s&p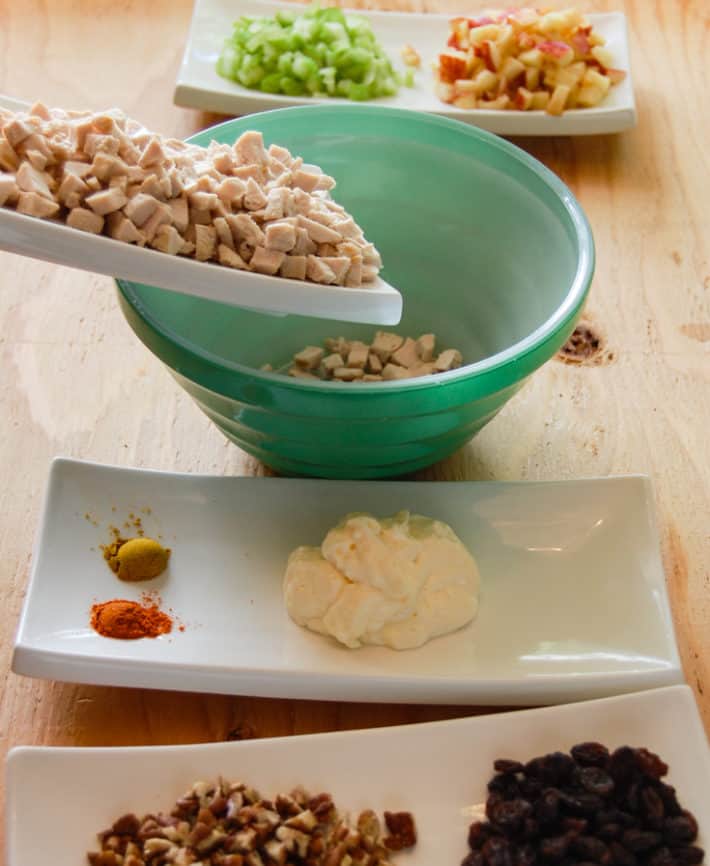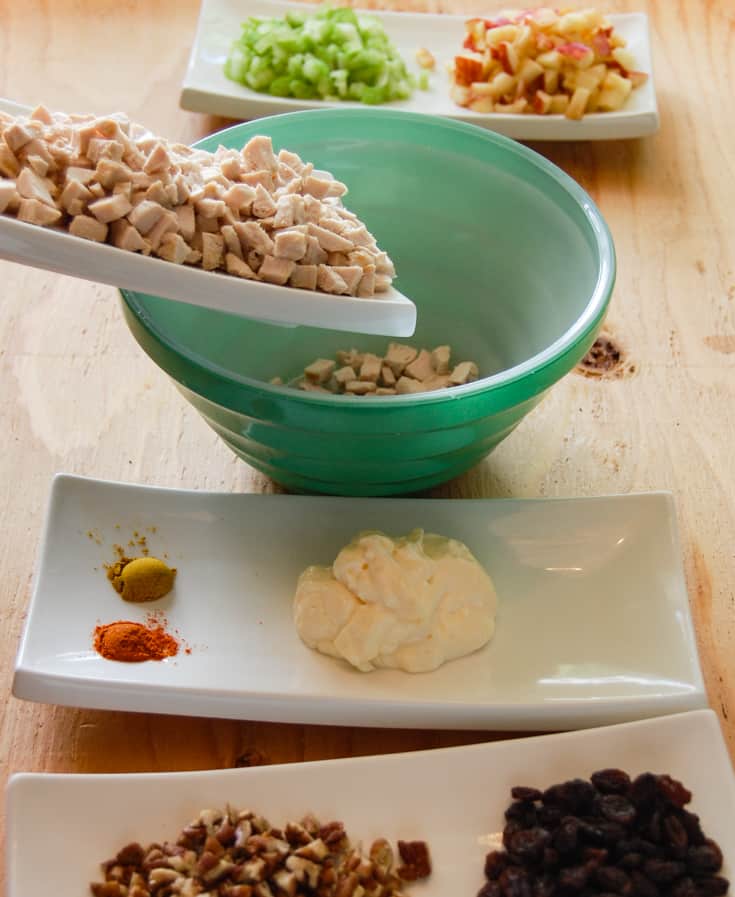 This chicken salad is filled with everything good. Things that are crispy, chewy, sweet, tart, creamy and crunchy.
It's the easiest recipe to make because there's no cooking, it's a dice and dump recipe.You dice your apple, celery, chicken and pecans then mix everything together and that's it, it's done.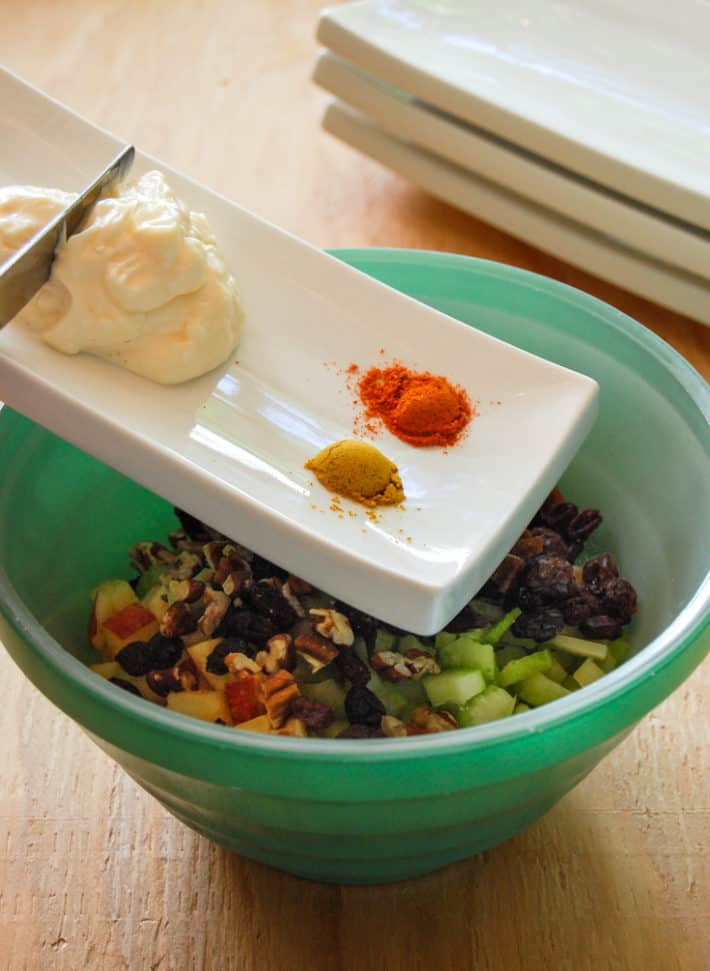 Adjust the spices so they're how you like them. Love curry? Add more curry. Love heat? Add more cayenne. Like it creamier? Add more mayo. Watching calories? Add less.
Now let's talk about raisins. Apparently some of you don't like them. I don't know why, but I'm not here to judge.
If you don't like raisins use dried cranberries.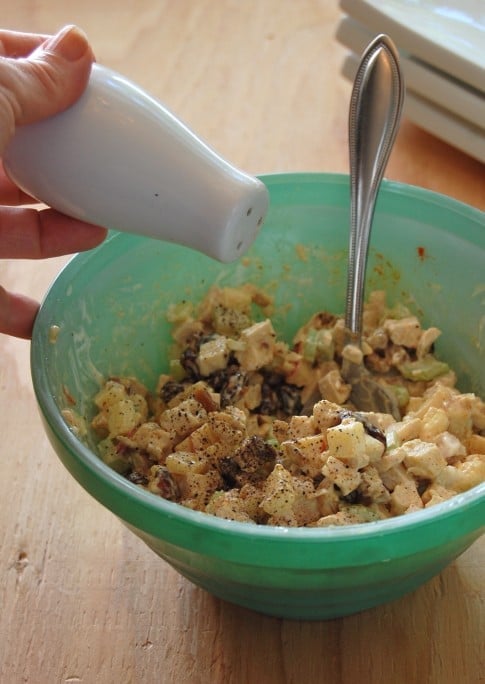 Add salt & pepper. You know. To taste.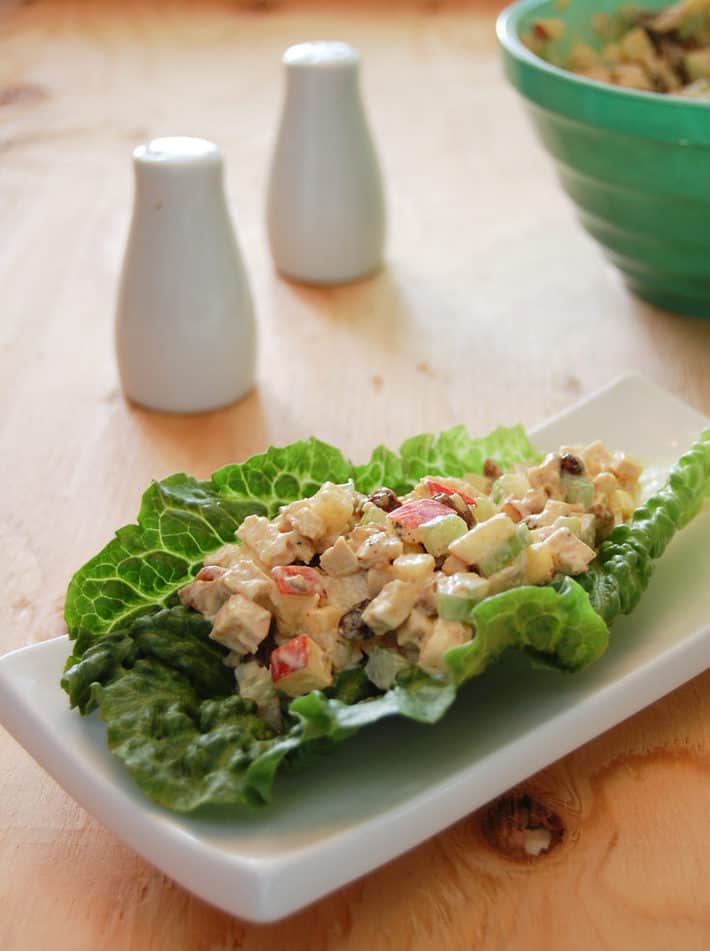 Serve and enjoy.
Only 500 calories per meal if eaten on lettuce leaves.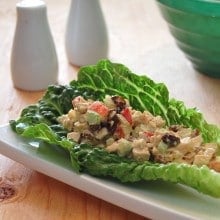 The Best Curry Chicken Salad You'll Ever Eat
Quick and easy super-delicious chicken salad with a twist!
Print
Pin
Rate
Ingredients
1

cooked chicken breast

chopped

1

stalk celery

chopped

½

a red apple

diced small

¼

cup

toasted pecans

chopped

¼

cup

raisins

¼

cup

mayonnaise

to start

¼

tsp.

curry powder

¼

tsp.

cayenne pepper

Salt & Pepper to taste
Instructions
Combine all ingredients in bowl and mix.

Add additional mayonnaise or spices to taste.
Nutrition
Calories:
508
kcal
|
Carbohydrates:
23
g
|
Protein:
29
g
|
Fat:
34
g
|
Saturated Fat:
5
g
|
Cholesterol:
85
mg
|
Sodium:
249
mg
|
Potassium:
474
mg
|
Fiber:
4
g
|
Sugar:
6
g
|
Vitamin A:
256
IU
|
Vitamin C:
4
mg
|
Calcium:
28
mg
|
Iron:
2
mg
Now before you go squinching your nose up at chicken salad wrapped in a lettuce leaf as opposed to a pita or bread, I have to say, in the lettuce's defence, that the crunch it has makes up for the lack of carbs. I honestly prefer it this way now. Also because you're eating this on a lettuce leaf instead of two hunks of bread, you feel full but not as grossly full after eating it. Which means you have room to eat ice cream for dessert.
Honestly. The crispness of the lettuce against the creaminess of the mayonnaise is wonderfully delicious. The flavours of the salad are all very distinct. The slight hints of curry and cayenne pepper are met with the odd sweet burst of apple and raisin. Add in the freshness of the celery and the crunch of the toasted pecans and you have the perfect Curry Chicken Salad.
Sweet dreams.