I understand that *most* people don't want to set fruit fly traps up around their house and then count every single fruit fly to see which one is the best. But I do.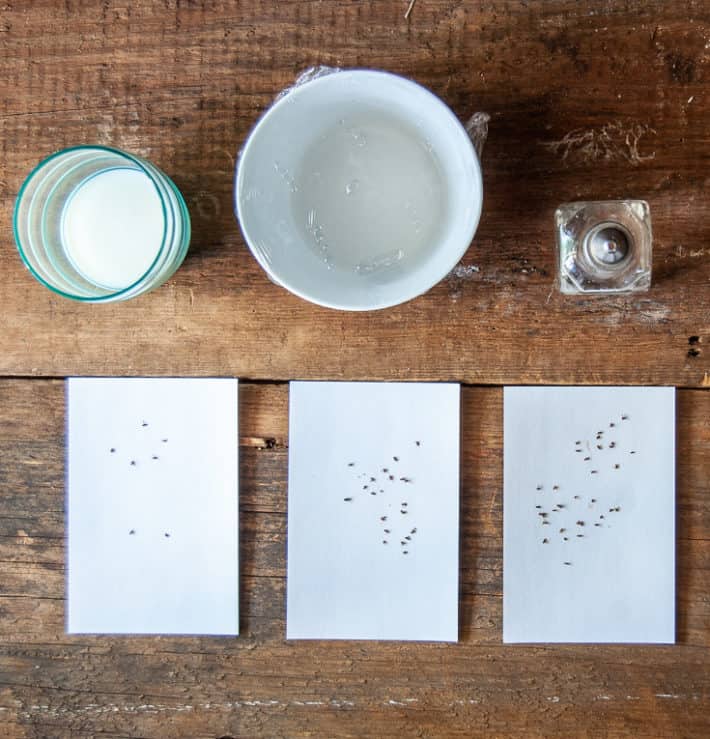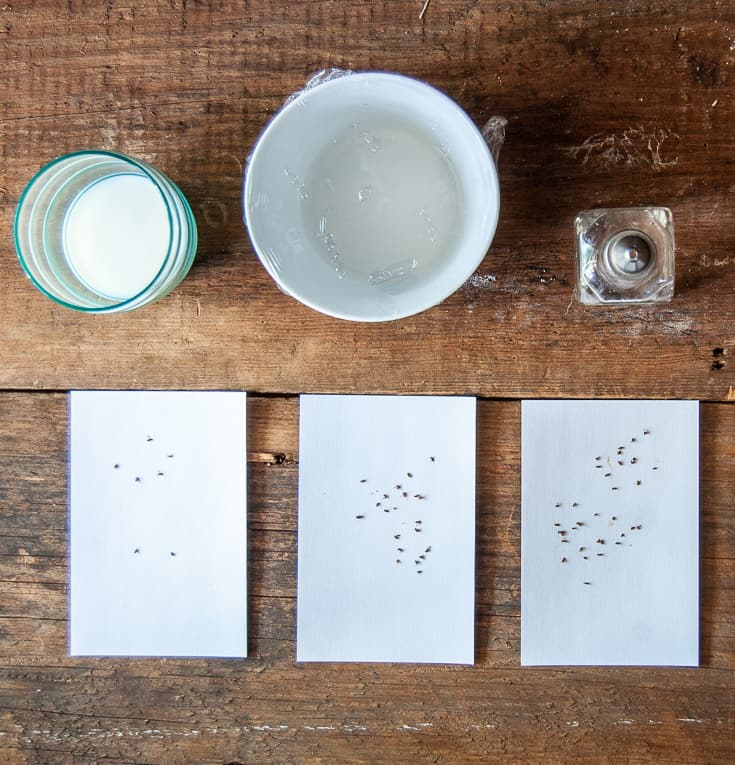 Tuesday night is garbage night round these parts. I have a regular garbage bin, a compost pile, a compost bin, a recycling box for metals and a recycling box for papers.
When I was a kid getting rid of your garbage just involved rolling down the car window.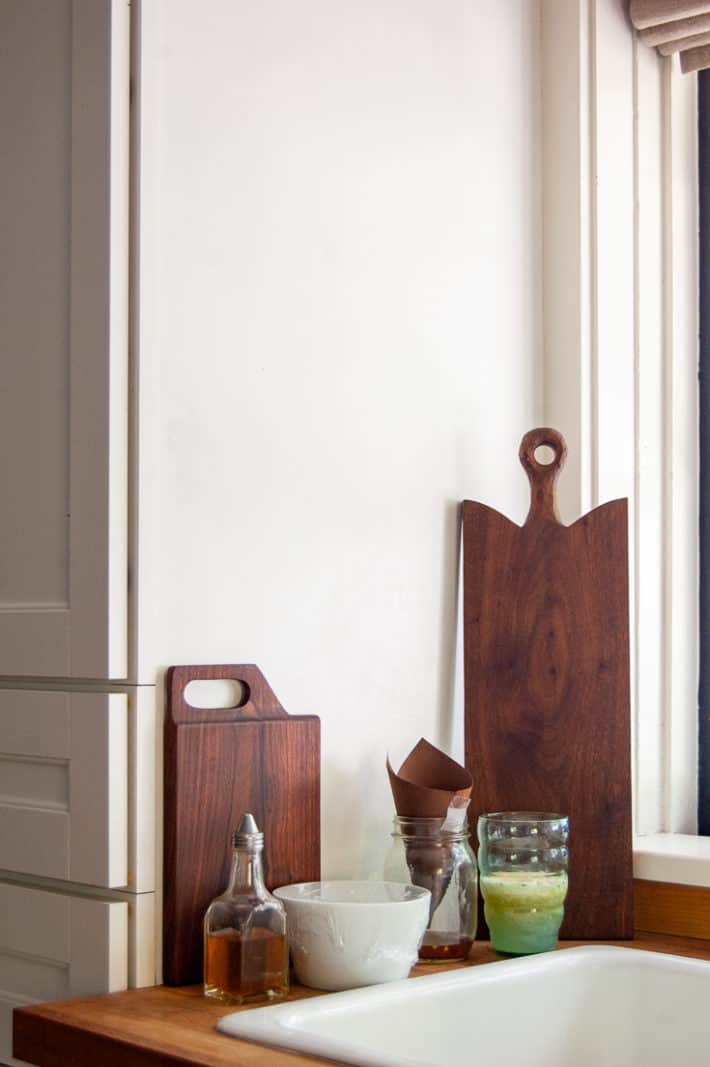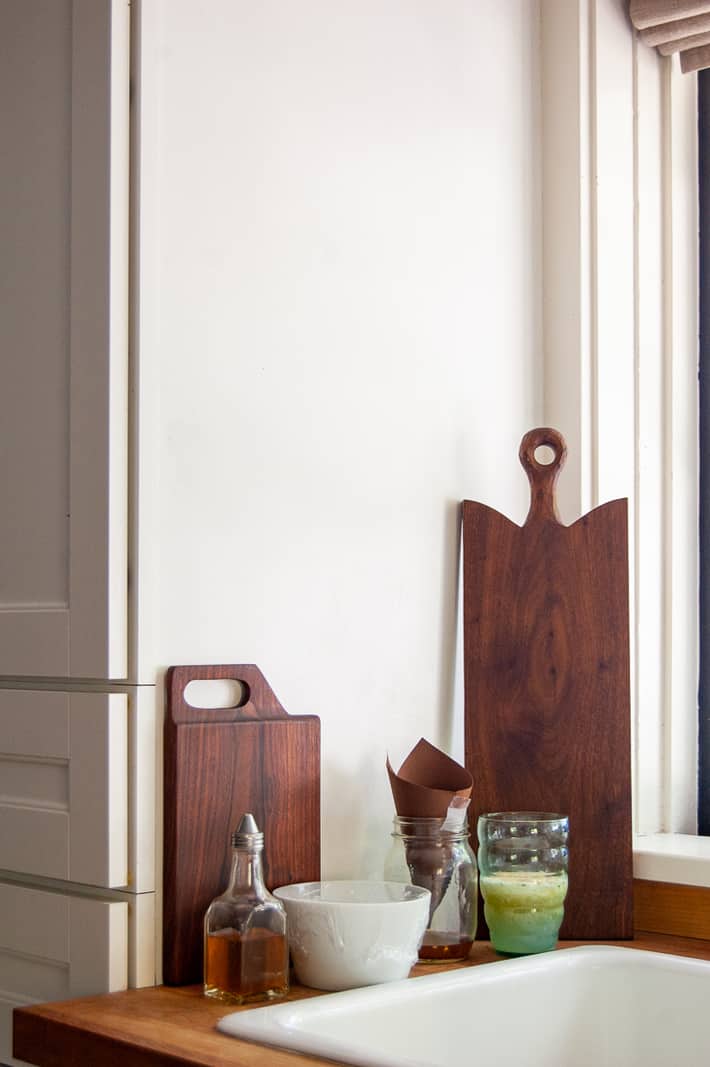 That means I have compostable things like fruit and vegetables under my sink for a week. When I pull the compost bin from under my sink, a planet of fruit flies has been known to rise up out of it. They then disperse with military precision around my kitchen.
Like you, I have stretched cling film over a bowl of vinegar and punched holes in it with a fork. CAUSE THAT'S WHAT YOU DO WHEN YOU HAVE FRUIT FLIES.
I thought so too until I set a glass of milk on the counter during fruit fly season.
In the time it took to pour the milk and walk to the other end of the kitchen there was a fruit fly in it.
And so it began.
The Methods
🪰 Vinegar in a bowl
The go-to, vinegar in a bowl with plastic film and fork holes was already on the counter.
🪰 Milk
I figured they must love milk so I set an open glass of milk on the counter.
🪰 Vinegar Bottle
Then I remembered that whenever I have fruit flies in the summer they always get into my vinegar bottle so I set that on the counter too.
🪰 Best DIY Fly Trap
THEN I remembered about my DIY bottle fly trap & made a miniature version of it with vinegar as a bait in the bottom instead of rotting shrimp.
RESULTS
I left the traps out for 3 days, which is how long it took to eliminate the fruit flies.
I then emptied the contents of each trap into a fine sieve, catching all the dead fruit flies, dried them on a piece of paper and started counting.
And here are the shocking results in order from least to most effective.
#4. MILK FRUIT FLY TRAP
Pour milk in a glass and leave it on the counter.
#3. VINEGAR IN A BOWL FRUIT FLY TRAP
Set a bowl of vinegar out and stretch plastic wrap across the top tightly. Punch holes in the plastic wrap with a fork or toothpick.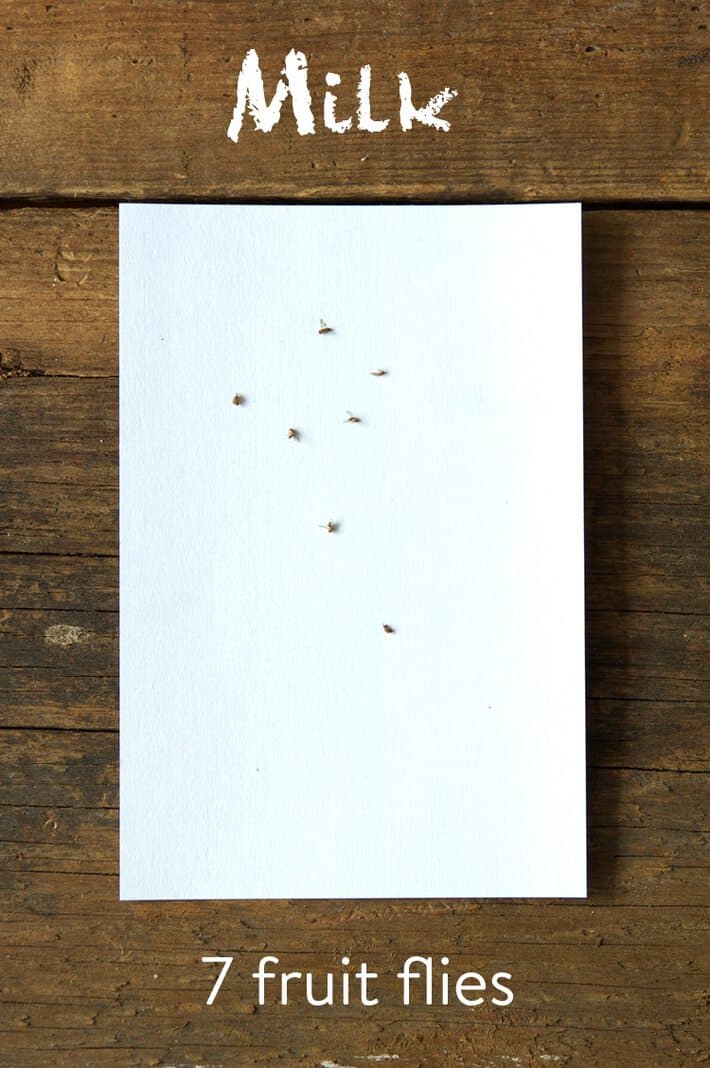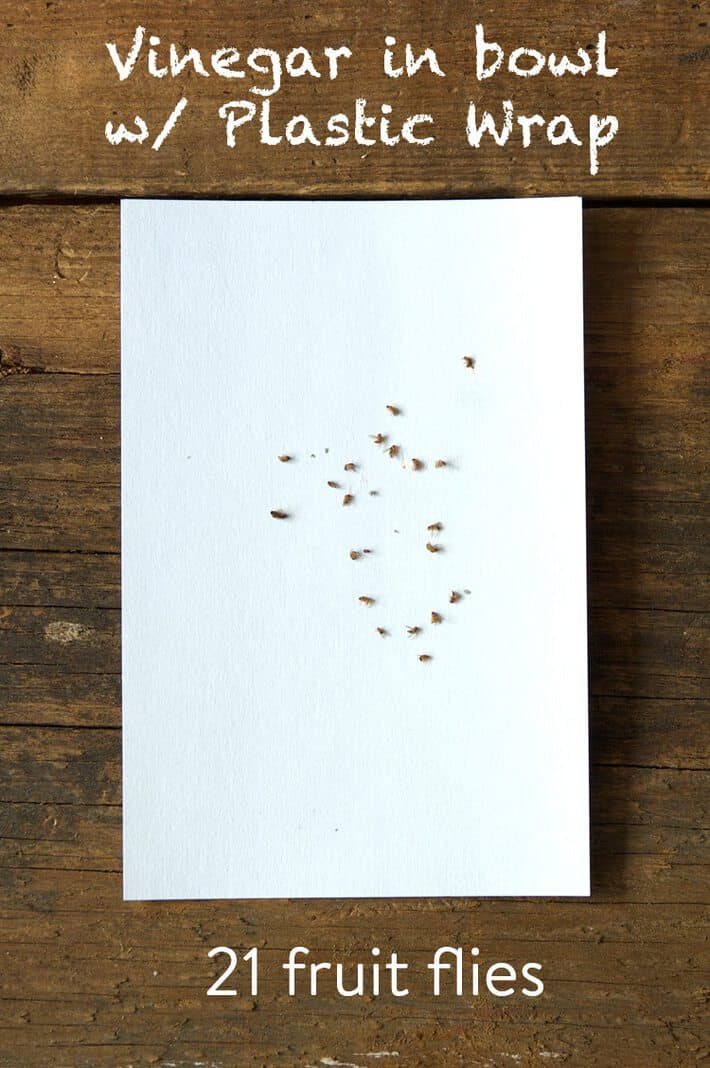 #2. BOTTLE OF VINEGAR FRUIT FLY TRAP
Leave your vinegar bottle out on the counter. Don't plan on using the fly filled vinegar in the near future unless you're training to go on Survivor or something.
#1. MASON JAR WITH A PAPER CONE FRUIT FLY TRAP
Roll a stiff piece of paper into a cone and fit it into a mason jar with vinegar in it. The cone should be quite close to the surface of the vinegar.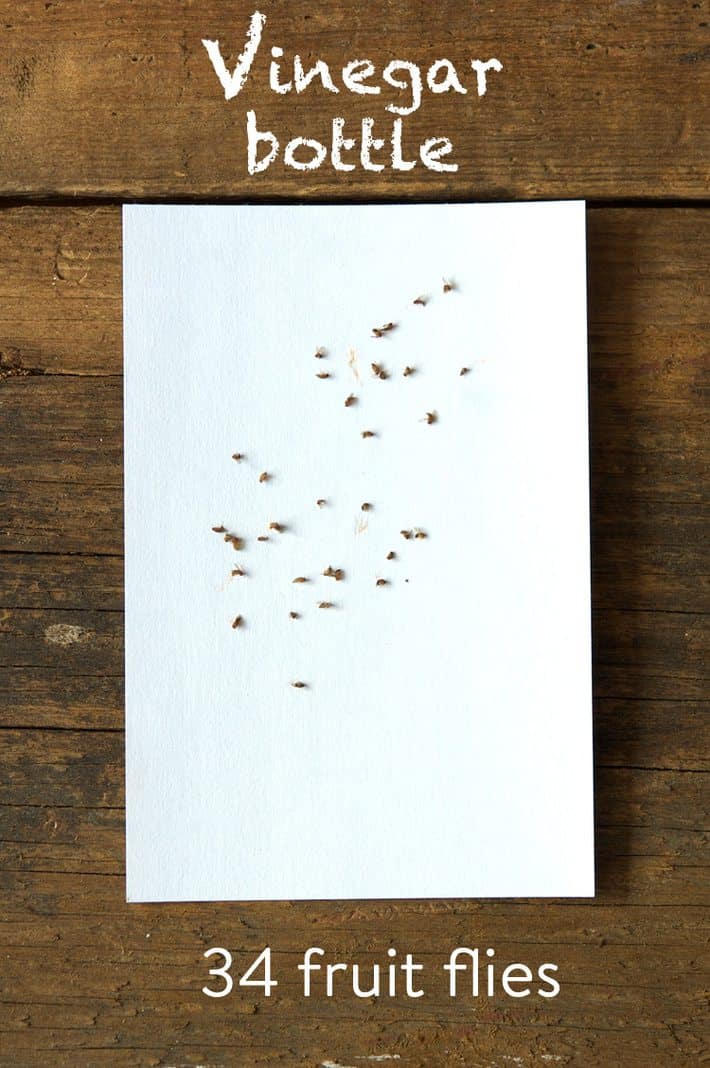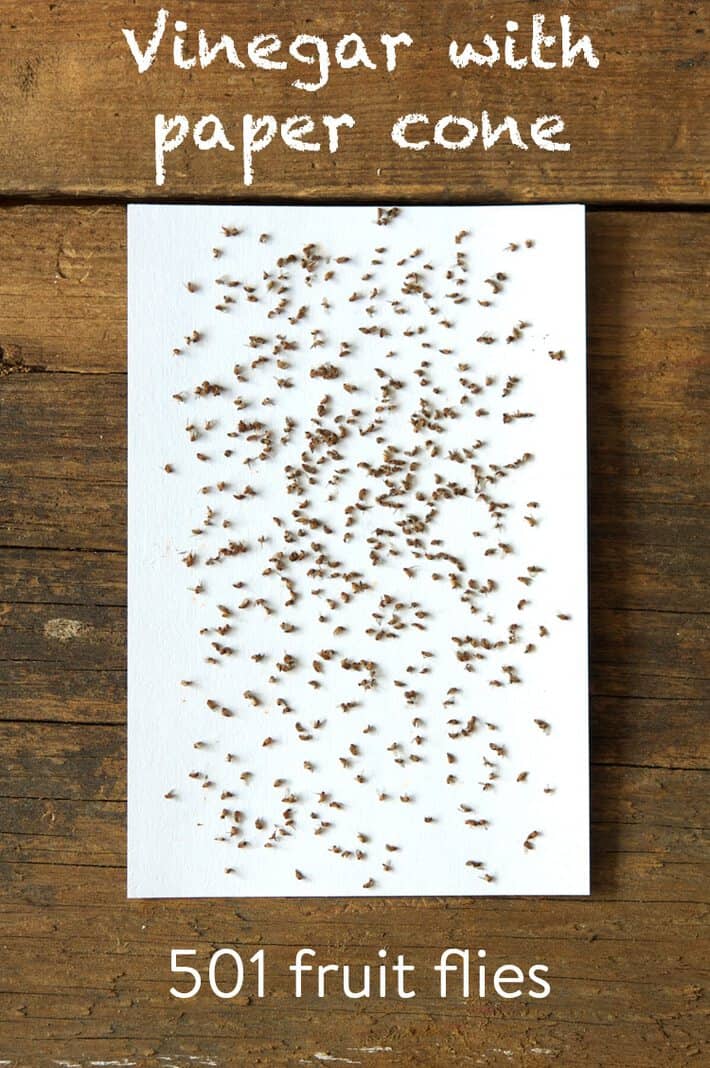 Yes. I know. Close your mouth, you'll get fruit flies in it. I had the very same reaction when I saw how many flies this method caught. Once I counted them I WAS GIDDY AND NAUSEOUS.
Seriously.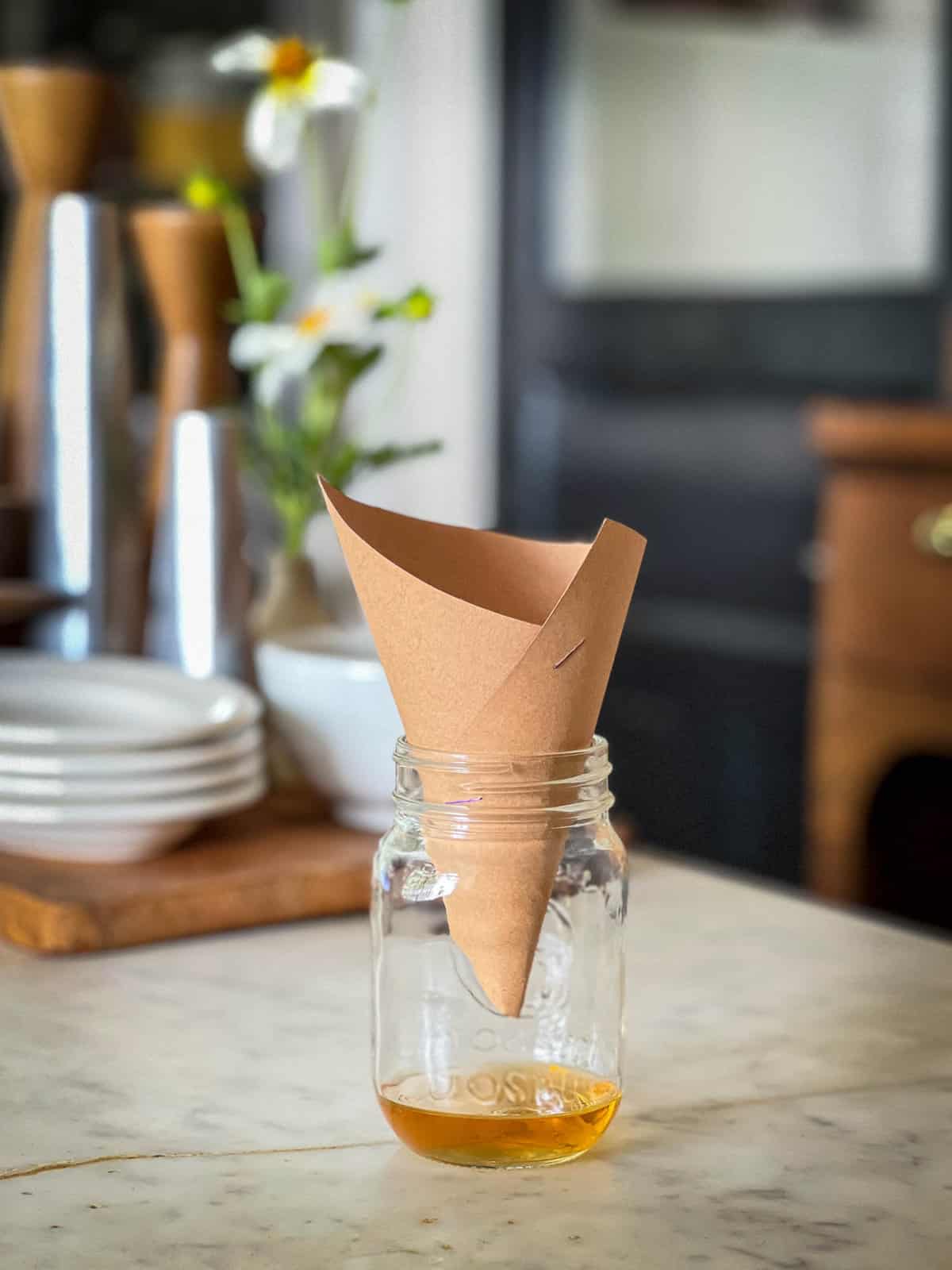 How to Make a Fruit Fly Trap
that works
Mason Jar

Sheet of paper

Stapler

Vinegar
Make a cone out of paper leaving a small opening at the bottom of the cone for fruit flies to get through.
Staple the cone together and cut off excess paper at the top.
Pour vinegar into a mason jar.
Place the cone in the jar making sure the bottom of it isn't touching the vinegar.
---
Using a paper cone and mason jar worked THAT much better than all other DIY fruit fly trap methods. I sifted, dried and counted them.
---
Fruit Fly Trap Video
This method for catching fruit flies blew the other methods out of the water and I suspect it would do the same to any store bought fruit fly traps.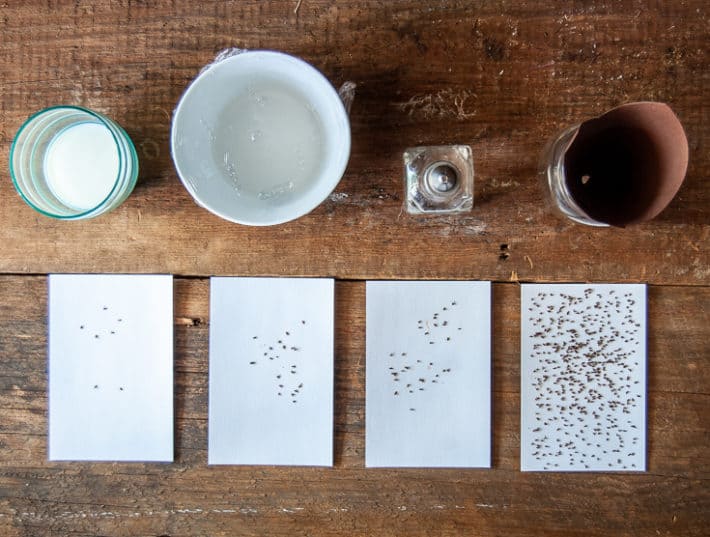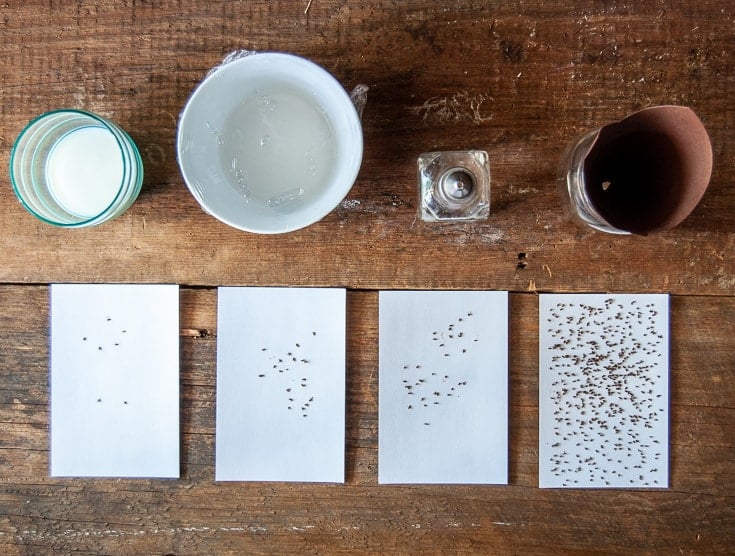 Had you told 16 year old Karen that she would make a pretty good living one day from drying and counting fruit flies she would have responded with a resounding "Yeah that sounds about right".
If you aren't sure how to do it or what it looks like  here's my full tutorial on how to make one of these traps for bottle flies. The bait is more sickening: raw, rotting shrimp.
Any kind of vinegar makes a good bait for fruit flies and as anyone who drinks knows ... so does wine.
Next I'll be experimenting with which vinegar works the best. That will happen at the same time the years's first fruit fly infestation happens so we're all on standby until then.

→Follow me on Instagram where I often make a fool of myself←