You don't want to do it, she doesn't want you to do it, but you have to do it. How to give your cat subcutaneous (sub Q) fluids to greatly improve their quality of life.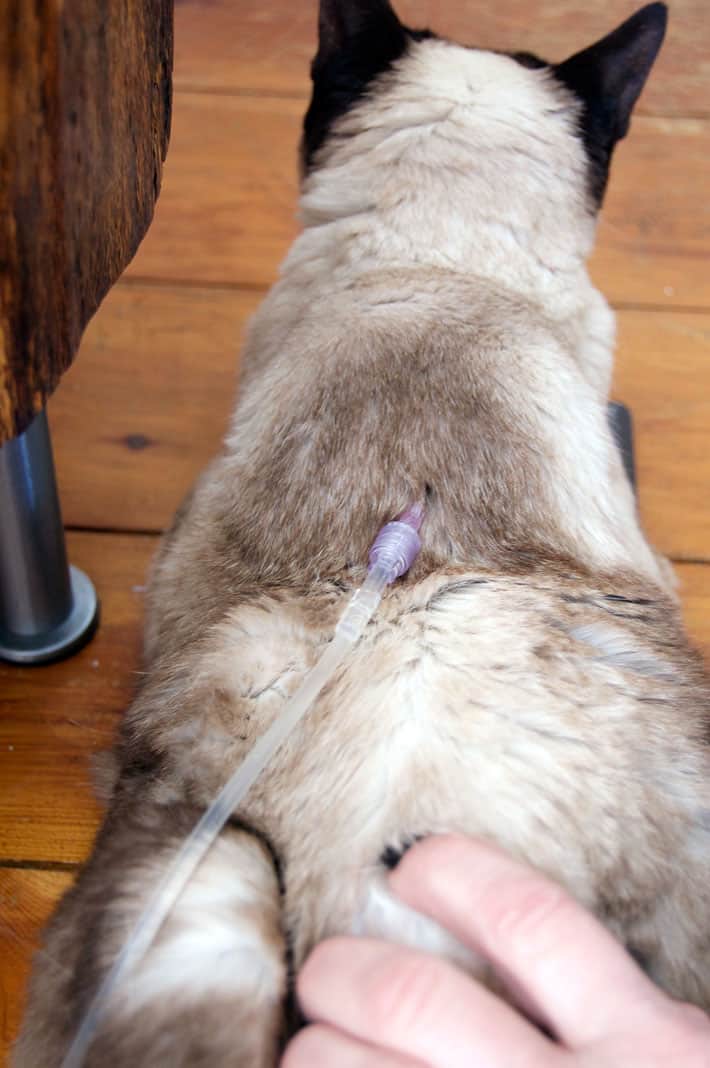 Meet Cleo. The cat I always thought was a Siamese but then found out is actually a Burmese but THEN found out is actually a Siamese. Confusing I know. My vet thought she was a Burmese for a while based on the shape of her head but we finally decided she was an applehead Siamese (also known as a traditional Siamese.)
Several years ago Cleo just seemed "off" so I took her to the vet. I found out Cleo had a dreaded cat disease. Chronic Renal Disease. Although vets insist on calling it "Chronic Renal Failure" which sounds much more ominous. When my vet told me this news my eyes grew to the size of pumpkins and welled up. I thought he was gently telling me little Cleo would be dead by week's end. She lived for another 2 ½ years before I made the decision to be in a horrific amount of pain so she didn't have to be.
Make no mistake about it, renal disease is ominous, but it doesn't necessarily mean your cat is going to drop dead within weeks or even months. With medicine and treatment Cleo lived a happy life for over 2 years after her diagnosis. But she wouldn't have without Subcutaneous Fluids.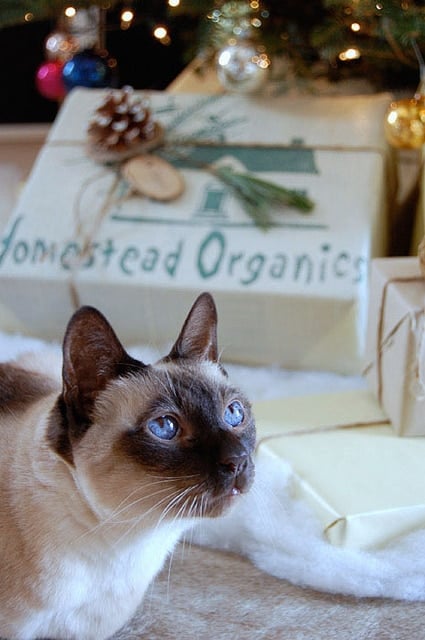 Renal Failure in cats means their kidneys aren't working at 100%. The worse the condition, the less the kidneys are working. A cat with chronic kidney disease will drink a lot and pee a lot. In fact they pee out so much of their fluids that they dehydrate themselves.
If you've ever been dehydrated you know how awful that feels.
One of the things you can do to make your elderly, chronic renal (kidney) disease cat happier and healthier is by giving them subcutaneous fluids. At home. By yourself. Even though you're terrified.
Your vet will let you know if this is a good option for you. Don't just go out willy nilly and start jabbing your cat with needles and filling them with fluids.
I did this every other day for about the last year of Cleo's life and after a somewhat inelegant introductory period, we both got quite good at it. We don't like it. But we get through it with as little pain and biting as possible now.
Why do it? When a cat gets to the end stages of chronic renal disease they don't feel well. But these fluids make them feel much better. So when the vet said I could do this for her at home I had a little fainting fit, tried to bite him and then asked him to show me how to do it. Her vet was Dr. Mark who you might remember from my chicken related Ask Dr. Mark posts.
Like I said, the first few tries were a bit of a shitshow, but Cleo and I got the hang of it.
How to Give a Cat Subcutaneous Fluids
Remember, always use a new needle and keep your fluids at room temperature so it's more comfortable for the cat.
Materials
Fluids
18-20 gauge needles.
Hang your fluid bag a couple of feet higher than you will be with your cat. I used a coat hanger.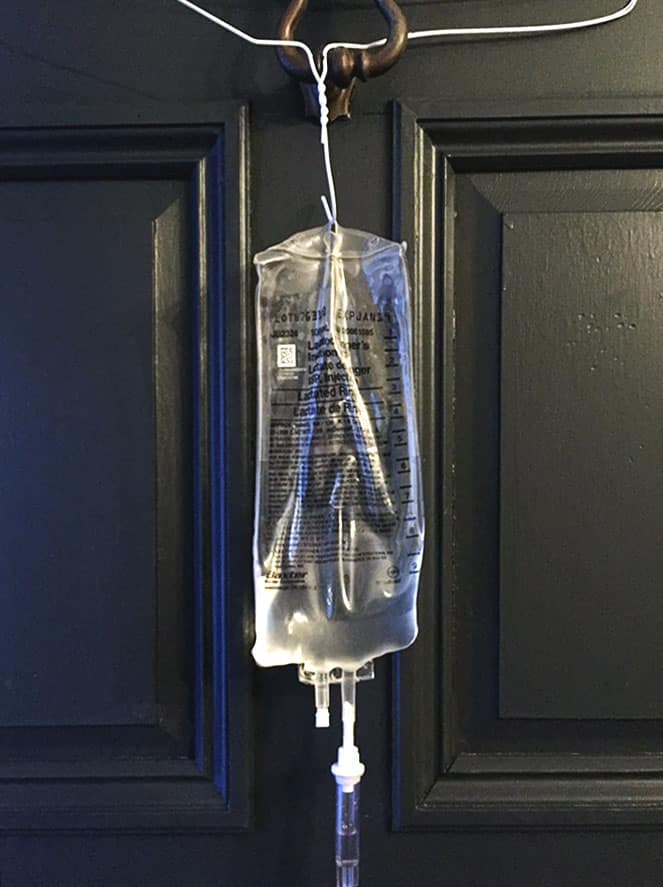 2. Remove the cap from the end of the tubing.
3. Press your needle (with the protective cap still on) onto the nub.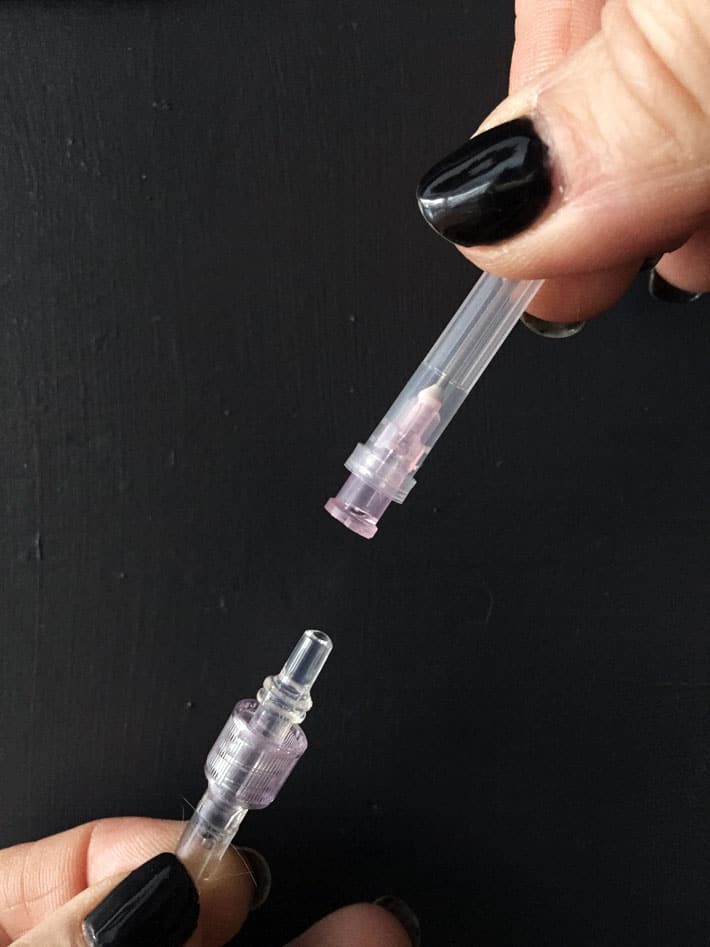 4. Twist the plastic nut a couple of twists to hold the needle in place.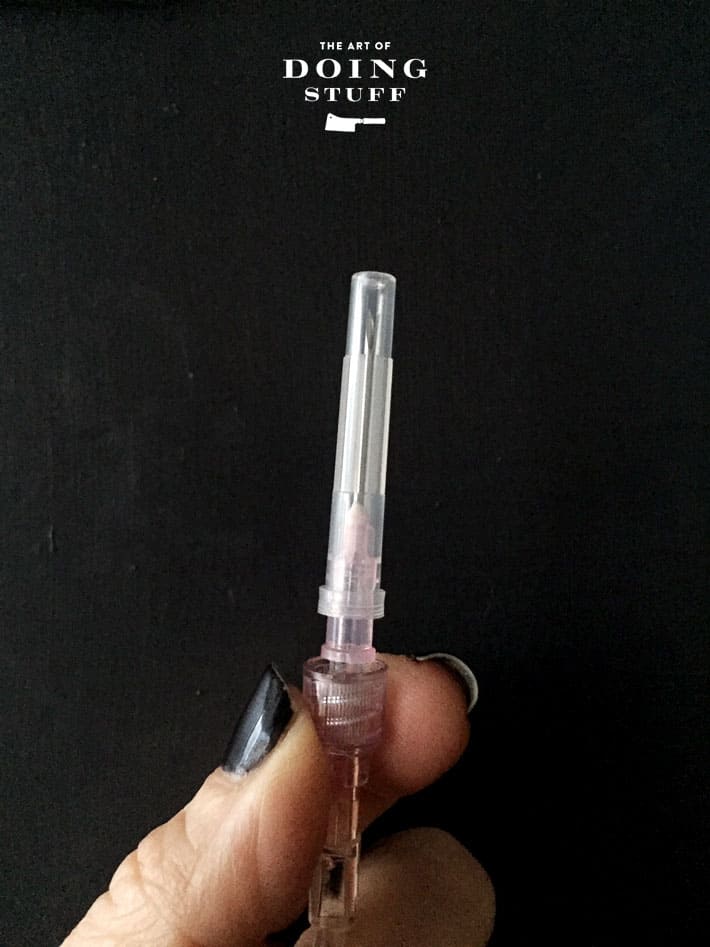 5. Remove the protective cap on the needle.
Needle Choice Options
You can use an 18-20 gauge needle on your cat.
With the 18 gauge (which is larger) your fluid therapy will go more quickly.
With a 20 gauge needle (which is smaller) it is less painful for the cat but will take longer to administer the fluids through the smaller hole.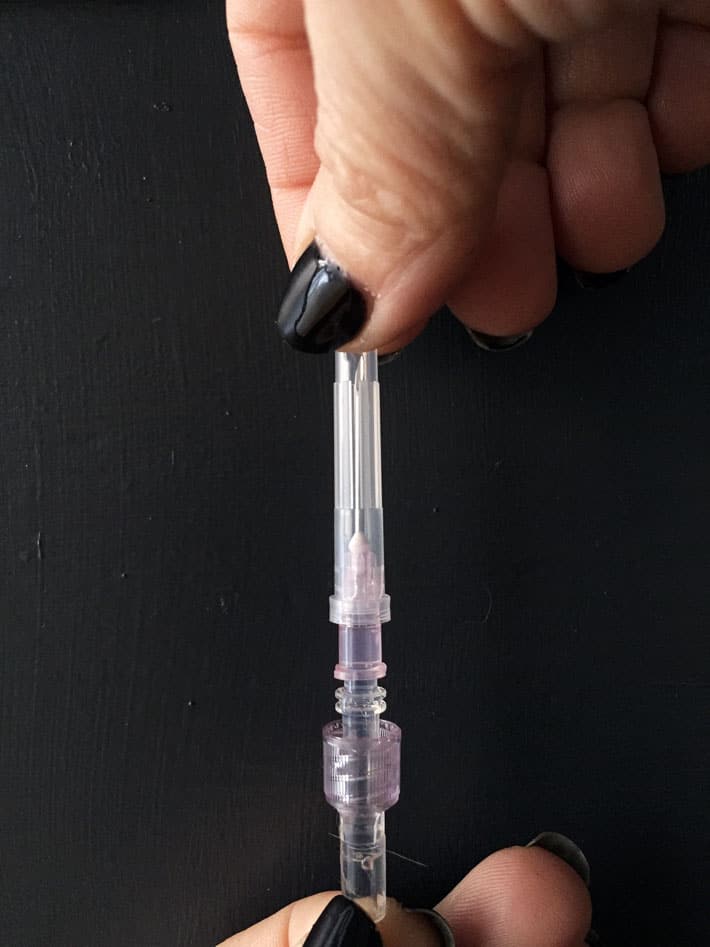 6. Find the open hole on the needle. This should be inserted facing up into the cat.
7. Put your cat where you'll both be comfortable. You'll need to keep your cat in place. I like to squish her between my legs on the floor near her favourite heating vent. Other people will sit their cat in the corner of a chair or couch to keep them from squirming away. Putting them in a very small box could work as well. Cats like boxes, they feel safe in them and it would help stop them from crawling away.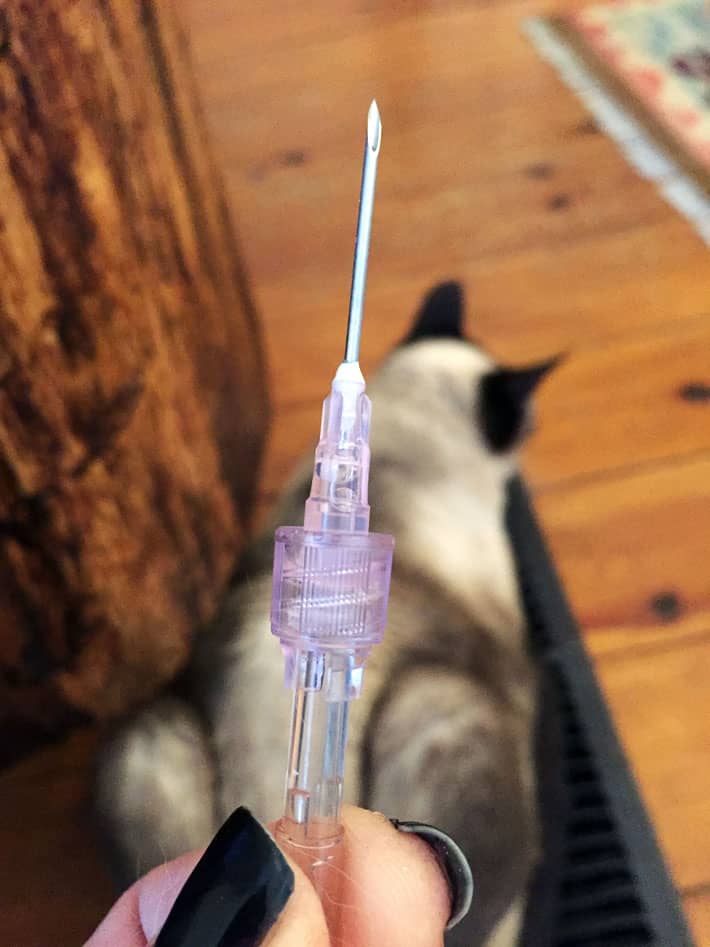 8. Hold the needle in your dominant hand with the hole facing up. With your other hand pull the cat's skin up by the scruff around her shoulder blades, forming a tent.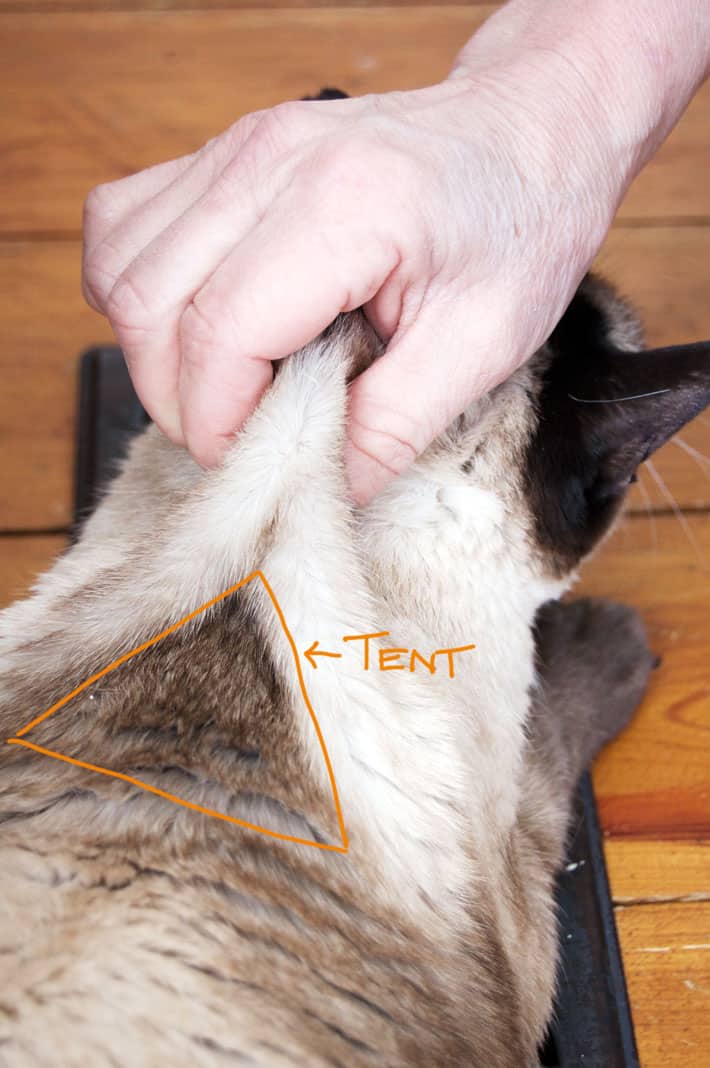 9. DECISIVELY insert the needle (with the hole side up) into the tent of skin. Don't hesitate. The first few times it'll be gross and scary and shocking and you'll hear the skin crunch and all sorts of awful things. You want the needle to go in the pocket of air between the skin and her muscle.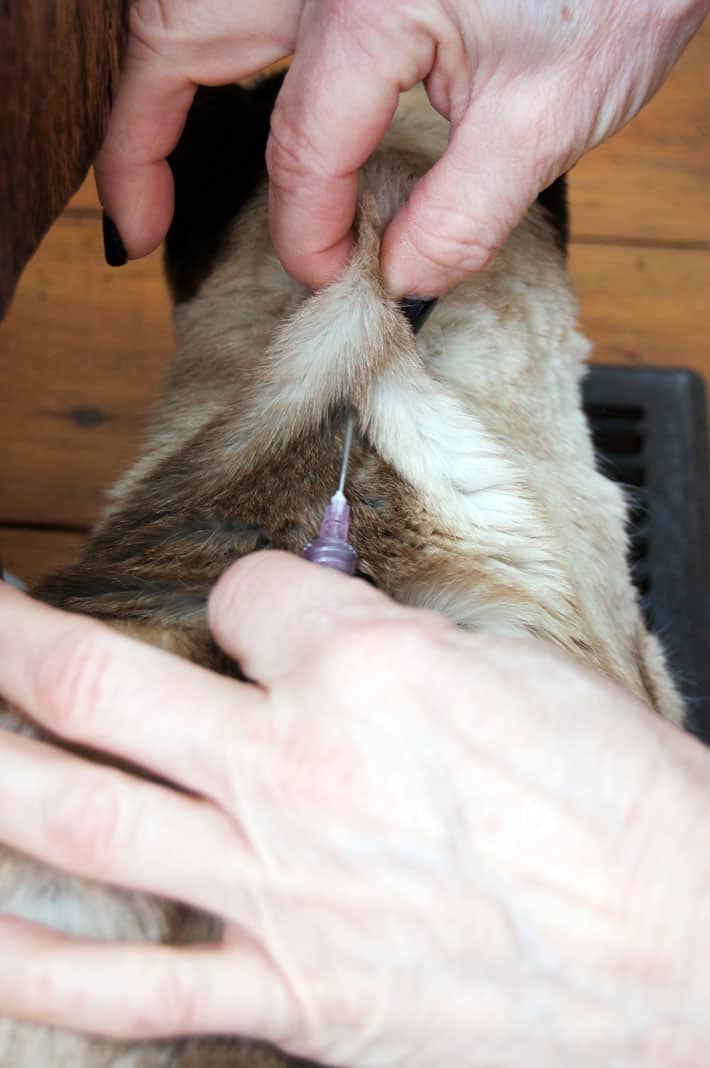 10. Release the scruff and let the IV fluids flow by rolling the wheel upwards.
11. Pet your cat to help make the experience a more pleasant one.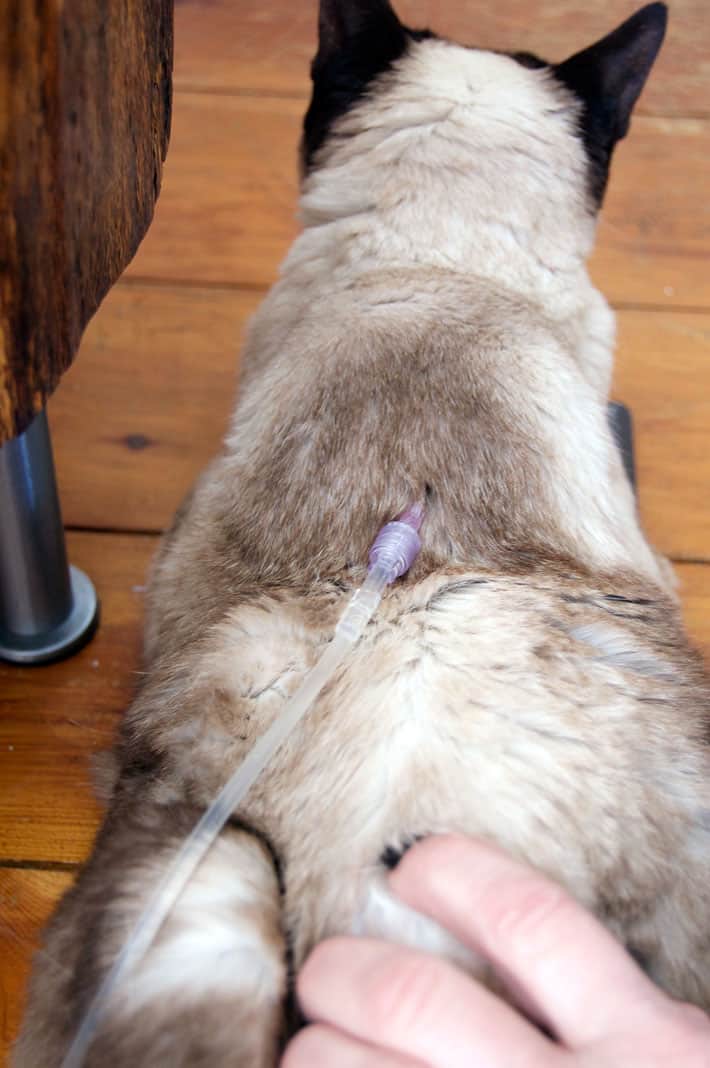 12. Your vet will let you know how much fluid to give your cat but chances are it'll be 100 ml if you have an average sized cat. When injected 100 ml looks like the size of a small orange on the back of the cats neck.
13. Once enough fluids have been administered (check the size of the lump on the cats neck and the fluid line on the IV bag) you can stop the flow of IV fluids by rolling the wheel down, remove the needle and pinch the cat's skin for a minute to stop the fluids from leaking out.
14. Remove the needle by putting the protective cap back on and unscrewing it. Replace the blue protective cap to keep the line clean.
15. Everyone gets a treat! Seriously. You and the cat. Treats for everyone.
---
How long does it take for a cat to absorb subcutaneous fluids?
It only takes a few minutes to give your cat subq fluids but it will take them a while to absorb all those fluids.
Most cats will absorb all the fluid within a few hours. You'll know when the fluids have been absorbed when the lump of fluid where you gave the injection has flattened.
If the lump of fluid seems to move (down your cats neck, back or to their shoulders) don't worry about the migration. It sometimes happens. The fluids will still be absorbed normally.
Can you give a cat too much subcutaneous fluids?
It IS possible to over hydrate so don't immediately think if some is good more is better. It's not. Only give the amount of fluids as recommended by your vet. Too much subcutaenous fluids can cause hypertension and cats that have heart problems can develop fluid buildup in the body.
Fluid buildup in a cat with heart problems can become a medical emergency. So to reiterate; only give the amount prescribed by your vet.
What does subcutaneous fluids do for cats?
Obviously the reason for giving fluids is to hydrate the cat. For cats with renal failure, their kidneys go through more fluids than normal (the cat pees a lot). You can lead a cat to water but you can't make it drink so giving fluids under the skin is the best way to help rehydrate them.
Subq fluids provide the cat with the extra fluids they need to feel well.
The cat feel will feel better in general (the way you do when you're hydrated)
The extra fluids will help slow down the progression of chronic kidney disease (renal failure)
Fluid therapy is immensely helpful for chronic constipation, a side effect of renal failure. They'll help your cat poop. And you know how much better you feel if you poop.
Need more instruction? K, here I am giving Cleo her fluids.
If this is something you don't think you'll ever, EVER be able to do then it might be helpful for you to know the cat breeds that are more predisposed to chronic kidney disease (CKD).
Cats breeds prone to CKD
Persian
Abyssinian
Siamese
Ragdoll
Burmese
Russian Blue
Maine Coon
How to prevent renal failure in cats
You can help reduce the chances and severity of renal failure in any breed of cat.
Keep their teeth cleaned and cared for. Gum disease and teeth issues contributes to renal failure in cats. A lot.
Feeding food that's high in phosphorous will increase the chances of the disease and the faster advancement of it. Feed your cat high quality food from day one. And if they're diagnosed with chronic kidney disease immediately switch them to a food made specifically for renal failure cats.
Toxins eaten by a cat (poisons, antifreeze, pesticides) may not kill them immediately but can cause a cat to develop chronic kidney disease.
Indoor cats have a lower risk of renal failure because of their more limited exposure to toxins.
Even knowing Siamese are predisposed to this disease, and knowing how painful it was to hear the diagnosis and eventually have her put to sleep I still want another traditional Siamese cat. Desperately.
Cleo came to me when her owners discovered they were allergic. I can't remember who they were and have no idea where they got her, but if I knew I'd have another Siamese right now.
Immediately following this treatment, Cleo got 3 Temptations treats and I got a whiskey. Cleo always felt much better a few hours after her fluids. I usually feel a bit wobbly after mine.
→Follow me on Instagram where I often make a fool of myself←