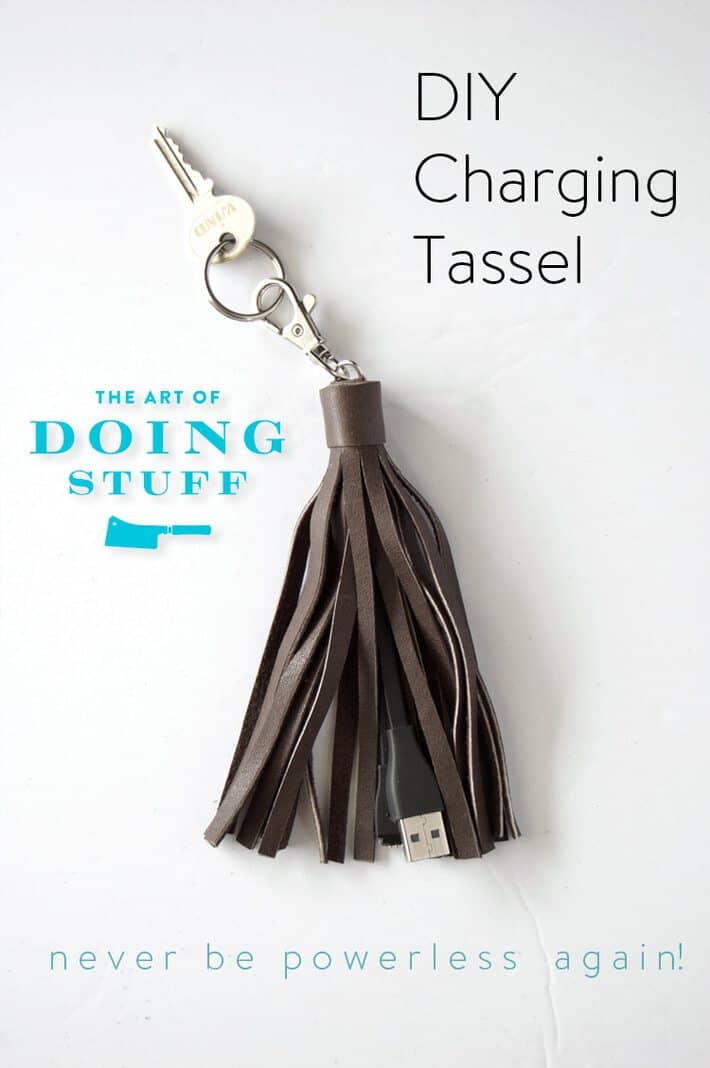 Picture it.  You're at a friend's house and your phone is about to die.  Oops!  There it goes.  This is a really big problem because you're getting ready to go out and your friend has accidentally used black eyeliner as lip liner.
She's unaware of her faux gah! and you need to quickly get a picture of her before she realizes what she'd done so you can post it to your Twitter, Facebook, Instagram and Tumblr accounts.
I forgot to mention she's that friend you don't really like at all because she's always criticizing you but you've been friends for so long blah, blah, blah.  Plus she told you you'd never fit into her jeans once when you asked to borrow them 27 years ago.
So as you can see, having a dying phone can cause some real moments of distress in life.
If everyone had the same phone that used the same charger it wouldn't be as big a problem, but that's not the case.  So what's a girl to do?
Make a cute little tassel to hang off her purse or use as a keychain to disguise her phone charger so she'll always have it handy.  Yup.
It's SO easy.
Materials
Rubber Cement or other Leather Glue that's bendable once glued.
Lanyard (you only need this for the swivel head and clip)
Scissors
Leather
Short charger cord
In this case, it's I've made the tassel for my Fitbit charging cord.
Steps
 Remove the swivel head from the lanyard and hook it around the cord.  You might have to pry the O ring open to remove it and put it on the cord.
2.  Cut your leather into strips that are a bit longer than the length of your charger cord when it's bent in half.
3.  Place your newly cut fringe down and lay the charger cord on top of it so the leather covers the cord.
4.  Start wrapping the fringe around the cord.  Dab bits of glue along the way as you wrap.
You're almost done already.  Seriously.
5.  Take another strip of leather and cut it to the width of the unfringed top of your tassle. Make sure it's a little longer than it needs to be.
6.  Glue the strip around the top of the tassel to finish it off.  Cut the excess off once you're glued it all on making sure you don't overlap.  Try to get the ends to butt up to each other exactly.
7.  Admire.
Now you can do whatever you want to with it.
Turn it into a keychain ...
Make one to match your purse to hang off of it ...
By the way ... that lipliner story?  It's based on a true story.  My sister, Pink Tool Belt, always wears lipstick. Always.  And lipliner.  She's so adept at it that she can just reach into her purse, grab her lipliner and apply it perfectly without a mirror.  Which she did several years ago while walking through a very busy grocery store, sashaying up and down the aisles with hot pink lipstick lined in a very adventurous black.
There was no Twitter at the time.