A waterproof cover for my pergola was going to cost $700. It is a square piece of waterproof fabric with tabs. I refused to buy it on principle. Instead I made one out of a 10' x 12' fly tent. It was $50. And it works.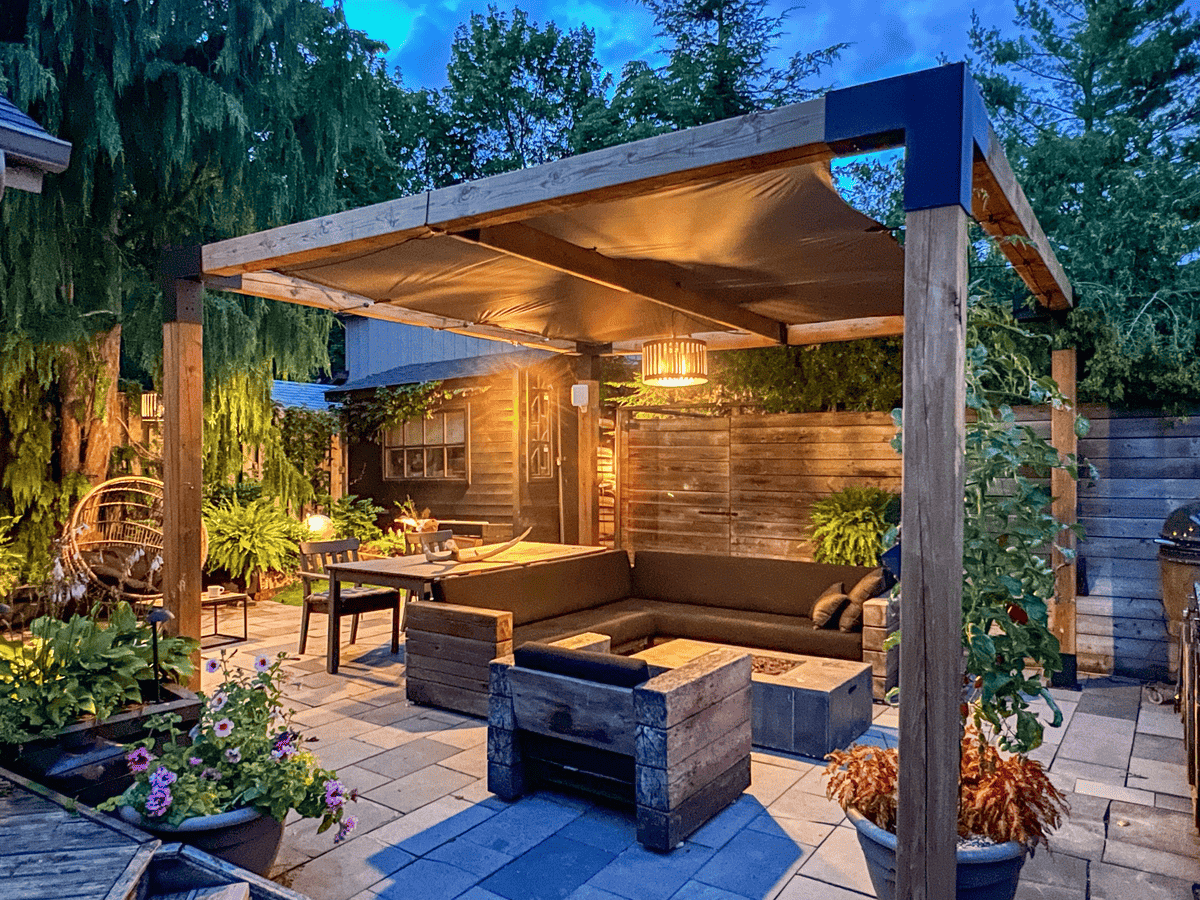 Using ratchet pulleys and D-rings I turned a $50 fly tent into a waterproof pergola cover in 1 hour. And you can too. I'm going to teach you.
I'm not spending $700 on a piece of fabric that doesn't even have enough pizzaz to get me in the back door of the Met Gala. To be precise, $745.80 CA ($560 US) would have been the total for a 12' x 12' cover for my 12' x 12' pergola.
The same cost outrage a few years ago led me to build my own Restoration Hardware outdoor furniture which a lot of readers have built for themselves since.
I built this pergola last summer with the Toja Grid bracket system. You buy the very expensive brackets, shove posts into them and you're done. I bought a shade cloth as well, but with the extreme heat and rain this summer I wanted a cover with more sun & rain protection.
NO MORE WET CUSHIONS EVER
Yes please, that is what I want. I would very much like to not have to run outside at 1 o'clock in the morning to cover the furniture because it started pouring rain without warning.
IN THE VIDEO BELOW for instance IT IS 1 O'CLOCK IN THE MORNING.
No rain was forecast for days. I checked at about 8 p.m. As I was going to bed I heard rain. Lots of it.
If I hadn't just added this cover I would have been running out into the pouring rain in my pajamas, scrambling to cover the furniture.
INSTEAD I was running out into the pouring rain in my pajamas, scrambling to video the cover working.
You can see it in action performing the way it should. Rain flowing to and dripping off 2 ends of the cover, with nothing dripping off the other 2 sides.
How to Make a Waterproof Pergola Cover
Materials
FLY TENT
The size of tent depends on the size of your pergola. Ideally, my 12' x 12' pergola requires a 12' x 12' tent. However, I could only find a 10' x 12' tarp so that's what I went with.
D-RINGS
D-Rings are what you'll screw into the pergola to clamp the pulleys to.
Canadian Links
🇨🇦 Fly tent
🇨🇦 D-Rings
American Links
🇺🇸 Fly tent
🇺🇸 D-Rings
Tools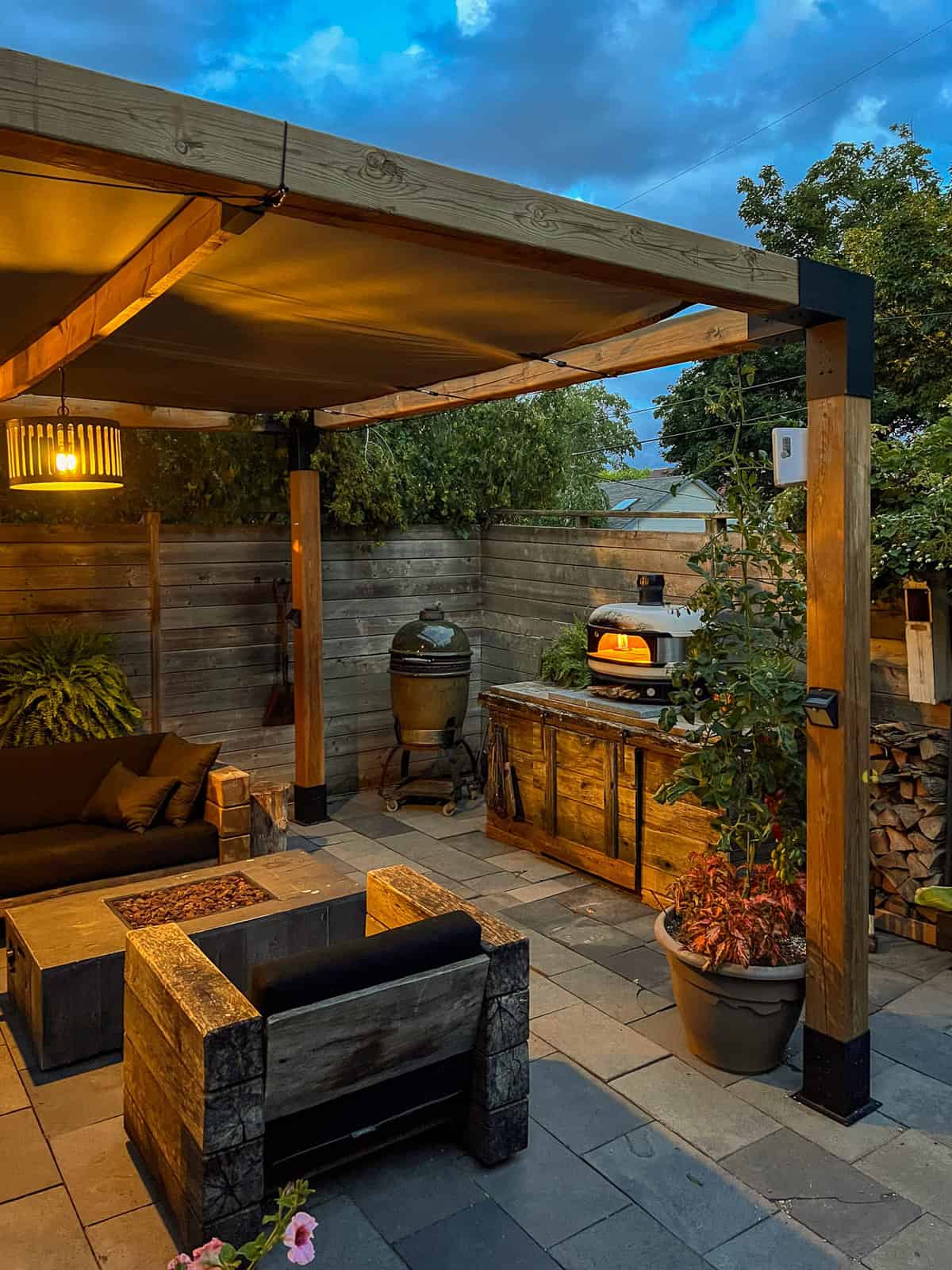 Instructions
I already had a shade cloth (an expensive shade cloth) over my pergola, but the shade it provided wasn't heavy enough and rain could get through it.
I WANTED SOMETHING TO PROTECT EVERYTHING UNDERNEATH THE PERGOLA FROM RAIN.
This is that thing.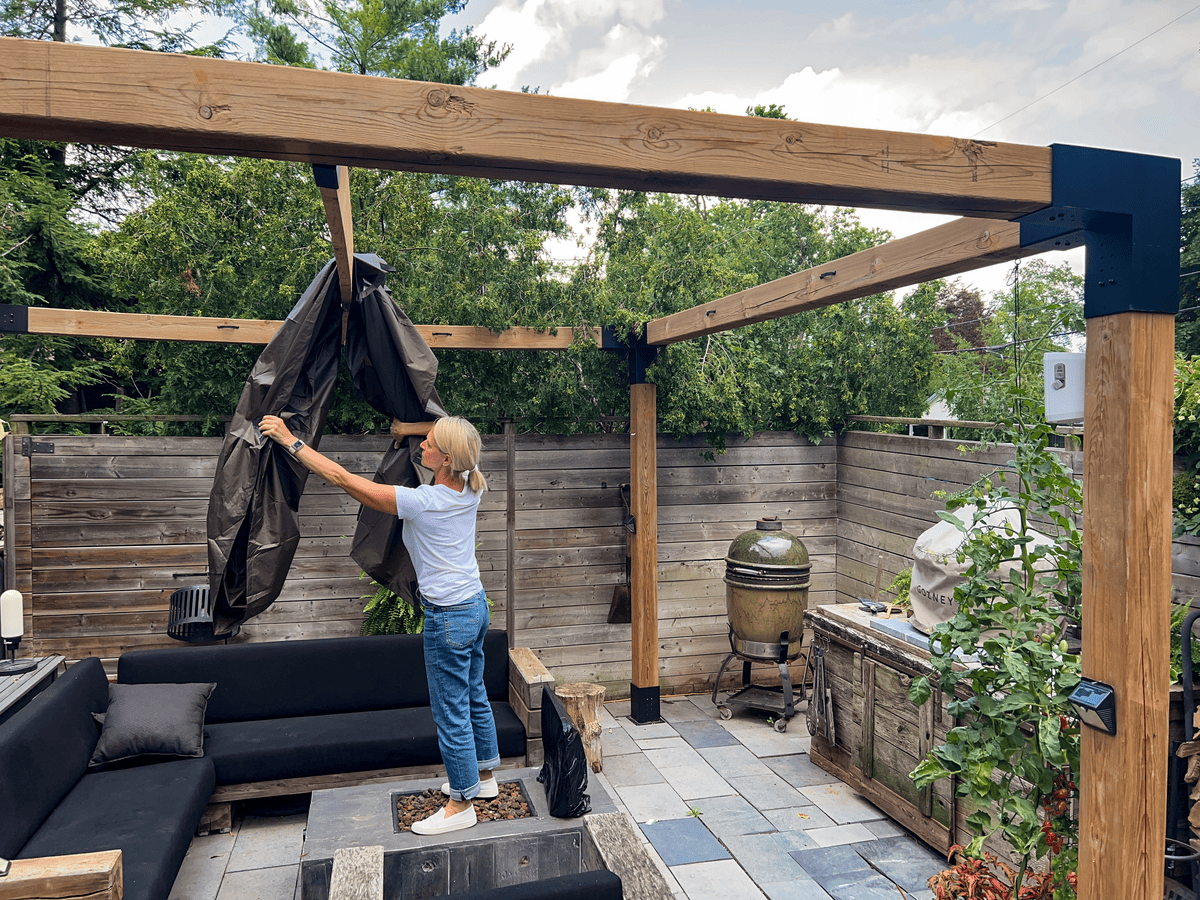 Throw the tent over the middle support bar of your pergola. If you don't have one just skip this step.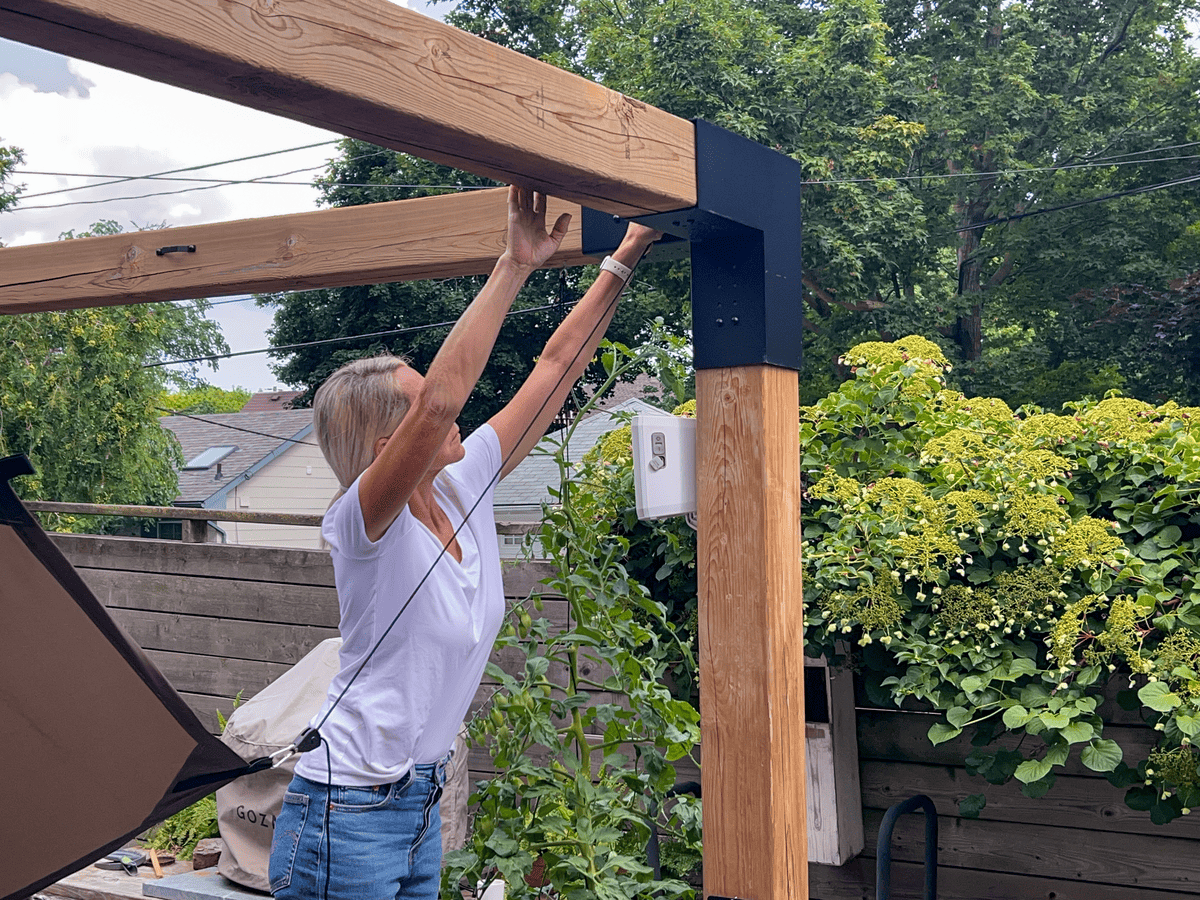 2. Attach ratchet pulleys to the corners of the tent. One clip on the tent, one clip to the pergola corner. I have corner brackets so I could clip to that. If you don't, you'll need to install D-Rings on each corner.
3. Once the tent is secured to all 4 corners, pull each pulley to tighten it up. Now you can move onto the sides.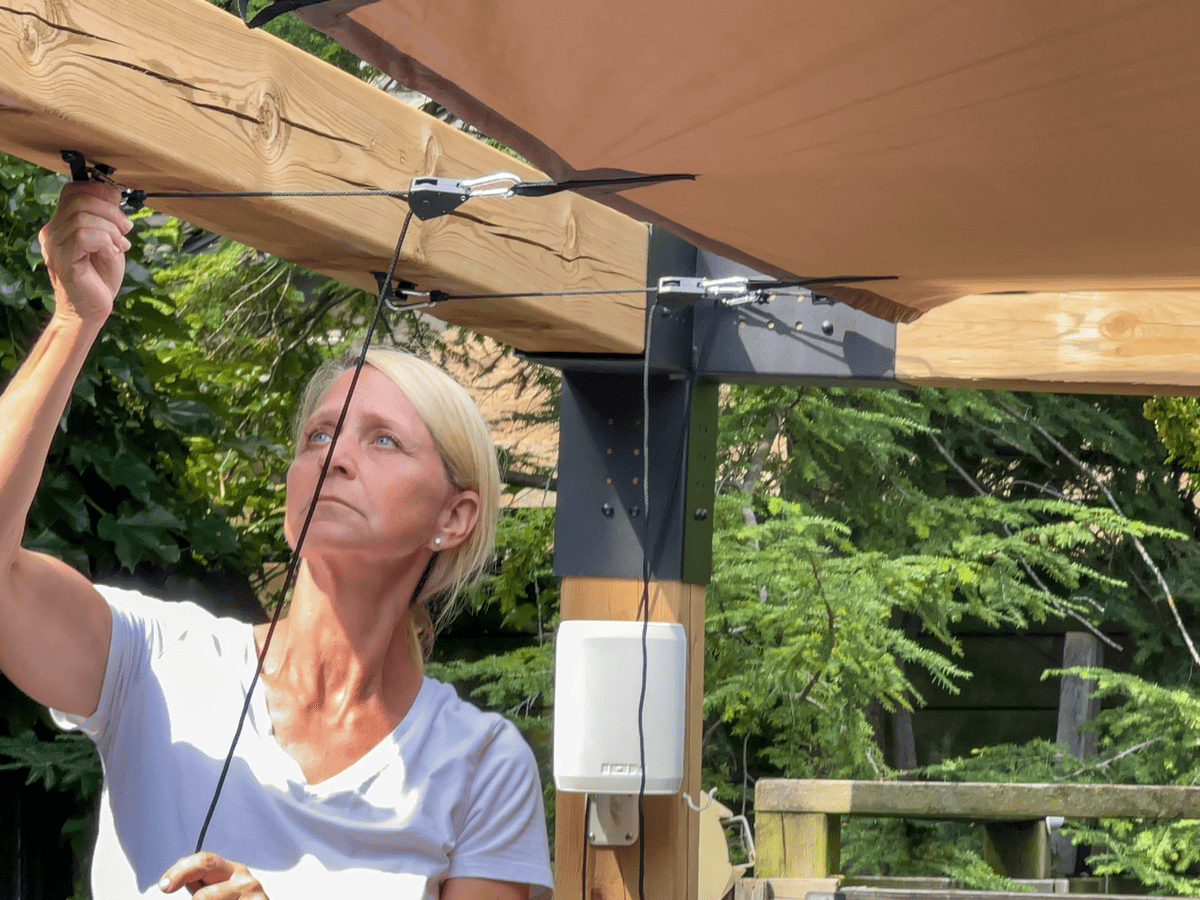 4. Water needs to flow OFF of the tarp so it needs to be tight and 2 sides need to be a few inches lower than the centre so water doesn't pool.
I originally had a shade cloth on my pergola so I could reuse the hardware from that, but I needed to move them. In Step 3 you can see the original shade cloth brackets on the upper beam.
I removed that hardware and secured them on the underside of the beam on two opposing sides of the pergola as you can see in Step 4. This lowered the tent's edges by a few inches allowing water to flow off.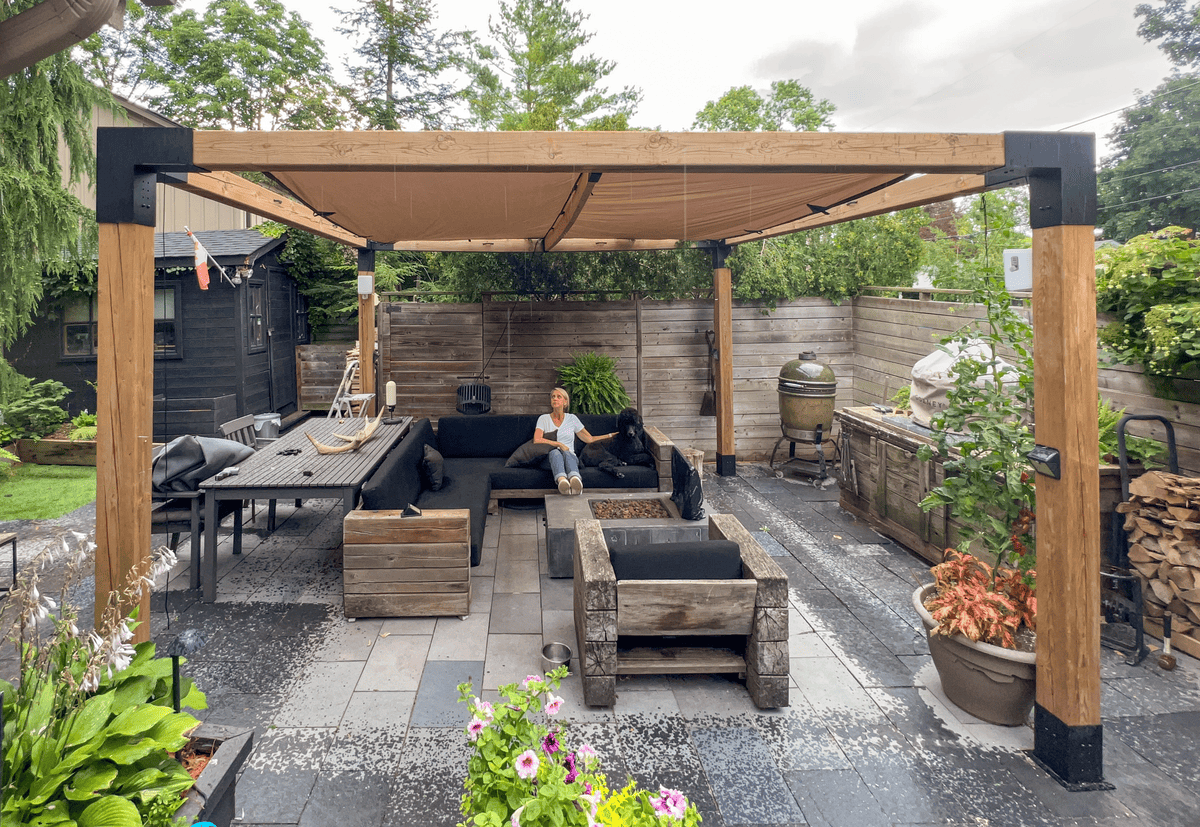 Time out break when it started to rain in the middle of installation.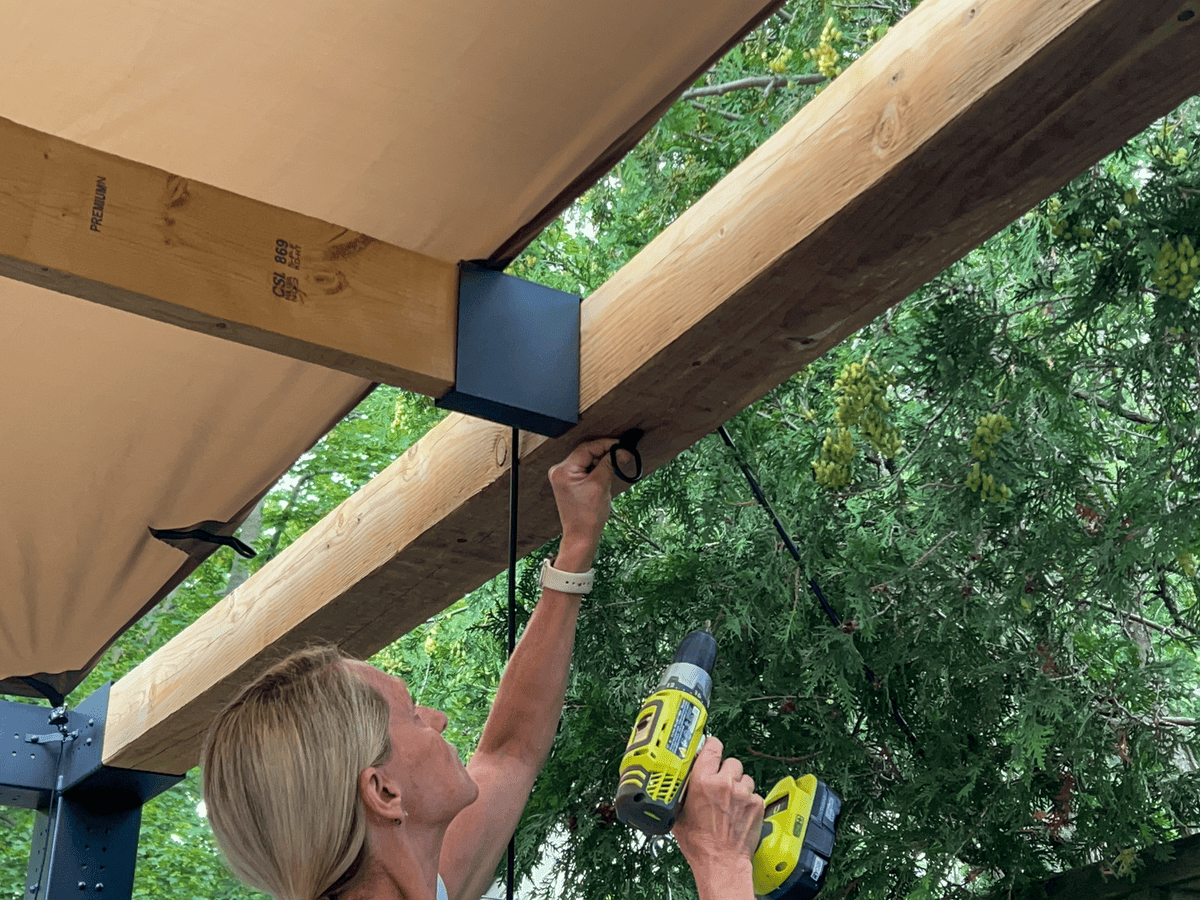 5. For the 2 remaining sides, I secured the topline along the middle using the same method of pulley's and a D-ring.
This is seeming a lot more complicated than it actually is.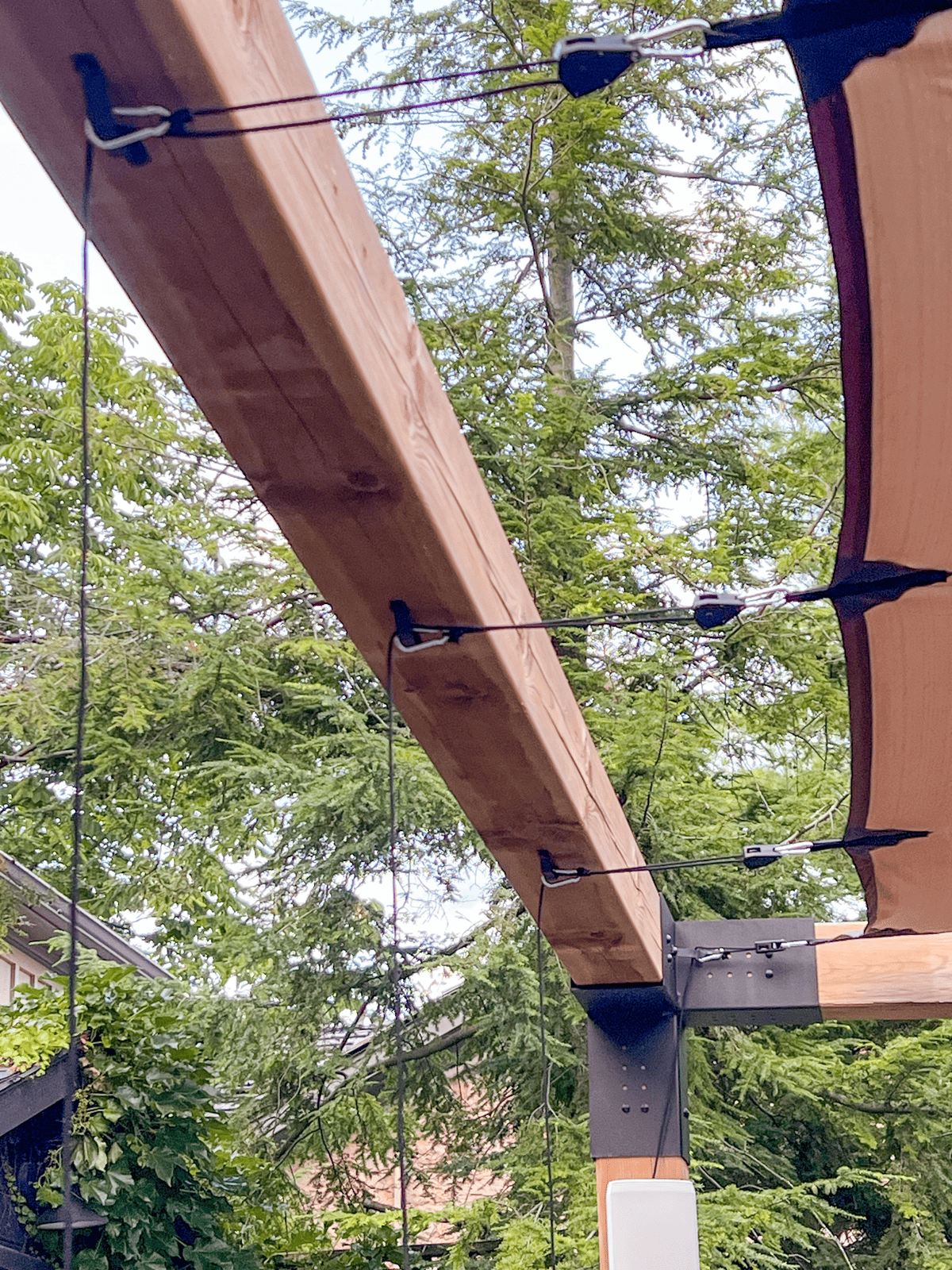 6. Once all the pulleys are in place, tighten each one little by little to get the cover as flat and tight as possible.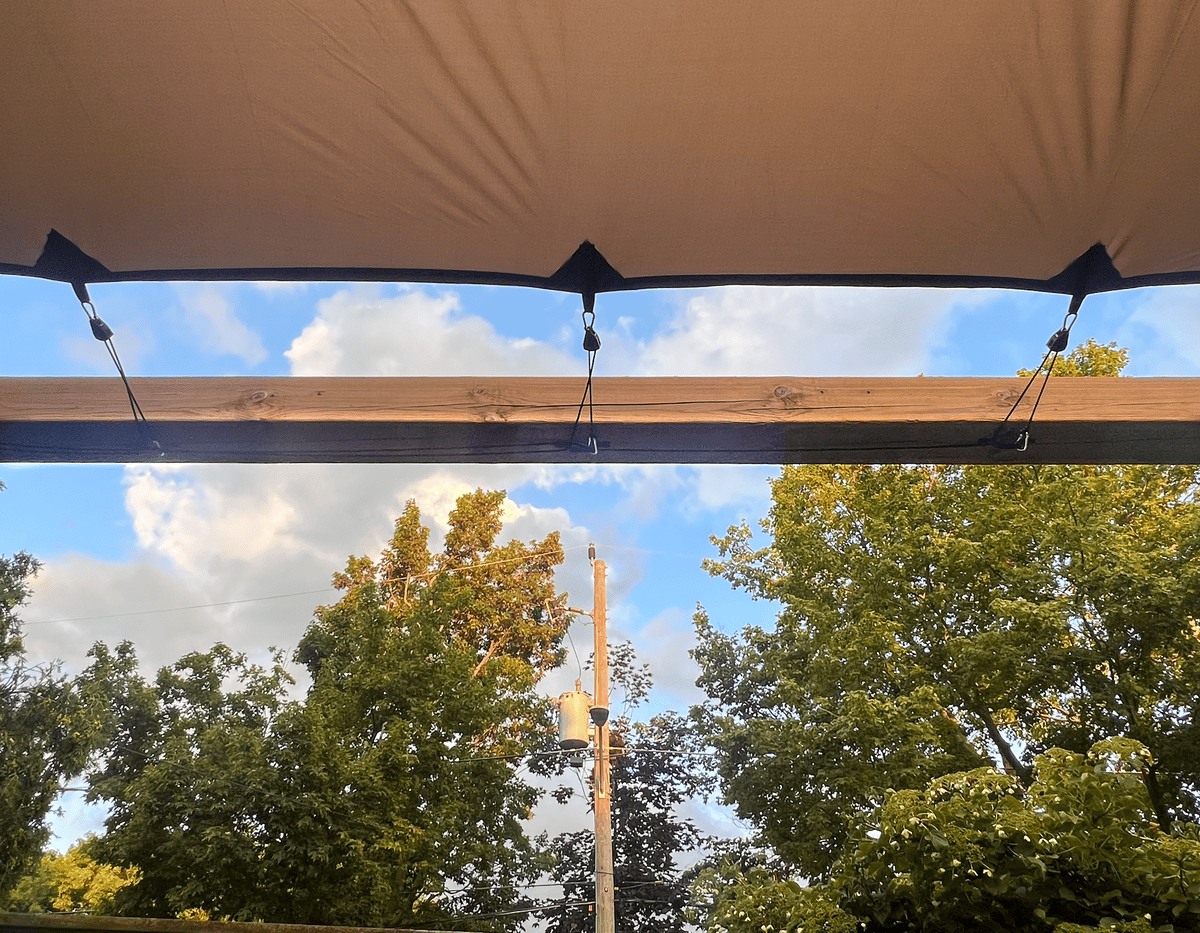 Hint: The cover will stretch a little bit so keep your lines hanging for a couple of weeks to make tightening it easy. Once it has stopped stretching, tuck the cords away. I ran my cords along the underside of the top beams.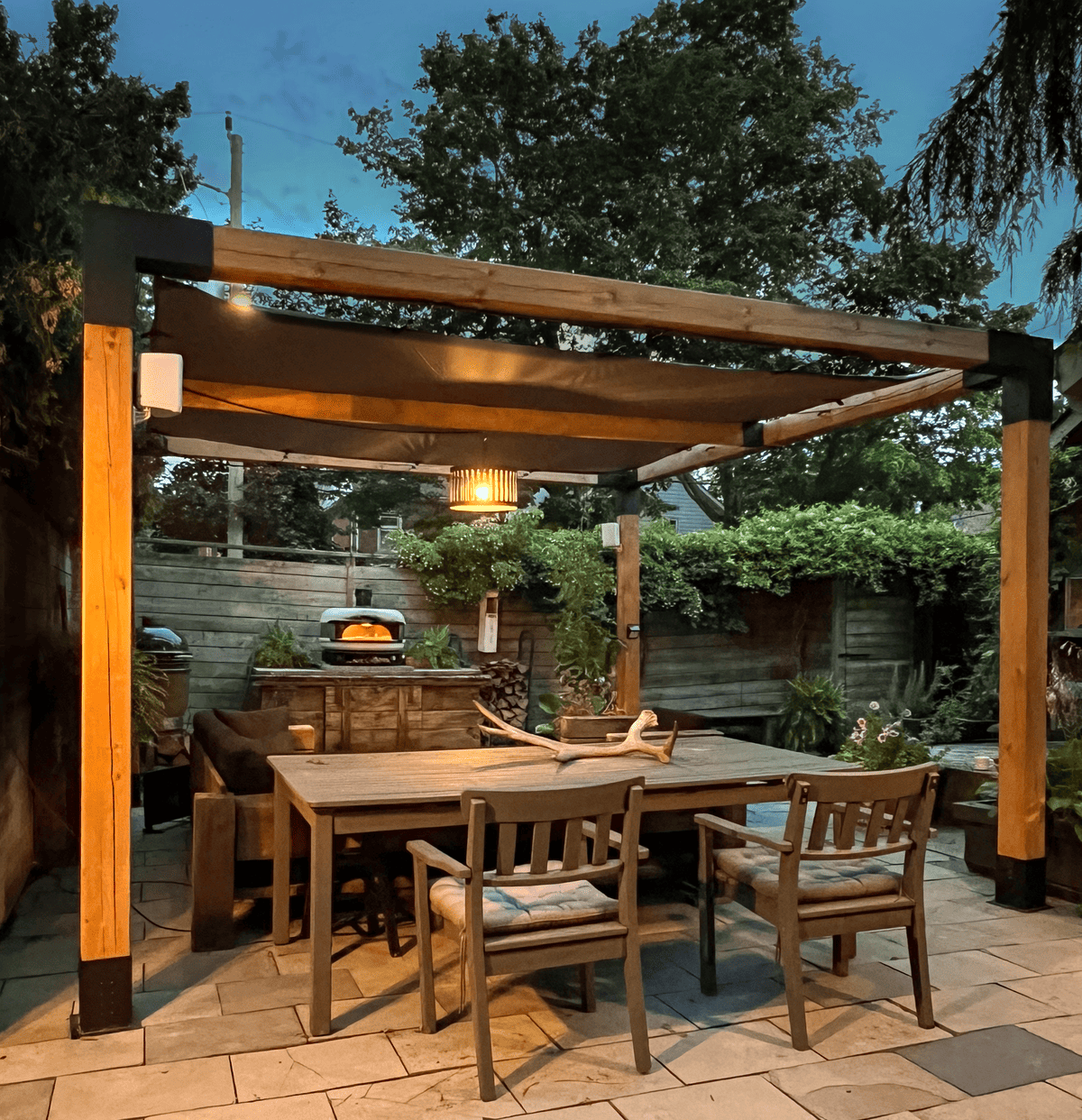 Test it Out
You can spray a hose onto your cover to see where the drip line is to make sure nothing is getting wet underneath. If it is, adjust as necessary. You may need to increase the pitch of the cover by lowering the sides more.
When I made it rain (heh) on mine the water poured off onto the dining table and splashed onto the back of the sofa. I pulled the table back a few inches to solve the problem.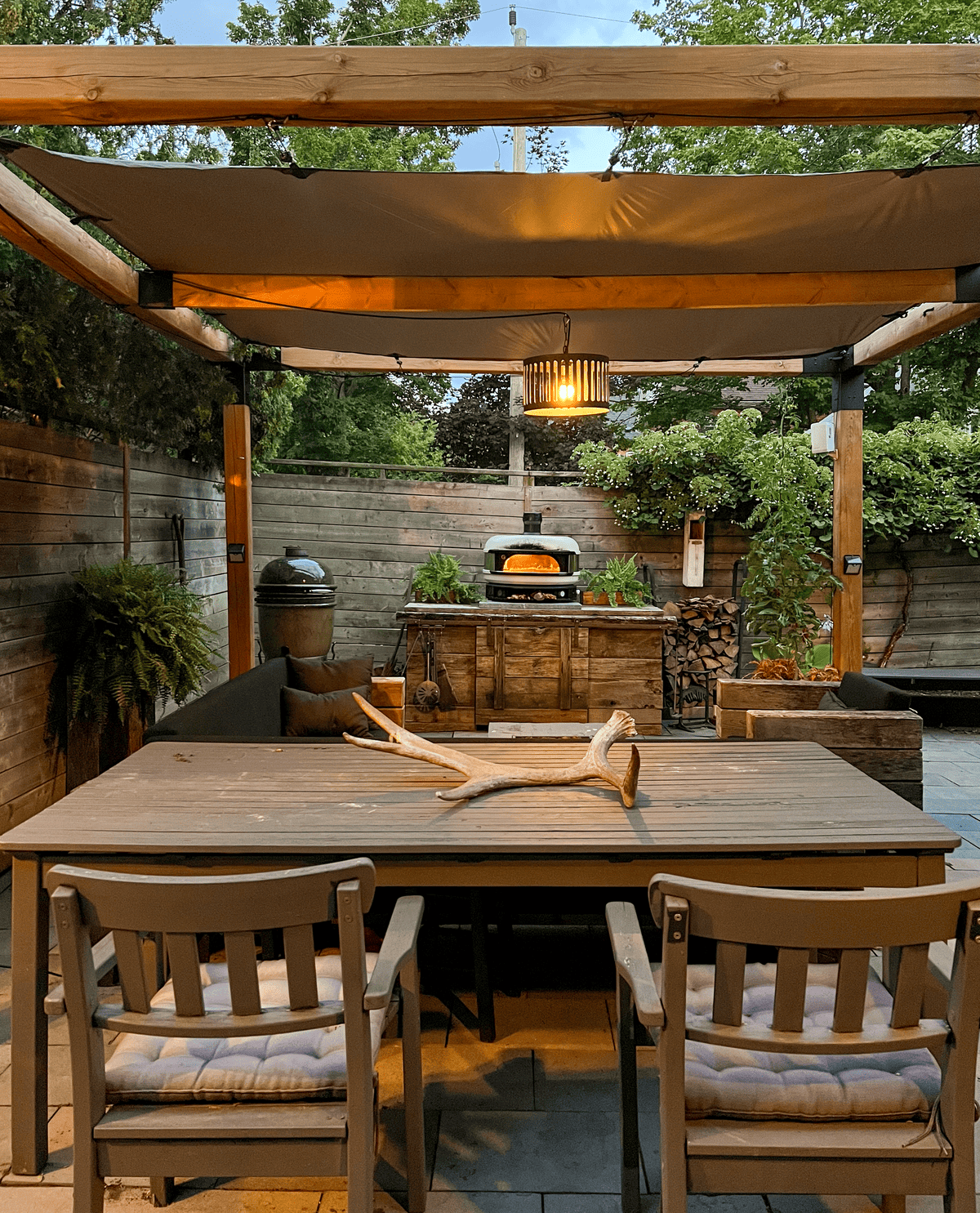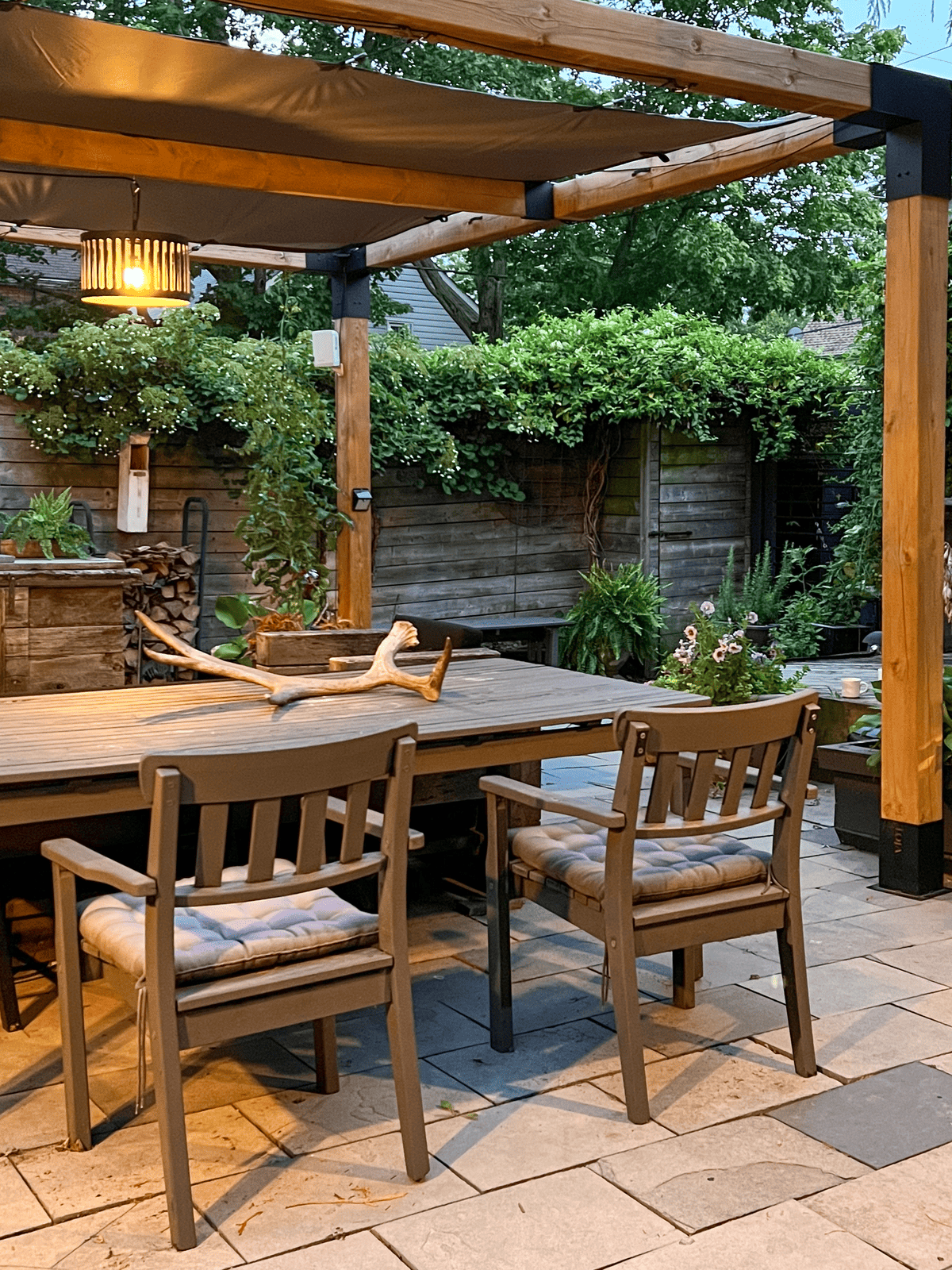 And there you have it. How to make a waterproof pergola cover for $50 out of a tent. Sticking it to the man, one DIY at a time.