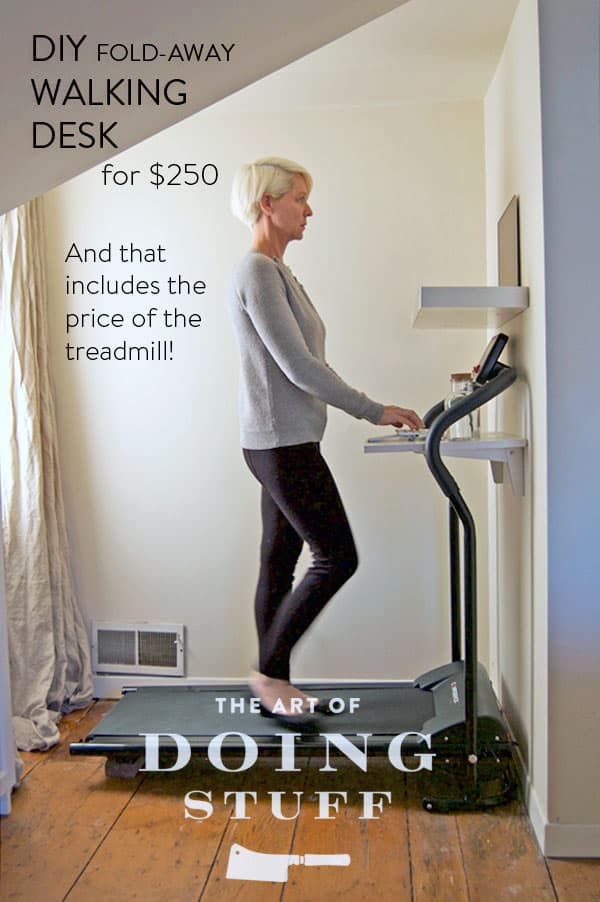 I'm going to tell you a little story right now about how I almost died. I've been writing this blog for 5 years. That means 5 years of sitting at a desk with my shoulders all hunched up and my head tilted forward and my legs dangling from a chair because contrary to what it looks like on the Internet, I'm actually about the size of a kidney bean. From sitting at a desk for 5 years my body has been all squinched and bent and mashed into a peculiar shape. I have blogger bod.
That's an actual photograph of me. I thought I was standing straight. A life of blogging means a lot of time spent at a desk writing, photoshopping, emailing advertisers and watching cat videos on YouTube. It's the same for anyone who spends a lot of time working at a desk.
My other home office improvement that's saved my sanity is painting an entire wall with whiteboard paint. I have a whiteboard wall.
I noticed 3 things after blogging for a few months. I'd gained 5 pounds, my muscles from the base of my neck to my shoulders were REALLY tight and I was getting constant headaches.
When things got really bad I'd lug all 3 pounds of my laptop downstairs (which was a great deal of effort for someone who now spent all day sitting), and I'd set it up on my kitchen counter so I could stand while I worked. My muscles instantly relaxed.
I looked into standing desks and then walking desks when they started to get popular but the cost of your average walking desk is $2,000. And they're HUGE. And with those desks your head is STILL tilted downwards if you're using a laptop which defeats the purpose of getting a walking desk if the point is to improve your posture.
So last January I changed my life by building my own walking desk for a mere $250 which included the price of the treadmill. That's right. Treadmill and all for $250! And here's how I did it. (don't worry a rundown of the instructions and materials will be at the end of the post)
For a walking desk you need a place for your keyboard and a place for your laptop or monitor. The monitor should be at eye level with your head in a neutral position. So, not tilted up or tilted down. The keyboard should be lower than you think. Most people think your elbows should be at a 90 degree angle but they should actually be lower than that in order for your shoulders to relax.
So to set up your DIY walking desk all you have to do is install 2 shelves. One for your monitor and one for your keyboard.
The top shelf is a floating shelf that measures 24" wide by 2" thick by 10" deep. This is the size you need if you're going to put a monitor or laptop on it. It has the size and strength to hold your very expensive piece of computer equipment.
The bottom shelf holds your wireless keyboard, mouse pad (Apple track pad in this case) and drink. This shelf is a folding shelf made by attaching a shelf board to folding shelf brackets. That means if I want to fold the treadmill up and get it out of the way I just have to flip down the shelf and the treadmill can be folded up right where it is. More on that later.
So far all we have are 2 shelves on a wall, but add in the smallest, most portable treadmill available anywhere and you have a DIY walking desk for the total cost of $250. I spent a LOT of time figuring this out. I looked at small treadmills that just fit under your desk and I looked at getting a big used treadmill off of Kijiji.
Trust me when I tell you if you want to make a walking desk, especially for a small area this is the treadmill to buy. The Confidence Power Plus Treadmill clocks in at $199 with free shipping, is only 49" inches long and 24" wide at its widest part. They say it's useable for someone up to 250 pounds.
If you're in Canada the link might not work. If it doesn't, just click here and search "Confidence Power Plus Treadmill". The item is only sold in America but does ship to Canada.
It's a regular treadmill with everything you need in a walking desk treadmill. It monitors your speed, time, distance and calories burned. You can set whatever speed you want from a slow walk to a fast run. The speed range of the treadmill is from 0.6 m.p.h to 6.2 m.p.h. (that's around 1km per hour to 10 km per hour) That's the thing about this. It's an American product so it reads in Imperial, not metric. You have miles per hour for speed and miles for distance.
To full out run on the treadmill, you just have to fold down your folding desk to give you more room. If you don't want to do that and you have the space, you can just pull your treadmill away from the shelf a little bit to give yourself some room. Your floating shelf that holds your monitor stays put so you can continue to read (as if) or watch a TV show while you're running.
The other reason why installing a folding shelf is important if you have a small space is because you can fold the shelf down and then fold up the treadmill.
If you use the shelving sizes I recommend, everything will fold up into a 10" x 24" space.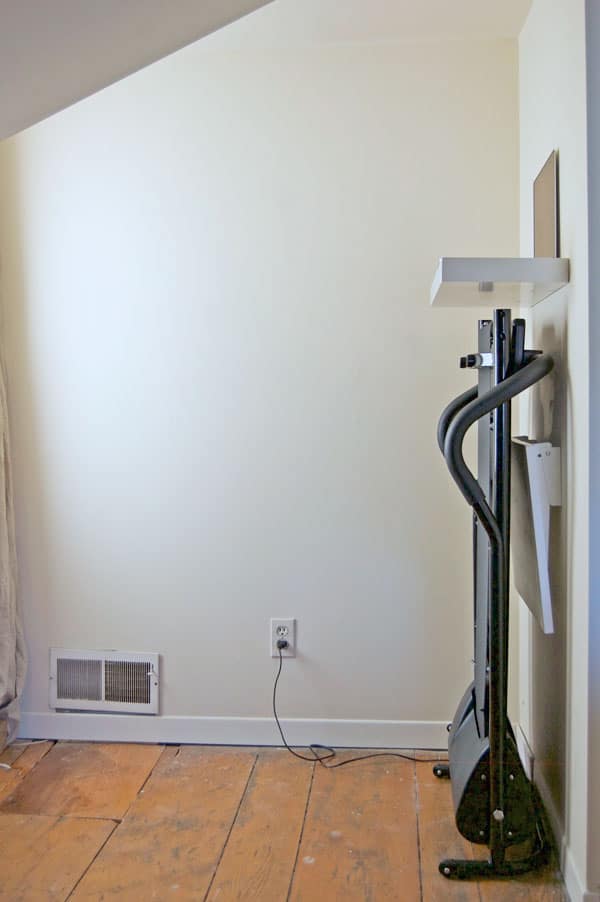 Which leaves you all this space for filming your own YouTube cat videos.
DIY Walking Desk
Materials
24" x 14" x ⅝" Melamine Shelf (note you will have to cut 4" off of this shelf to make it 20" wide otherwise it won't fit in between the bars of the treadmill) You can also buy iron on edge tape to cover up your cut. I couldn't find a ⅝ths one on Amazon, this one is ¾" and would need to be cut down slightly to fit your ⅝ths shelf.
Confidence Power Plus Treadmill (If you're in Canada the link might not work. Just click here and type "Confidence Power Plus Treadmill in the search bar)
Instructions
Hang floating shelf on wall (according to package directions) so your computer screen will be eye level for you.
Attach the floating shelf brackets to your melamine shelf and hang (according to package directions) at a level so your arms will be hanging slightly down when they reach the keyboard on it like you can see in the ergonomic diagram earlier in the post)
Roll your treadmill into place.
Done. For Canadians it's cheaper to buy your shelf stuff online from Home Depot. You can get the floating shelf here and the folding brackets here. For your melamine shelf check out the Home Depot, Canadian Tire or Home Hardware. You may need to cut it to fit. If you DO cut your shelf to fit you can also buy iron on melamine edge tape to cover up your cuts.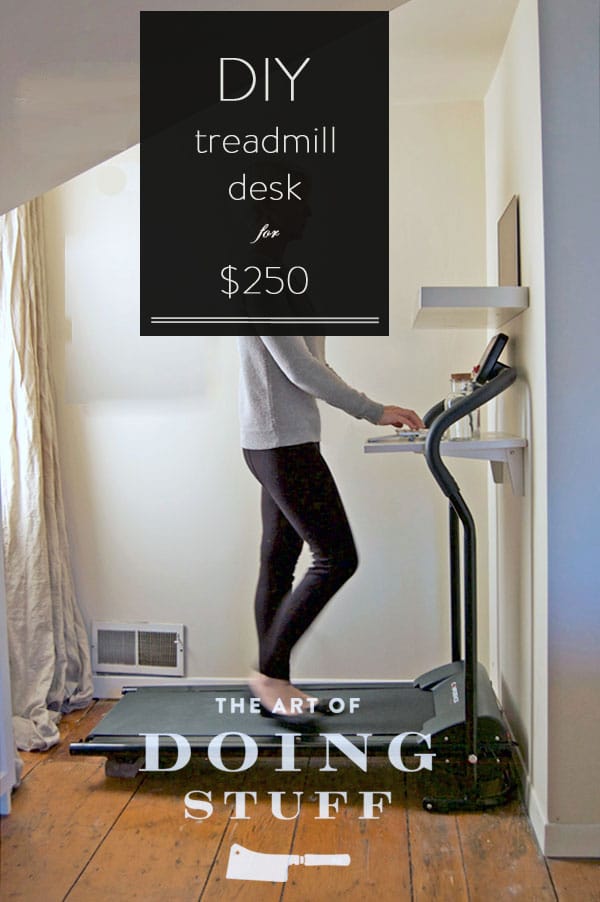 The only thing you absolutely have to buy on Amazon is the actual Confidence Treadmill. Unlike when I bought it, they now ship the treadmill Canada! Everything else can be bought at Home Depot or Lowes. This treadmill is only available on American Amazon, so I ordered it from there with the free shipping and had it delivered to a CBI shipping address in the States for $6. Then I drove over to Buffalo to pick it up.
As soon as I got the treadmill home I set it up and was using it within a day. My headaches went away almost immediately, I lost those 5 pounds and my shoulders have sunk down from my ears to a more appropriate place. All 3 ailments resolved within a few weeks of using a Walking Desk.
I was so excited I almost died.
→Like to Sweat, Swear and do Stuff? GET MY POSTS emailed to you 3 times a week←