Just about a year ago I publicly thanked my good friend Jennifer.  Jennifer, whom I've never met, introduced me to firestarters by way of an email. I will forever be indebted to my most beloved friend in the world, Jennifer (whose name I now think may have been Joyce) for getting me started on these little packages of flaming wonders.
As a thank you to Jackie, I did a post on the easiest way to make homemade firestarters.
So it is now, with shame and regret, I have to admit ... it wasn't actually the easiest way.  I'm so sorry Cathy.  I mislead you.
I've spent the past week or so figuring out an even easier way to make firestarters using the same materials in the original firestarters.
Egg cartons, dryer lint and candle wax.
I was forced to do this when I ran out of my regular homemade firestarters but couldn't be bothered to make anymore.
If you read my original post you'll see making the original homemade firestarters involved shoving some dryer lint into an egg carton and pouring melted wax over it.
This new and IMPROVED version takes out the melting of the wax step.  As seen in  this handy, step by step guide, lovingly created by me, for my friend Gertrude.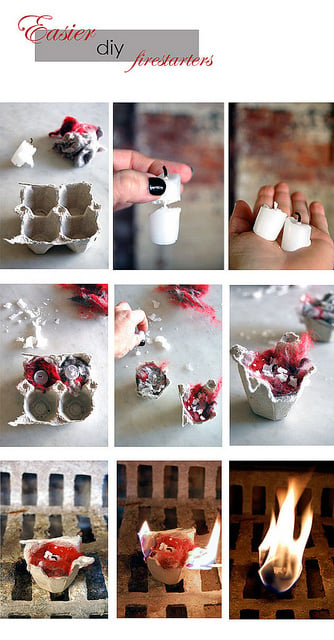 As you can see, you don't need to melt the wax.  Just putting a candle stub in the centre of the egg carton and surrounding it with lint works just fine.
In fact, just using a small hunk of wax in the centre works  fine.   If you have any leftover bits of wax just sprinkle them on top.
I did a  test between a variety of different firestarters to test their burning time.
These are the results ...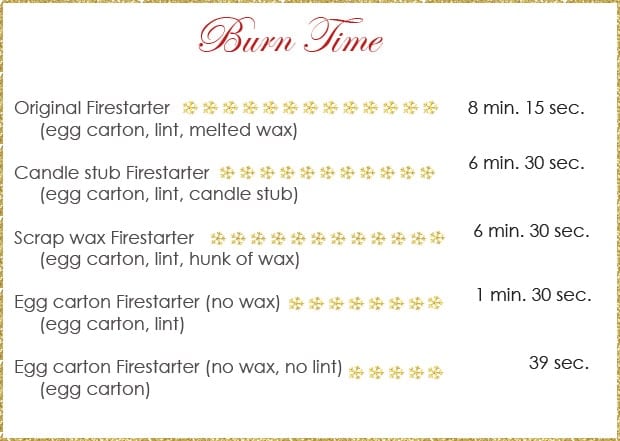 So I've taken all the guess work out.  No more need for experiments.  Instead of lint you can use wood shavings or sawdust but I figured everyone has dryer lint, so it's probably the most accessible for all involved.
The 6 minutes and 30 seconds is definitely a long enough burn time to get a fire going.   The advantage to using the original firestarters that have melted wax is you can make them in advance and throw them in a bucket.  The ones without melted wax have to be placed on a shelf or something so they don't tip over, otherwise all their guts will fall out.
Finally, I would like to take this last moment to again apologize for originally misleading my good friend 李秀英.
Want more STUFF like this?
Get my posts emailed to you daily.