Get ready to be introduced to the sweetest, cutest, fastest Valentines dessert in the land. Easy, cherry tarts with a Valentine's Day twist.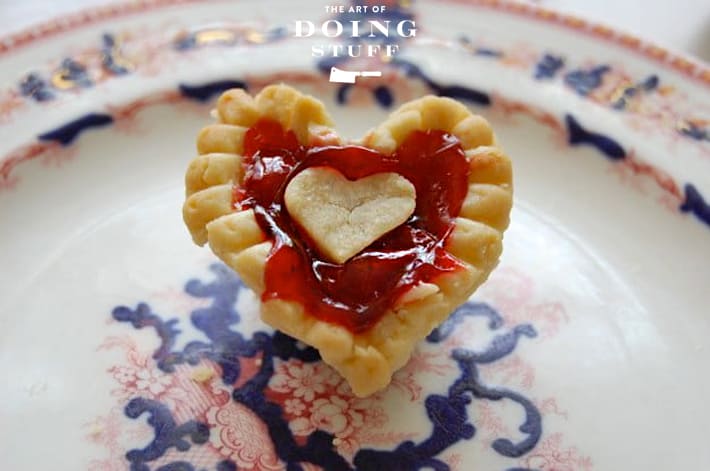 A trip to the grocery store usually goes something like this for me ...
Grab the only cart in the store that has a wonky wheel which forces it to pull to the right all the time. Get whatever "in the aisle" goods I need. Turn right. Head down to the dairy aisle and pick up whatever I need there.
I sometimes spend more time gazing at cheese than you would expect from a person who knows how to work a button up shirt.
Take a detour through the potato chip aisle and just sit and meditate for a while. Wipe the goofy potato chip induced grin from my face and head on over to the produce aisle. As you may have guessed, I am forced to hang a right to do this. Pick up leafy, crispy things. I like leafy, crispy things.
Turn right at the broccoli and head directly towards the deli counter. Worry for a full 30 seconds about whether or not, when there is only 1 person ahead of me, I really need to "take a number".
Decide the deli is too stressful and head over to the meat counter. Stand for what seems like hours deciding on what big, thick, hunk of meat I'd like to devour (usually after cooking it). I get all dreamy in the meat aisle. I browse and I scan and I ponder while in the meat aisle. Turn right.
Then I quickly zip through that area where they sell pies and cakes and stuff without looking at a thing. Check out.
The point of this story? Check the alignment of your cart before committing to it. There's nothing worse than a cart with a wonky wheel that always wants to turn right. Except one that wants to turn left. Second point to this story? I'm not one for sweet, gooey baked goods.
And because I don't like to eat 'em, I don't like to make 'em. Which is why I came up with this post. Quite possibly the easiest Heart Shaped Tart on the planet! Here we go .... !!!
Easy Cherry Tarts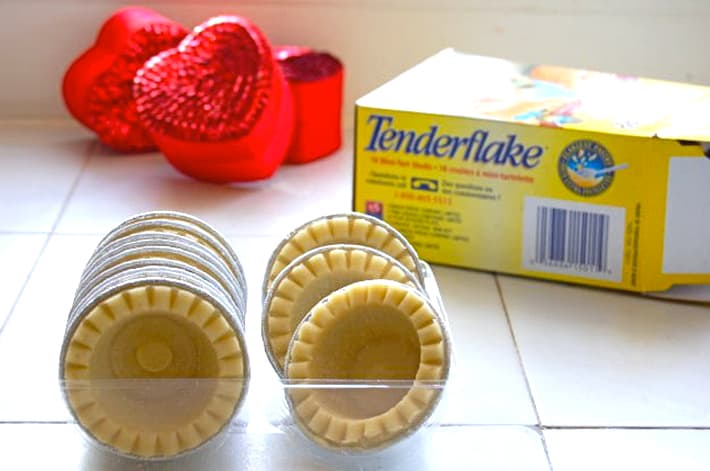 It occurred to me that I could probably smash those mini premade tart shells into any shape I wanted. I mean, nothing terribly complex. Like I probably couldn't squish them into the shape of a small country or a mathematical equation but I thought I could definitely squish it into the shape of a heart.
I gave it a shot, and turns out I was right. Very easy. Just get a tart ... I used the mini kind normally reserved for appetizers.
Update: Apparently these mini shells are hard to find in The United States, whereas in Canada they're in most frozen food sections. If you can't find the mini tart shells, just use regular small tart shells. If you can't find small tart shells use a full frozen pie crust and cut it into 2 ¾" circles and fit them into a mini muffin pan before filling. You won't be able to achieve perfect hearts this way, but they'll still be cute.
How do you make a heart shaped tart?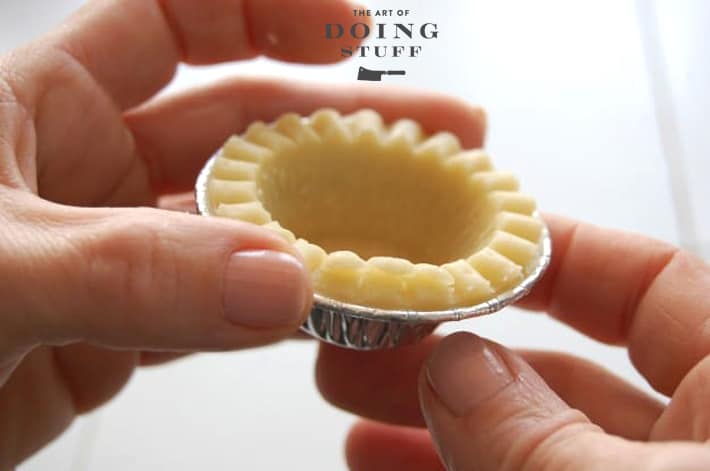 1. Turn the shell into a heart shape, by denting in one end of the tart's foil.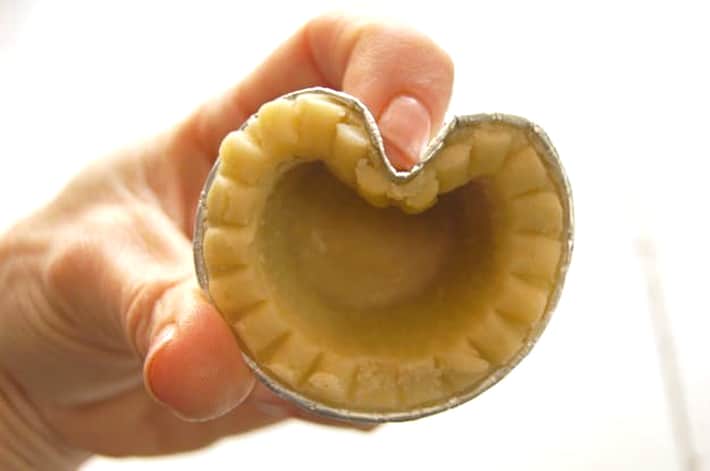 2. Then push that dent inwards to create the top of the heart shape.
Be careful not to squarsh the dough too much.
3. Once you have the top of the heart shaped, push the sides together a bit and pull the end down into a point. This will finish off the shape of the heart for your cherry tart.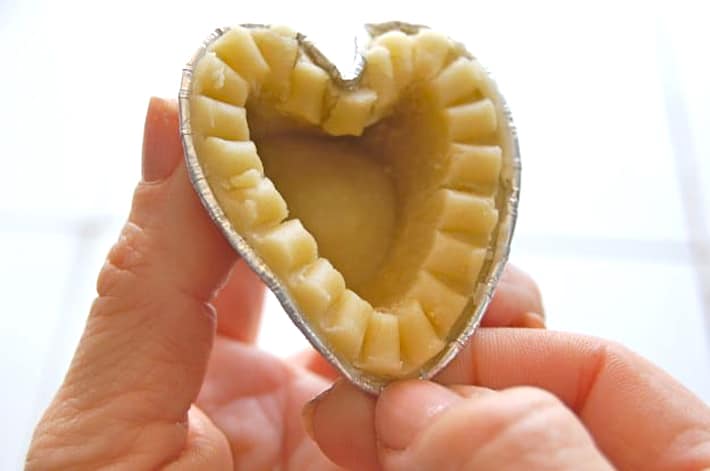 Ta da! Heart shaped tart shell. Everybody needs to calm down now, because the most exciting part is coming up.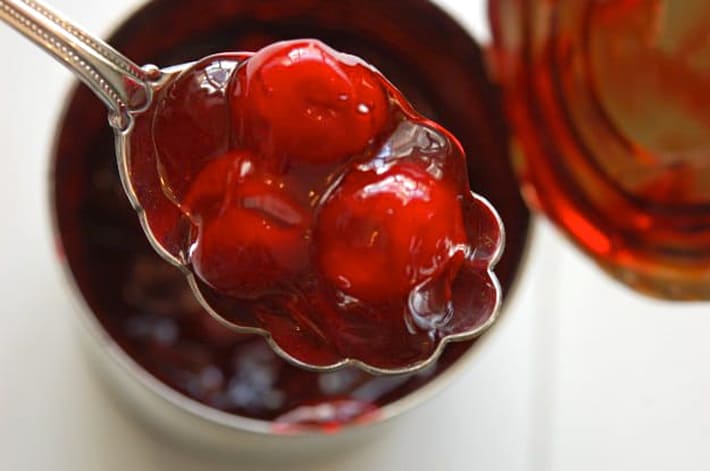 4. To fill the tarts, add 1 tablespoon of Cherry Pie Filling. I mean if you want to go nuts you could make Cherry Pie Filling from scratch but ... c'mon. The point of this cherry tart Valentine dessert is that it's easy and fast.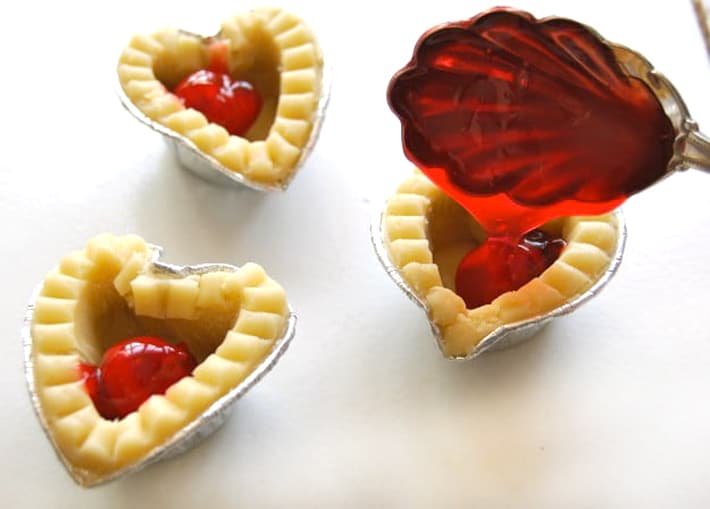 Try to add just a little to each tart at a time. I added a few cherries to each tart and then filled up the rest of the space with the gooey filling.
Don't overfill the tarts 'cause they'll get messy once they bubble up and cook.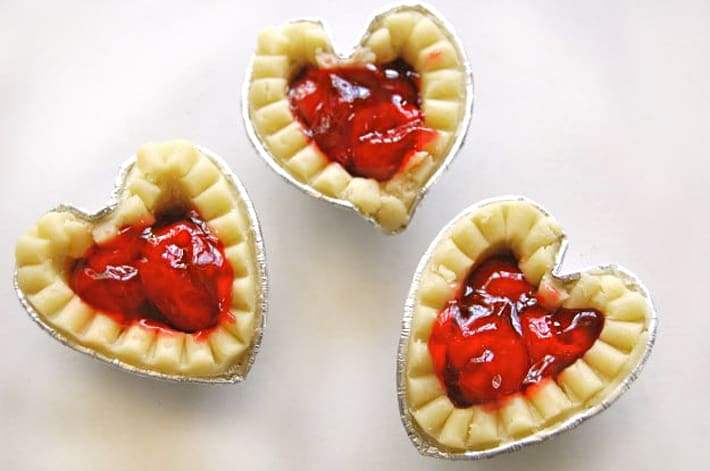 Now you can either stick your tarts in the oven or ...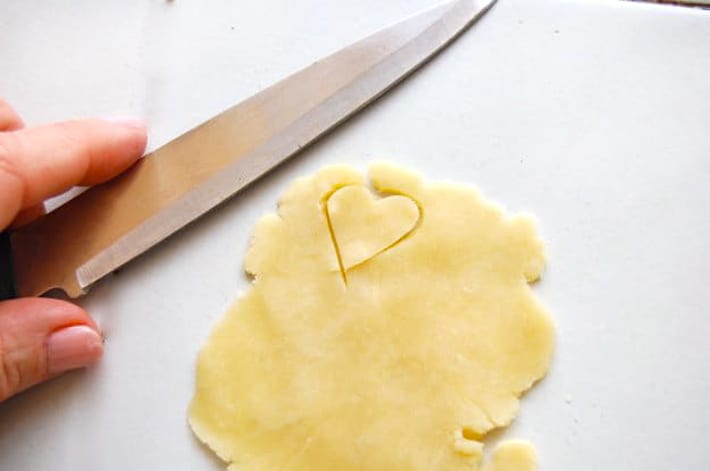 You can tart up your tarts.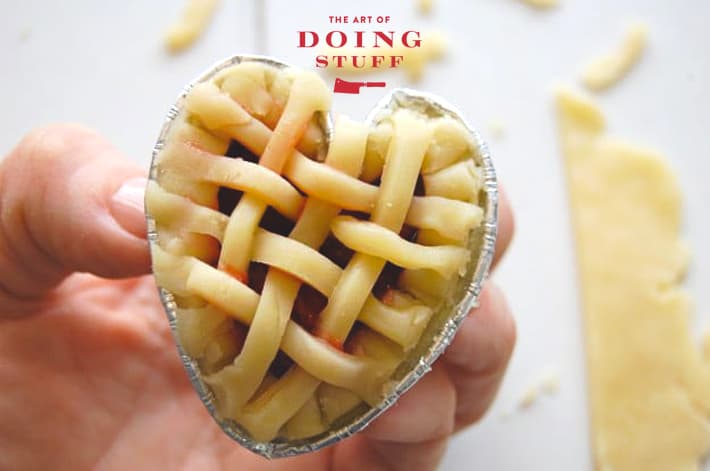 5. Now that you're tarts have the look of something that took much longer than 20 minutes, stick them in the oven at 375° for 20 minutes.
Take 'em out ... and eat 'em.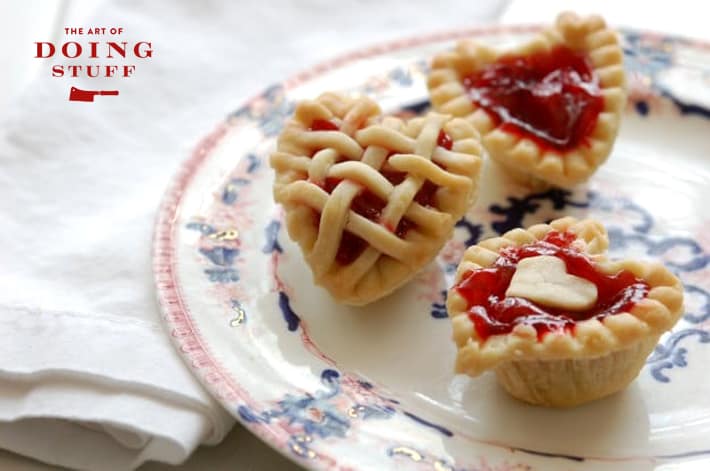 And there you have it. You'd normally have to cruise a bar at closing time to come across a tart this easy. Enjoy.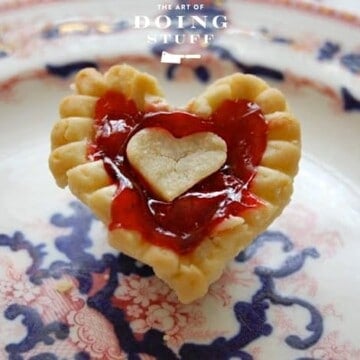 Cherry Tarts
Easy, bite sized cherry tarts that you can unapologetically make with frozen pie shells and canned cherry pie filling.
Print
Pin
Rate
Ingredients
1

package

mini frozen tart shells

regular sized tart shells are fine too

1

can

cherry pie filling

cherry is great for Valentine's Day because it's red, but feel free to use any pie filling.
Instructions
Holding the tart, press gently inwards to form the top of your heart.

Pinch the tart directly below the indentation on the top to form your heart.

Fill each tart with a few cherries then top up with the pie filling glaze. Around 1 Tablespoon in total.

(Optional) Roll out some more tarts to act as tops for the tarts. Be as creative as possible! Basket weave, inlays, cutouts ... anything you do to the top of a regular pie, you can do on these mini ones.

Bake at 375 F for 20 minutes.
Nutrition
Serving:
2
tarts
|
Calories:
160
kcal
QUESTIONS/ANSWERS
Do you need to thaw the shells? The shells need to be thawed before baking but because they're so small it only takes a few minutes.
Can you freeze them? These can be made ahead, cooked, then frozen. Just be careful when reheating them that you don't cook them or your crust will be rock hard.
How many mini tart shells does one can of pie filling fill? 1 standard can of pie filling is 2 cups which would fill 36 mini tarts at 1 tablespoon of filling per tart.
→Follow me on Instagram where I often make a fool of myself←