My feet have been described by everyone around me as cartoon like. I mainly took this as a compliment and in fact strutted a little bit at the thought of it, showing off my feet every chance I got.
At one point I even took to pointing at things with my toes instead of my fingers to ensure everyone got a chance to marvel at my Betty and Veronica type feet. Betty and Veronica were hot. Cartoon feet were hot. Ergo, I was hot.
And then one night at dinner the fella commented on my cartoon feet. Just as I was about to pass the gravy with my right foot, I heard something about Fred Flintstone.
FRED FLINTSTONE? People were referencing FRED FLINTSTONE and not the hot Archie comic girls when they said I had cartoon feet? This changed everything.
Frankly I knew I had wide, square, unattractive feet. That's why it was so exciting to think everyone around me was so stupid they couldn't see it. They thought I had the slender foot of a rich, snotty, dark haired vixen who starred in her own Double Digest.
To make matters slightly worse I not only have square feet, I have the feet of a highly ranked African distance runner. Someone who has trained by running through the thorn and rock filled bush for decades, completely barefoot.
My heels and toes have thick, hard calluses with enough dead skin poking out of them that scraping my feet through a pair of leggings is as horrifying as the sound of nails on a chalkboard, my feet catching and pulling on every fibre of the material all the way down. There are certain rugs in my house I can't even walk on for fear my feet will snag them like super powered velcro and I'll be stuck on the rug forever.
This is how I imagine my feet.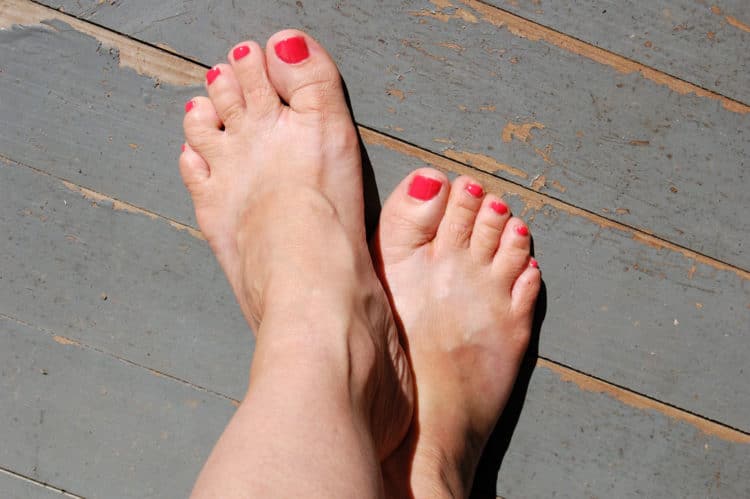 These are my actual feet.
It used to be that this medieval device was the tool of choice for those of us with farmer feet.
A razor on the end of a stick. The callus shaver.
And if you leave it in the bathroom cabinet long enough it'll even turn into a rusty razor blade. The idea is you carefully level the razor blade  with your heel and then ... start swishing it across your heel as quick as you can, shaving off all of the dead skin in the process. You just keep doing it until you get too queazy to do it anymore. You'll think you did a good job until you realize you've shaved off all of your skin and you're unable to walk for 3 days.
Having the cast of Duck Dynasty shoot at your heels with their favourite 12 gauge seems more reasonable.
Which brings me to my product review. (I went out and bought the thing myself because I was genuinely curious about it ... I wasn't paid to write this review and no one gave me any free product.)
The Emjoi MicroPedi. I passed it a couple of times in my local pharmacy but never bought it because I wasn't convinced it would work and it's not cheap. At Shoppers Drug Mart in Canada it's $49.99.
So when I walked past it last time and saw it was on sale for $29.99 I held my breath and grabbed it. I could handle wasting $30. Not $50. So imagine my surprise when they rang it up and it came up as the original price, $49.99. I misread the price. It wasn't on sale. But it was too late now. I was attached to it. It was mine.
The Emjoi Micropedi is a battery operated foot sander. So a hypercharged emery board. The unit has a tube of sandpaper that sands your feet by spinning around at a ridiculous rate.
In the box you get the device, an instruction booklet and a completely and totally useless plastic brush thing.
Want more STUFF like this?
Get my posts emailed to you daily.
This is the business end of the device.
It runs off of 2 AA batteries and you can buy replacement sanders for it, including finer and extra coarse ones.
This is my heel before. And I have to tell you. It's actually looking pretty good. But you can see that I'm not the owner of beautiful heel skin. I have wrinkles on the bottom of my feet just like a baby. A baby elephant.
The instructions say to turn on the foot sander and run it over your skin for no longer than 3 seconds in one place. So I did that.
I did it again.
And again and again and again. It took about 15 minutes for me to get my feet to where I was happy with them. So it wasn't finished in the seconds that the box claims. Mind you, they probably weren't counting on Fred Flintstone buying their product.
It was amazingly easy to use and dare I say, kindda fun. Really fun in fact, because it worked.  This is after one use.
Cleaning
That's what the little useless brush you get is for.  Throw it away, it's stupid.
The device itself is water resistant so you can rinse it under water.
The sanding roll is removable so I just popped mine out and brushed it the remaining dead skin with an old toothbrush the rinsed it under water.
It's not the same as getting a pedicure, because obviously no one is nipping your cuticles, pulling your toes or massaging your calves, but the result is pretty good. Plus there's the bonus that you can do this whenever you have a second and you don't have to wait for an appointment.
Which brings me to my next point. Who is this sort of device for? Well. For people like me who imagine they're gonna get pedicures but never do. Or people who always get pedicures (Veronica for example) but want something to do little touch ups in between them.
So basically it's for everyone.
Do I recommend the Emjoi MicroPedi? Does Fred Flintstone wear a dress?
Rating:

Drawbacks
The reason it didn't get 4 stars is because of the cost of the unit and the replacement sanding rolls.
Take a look at your Battery Operated Foot Sander options on Amazon here.
If your feet are anything like mine, buy one.  You'll love it.  Yabba Dabba Doo it right now.
→Follow me on Instagram where I often make a fool of myself←