If you're growing flowers for a cutting garden in a limited amount of space, I have a few tips for you that'll make your life easier and your bouquets more beautiful.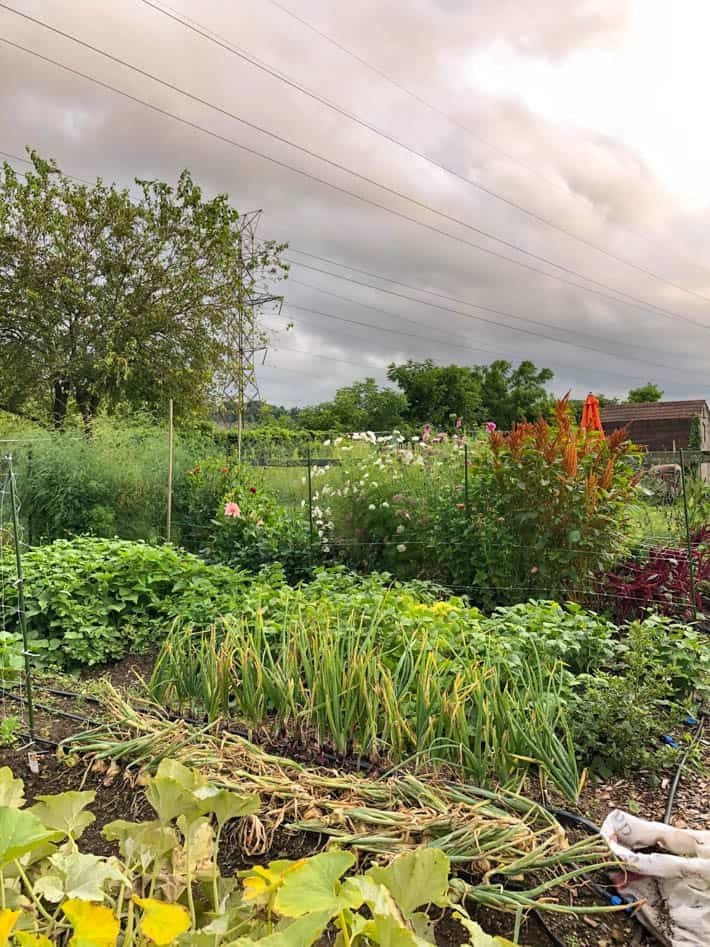 Ever year I seem to devote more and more room to flowers in my inappropriately named vegetable garden. I started with a few flowers in the borders, and then an entire 16 x 3' bed, to the point I am at this year which is 2, 16 x 3' flower beds. Plus a few mushed into the borders which is where the sweet peas live.
This was the first year I dedicated so much space to flowers and it was the first time I grew a lot of the varieties I put in.
I liked everything I grew this year, but after a season of observing the flower habits I have a better idea of how many of each I need to grow.
I've made a mental note for instance that I don't need to plant 8 cosmos plants because 8 cosmos plants produce enough flowers to fill a very nice smelling garbage truck.
Here's a recap of what I planted in my flower beds for cutting this year:
---
Cutting Garden Flowers
Dahlias
Cockscomb
Amaranth
Mignonette
Cosmos
Sweet Peas
Iceland Poppies
Zinnias
Chocolate Laceflower
Bupleurum (not shown)
Snapdragons (not shown)
China Aster (not shown)
---
This probably seems like a lot of varieties, and it is but it's not as many as I could have packed in the over 100 square feet of space I had for them. I whittled everything down so I had a LOT of each flower. It just makes creating a professional looking arrangement (at my skill level) easier.
How you decide what you're going to plant in your cutting garden is dictated by how you want to arrange the flowers.
I mean that's why it's called a cutting garden right? Because you're going to eventually cut those flowers. Here are some things to consider for a cutting garden no matter how big or small it is:
Are you pretty confident arranging flowers? If you are then you probably have the skills to create beautiful bouquets with a multitude of flowers. Think Tulipina type arrangements.
Are you less confident in your floral arranging abilities? Designing a beautiful bouquet with 1-5 varieties of flowers and greenery is MUCH easier. Keep it simple you big stupid.
Don't forget the GREENERY. If you don't have access to greenery from the rest of your yard or garden make sure you devote ¼ of your space to greenery/filler. It's the biggest mistake people make when planning a cutting garden - not including enough greenery. The filler is .. well ... filling in the bouquets, plus the green makes the colourful flowers POP.
6" x 6" plastic mesh that's normally used for growing peas is a great way to force flowers to grow straight and stop them from toppling over. Thanks to Erin at Floret Flowers for this brilliant growing tip that saved my bum many times this year.
DON'T just randomly buy flowers. Pay close attention to the colours you're growing. Growing a cutting garden is like decorating a room. You want your colours to all look good together. Get a palette in mind and stick with it.
Dahlias: After dusk (dark red), Cornel Bronze (orange), Ice Cube (dinner plate sized ones) Unknown (red ball dahlia in centre)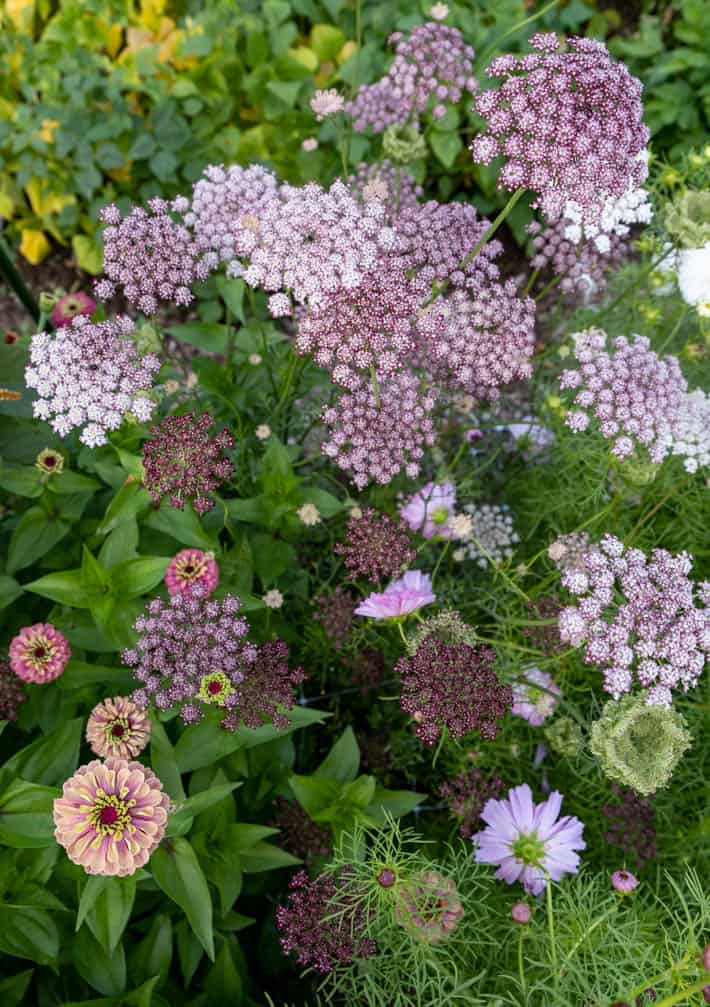 Chocolate Laceflower
With things that are light and airy like lace flower or cosmos, you don't need a lot of them because you use them sparingly in arrangements and they produce TONS of flowers per plant.
Mignonette, good for a sweet scent and greenery.
And don't forget about the scent! A lot of hybridized flowers don't have any scent anymore. It's why old varieties of peonies and roses always smell so good. They haven't been tortured into submission by cross breeding to get the perfect colour or shape.
So try to plant something that will smell GREAT. Sweet peas always smell delicious, and this old variety of flower Mignonette, used specifically in nosegays is delicious smelling. Kind of like - I don't know - a candy necklace? Plus it makes any posy look properly Victorian.
In this posy: Cockscomb, Mignonette, Zinnia (Queen Red Lime), Sweet Peas (Spencer Giant Mixed), China Aster, Cosmos (Cupcake Blush), Chocolate Laceflower.
In Friday's post I'll be showing you how to do a simple, dramatic arrangement with all those dahlias I recommended you plant earlier this year.
You know, the ones you thought would never grow and are now the size of an ice cream truck. Those dahlias.
→Follow me on Instagram where I often make a fool of myself←