Skip right to the recipe. (I totally think you should read the post though)
Sometimes I worry for the children of today.  Curled up on their couches, tablets in hand, spending hours on end texting friends like BiglipsKylie1765499 and Gah!Gah!RainbowSprinkles,  while they could be doing far more meaningful and interesting things.  Like playing Tetris.  But they don't.  They click and swipe and selfie.  They have thousands of apps to be entertained by without having to move anything more than a thumb and possibly 3.4 brain cells.
When we were kids you know what we played with?  A potato.  A f*cking potato.  We'd shove a nose on it and maybe a set of ears if we could find both of them and we PLAYED WITH A F*CKING POTATO.  And we the potato players grew up to be Steve Jobs and Stephen Hawking and Bjork.  BJORK!  She wore a ridiculous cosplay Swan costume to the Oscars before cosplay was even invented and she looked like an idiot but she also looked like someone with at least a modicum of imagination.  You know what today's kids are going to wear to the Oscars when they grow up??!  Probably something pretty cool they found online but STILL, you get my point.
We developed imagination, and resilience, and night terrors about vegetables with faces.  All because of that one toy.   We. Kick. Ass.
We also love potatoes.
Roasted potatoes seem like an easy thing to make but in reality it's really hard to make them well. You want them crispy on the outside and light and fluffy on the inside. The light and fluffy isn't too difficult but getting potatoes crispy by roasting them is actually kindda hard.
The first thing you have to do is:
 Cut the potatoes.  It's the cut part that'll get crispy, not the skin.
This means you'll get crispier potatoes if you take a large potato and cut it into chunks.  Smaller potatoes (like these I've used) that only get cut in half only have one cut side to get crispy. Whereas a large potato that you've cut into chunks often has 3 or even 4 sides without skin that'll get nice and crispy.  I learned that little trick from a Heston Blumenthal recipe.
2.  Boil the potatoes with salt and baking soda to cook them.
The salt adds flavour and the baking soda helps break down the potatoes which is what you want. I learned that little trick from a Serious Eats recipe.
3.  Drain the potatoes then transfer them back to the pot with some olive oil or my favourite ... duck fat.  The residual heat in the pot/pan will melt the fat.  Duck fat gets potatoes crispier than anything else I've tried.  Now shake the pan.  Shake it and shake it and shake it.  You can use a spoon to stir it all as well.  You want to create kind of a potato slurry that coats the potatoes.   THIS is the stuff that'll get crispy.   At the very least you want to rough up the cut surfaces of the potatoes.  A flat clean surface won't get crispy, a roughed up, bumpy surface will.  If you potatoes absolutely will NOT rough up, run a fork over them.
4.  Pop the potatoes into a 425 degree oven. I like using a cast iron skillet for the boiling portion so I can put it directly in the oven and only dirty one dish.  Stir the potatoes around every so often.  When the potatoes are crispy they're done.  Depending on the size of the potato chunks this can be anywhere from 15 - 30 minutes.
*** Do NOT add salt to the potatoes before roasting them.  Salt draws moisture out and you want the potatoes to stay as waterless as possible.  This is true of most roasted vegetables.  Add your salt at the end.***
5.  Meanwhile, make your grainy mustard dill sauce.
Mix together equal parts mayonnaise, grainy dijon mustard and dill weed.
6.  When the potatoes are done and immediately prior to serving toss the potatoes in the sauce.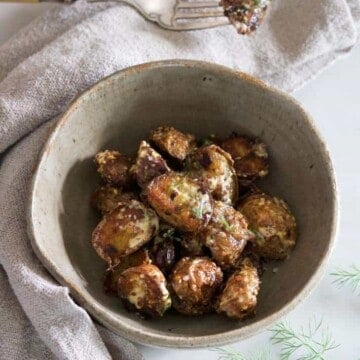 Ingredients
Potatoes

Baking Soda

Salt

Mayonnaise

Grainy Dijon Mustard

Fresh Dill

chopped with some reserved for garnish.
Instructions
Preheat oven to 425.

Cut potatoes into chunks so there are as many cut surfaces as possible.

Boil potatoes in water with salt and 1 tsp. baking soda.

Drain potatoes when they're easily pierced with a fork.

Return potatoes to pan and add 1-2 Tablespoons of olive oil or duck fat.

Swirl and shake the pan to rough the potatoes up.

Put in 425 degree oven, stirring occasionally until done. (15-30 minutes)

Mix together equal parts mayonnaise, grainy dijon mustard and fresh dill.

Remove potatoes from oven and toss in dill sauce. Sprinkle with reserved fresh dill.
You can increase or decrease the amount of mustard depending on how tangy you want the potatoes.
And since these are potatoes and they might trigger certain memories, feel free to play with your food.