My family is concerned with having good hair. I don't mean the way other families are concerned with having good hair, I mean the way other families are concerned with not accidentally setting each other on fire and then eating each others noses.
We're serious about hair.  So it makes no sense, as a 3rd generational hair obsessed, that I bought the house that I live in.   It has a tiny bathroom with a tiny bathtub, and a tiny medicine cabinet that sits over a tiny sink. If I could leave it at that, it would be dreadful but bearable.  But I not only have a tiny sink, I have the most useless  of all tiny sinks ... I.  Own.  A. Pedestal. Sink.  Moment of silence.
The bathroom is the last room in my house that needs to be redone and I keep NOT redoing it in the hopes that one day I'll be able to afford to put on a small addition to my house with a real and actual bathroom.  If I ever got the chance to do that, I'd completely reconfigure the horrifyingly useless Pedestal Bathroom at the same time so I don't want to put any money into redoing it if in a year or two I'll be gutting it.
I've been thinking this exact thought for the past 16 years.  So yeah.
The absolute worst thing about a pedestal sink is there's no storage on it or around it or underneath it.  Nowhere.  The stupid thing isn't even big enough for a pump bottle of soap to sit on it without slipping and shooting across the room when you use it.
So if there's no room for a bottle of soap, there's definitely no room for the hair obsessed's most coveted item. Our professional grade hairdryer.
I used to have a hair dryer holder that screwed into the wall but it was bulky and ugly so I broke it on purpose.
And then I made a cleaner, neater looking one myself.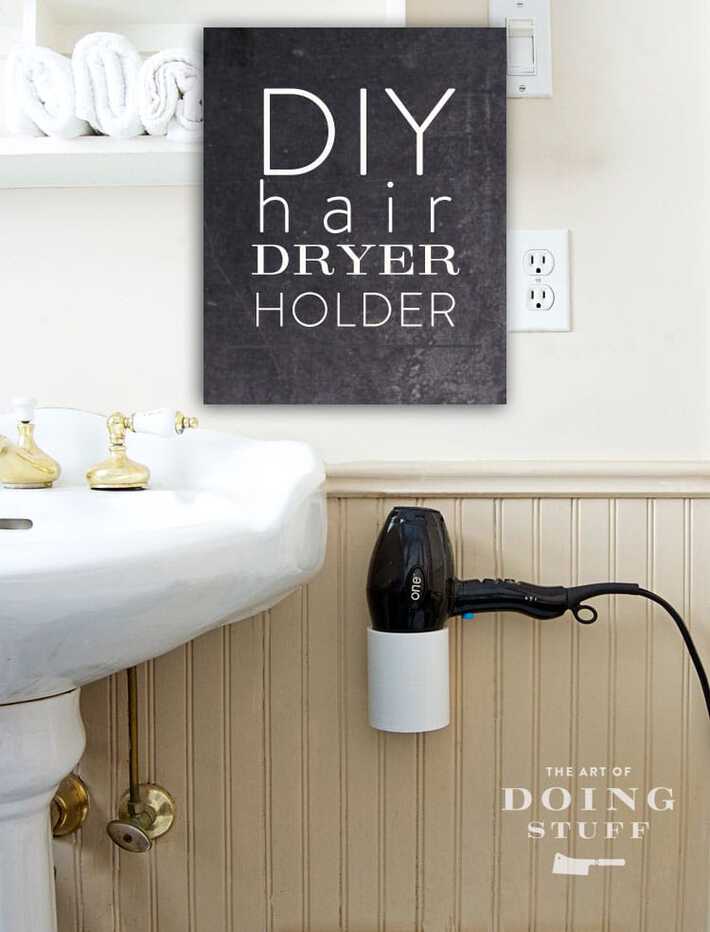 Here's how to do it and what you need in 3 easy steps.
Materials:
1, 2.5" PVC coupling (you'll find this in the plumbing aisle)
1, 3X3 white hinge
3, #8 screws
3, 10x24 machine screws -
3, 10x24 nuts
Total Cost:  Around $10.00
STEP 1
Place hinge, centred on PVC coupling and mark where the hinge holes are.  Drill holes.

STEP 2
Place the hinge on the PVC coupling and insert the machine screws.

STEP 3
Screw on the nuts.

STEP 4
Screw the other end of the hinge into your wall using #8 screws.  Going into wood you can just screw them straight in, if you're going into drywall use anchors.

Now all you have to do is shove in your hairdryer.

Because this is a hinge and it swings open you can either use a bit of 2 way tape to stick the two hinge sides together to keep it from opening or you can use a magnet to keep it together.  A bit of glue would work too but not too much because you need to be able to pry it apart fairly easily to access the screws if you ever need to remove it from the wall.

Don't wanna DIY?  Then by all means, buy!  This chrome hairdryer holder is $13 on Amazon.
Most importantly, if you only remember ONE thing from this DIY, remember to never eat your relatives noses.