Wait! Don't throw out your favourite pair of socks just because they have a hole in them. With a needle, thread and you can fix them in about 3 minutes. How to darn a sock ...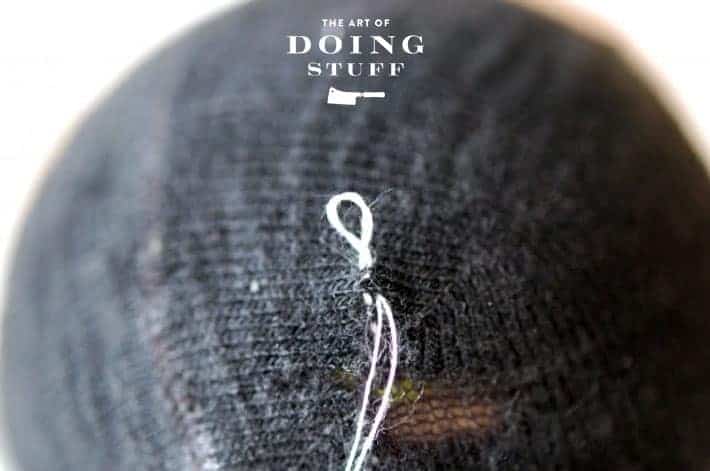 Darning socks is something I started doing when I was a kid. It was one weird thing in a long list of weird things that interested me. My mother, who had fun making her own hats, bras, porcelain dolls, clothing, stained glass, folk art, and wool washing soap - thought my sock darning habit was ridiculous.
Which makes no logical sense yet here we are.
Even if you don't have any socks to mend this same method will work on anything. It's basically how to sew a hole on any piece of fabric or clothing.
I understand there aren't many of you that want to know how to darn a sock, (a term I'm using loosely) but if you have a favourite pair and particularly long toenails, it's something that might interest you.
Most of the sock darning in this household is done on my pajama socks. The big, ugly, cushy socks I like to wear instead of slippers. I have an unexplainable attachment to these socks. They're like blankies for my feet.
So in an effort to get even closer to my childhood dream of becoming a scullery maid, I darn my own socks.
Again, I'm using the term darn loosely. Darning involves weaving thread so it mimics fabric. What I'm doing here is sewing up a sock the same way you'd sew together a sweater. It's a technique that is close to invisible and doesn't leave a big lump in the sock which would be annoying on the bottom of your foot.
How to Darn a Sock.
You'll need:
Thread in a colour similar to the sock
A tennis ball, light bulb or any other round object
A needle
A Sock with a hole in it
Step 1 - Place your sock over a tennis ball or lightbulb
(you can also just stick your hand inside the sock if you prefer).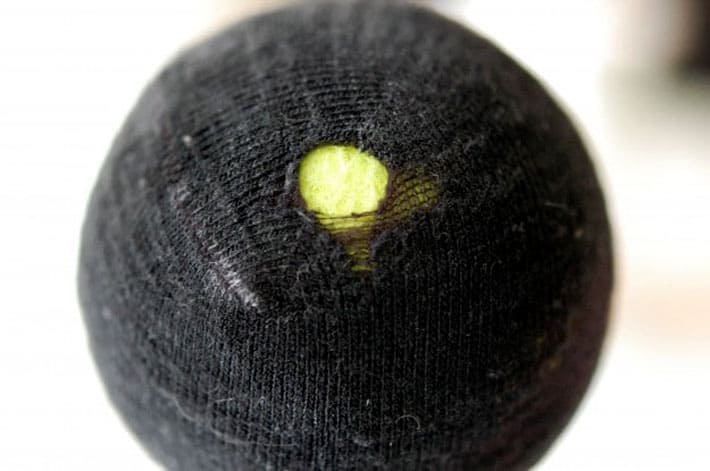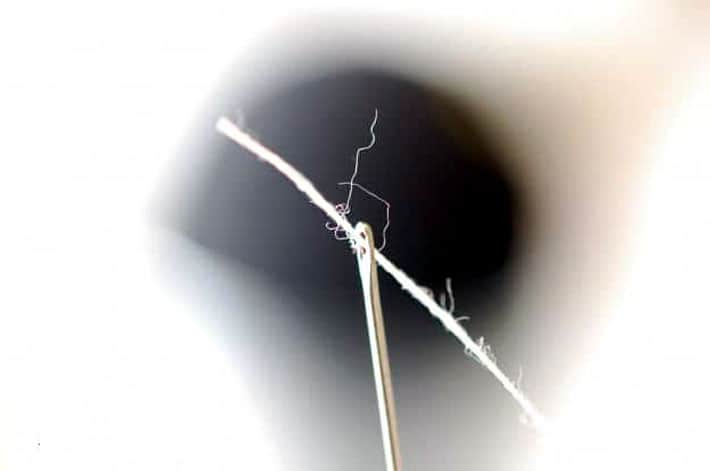 Step 2 - Thread your needle
(I am using white thread just to make it easier for you to see what I'm doing in the pictures)

Step 3 - Tie a knot in the end of your thread then insert needle on the inside of sock.
(this way your knot will be on the inside of the sock. There are other more complicated ways to start your line where you have no knot at all, but I'm keeping it simple here)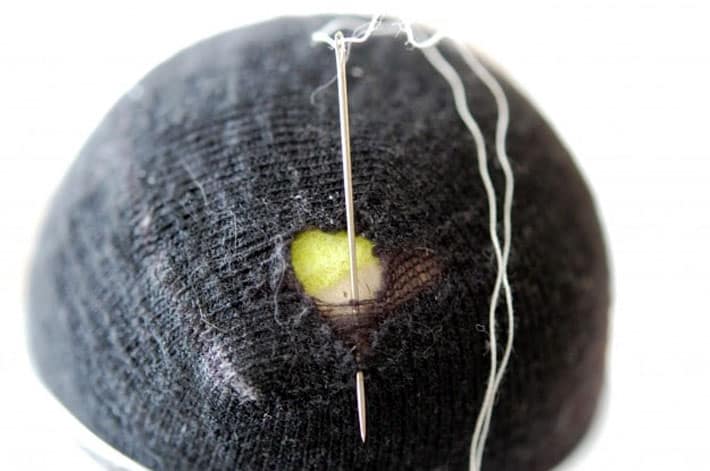 Step 4 - Pull your thread through, leaving the knot on the inside of the sock.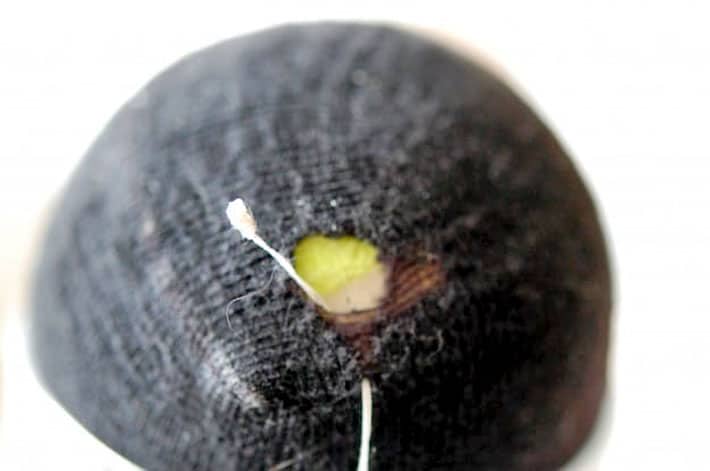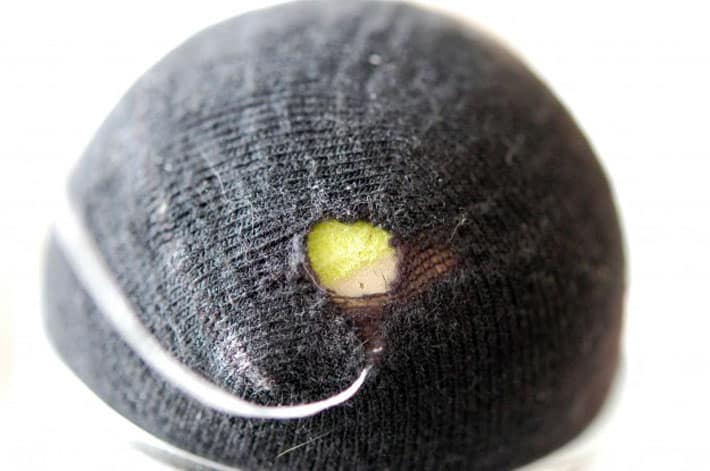 Step 5 - With your needle, pick up one single stitch at the edge of the right side of your hole.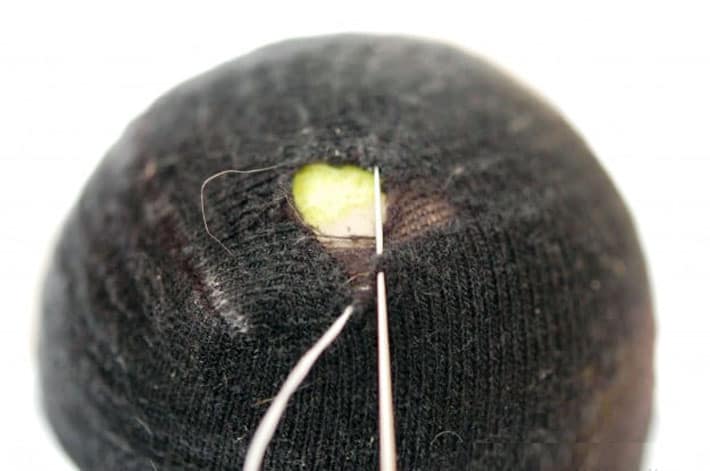 Step 6 - Pull your thread all the way through, without pulling it tight.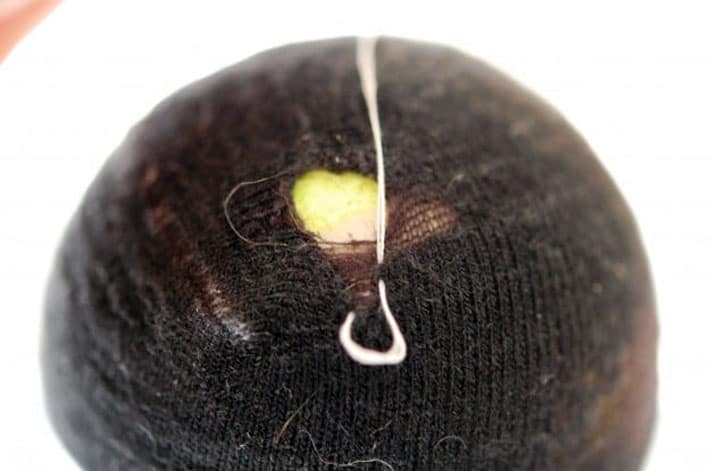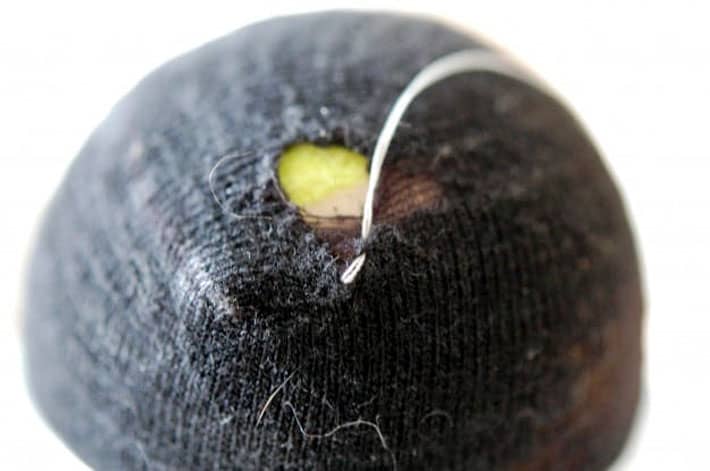 Step 7 - Insert your needle under a single thread to the left of the hole.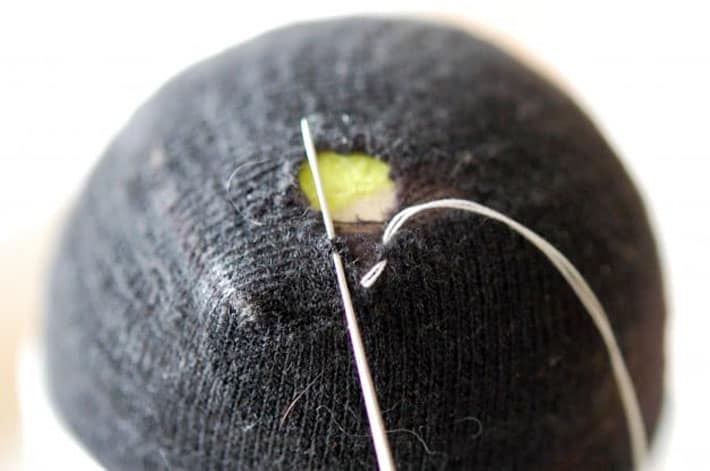 Step 8 - Pull your thread through without pulling it tight. You're creating a criss cross pattern on TOP of the sock.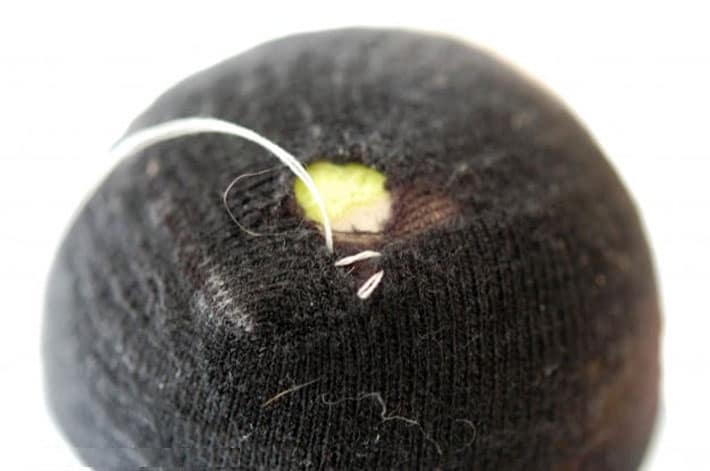 Continue this pattern moving from left to right.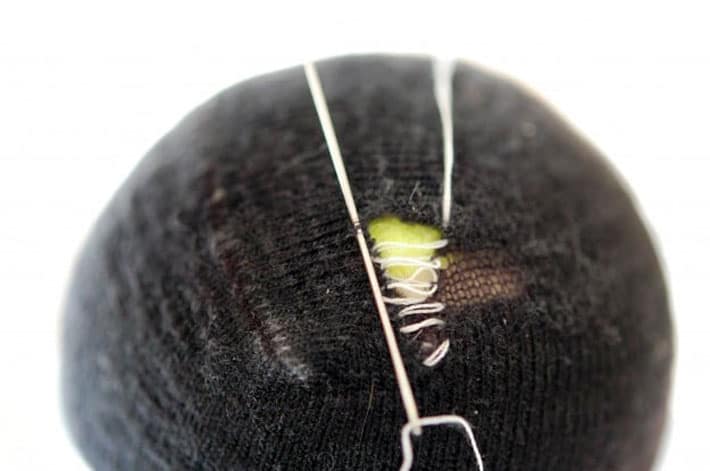 Step 9 - Once you get to the top of the hole, gradually move your stitches closer together.
Step 10 - Gently start to pull the thread. This will close up the hole.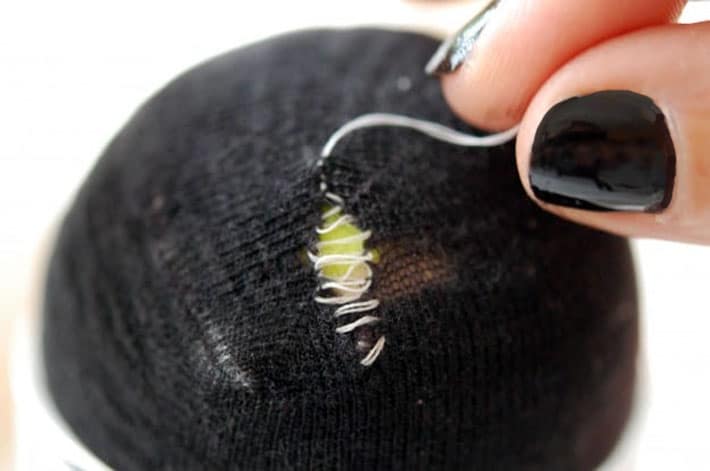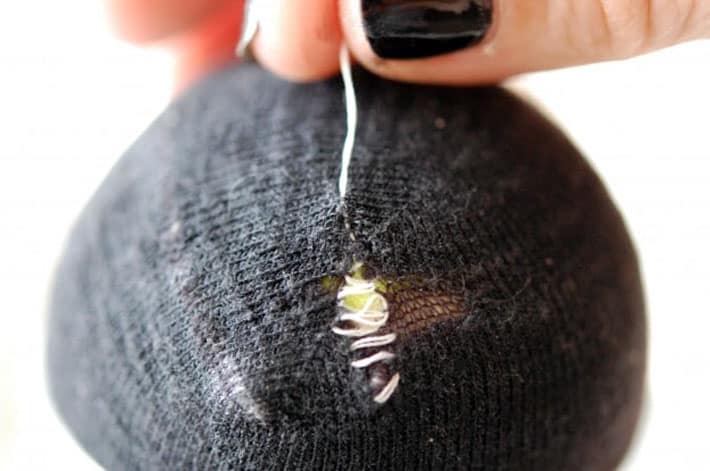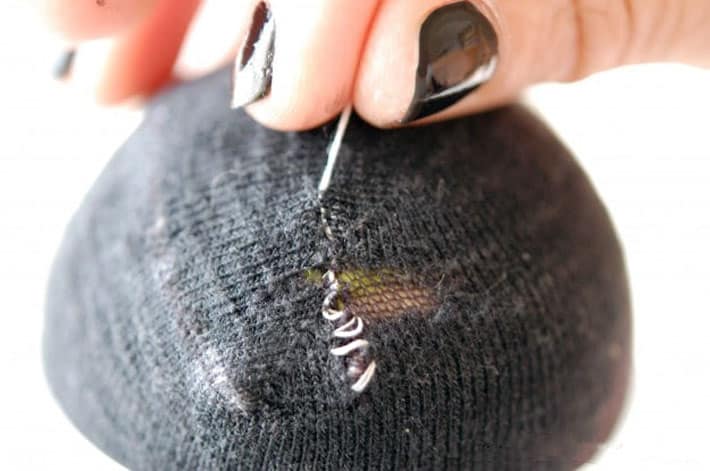 Step 11 - Insert needle back into the spot it last came out, picking up a thread or two.

Step 12 - Pull the thread almost all the way through, leaving a small loop at the end.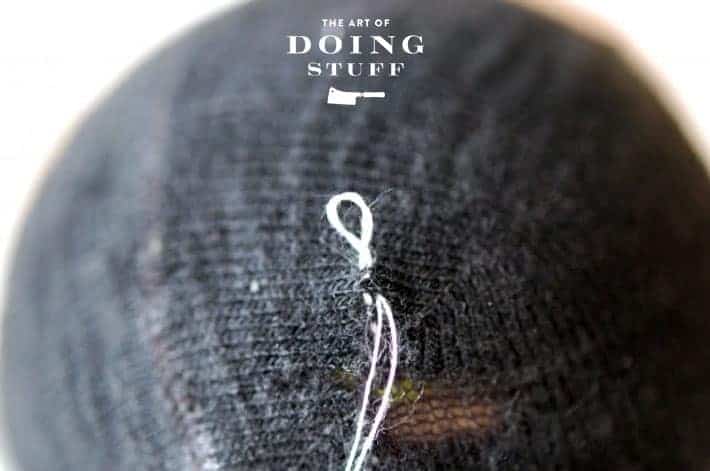 Step 13 - Bring your needle back around and stick it into the loop.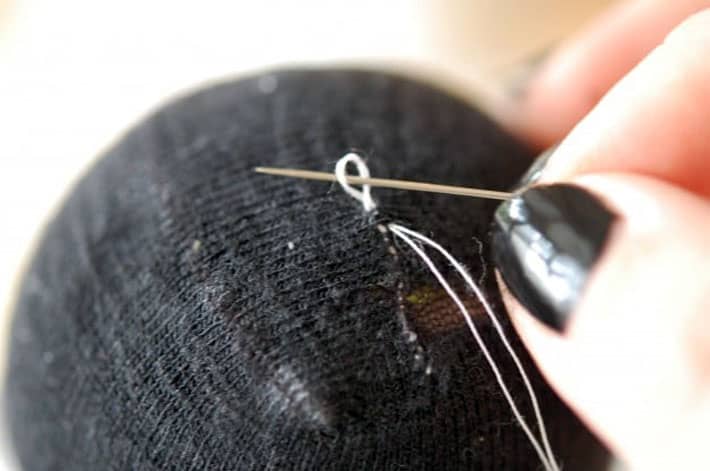 Step 14 - Pull the thread tight to create a knot.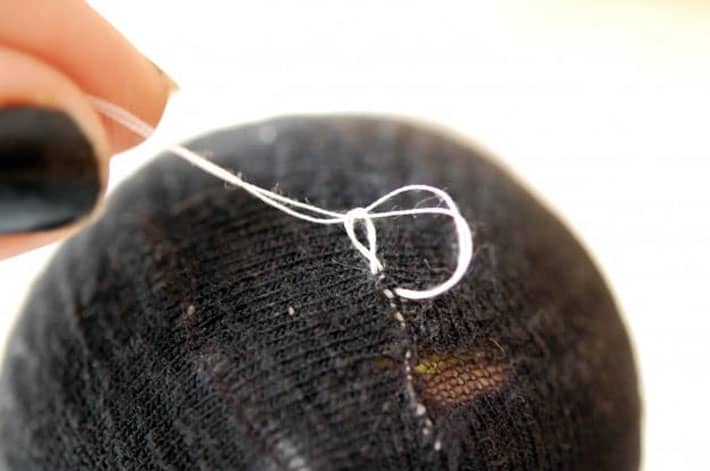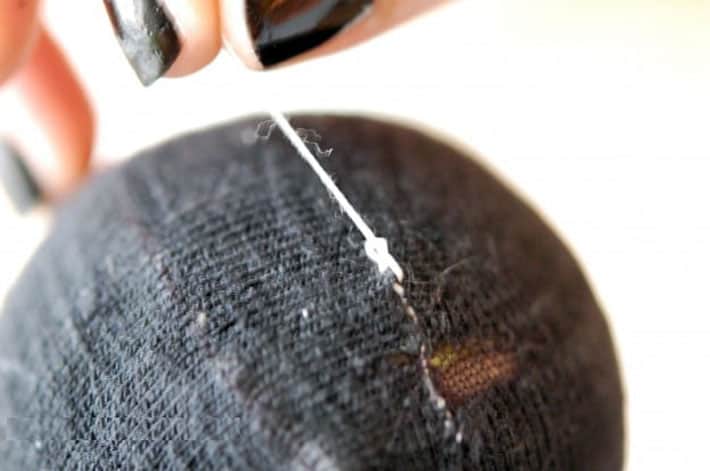 Step 15 - Insert your needle at the top of the repair and let it come out about halfway down.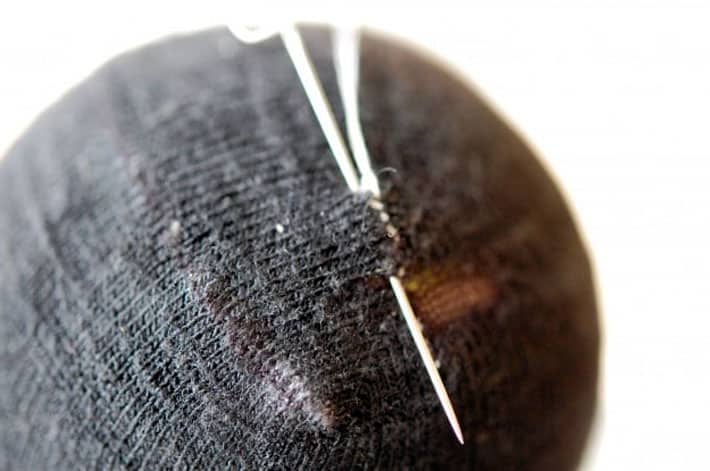 Step 16 - Pull the thread all the way through.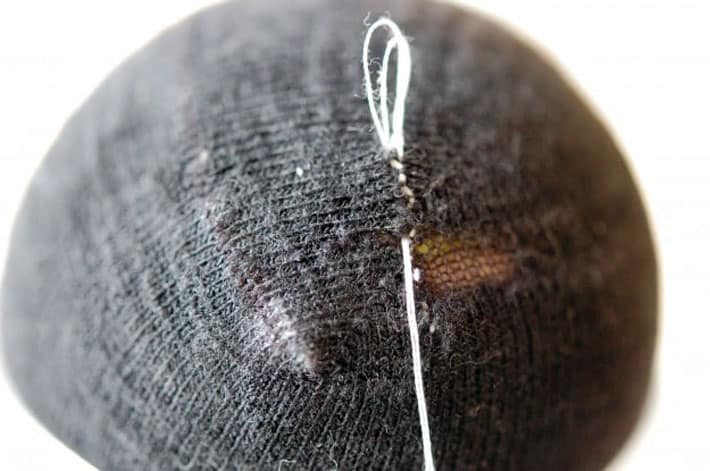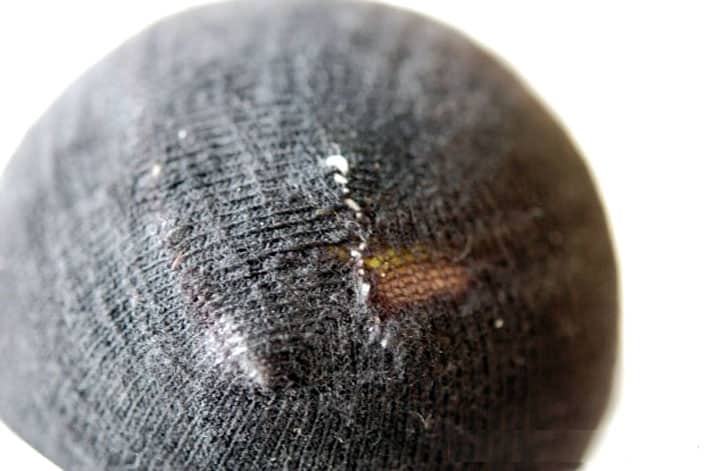 Step 17 - Snip the tail end of the thread off close to the sock with scissors.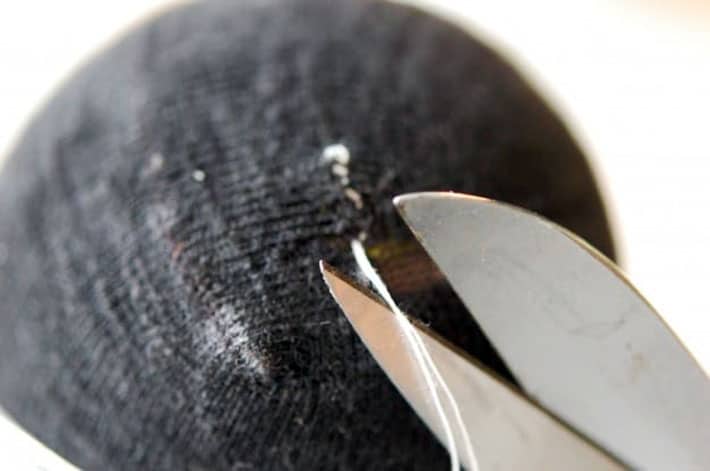 Done!
(remember you can see the seam on this sock because I used white thread to make it easier for you to see ... use the appropriate coloured thread and it'll be invisible)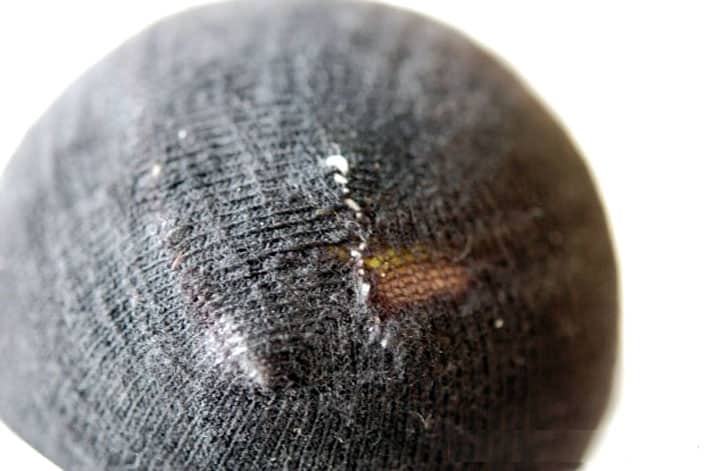 Now here's the funny part. These socks are so worn out ... I've decided to finally chuck 'em. By the time you read this post, they'll be gone.
Speaking of which, I just remembered it's garbage night. A scullery maid's work is never done. Darn it.
→Like to Sweat, Swear and do Stuff? GET MY POSTS emailed to you 3 times a week←