With the chilly months descending upon North America, all thoughts lead to soup.   And gravy.  And outrageously dry skin.
This next recipe can help with 2 of those things, and if you're really careful, all three.
If you've always been confounded by the thought of making your own chicken broth or stock (a thicker, more reduced, jelly-like version of broth) get ready to be unconfounded.  Once you learn how easy it is to make you'll have no more excuses.  You'll have to make it.  Why would you make your own broth you ask?  Well 'cause it tastes better.  A lot better.  Loads better.  Better.
There's nothing to making your own chicken broth.  And it's really hard to screw it up.   You can basically make it with some chicken and whatever junk you have leftover in your crisper, but I know a lot of people prefer a proper recipe with measured ingredients as opposed to "throw whatever isn't mouldy into the pot".
I start my chicken broth months in advance of making it.  Every time I cook a chicken, turkey or debone chicken breasts I take all the leftover bits and bones and throw them in a plastic bag and chuck the whole lot in the freezer.  I just keep adding and adding to the plastic bag until I have what I think is enough to make chicken broth.  10 pounds or so.  You can also just go out and buy 2 stewing hens.
Then when the day comes to make the chicken broth, I give myself plenty of time to cook it.  It isn't a lot of work, it just takes a while to reduce.  Like a hyperactive child that's bouncing off the walls after a big day, you have to give it time to simmer down.  You want to make sure you aren't starting it at 10 o'clock at night, because it takes a minimum of 3 hours to turn bones into broth.
To make chicken broth, gather your ingredients.  Some carrots, onions, celery, parsley stems, salt and pepper.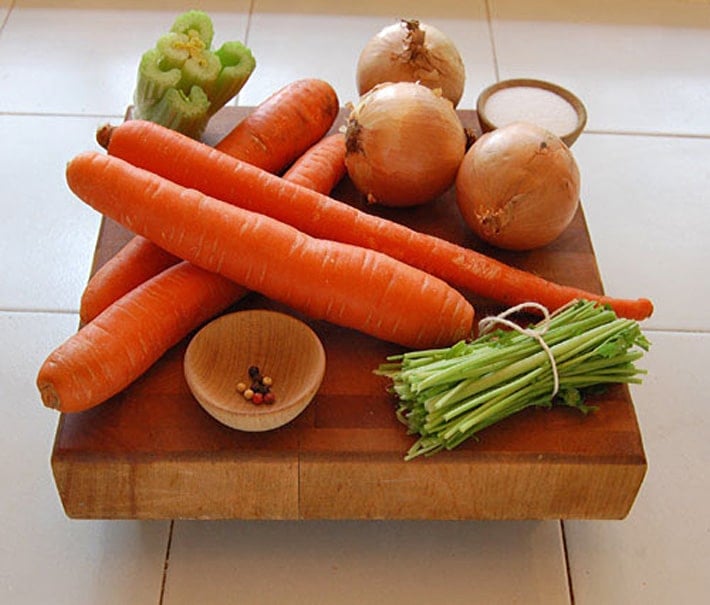 You'll also need that whack of chicken parts I was talking about.  All this came out of my freezer, including the carcass from Thanksgiving's turkey from a few weeks ago.  I have been known to auction off the turkey carcass after Thanksgiving dinner to the highest bidder at our family dinner.
Just throw everything into a large stock pot …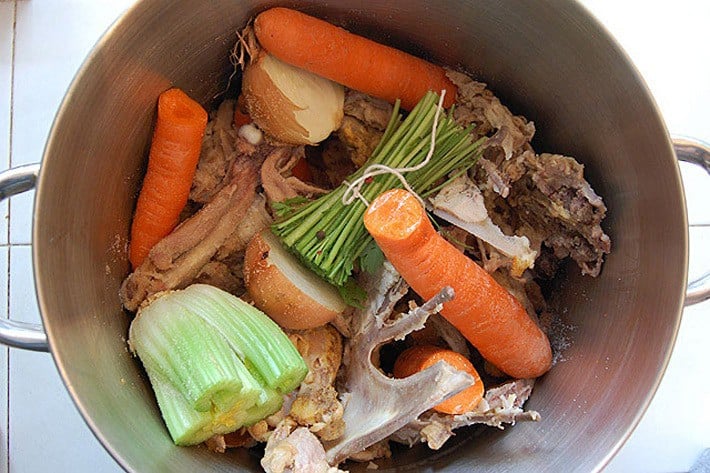 And cover everything with cold water.  The water should cover everything by at least 2 inches.
Bring the whole thing to a boil, and then simmer for a mimimum of 3 hours.  After 3 hours give it a taste.  If it tastes like chicken broth, you're done.  If you simmer it for another 2 hours or so, you'll end up with chicken stock.  A more reduced, stronger, thicker version of broth.  Also, the more bones in relation to meat you use, the more jelly-like your product will be.
After you've simmered the broth down, strain it through a collander into a bowl.  Into a few bowls actually.  You've just made a LOT of broth.  Show off.
Then strain it again through cheesecloth to remove any little bits of stuff.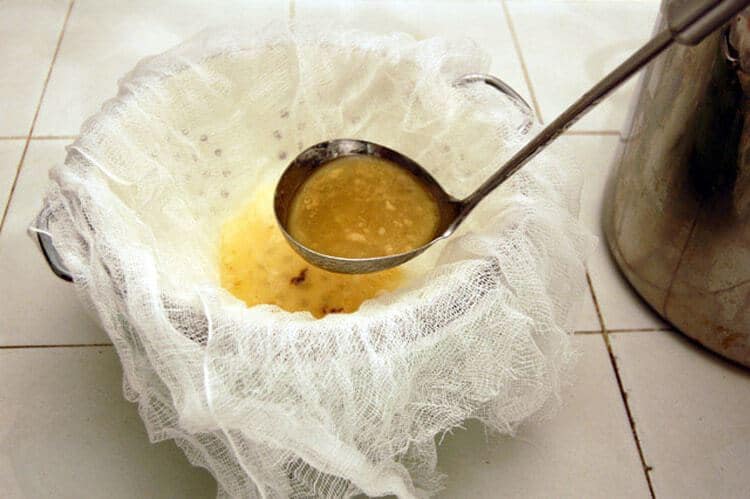 Once you have the broth fully strained stick it in the fridge overnight to allow the fat to rise and solidify at the top.  Once it's done that, you can take it out off the fridge and remove the hardened fat with a spoon.
At this point I measure out 2 cup portions into baggies and lay them flat in my freezer so they're easy to stack and grab when I need them.  They do NOT make excellent weapons.  Just so you know.  They harden up quite nice, but if you're looking to bash someone on the head, go for the steak or pork tenderloin instead.
This recipe ended up making me 21 cups of broth.  I used it the next night to make a delicious stew.  I also use it for most soup bases and whenever I'm roasting something, I use it in the bottom of the pan as the base for gravy instead of using plain water or potato water.  If you can't boil down chicken guts, making the gravy with homemade broth is your next best option.
So to recap …
 Ingredients
2 stewing hens about 5 lb. each (or random pieces of leftover chicken)
3 medium onions cut in half (I don't even peel the onions. The skins give a nice colour)
4 large carrots trimmed and peeled
1 root end of a whole celery stalk, 4 inches long
1 cup parsley, stems only  (I tie them together, you don't have to)
4 Tbsps. salt
cold water to cover ingredients by 2 inches
Method
1.  Put everything into a large stock pot.  Cover with water by 2 inches and bring to a boil.  Reduce heat and simmer uncovered for 3 hours.  Skim surface guck for the first 15 minutes if necessary.
2.  Your broth will have reduced by about 1/3rd by the end of 3 hours.  Strain everything through colander and then again through cheesecloth.  Add salt if necessary.
3.  Refrigerate broth overnight to solidify the fat.  After refrigeration, remove fat from top of broth with a spoon.  Measure into baggies and freeze.
Now get the hell off this website and go make some chicken broth.  Now that you know how to do it, there's absolutely nothing stopping you. Unless you're a vegetarian.  Or a vegan.  Or are currently being held hostage by a gigantic stuffed bunny rabbit with robot arms that shoot fireworks.  These people are excused.
Wanna can your extra broth?  Here's how …