Terrified of putting nail holes in your drywall or sheetrock? Calm down, it's an easy fix. How easy? The entire video tutorial is only 30 seconds.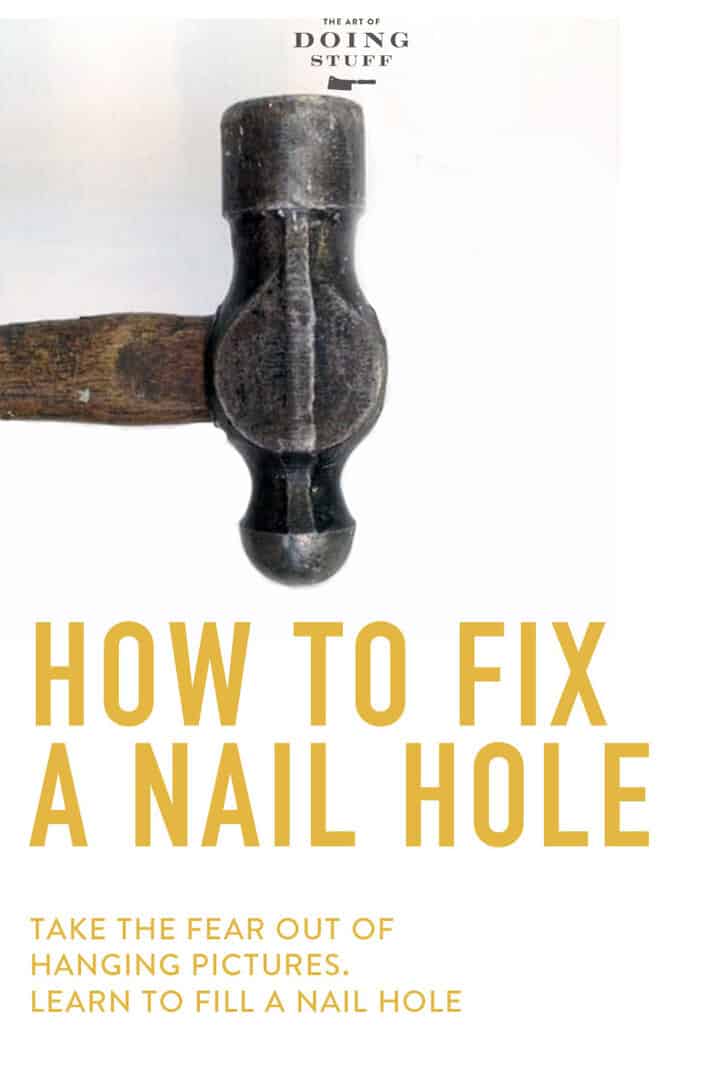 People seem to be terrified of the strangest things. Green smarties, Sasquatch, ageing naturally and gracefully. (I'm all for ageing in the most unnatural way possible by the way and if you want to push, pull, or inject I'm all for whatever makes you feel good. If you're against it, save your I'm so horrified comments for another post I have coming up which should send you right into a tail spin.)
The other thing people are unreasonably terrified of is putting nail holes in their walls. Your face I can understand. That's kindda scary. You can't cover that mistake up with dogs playing pool poster. But the wall?
I've deduced, that people aren't terribly afraid of hammering the nail in, it's what to do when you take it out. Because once you take that nail out you are left with … THE DREADED NAIL HOLE.
So what to do? Well, much like if your face has a big indentation in it, you fill it up with filler.
I have for you today a very, very short video on how to PROPERLY fill a nail hole. That means there will be no use of toothpaste, cat hair, ski goggles, shaving cream or nail polish in this instructional video.
How to Fix Drywall Holes
Remove any nails, screws or anchors that are in the wall.
Using a ball pean hammer, hammer in the small hole to create an indent.
Fill the indent with drywall compound using a flexible putty knife.
Sand when dry.
Prime.
Paint.
Learn how to properly fill a nail hole. If you're looking for one of those solutions with toothpaste or soap … this isn't it.
So there you have it. Not very hard, and the very first thing you should do before you paint your walls with a new coat of paint.
You may have noticed a small indent in the wall when I painted it. That was some other indent that didn't choose to reveal itself until I painted over it. It wasn't the nail hole. Just some angry, angry, vindictive wall scar impersonating as a nail hole. Mainly just for attention I think.
Now that you're not afraid of filling nail holes, can I interest you in learning how to make a gallery wall?
→Like to Sweat, Swear and do Stuff? GET MY POSTS emailed to you 3 times a week←