I started out writing today's post thinking it was going to be about what time you put your pajamas on at night. This firecracker idea came out of my mother insisting that 2:30 in the afternoon is a perfectly respectable time to start thinking about going to bed. Therefore 2:30 p.m. is probably when you should put your pajamas on.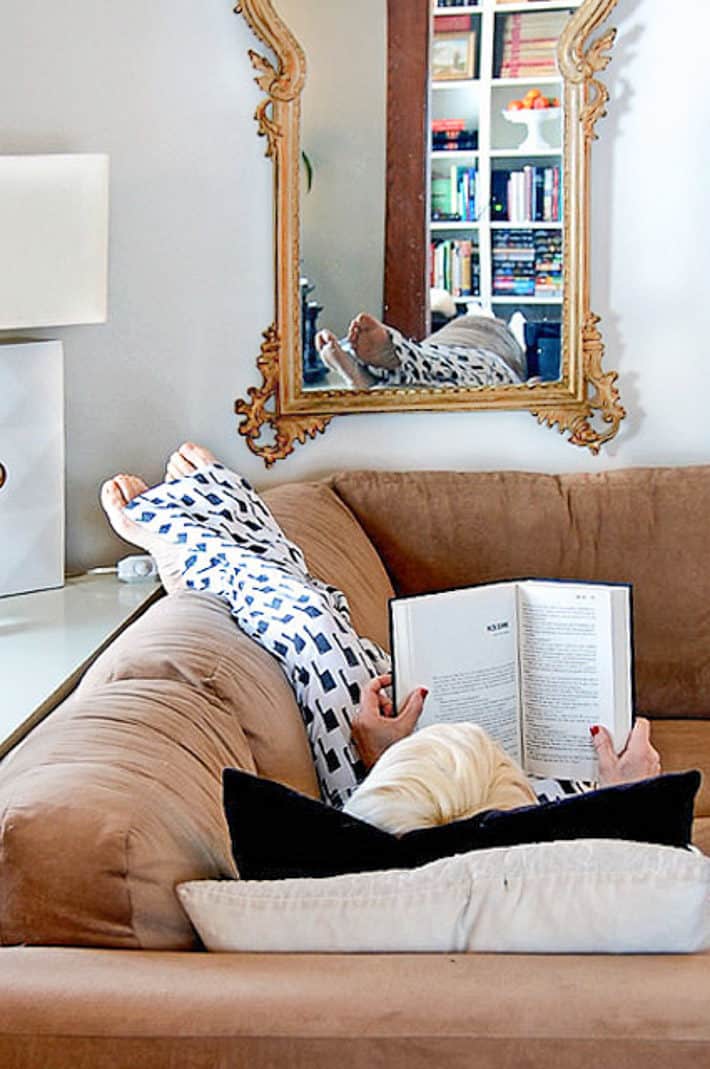 One of my sisters, Pink Tool Belt, on the other hand will not, NOT UNDER ANY CIRCUMSTANCES put her pajamas on before she has eaten dinner.  To her, if your life has degenerated to the point where you eat dinner in your pajamas you may as well never take them off again.  In fact you may as well stop brushing your hair and saying excuse me when you burp sausage burps. You have given up on any sort of civilized life.
Coming in from the diagonal opposite corner of crazy is my sister Fish Pedicure, who would live in her pajamas if she could, but would look perfectly civilized the while doing it because ... she irons her pajamas.  With an iron.  As if they're a cotillion gown.
Me?  I don't really have any firm beliefs when it comes to nightwear other than the fact that I wear it.
(This is where my post on "What time do you put your pajamas on?" took a turn)
You see, my pajama research led me to a rather startling statistic.
30% of North Americans SLEEP NAKED.
As in, they do not wear a thing. Zero. No underwear, no flannel, no EEK, WHAT IF THERE'S A FIRE AND I HAVE TO RUN INTO THE STREET tee shirt.  Nothing.
As you might have guessed, that number is higher for men than women so they're the ones bringing the average up.  I don't think anyone is surprised by the fact that more men than women sleep naked.  Men would ride roller coasters naked if they thought they could get away with it.  Shop for toos, get gas, chat with the neighbours?  Naked , naked, naked.
One thing I don't understand is if you sleep naked how do you get ready for a night of Netflixing?  Do you get cozy and comfortable in your naked?  You just take off your regular clothes and be naked?  What if you have food delivered or decide to start Netflixing at 4 in the afternoon?  Are there bands of humans wobbling around their homes naked Netflixing all hours of the day that I don't know about?
I can't even fathom this sleeping naked thing. Not at all. It would be cold, it would be weird and I feel like I'd need to wash my sheets WAY more often than I currently do. To me, not wearing pajamas robs a person of the 3 BEST parts of their day; the moment you think about putting your pajamas on, the moment you actually put your pajamas on and the moment you lay on the couch with your pajamas on.
Having said all this, you have not yet heard the MOST disturbing thing.  There are some people out there who make fun of those of us who wear pajamas. And they're just as stunned by our behaviour.  My reading led me to articles written by Millennials who apparently think a 2 piece pajama set is a quaint, geezer thing.  Like making your way to bed by the light of a candlestick and sleeping in a long, cone shaped nightcap.
Why do Millennials think this?  Because apparently ... according to some random study I found ...
65% of Millennials sleep naked.
I suspect it's because they lack the focus to be able to pick out a pair of pajamas.  But that's just the guess of a geezer.
Of course now I HAVE to know how many of you sleep naked.  And also, if you do wear pajamas, what time do you put them on?  Are you a Betty, thinking the earlier the better?  Or a Pink Tool Belt, where wearing pajamas before dinnertime indicates you've probably spent time in prison?
Me?  I favour 2 piece pajama sets in white and I generally put them on around 7:30 or 8 p.m.
Have a good weekend!