Egg holders are like chickens. You can't have just one.  Or two, or three, or four, or five ...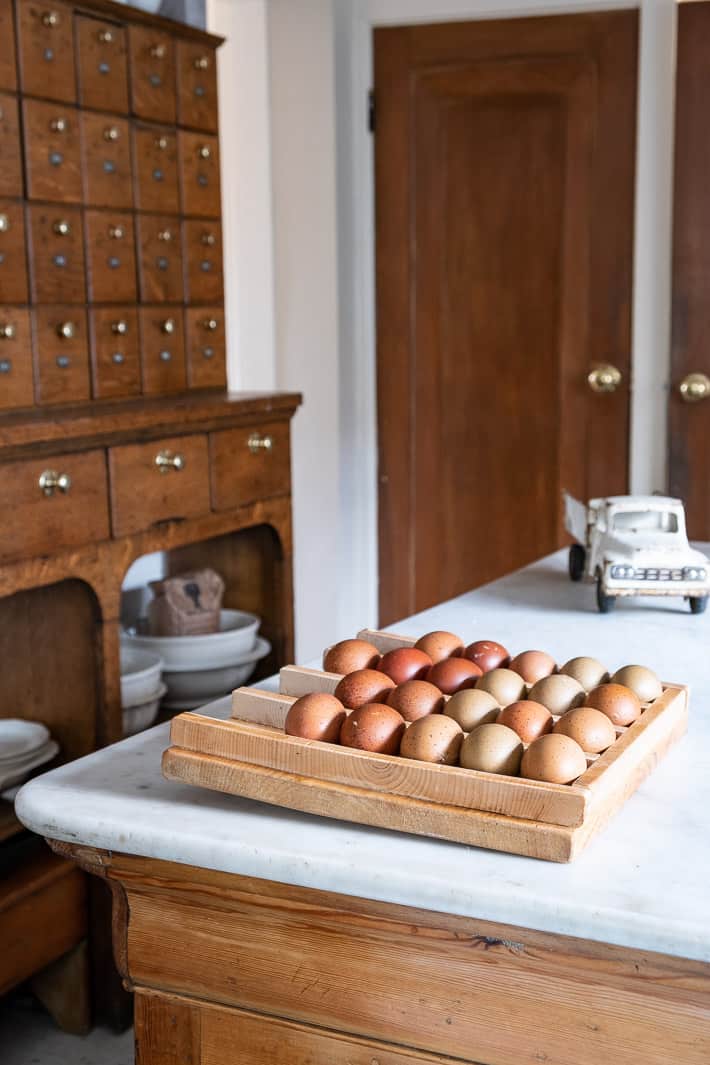 Today isn't the day, but one day I'll tell you how many egg baskets and holders I own. I'm feeling kind of vulnerable at the moment so I'm not ready for you know my specific level of crazy.
O.K., I have 13 egg baskets.
Any chicken owner knows that's how many egg holders you need. Minimum. For the winter you need a small one because you're aren't getting as many eggs and in the summer you need a big one for the non stop egg production.  That brings us up to a total of two egg baskets, one for summer and one for winter.  Then you need a bunch more because that's just the way it is when you're chicken mental.
The truth is I just haven't found the perfect egg holder. There's this one that I made and really like but it doesn't hold enough eggs.
The perfect egg holder is nice to look at, doesn't take up too much counter space, holds at LEAST a dozen eggs and is easy to put eggs into and get out of. The very best egg holder will  helps you distinguish the newer eggs from the older ones.
Find an egg holder like that and you've hit the holy grail, pack up shop, you don't need to look any more egg holder. None of mine check all those boxes, but the most elusive is being able to help you keep your older eggs separate from your newer ones.
You may have seen the egg skelter which is basically a cage that you keep on your counter. It looks like a roller coaster that someone put through a spiralizer. You put a new egg on top and take them out from the bottom. This way you're always using up the oldest eggs first with no confusion as to which is which. If you put all your eggs in one basket, (hahahahaha!) your older eggs always end up at the bottom of the basket and when you pull one out they get mixed up with the newer ones. It's a fresh egg mess.
Now that the chickens are back into full egg production I'm starting to get overrun with eggs. They've filled my winter egg basket plus they've spilled out onto the counter.   Yesterday I sat down and designed an easy Egg holder for my kitchen island that ticks all of my egg holder requirements PLUS it was easy to make. You just need a slab of wood, a saw and some wood glue.
DIY Egg Holder
Materials
12" x 18" piece of 1" pine
Wood glue
Saw
Clamps or heavy books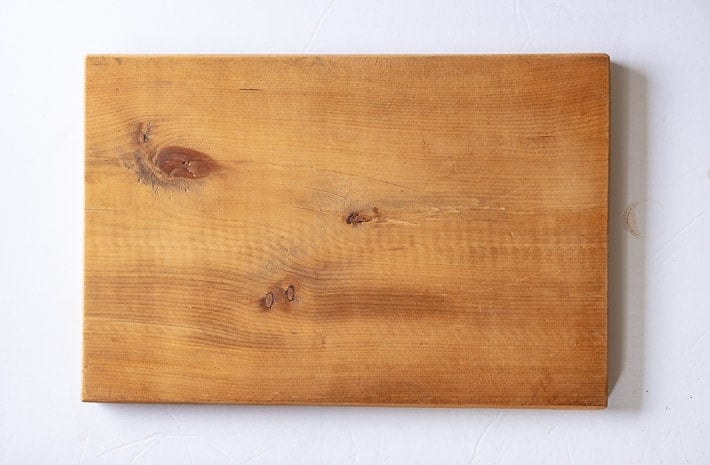 Instructions
Cut 6, ½" slices off the end of of your board.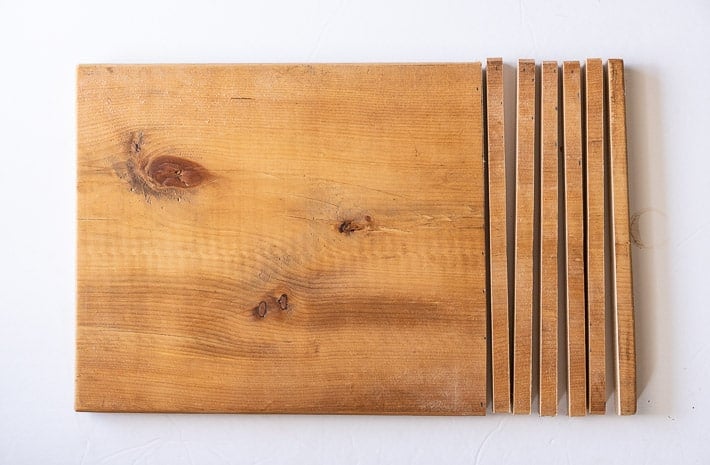 2. Lay your cut slices on the board with 2.5" in between each one and take a look.  The 3  middle slices need to have their ends cut off because they'll extend past the board a bit.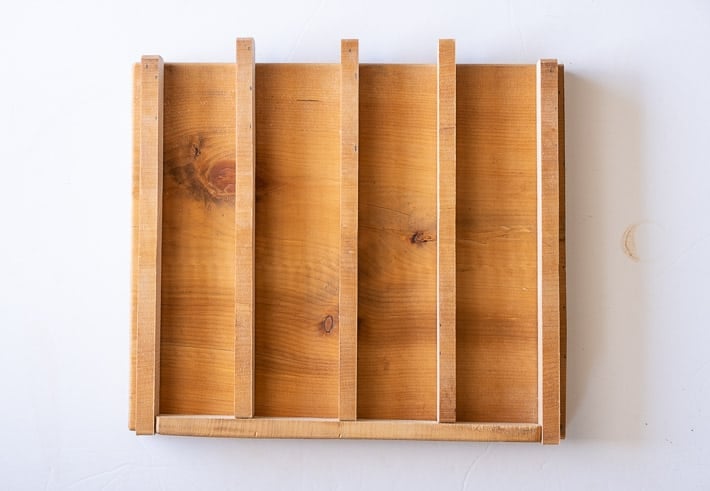 3. Mark where to cut the slices and cut the ends off.  Reserve these small pieces.  Do NOT throw them out.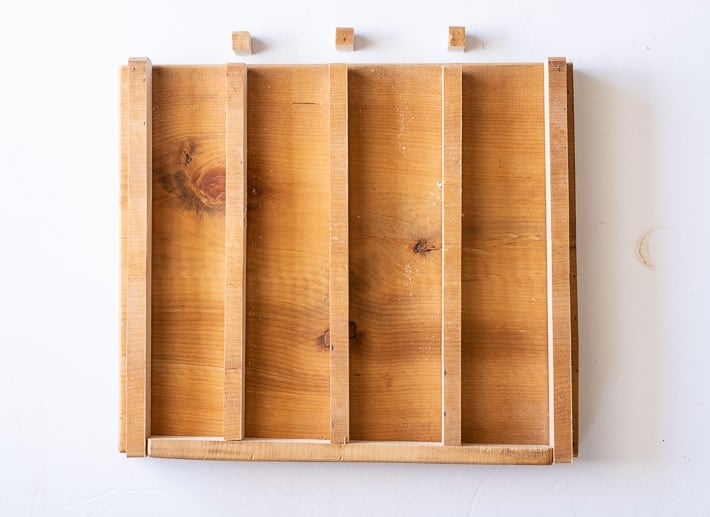 4. Now that all your pieces are cut, lightly sand the edges to take the sharpness off. (optional)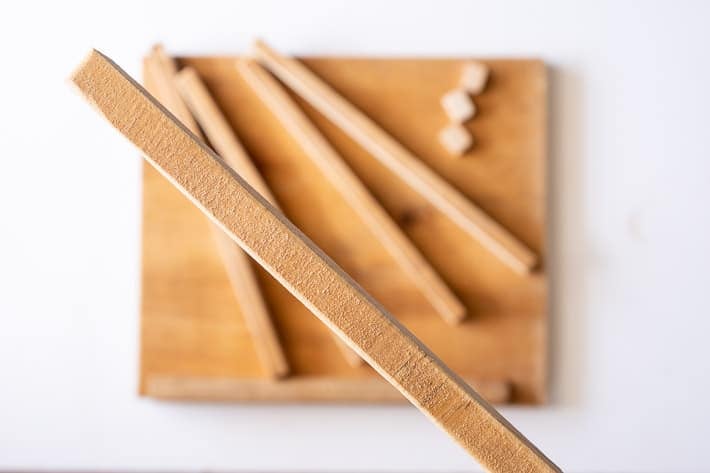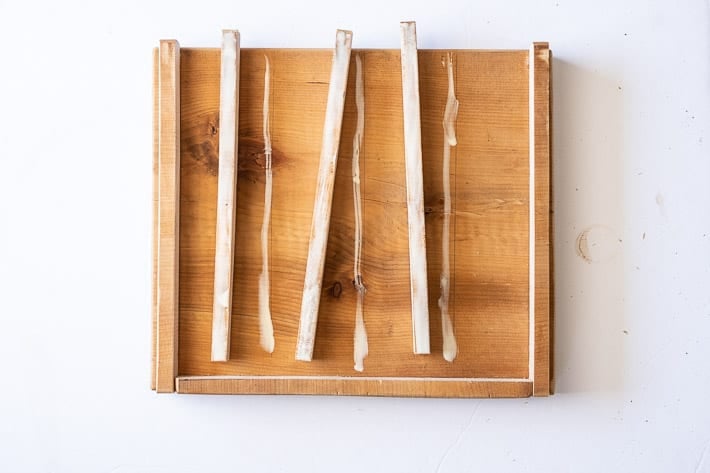 5. Lightly mark where your rails go with a pencil.  Remove them and spread glue on the individual pieces and where they're going to lay.  Let them sit for a couple of minutes to get slightly tacky so they don't slip when you lay them down.
6. Clamp all of your rails. if you don't have clamps you can put a board over the whole thing ...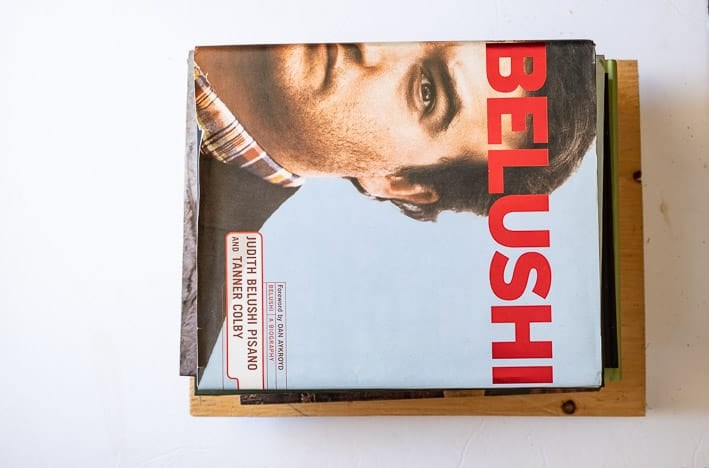 and stack a LOT of  heavy books on top.  Leave it for at least an hour.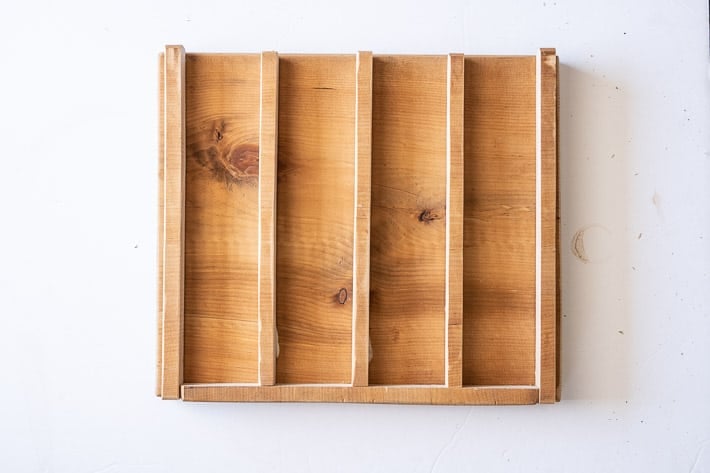 7. Remove the books and glue and clamp the little nubs you cut off and reserved to the end of the board where the rails are open.  These act as legs that lift the egg holder up slightly at the back.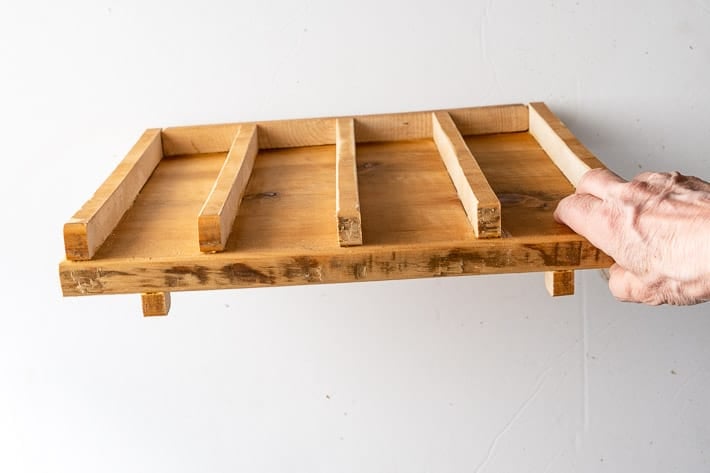 8. Now all that's left is to add your eggs.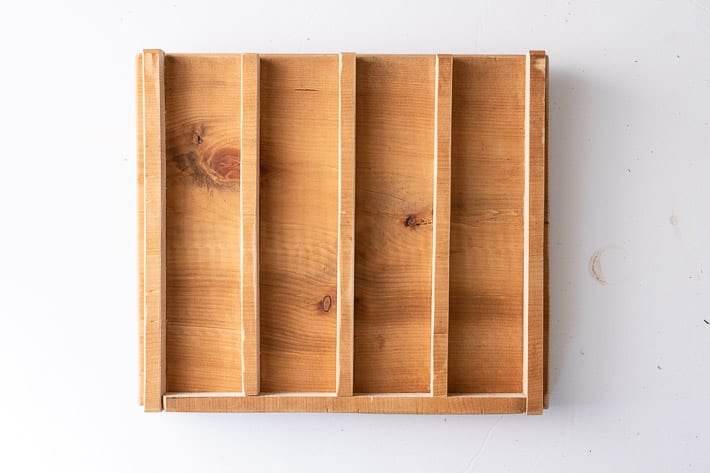 9. Put your oldest eggs in first and your newest ones last. Now when you take an egg from the front of the egg holder you'll use the oldest one first, and the newer ones will roll down.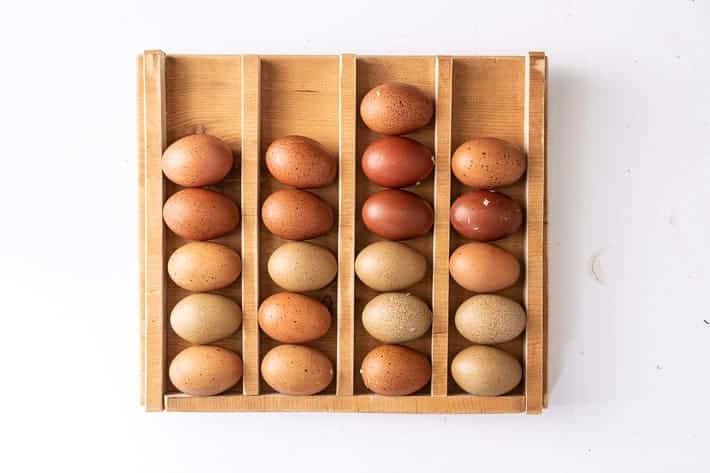 The egg holder count is officially up to 14.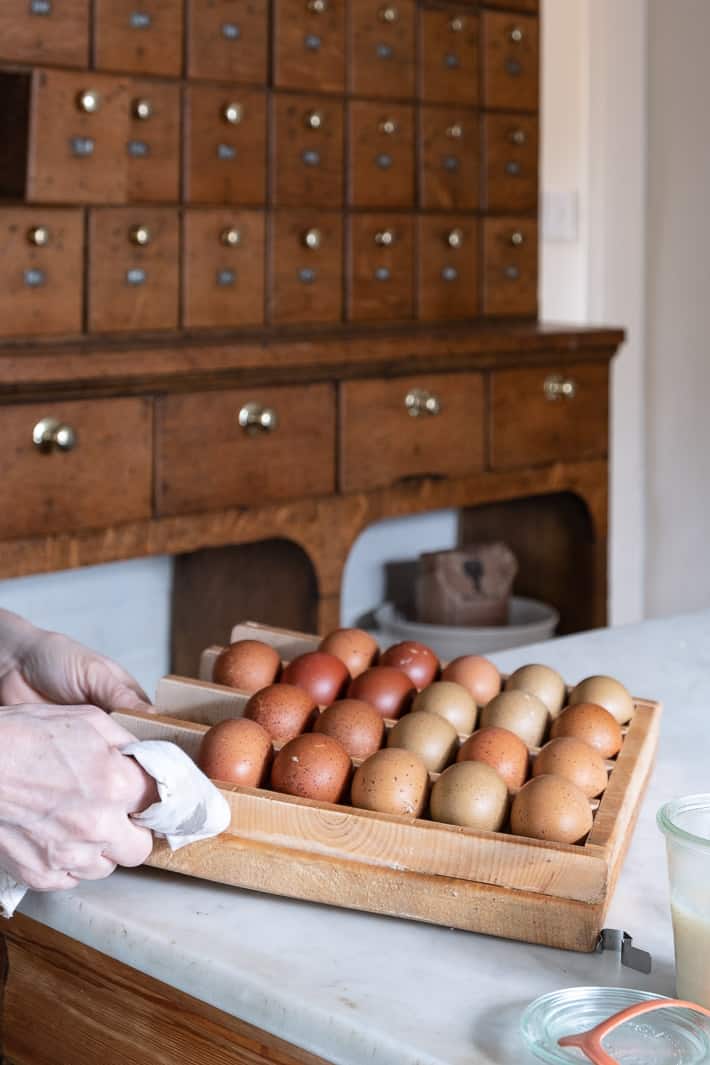 Swipe over the whole thing with either mineral oil or a board butter made with beeswax and mineral oil.  You can find my recipe for Board Butter here.
How does this egg holder hold up against my checklist?
 Nice to look at?  ✔ Although if I'm being honest, I really prefer a super plain egg holder that's just a length of wood with a bunch of holes in it.  Something like that isn't as convenient for keeping track of egg age though.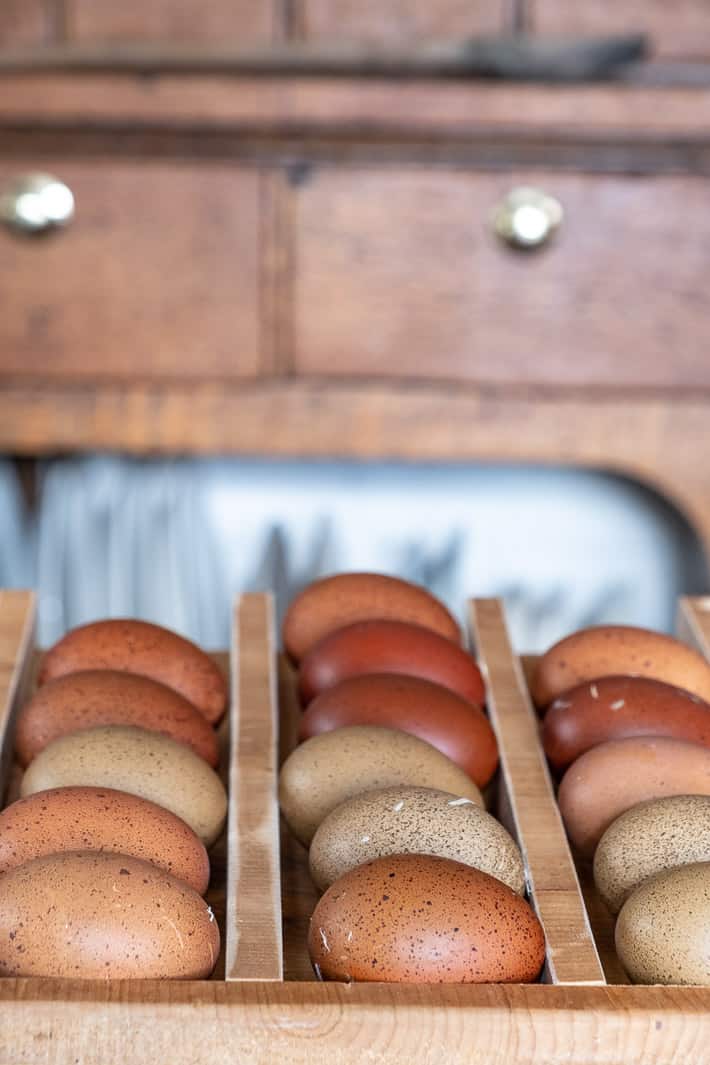 2. Doesn't take up too much counter space? ✔  The piece is fairly big, measuring around 18" x 14" but because it's quite flat, visually it doesn't take up too much space.
3. Holds at least a dozen eggs? ✔  It holds TWO dozen eggs.  That's 14 eggs for those of you unfamiliar with the term dozen.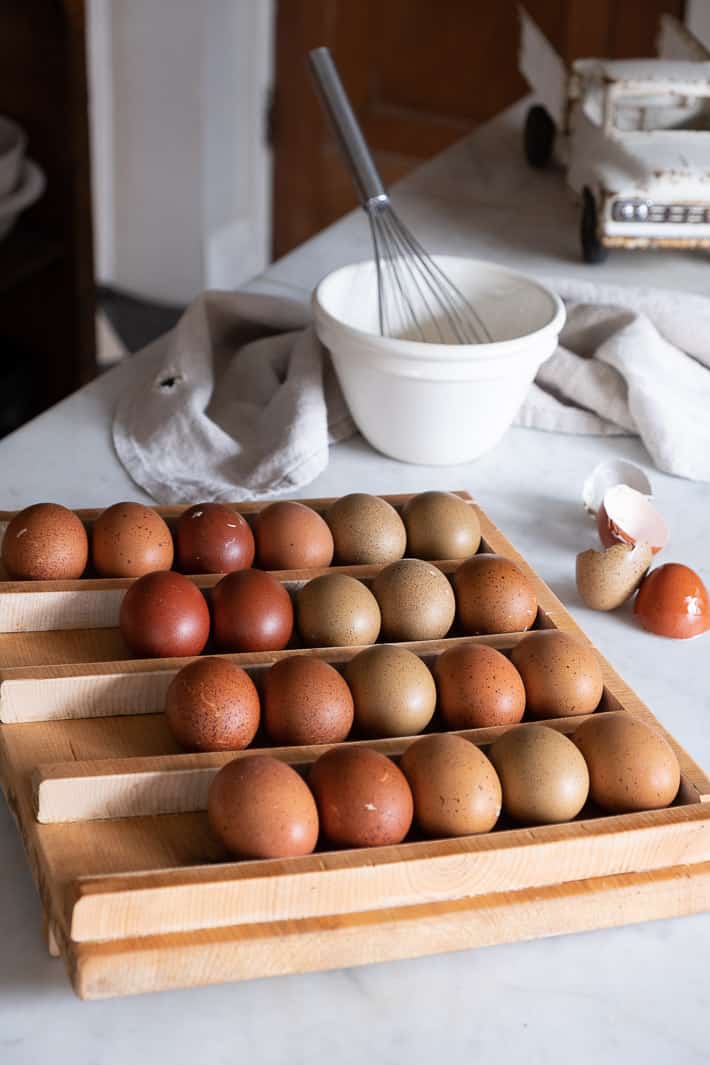 4.  Easy to put eggs into and get eggs out of? ✔  Yup.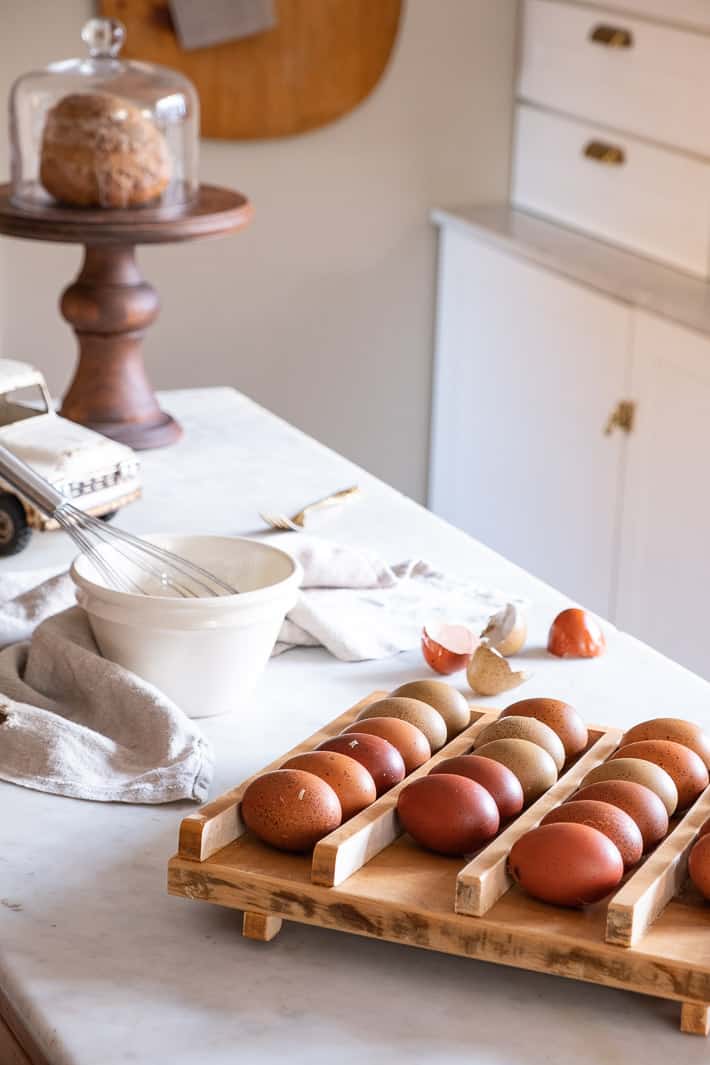 5. Easy to distinguish old eggs from new eggs?  ✔  Eggs are constantly rotating with newer eggs falling forward as older eggs are being used up.
O.K. I'm done.  I don't need any more egg holders. The cycle is complete.
I  just need a few more chickens.

→Follow me on Instagram where I often make a fool of myself←