Are you familiar with weather sticks?  They're branches from one specific type of tree that can predict the weather based on whether they're pointing up or down.  Like a barometer. And you might have an entire tree filled with them in your house right now.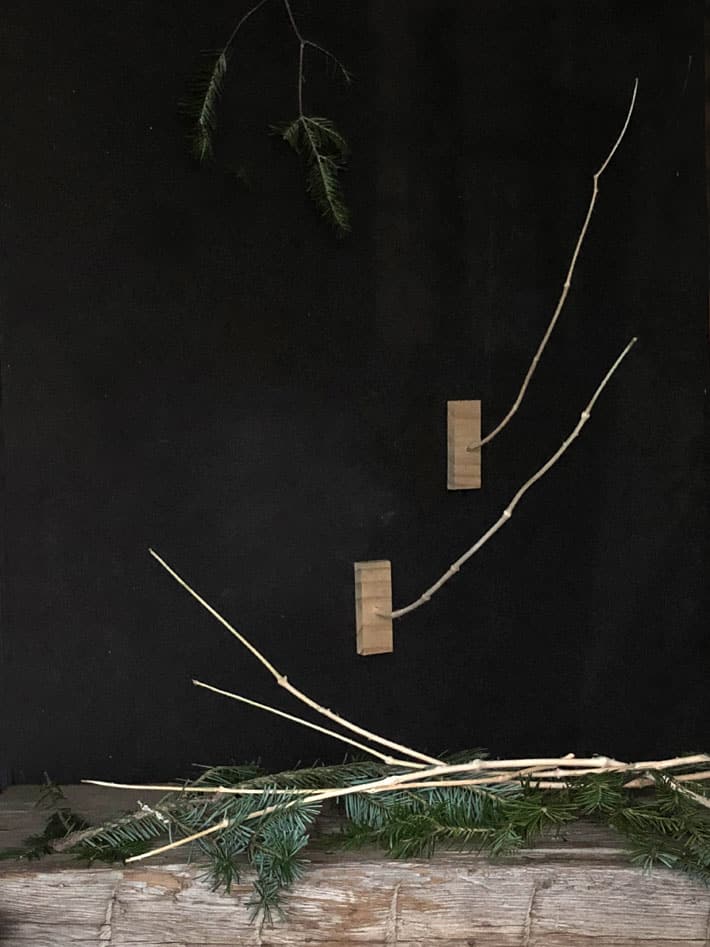 Skip right to the instructions.
I've always had what one might call a mild curiosity with the weather.  That one person would be me.  Everyone else calls it an obsession bordering on tin foil hat territory.
When I first started in television my dream wasn't to work for HGTV or HBO - it was to work for The Weather Network. I did in fact get called in to audition for The Weather Network at the beginning of my career but was gently told I was too fun and entertaining. This is what happens when in your audition you warn residents of Japan to prepare for a massive, terrible tycoon about to blow in.  Then you maybe go on about how the last time it rained tycoons the stock market took a real hit and blah, blah, blah ... before you know it you've lost a job.
One of the first weather related things I remember being obsessed with was a Weather Stick my parents had when I was young.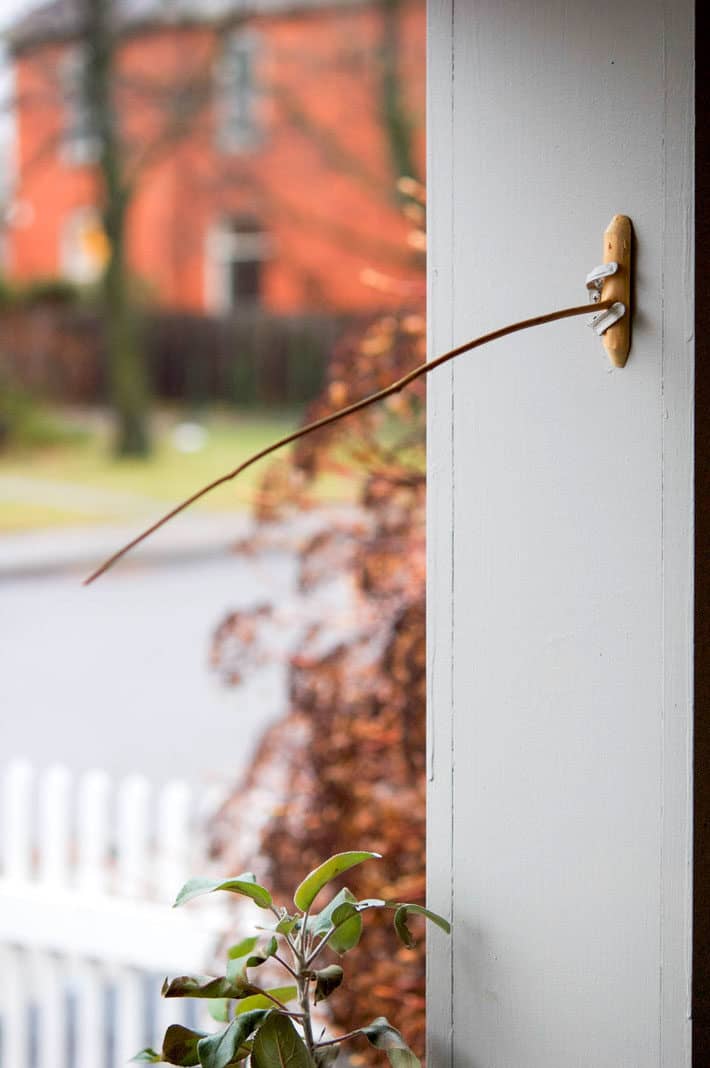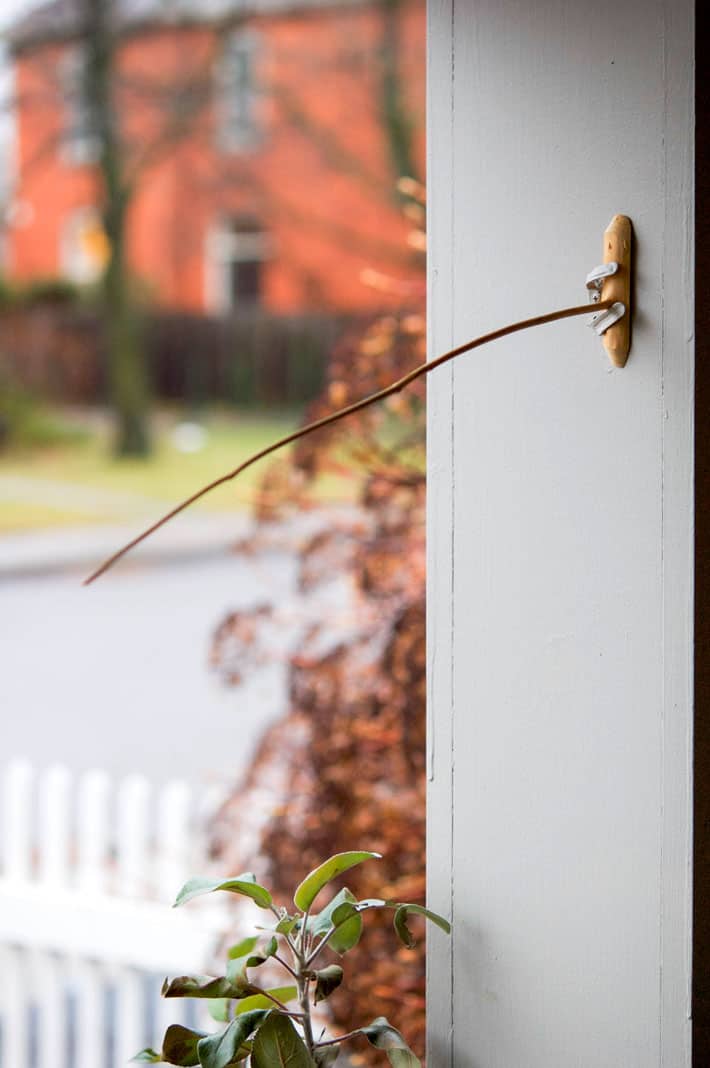 Photo taken on my front porch during a dreary, rainy day.
When I moved into my own house I got my own.  Weather sticks have been around parts of Canada and the US for centuries. Which of course means they were first used by Aboriginals. The thin little stick is just the branch from a tree that points up when the there's low humidity (normally associated with nice weather) and it points down when there's high humidity (associated with rain and storms).
You'd think that you could use any stick for this but as it turns out, you can't.  There's one tree that forms its branches a little bit differently than any other tree.
And that tree is the Balsam Fir.
The tree you *might* have in your house right now decorated for Christmas.
The Science of Weather Sticks
A Balsam Fir is the only tree (that I know of) that reacts to the weather in this way and it's because of something called "Reaction Wood".  Reaction wood is wood on a tree that reacts to the stresses of the environment. Normally trees have reaction wood all around their branches.  For instance, if a tree has strong winds coming from the East it will develop stronger wood on that side of the tree as a reaction.
The Balsam Fir  has its "reaction wood" only on the underside of its branches.  Which means the cell structure of the branch on the underside is different and will expand and contract based on moisture. This is what makes the stick move up and down.  The underside of the branch is pulling and relaxing making the stick go up and down based on the moisture in the air.  Like a ligament under your finger for example.
How to Identify a Balsam Fir
So now you want to know if your Christmas tree is a Balsam Fir.  I'm afraid that part's a little bit difficult to figure out on your own, so pay attention to what you're buying when you get your tree.
A Balsam Fir is easy to tell apart from a Spruce because a Balsam Fir has soft needles that don't hurt when you touch them.  This isn't true for the angry, angry needles of a Spruce tree.
Identifying a Balsam Fir compared to a Fraser Fir however is best left to the professionals.  Tree farmers, dendrologists, Santa.  Those kind of people.
Someone who is a tree expert could probably tell the difference between a Fraser Fir and a Balsam Fir but to anyone else they look pretty much the same.  Flat needles, two white stripes on the underside of the needle and a dull tip.  Whoever is selling the tree to you should know what it is.  The only tip I can give you if you've already bought your tree and don't know what it is, is that Balsam Fir needles are slightly longer than Fraser Fir needles. If the needles are over 1" long it's possibly a Balsam Fir.  Under an inch or closer to half an inch ... then it's probably a Fraser Fir.
The good news is, when you buy those miniature trees, they're normally Balsam Firs.  So to make your own weather sticks you can buy a single 2'-4', $19 Balsam Fir and get several weather sticks out of it plus a nice little tree for inside or on your porch.

Make a Weather Stick from a Balsam Fir
Technique #1
Get yourself a Balsam Fir.  Look for one that has several thin, long straight branches coming out of the trunk.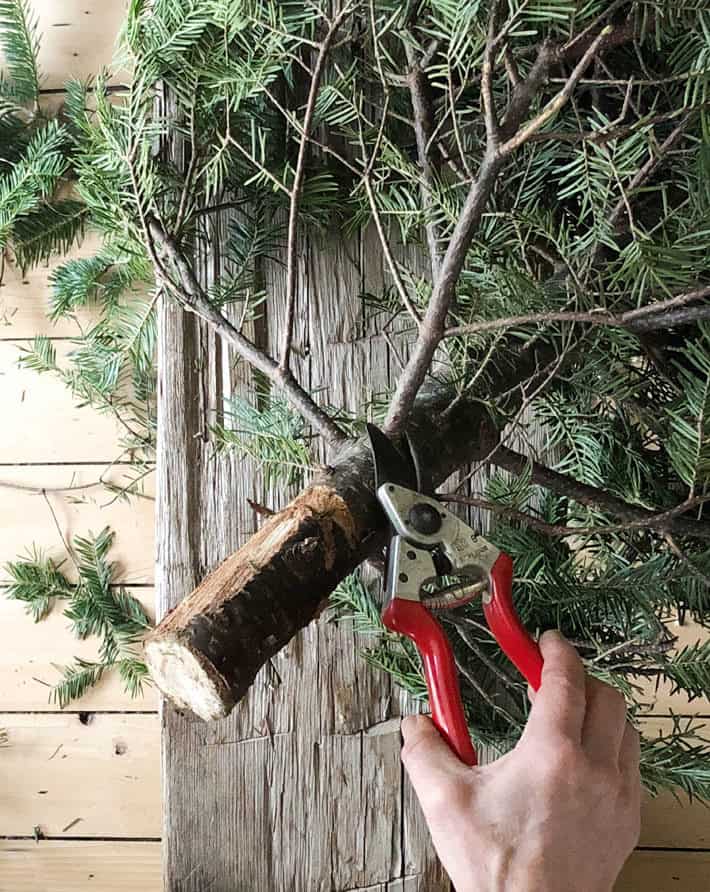 2.  Pick a branch that's ¼" in diameter or so and cut it where it meets the trunk.
3. Clip off the smaller branches coming out of your main branch and then gently peel or scrape the bark and needles off.
4. Allow your stripped branches to dry out for a day or so.
4. Cut small mounting plates out of scraps of wood.  Drill a hole in the centre of the mounting plate with a regular drill and drill bit that corresponds to the size of your twig.  You might need different sized drill bits for each twig.  Squirt a tiny bit of wood glue into the hole and then push the twig into it.
5. Hang your weather stick outdoors in a protected area.
---
Weather Stick Tips
Make sure you check for long straight branches. Trees that are pruned like commercially sold Christmas trees are pruned to within an inch of their life.  This means a lot of the branches will be all squirrely pointing this way and that.
Your stick should be a length of around 14-16".
You can also cut the trunk into 4" sections and chisel away the branch from the trunk so you have a built in mounting plate.  This is a slightly harder, more time consuming way of making a weather stick.
Hang your weather stick so that it is hanging opposite to the way it grew on the tree.  This will make sure it turns "up" in good weather and goes "down" in bad.
Advanced Weather Stick
Technique #2
Cut all inappropriate (bent, thick or stumpy) branches off of the tree, leaving only thin straight sticks that haven't been pruned.
You'll be left with the world's most scraggly tree.

2. Cut the tree trunk into 4-6" lengths with the potential weather sticks in the centre.
3. Chisel the stick away from the trunk, leaving enough trunk to act as a base.
4. Strip the stick and trunk of bark.
4. Drill a hole into the base for hanging.
Look over your shoulder to make sure no one is watching you talk about the weather with your tree.
---
Everyone in my family is going to be getting one of these weather sticks for Christmas.  It's such a fun and easy DIY gift.
Weather sticks!  The perfect little add on Christmas gift for those who like something fun and entertaining. So basically everybody but The Weather Network.
→Follow me on Instagram where I often make a fool of myself←