A couple of months ago I got the call we all get at some point in the year.  The surprise, "So when are you coming over for birthday cake" call.
The um, what-the-what-say-again???
OMGOMGOMGOMGOMGOMGOMGOMG.  Her birthday is TODAY???
And in that very moment you look at every single thing around your kitchen that might make a suitable birthday present for a 6 year old.  Like a package of spaghetti.  Only a package of spaghetti seems like a stupid present for a 6 year old girl so you consider adding a can opener to it.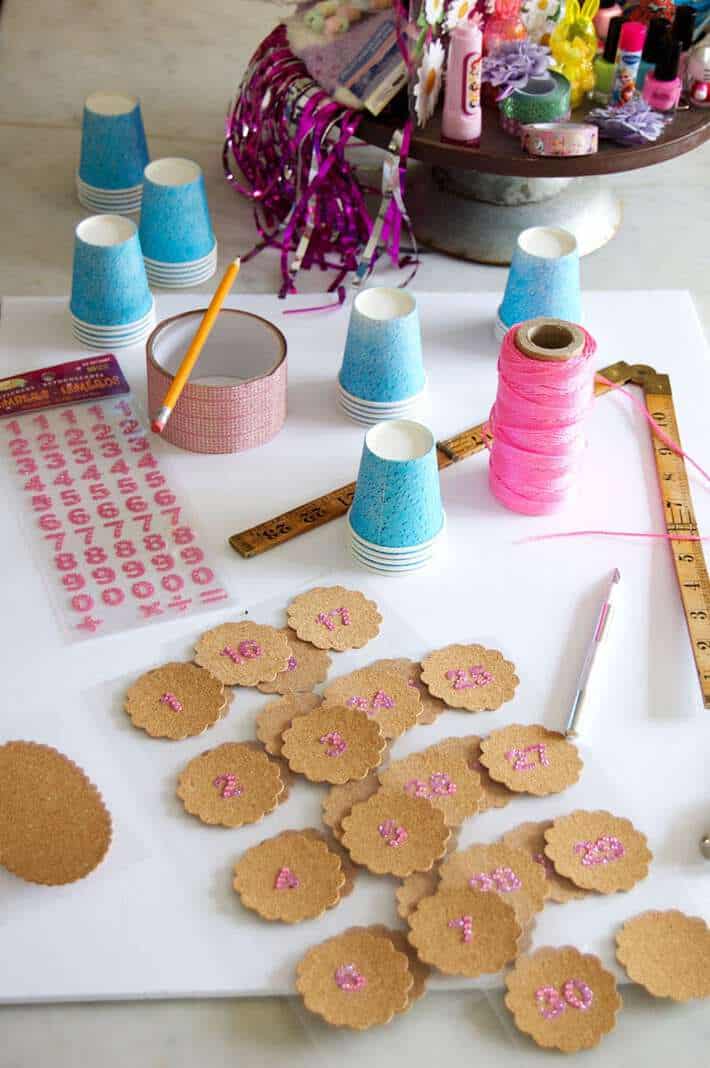 When you realize you have to actually go out and buy a present your mind goes blank; you have NO idea what to get this kid and why can't she just play with a potato like you used to.
Then out of the blue like a birthday arrow shooting straight through your brain it hits you.  You're going to make a Birthday Advent calendar because that'll be fast and easy and she'll love it.
You were right on one count.
Making a Birthday Advent calendar isn't the fastest present idea in the world but it's one that can be used over and over again.  Just in case someone's birthday sneaks up on you again even though you're normally very prepared for this sort of thing and even kind of think she might have liked the spaghetti.
The Birthday Advent calendar combines two of the most loved things in the world.  Opening secret doors and punching through tissue paper.
So I mean, even if there aren't any presents behind that door and tissue paper, it's still a pretty big win on the birthday present scale.
You can make the calendar entirely out of stuff from the Dollar Store (provided you have a half decent Dollar Store around like I do) or a craft store where your'e sure to find the stuff, it'll just cost you a bit more money.
I made this entire Birthday Advent calendar for $35 including all the materials to make the calendar and the presents for inside each compartment.
All hail the Dollar Store.
Step by step instructions are coming so don't worry.  I know you were worried.
Also I'm craving spaghetti and meatballs for dinner now.
Basically all you're doing is cutting holes into a piece of foam core board and prettying it up with ribbon and washi tape.
And glittery stuff.
Because glittery stuff means it's special.
Again, no joke.  All of it came from the dollar store.
I didn't buy my glue gun there, although I could have.  I *did* buy my hot glue sticks there however.
Now that I'm looking at this whole thing, she probably would have been just as happy if I'd given her the whole bag of dollar store crap without actually assembling the board at all.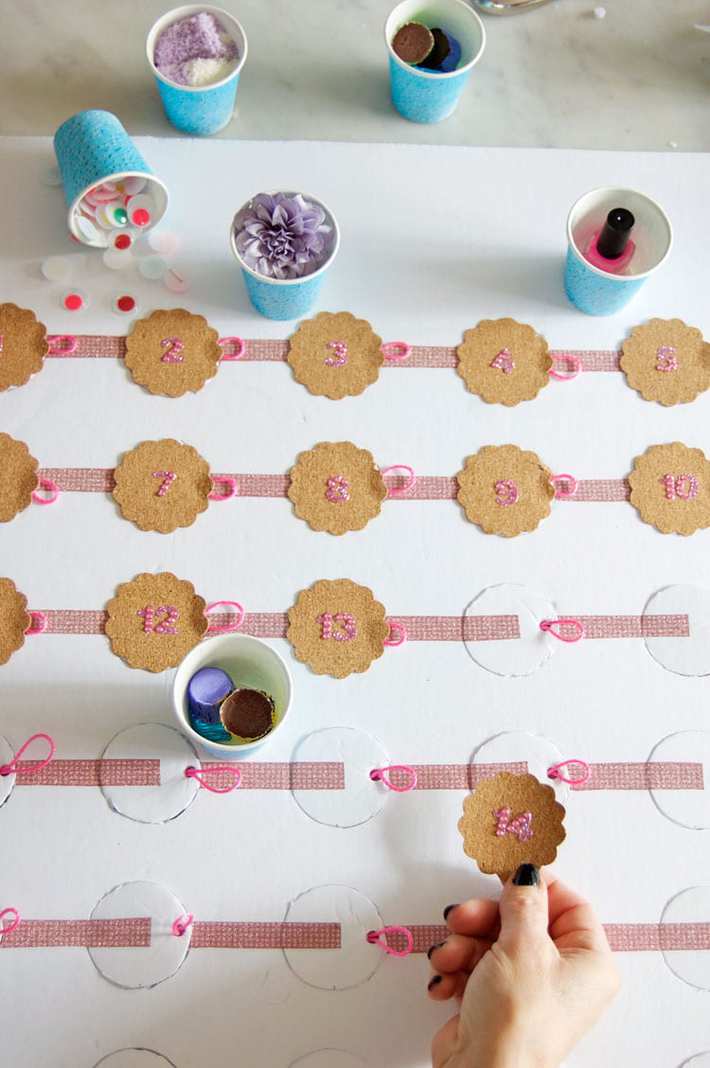 I decided on 30 days of surprises.
So for the next 30 days she was going to be able to wake up every morning, open the secret door, punch through the pink tissue paper and find a present.
This kid likes pink.  Just look at her Pink Christmas room.
Right behind that pink tissue paper is a tiny little bottle of pink nail polish.
Or maybe it was florescent-stick-on-Googley-Eyes.
At 6 o'clock that night I packed the Birthday Advent calendar into my car and hoped it was going to go over well.  I also hoped the cake would be chocolate.
Not a word of a lie, the second I walked into the house I could smell delicious, cheesy garlic bread wafting through the house.  They'd just finished a birthday dinner of spaghetti and meatballs.
Yeah, so the present went over well enough that now I've been commissioned to make 2 more Birthday Advent Calendars for her 2 brothers.
Here we go!  Here's how you do it!
Materials
2 pieces of foam core board (one for calendar, one to make stand for back)
1 roll of washi tape
1 or 2 packages of sparkly letters (make sure there's enough of all the letters you need)
3 or 4 packages of sparkly numbers (make sure there are enough numbers for all you need)
hot glue gun
hole punch
X-Acto knife
Coloured string or very thin ribbon.
Tissue paper (1 sheet)
Foam stickers for Name Tag at top and to cover doors. (I used cork stickers)
30 "dixie" type cups
30 tiny presents
Instructions
Stick your sparkly numbers on all 30 foam stickers for the calendar doors.
Spell out recipient's name on larger foam sticker for top of calendar.
Using a measuring tape, mark out the centre of where your holes will go.  You'll need 6 rows with 5 holes each.
Using something slightly smaller than the mouth of your dixie cup trace the 30 circles onto your board.
Carefully cut out the circles using an X-acto knife.  (this is a pain and by hole 14 you'll hate it)
When the holes are all cut place a piece of washi tape from the centre of the hole to the edge (either the edge of the board or the edge of the hole to the left as you can see in the photos above).
Punch a hole in the middle right edge of each door.
Loop string or ribbon through the hole and secure it with hot glue on the back side of the door.
Run washi tape along the back of the doors the same way you did on the front of the doors BUT do this with the door open.  If you do it with the doors closed the tape will be too tight and you won't be able to open the doors. (unlike the front of the door, make sure you run the washi tape along the whole back of the door so it covers up where you glued your string)
Flatten out your sheet of tissue paper.
Run a bead of hot glue around the edge of the first row of doors on the back of the board.
Carefully lay your tissue paper down and press it onto the glue.
Repeat this for all the rows of doors, pressing on the tissue paper as you go.
Flip the board over and stick all of the foam stickers with numbers onto the fronts of the doors.
Add the name to the stop of the board.
Add washi tape anywhere the board looks unfinished (like around the edges).  And then add a bit more just for fun.
Fill your cups with your 30 tiny presents.
Hot glue the edge of your cups and stick them to the back of the board pressing hard so you know the glue seeps through the tissue paper, right to the foam core.  Sometimes this is HARD if you have things that want to spill out.  Like googley eyes.  You'll figure it out.
Cut your last piece of foam core board into 2 rectangles.  Then cut each piece again until one side is slanted like you see in this photo ... and glue both to the back of the board.  This will make it stand up on its own.
You're done!
If something is just tooooo big to fit in the little cup, just cut the back out of the cup and wrap it in tissue paper like I've done.  It just give you a little bit more room for something larger like a miniature Frozen flashlight.
Or maybe, a package of spaghetti.
Did you like it? Don't forget to Pin it.