This is how you know I'm becoming geriatric; I want to simplify something that's already simple. This is how you know I might be geriatric but I'm still me; the thing I want to simplify is homemade potato chips.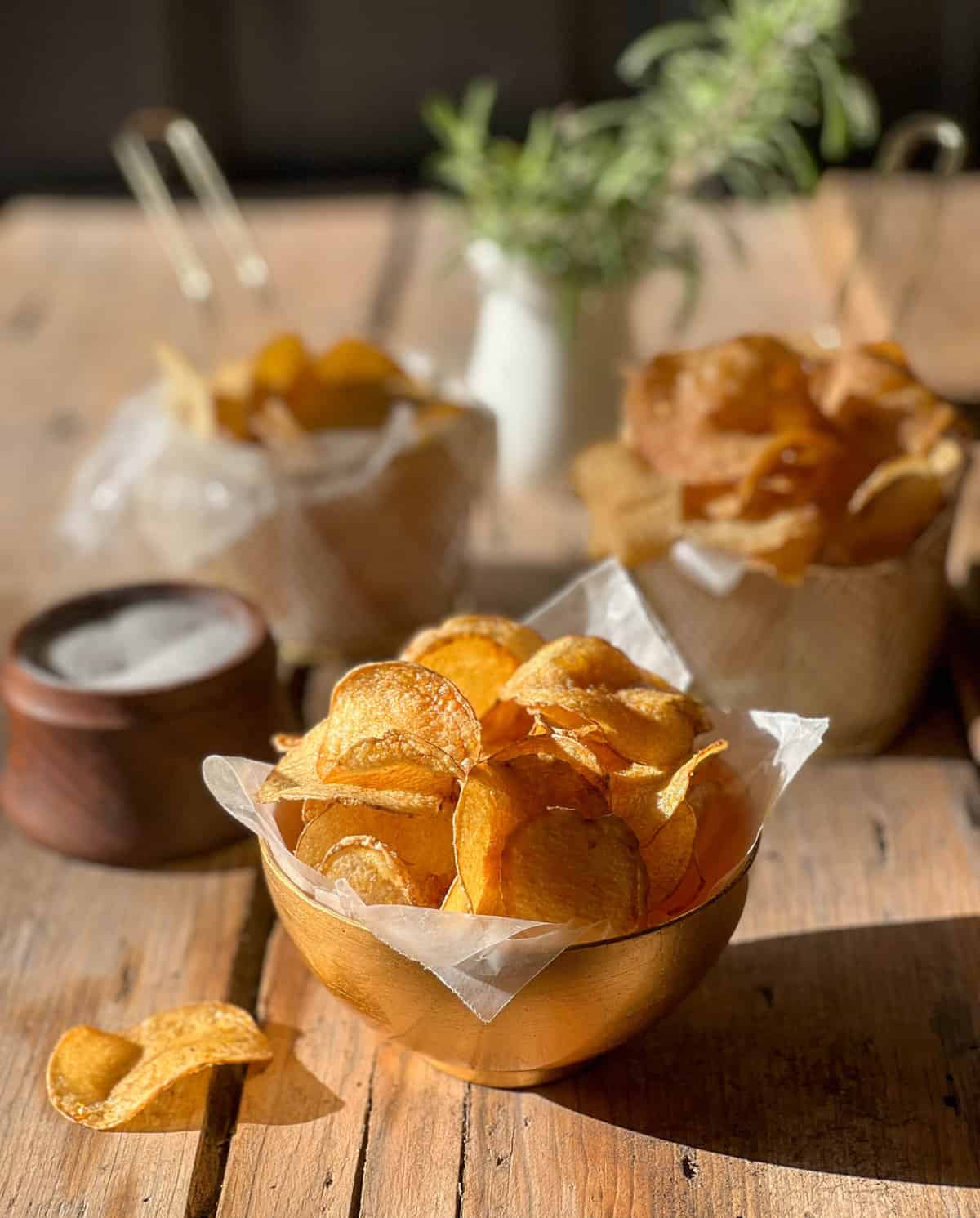 To make homemade potato chips you: 1.) slice potatoes 2.) deep fry them. Yet I was determined to make it simpler.
I first noticed something weird about me about 2 years ago. Then it happened again a few weeks ago and then yet again just yesterday.
I wanted to put on something more comfortable to run a few errands.
In all of these instances - I was wearing sweatpants and a tee shirt.
Where the f*&k do you go from there? Just a tee shirt? Day pajamas? A mumu?
Is it even legal to wear just a tee shirt to run errands?
I guess I'm mellowing, except for 95.723% of the time when I am snarly frantic.
I am currently on day 8 of The Christmas Pledge which means I've finished most of my gift list, a lot of my shopping and figured out and ordered all of my wrapping crap.
I've actually even skipped ahead on The Christmas Pledge by making and freezing the meal I'm going to serve on Christmas Eve. Which is ... individual turkey pot pies.
On the Menu
Salad or some other green thing
Homemade Potato Chips
Risalamande (Danish rice pudding w/almonds and whipped cream)
I've made homemade potato chips before, most recently a couple of years ago. I couldn't remember if there were any special tricks I needed to know (aside from cut potatoes thinly and fry in oil). So I looked a few recipes/techniques up.
---
Making chips (crisps)
The most consistent thing stressed across all of the recipes was the importance of soaking the sliced potatoes for at least half an hour in cold water to remove the starch.
---
Some recipes called for a 2 hour soak and some said to soak in vinegar water for the ultimate crispiness.
All that potato chip research for Christmas Eve dinner had me obviously craving potato chips in a snarly frantic way.
So I compromised and made one batch the proper way, and another batch as quickly as as I could while operating a mandolin. The halfassedly way.
The ONLY way I could make homemade potato chips simpler was to eliminate soaking the potatoes for 30 minutes.
Do you need to soak potatoes to make potato chips?
No, you don't. I discovered after doing multiple batches that as long as you slice your potatoes 3mm or less in thickness, there is zero reason to soak the potatoes. It doesn't improve them at all.
Here's how I did it.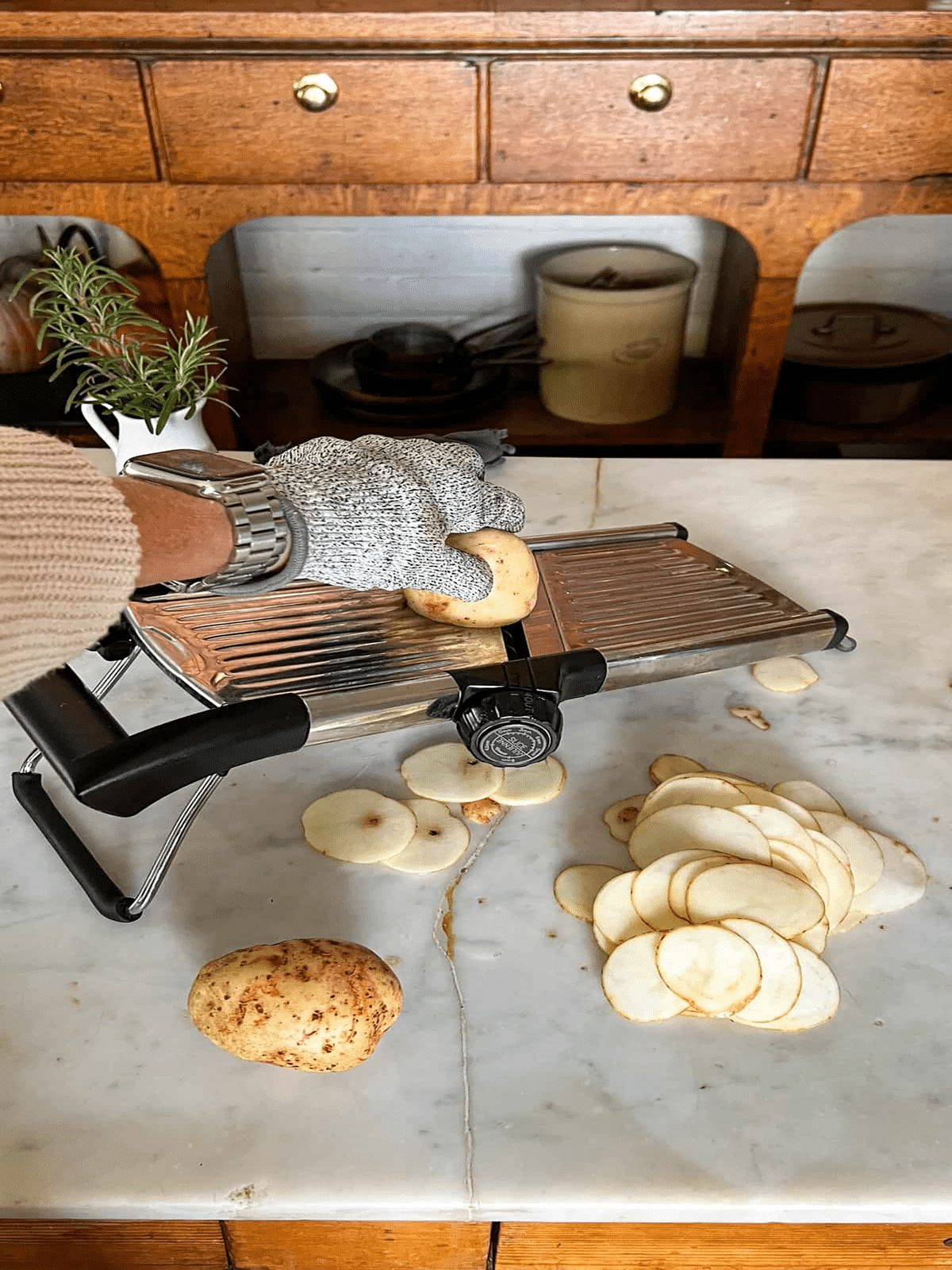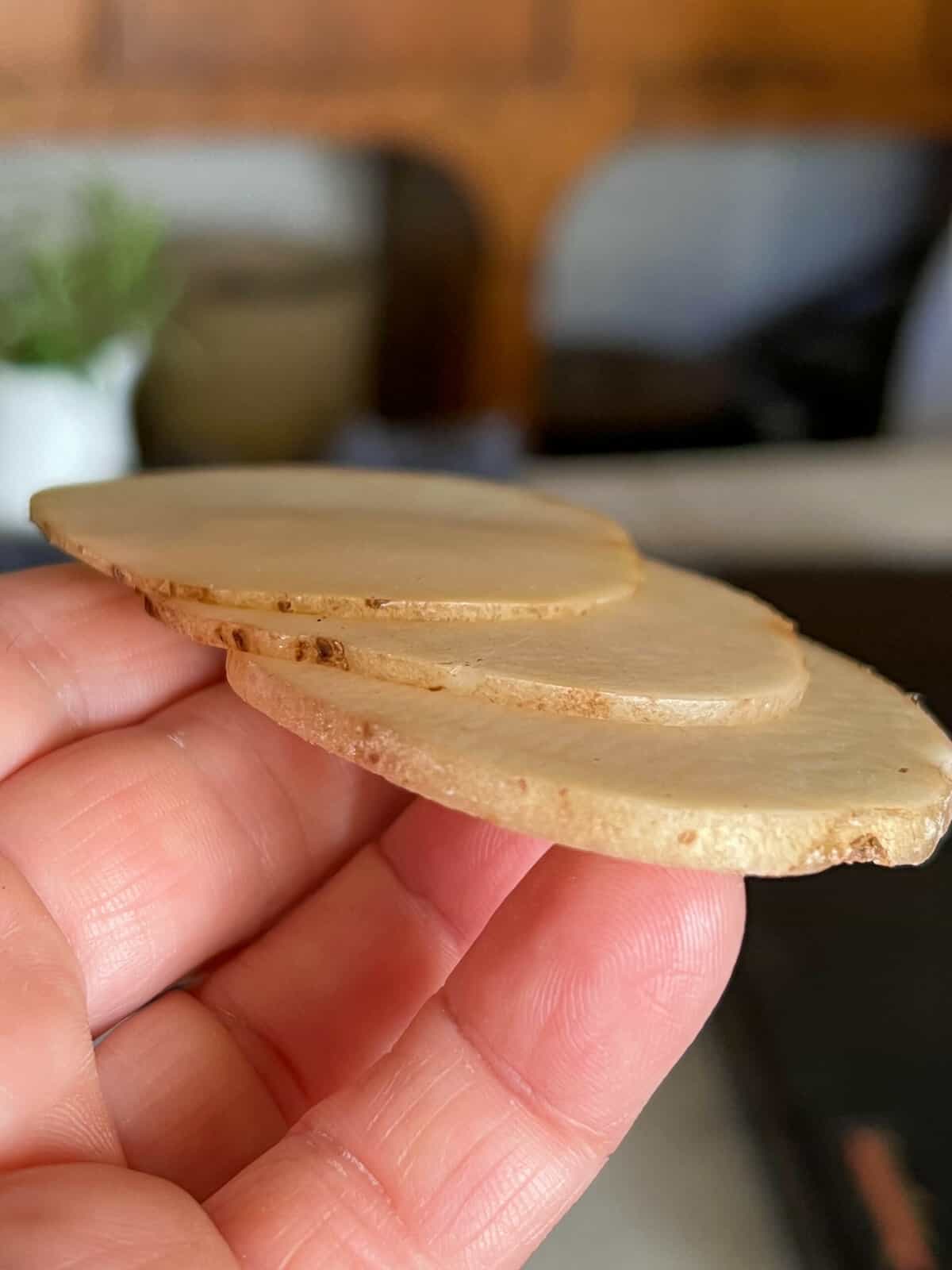 I cut 3 different thicknesses of potato to see they all cooked up.
---
I bought the mandolin you see here a few months ago. It's GREAT. It's very sharp, easy to use, has a dial gauge on the side so you can set it to specific thicknesses (by mm). Cuts straight and julienne.
Buy my mandolin on Amazon Canada here.
Buy my mandolin on Amazon US here.
I've had some really expensive bad mandolins. This one at $49 is the best one I've used so far.
---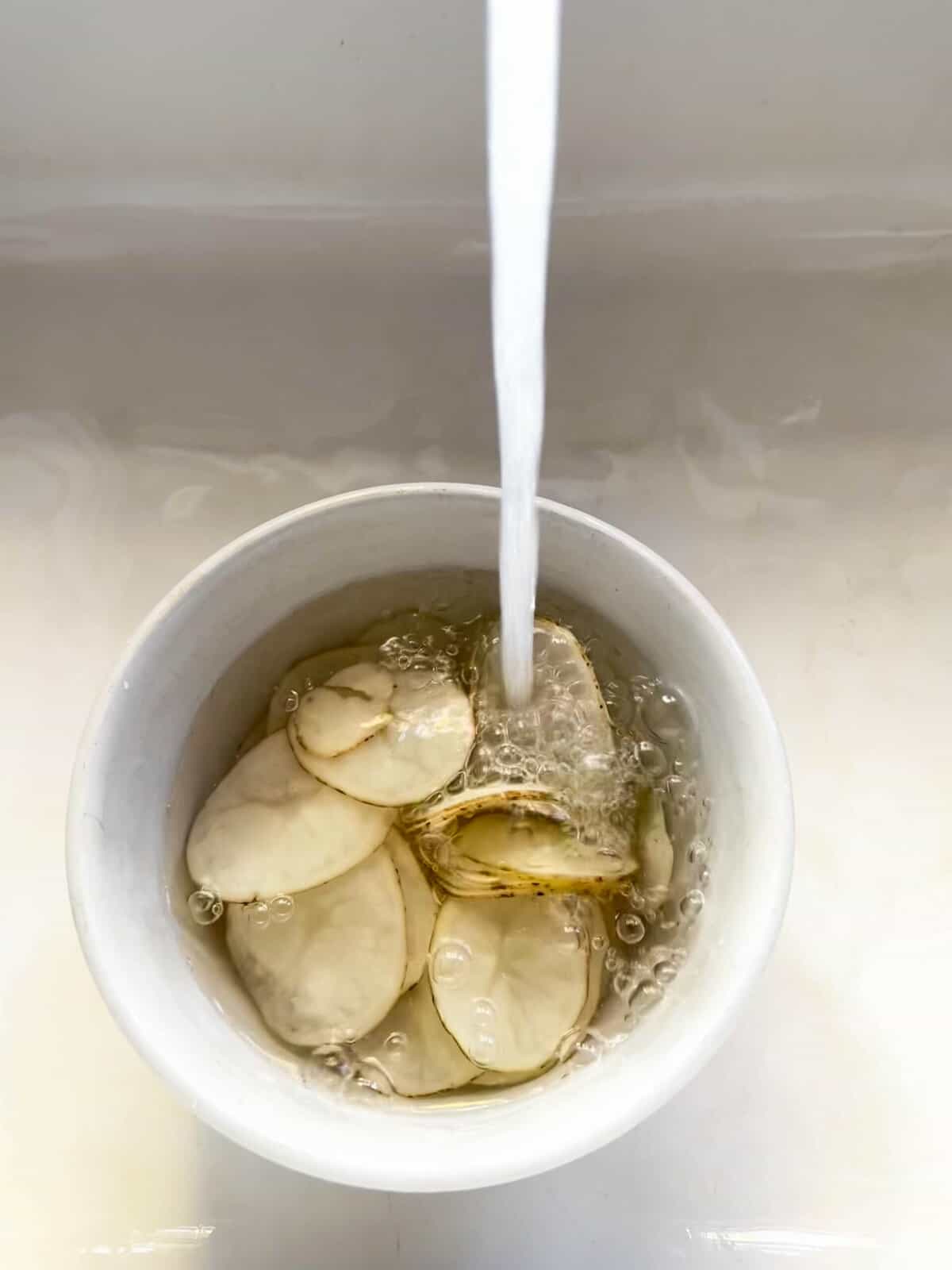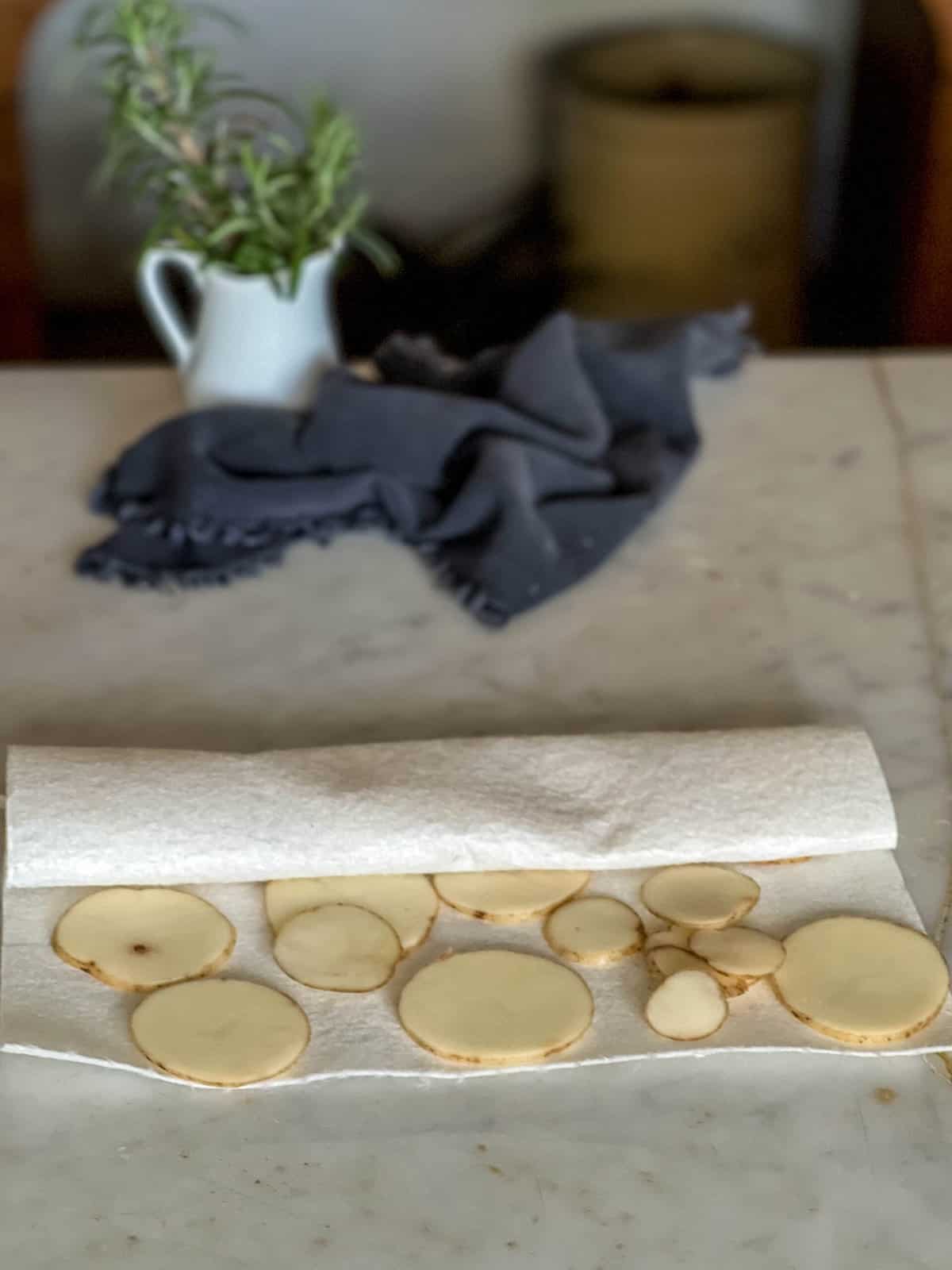 I didn't soak the potato slices, instead I rinsed them in a bowl until the water ran clear.
Which oil to use for frying?
I keep my deep fryer filled with regular vegetable oil because vegetable oil has a high smoking point, is completely neutral tasting and you can leave it in the deep fryer without worrying that it will go rancid.
Replace the oil when you notice it looks dark and murky or starts to develop an off smell.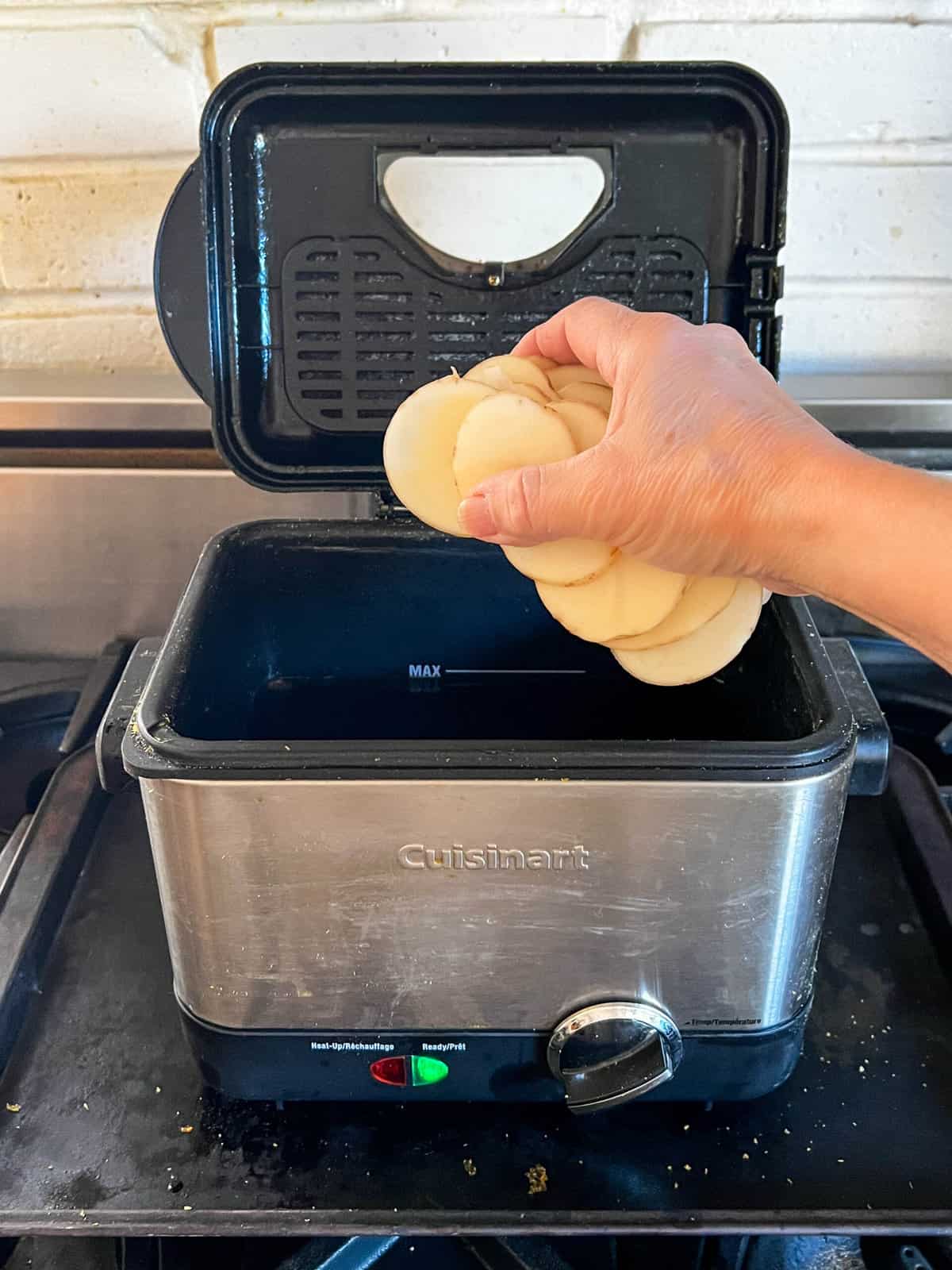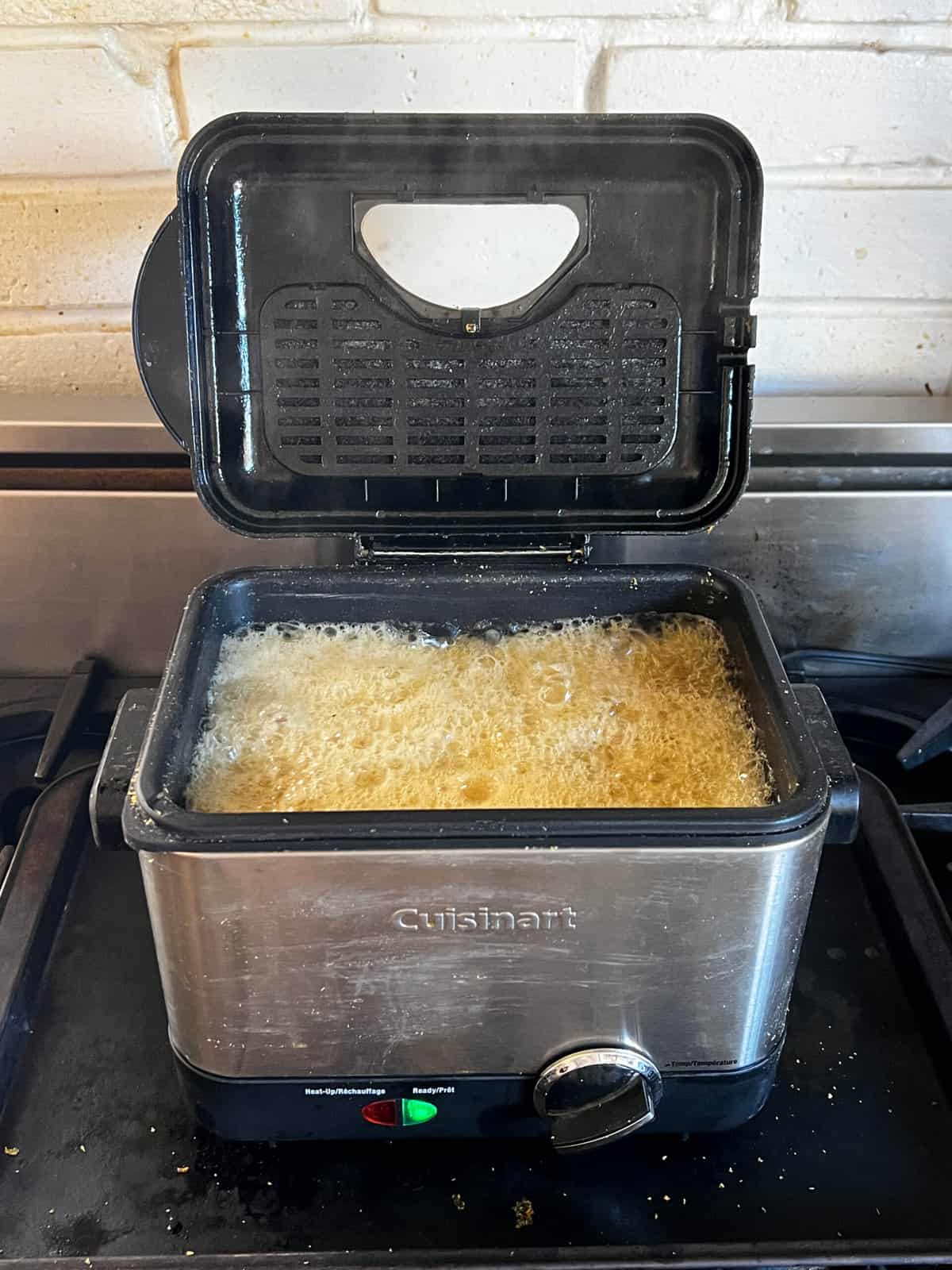 As soon as the potatoes are dry just put them in a deep fryer set to 300 - 365 F.
TIP: If I want to pack more into my deep fryer I remove the basket to gain a bit more space in the fryer.
FRY. See all those bubbles? It's a reaction of the oil as the water enters it.
As the water evaporates the frying bubbles decrease.
FRYING
When you fry chips you want to cook them until the oil is no longer bubbling. At all. If there is still bubbling that means there is still moisture in the potato.
If you take the chips out before all the moisture is gone they'll go soggy.
If you look and see all bubbling has stopped and you think it's because your oil has gone cold - it's hasn't. All the moisture from the food has just been removed.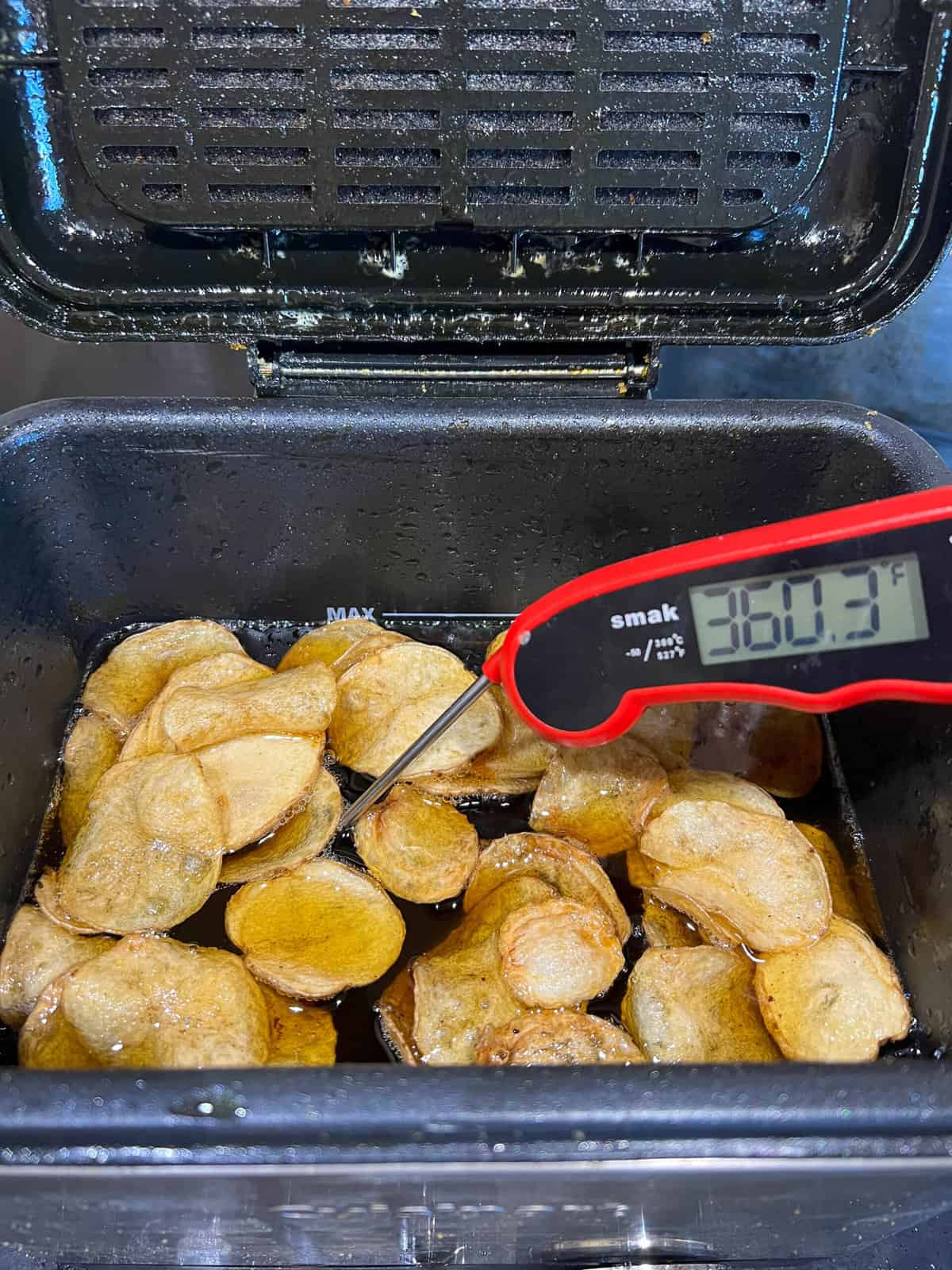 TIPS
The thicker the potato slice, the lower the temperature should be. 1.5-2 mm slices will cook well at 350-365 F. 3mm and above will cook well from 300 - 350 F

Store homemade potato chips in a paper bag during dry weather conditions.

Store homemde potato chips in a plastic bag during humid weather conditions.

Thinnest best for half-assed method.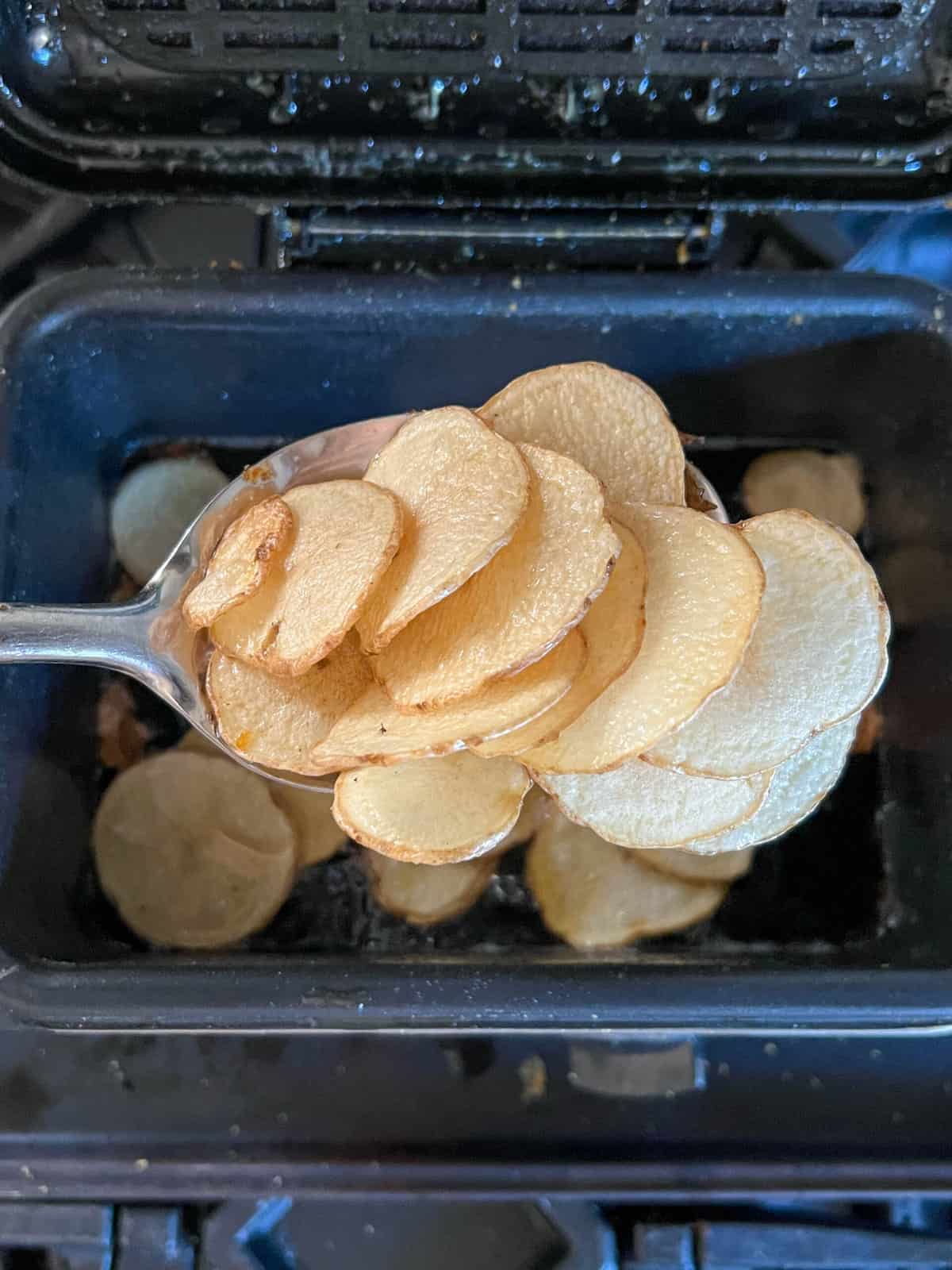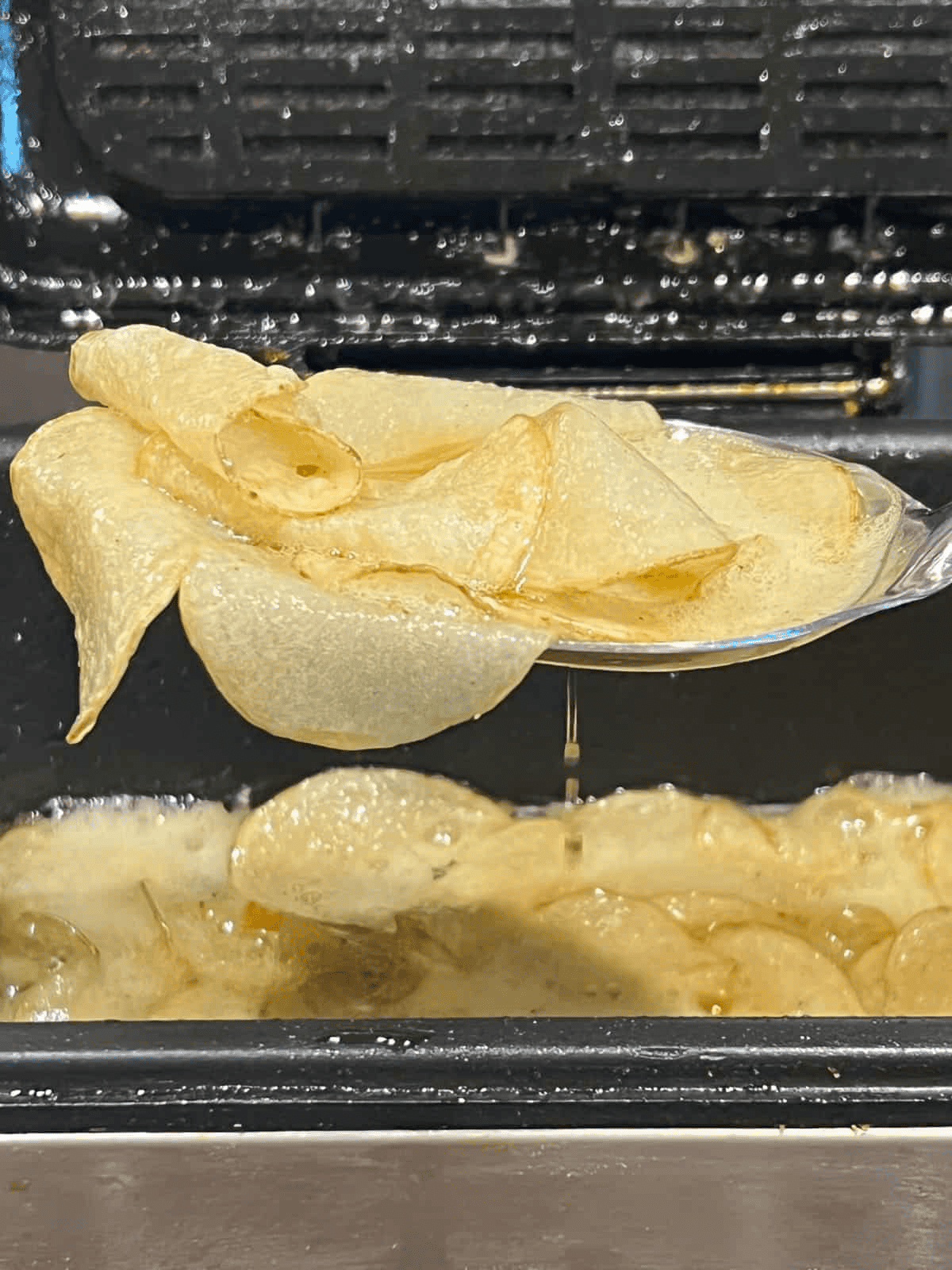 Thicker slices will get you much flatter chips because they hold their shape better.
Thinner slices (these are the 1.5mm) will get you a lot more folded and bent chips. Which I happen to LOVE.
I ALSO LIKE MY CHIPS TO BE QUITE BROWN. But you don't have to. You can cook them to whatever degree of doneness you want as long as you remove all of the water from them.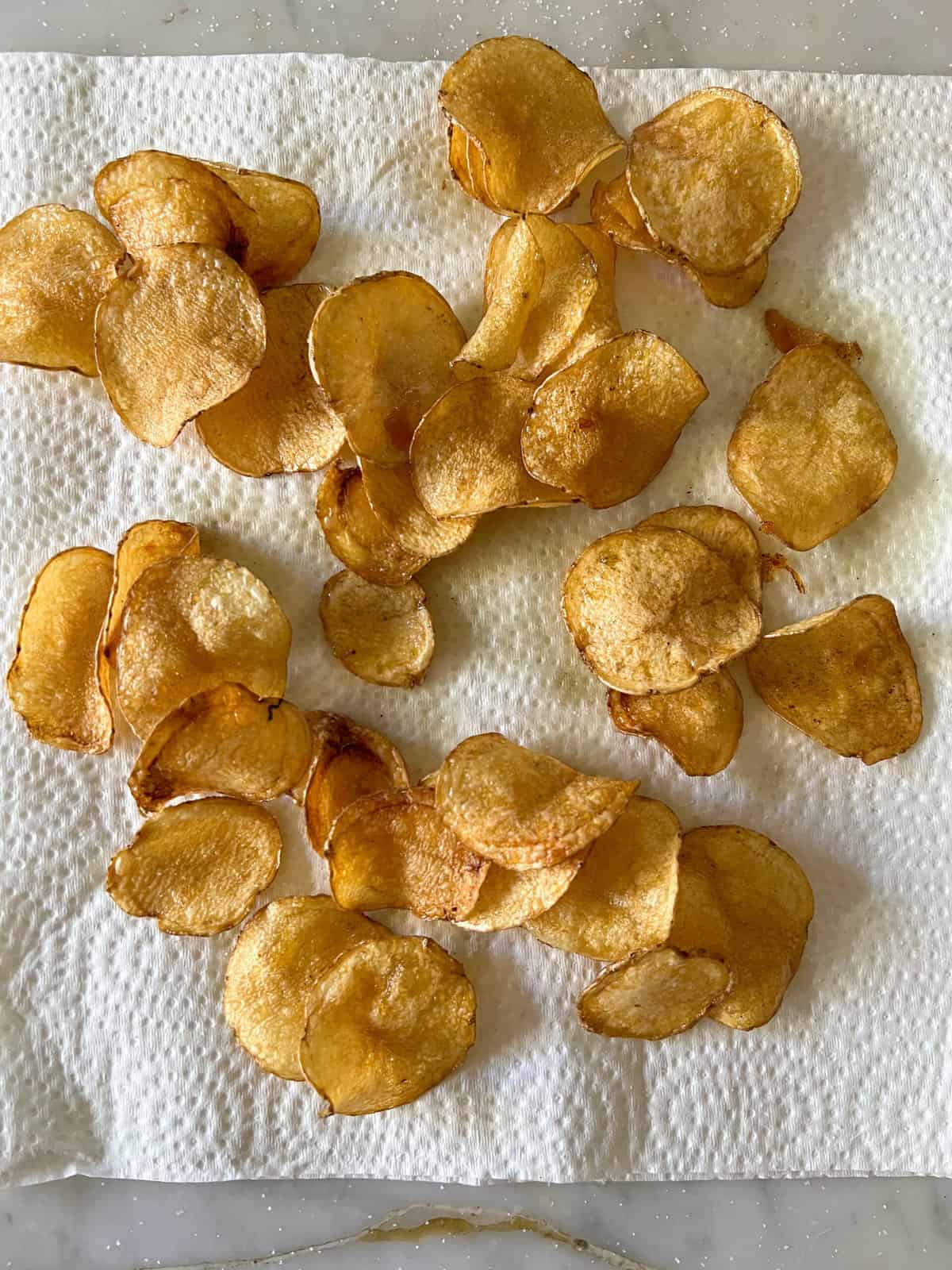 So you guessed it. The medium thickness chips curled and bent a little bit. Not as little as the thicker ones and not as much as the thinner ones.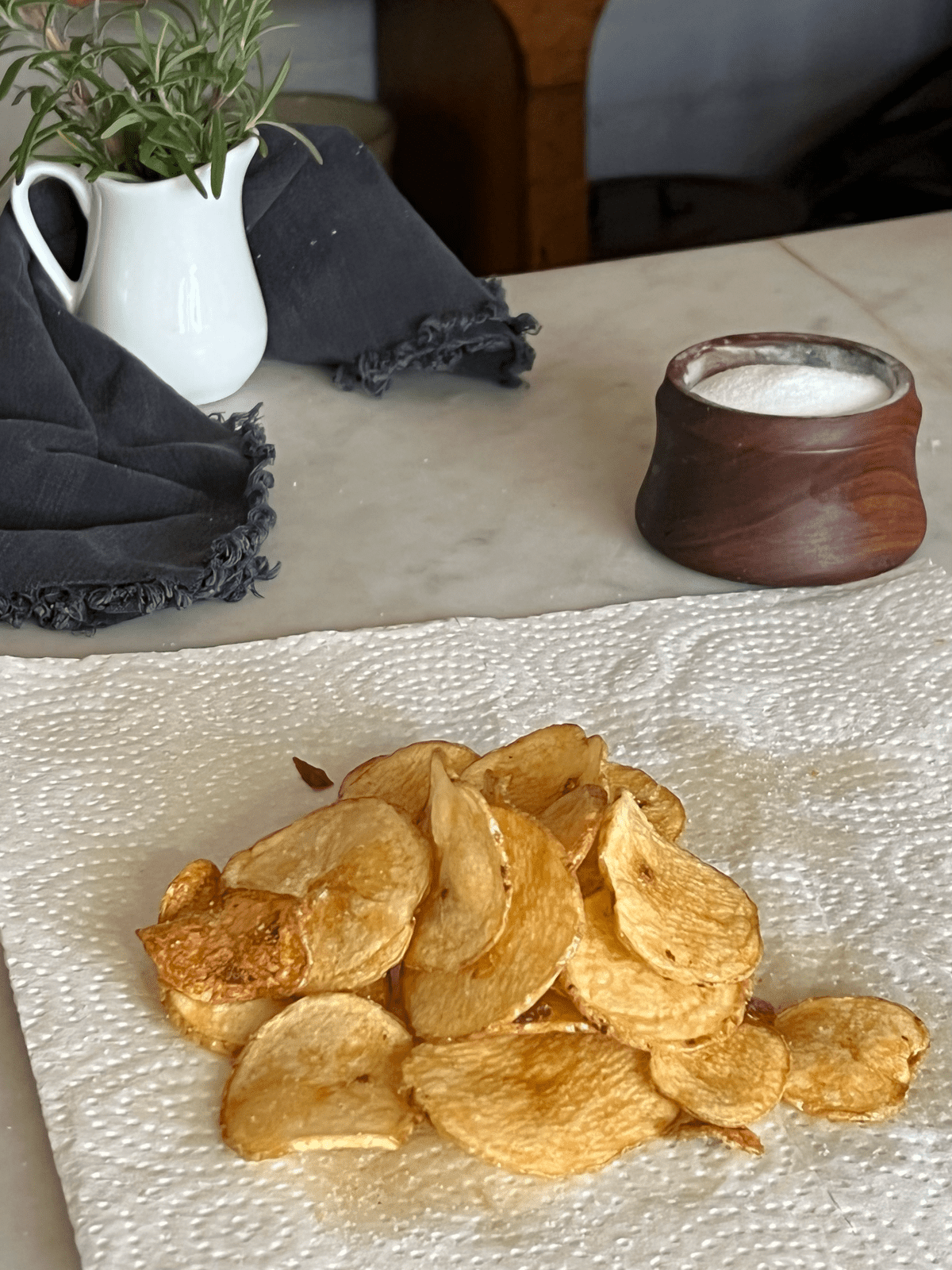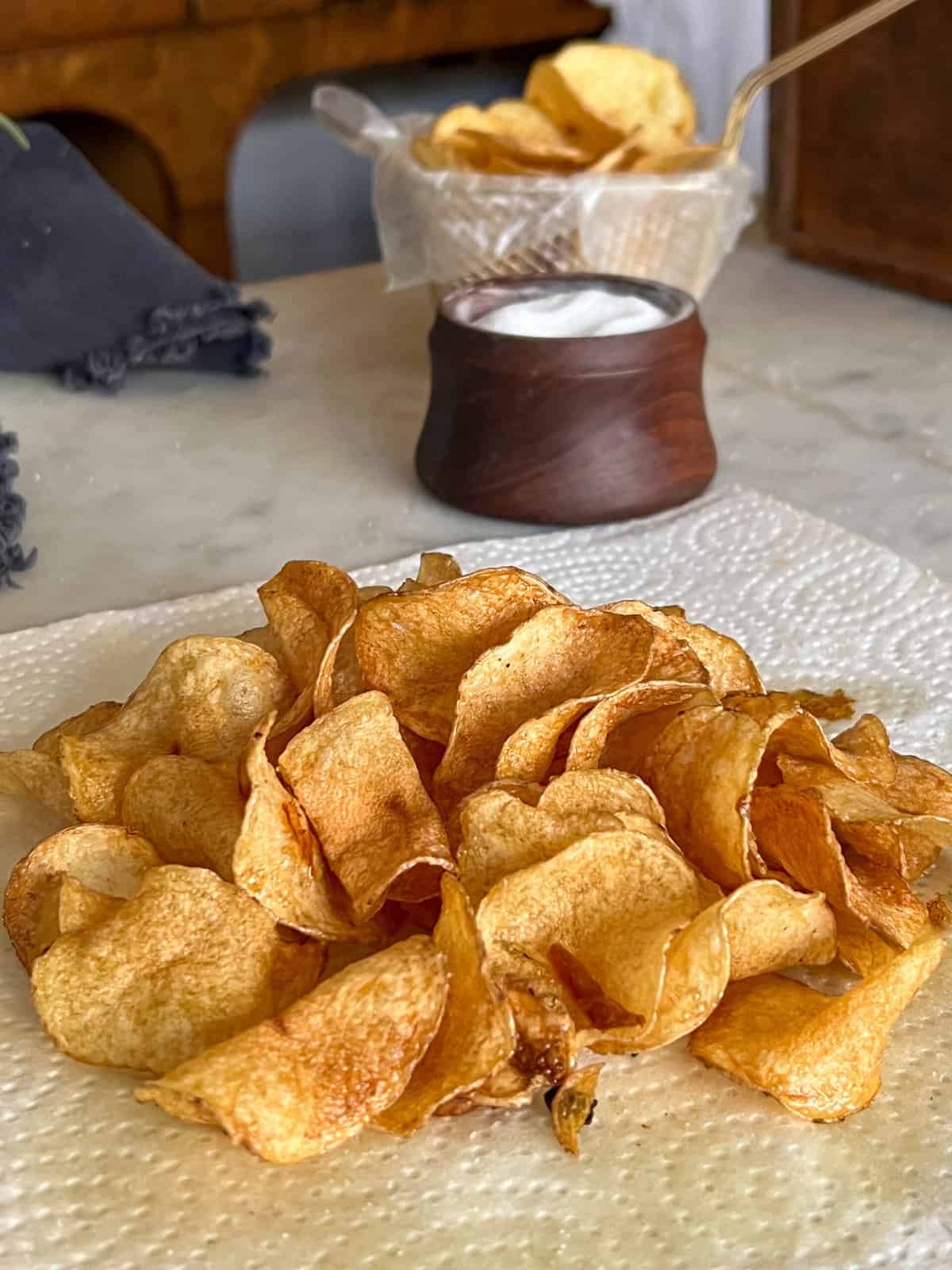 Can I have all the thick, flat chips in a pile please.
And all the thin folded, chips on the right please.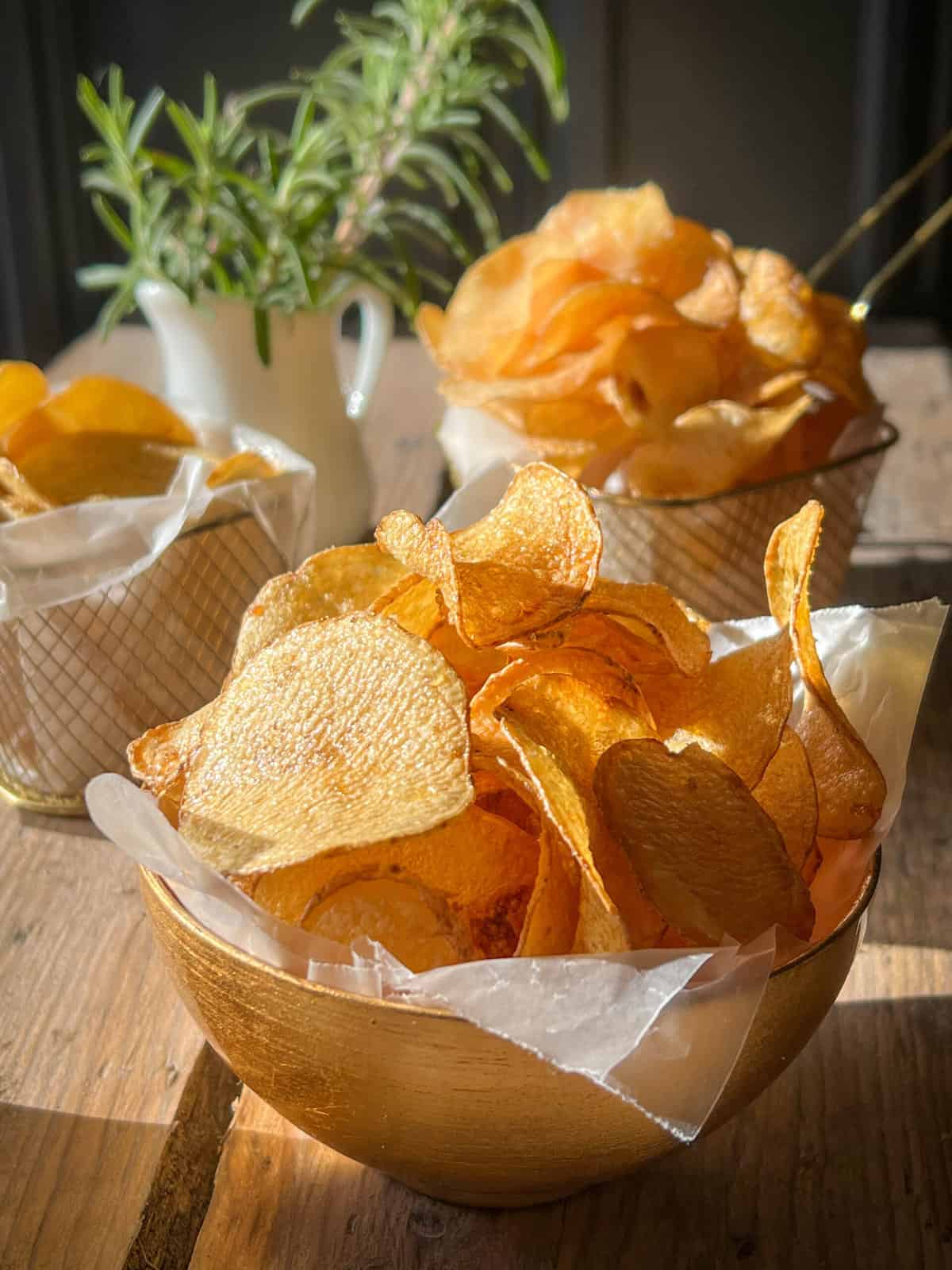 Yes. They're all gone. I gave Betty a little bag and ate the rest myself.
Then I took my sweatpants off.
Here's the actual printable recipe for these Halfassed Homemade Potato Chips.
Handy tips
You can use any potato to make chips but a baking potato will get the best results.
Reheat the chips by flashing. (Put them in your oven at the highest temperature for a minute or so. Watch them and the first moment you see them start to bubble or sizzle remove them from the oven.)
Store the chips in a paper bag if the conditions in your house are dry, store the chips in a plastic bag if the conditions in your house are humid. Or just eat them immediately.