I wanna talk about spaghetti & meatballs. I often want to talk about spaghetti & meatballs. Whenever there's a chance to work spaghetti & meatballs into a conversation I do.   I suggest you do the same, for it will change your life; only and always for the better.
Take these conversations I recently made up, for example:
Your mother:  "I don't really like your hair that way, dear. You look like a squirrel.."
You:  "Do you like spaghetti & meatballs?"
Your mother:  "Oh my Lord! I LOVE spaghetti & meatballs. I remember this one time when your father and I … is that a new hairdo? It looks sharp!"
Another example:
Your Boss:   "Did you finish that assignment I gave you today?"
You:   "No. You can suck it. I'm taking a 5 hour lunch today that will involve eating spaghetti & meatballs, you miserable wound."
Your Boss:   "Did you say spaghetti & meatballs? I LOVE spaghetti & meatballs. Hey! When's the last time I gave you a raise?  Or a day off for no reason?  And do you have a company car? You totally need a company car. Jeez … I can't believe you love spaghetti & meatballs. I love 'em too."
There's just something about spaghetti and meatballs that brings out the best in us.  And by "us" I mean human beings, dogs, cats, most other animals and the occasional stray from outer space.
There are a multitude of ways to cook spaghetti & meatballs including using fresh tomatoes, but my preferred way is to use tomato sauce that I jar in the fall.
The taste of this recipe completely changes according to how long you cook it.  The longer you cook it the smokier and denser it tastes … the less you cook it the more vibrant and bright it tastes.
As you can see from the recipe … if you don't have a couple of quarts of homemade tomato sauce you can use the secret ingredient … tomato juice.  From the can.  Yup … that tomato juice.  The kind you'd normally drink in a juice glass while lounging in the velvet booth of  a 1970's steak house.
Make sure you get reduced salt tomato juice though, otherwise your spaghetti sauce will be too salty.  Dead sea salty.  Salt lick salty.  Long Shoreman salty.
Here we go …
Gather your ingredients and preheat the oven to 375 °F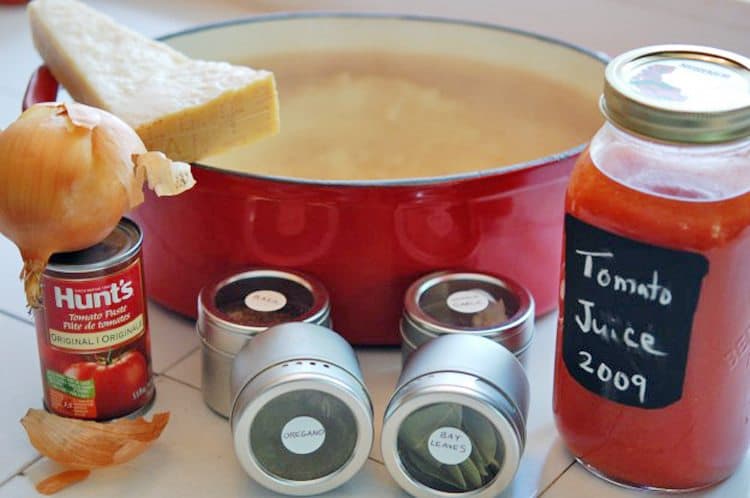 Pour all of your tomato juice (homemade or otherwise) into a roasting pan.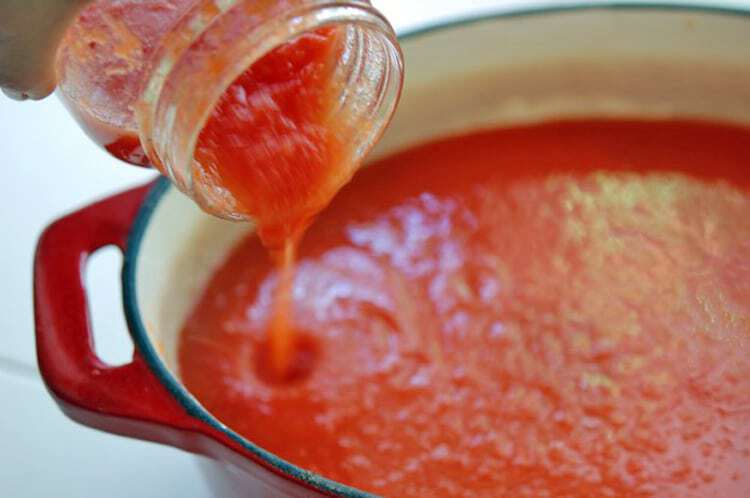 Add a full can of tomato paste. The recipe says a "large" can but I just add a full small can (the most common in stores)
Add your chopped onion and garlic.
Add in all of your spices and remember to crush them in your fingers to bring out the aroma and flavours of them.
Grate in about 2 Tablespoons of fresh parmesan cheese. Or used the stuff in a cardboard can. I won't judge or give a care.
Stir everything up and then set it aside because ….
It's time to make meatballs!!! I use 100% ground beef most of the time, but occasionally I'll mix things up and do a 50/50 blend of ground beef and ground pork. Also, judge for yourself how much bread crumbs you'd like to use. I find adding in a little extra bread crumbs tends to make the meatball less hard and dense. I like a slightly softer textured meatball. So I add extra bread crumbs.
Taking a large tablespoon of meat, roll it in your hands with medium pressure. Again, the harder you roll the meatball the more dense it will be. If you barely form it together it will be too soft and will fall apart. Medium pressure.
Once you have rolled all the meatballs …
Throw em in the roasting pan full of sauce.
You may find they just sort of float on top of the sauce. Not to worry. Just smush them down a bit with a spoon.
Disaster averted.
Cover the roasting pan with a lid and put it in the preheated oven for an hour or so. Once the sauce is bubbling and gurgling, you can remove the lid so the sauce will thicken.  Cook for another 1 ½ – 2 hrs until sauce is thickened.  Remember … the earlier you take it out the sharper and more tomatoey it will taste … the later you take it out the smokier and richer it will taste.  I go for smoky and rich.  Total cooking time … around 3 hours.
Serve on a skillfully folded tea towel, placed in front of some artfully arranged parmesan cheese and shavings.
And the reason it's called "Gramma's Spaghetti & Meatballs"? Because when my niece first moved out of her parent's house I typed out a bunch of her/my favourite recipes to give her. (GREAT gift idea by the way)
And the originator of this recipe is … her gramma. My mother. Betty. Who happens to like my hair … at the moment.