Today, it is my pleasure, to introduce you to the gooey,  sweet goodness of "ies".
What is an ie, you ask?  An ie is a no cook cookie.  Since we have removed the cook from the cookie, it simply becomes an ie.  To make things simpler we could also call them Date and Nut blobs.
Or, as they are known in this household … Hippie Cookies.
Why Hippie Cookies?  Because they're made with dates and nuts and all natural hippie type stuff you're likely to come across while traipsing through the forest in your Birkenstocks.  Why are you in the forest?  I don't know.  You're the hippie.  You're probably chasing butterflies or trying to find that "special" plant you planted in the spring.
There's no flour or sugar. They get their sweetness from the dates and dried berries and get texture from the seeds and nuts. See? Total hippie cookies.
The Hippie Cookie is also a good name because while you're making them you inevitably get the uncontrollable urge to splash on some patchouli oil and browse Kijiji for a righteous Volkswagen van.
We were introduced to these cookies in that stupid meal plan I was forced to partake in because the guy who runs my boyfriend's gym thought it would be a good idea for everyone to eat whole foods and no carbs at all, for 2 months.  Asshole.  These cookies were the only thing that got me through it.  If it weren't for these and the bags of potato chips and McCain frozen pizzas I ate once my boyfriend went to bed I don't know what I would have done.
As I mentioned at the beginning of this post, the most delightful part of these cookies is the fact that you don't cook them.  Yes.  I said delightful.
NO COOK HIPPIE COOKIES
Ingredients
2 cups dates
1 cup almonds
1/2 cup walnuts
5-6 Tablespoons mixed dried berries (blueberries, goji berries, cranberries, raisins etc.)
1-2 teaspoons cinnamon
1 Tablespoon Sunflower Seeds
1 teaspoon Vanilla Extract
In a food processor pulse the almonds, walnuts and cinnamon until they resemble coarse flour.
Like so …
Add the remaining ingredients and pulse.
It helps to pulse the dates a few at a time.
You may notice the manhands in these pictures.  It would appear I've had some sort of allergic reaction.
I have not.   They're my fella's hands.  He's the designated Hippie Cookie Uncooker in the family.  Every Sunday afternoon he whips up a batch so he has some to share with the Wood Nymphs and Unicorns in the forest.   Or he eats them at work.  I can't remember.  Either way he's surrounded by animals.
Once the dates are in 1/4 – 1/2 chunks and the dough forms into a ball, stop mixing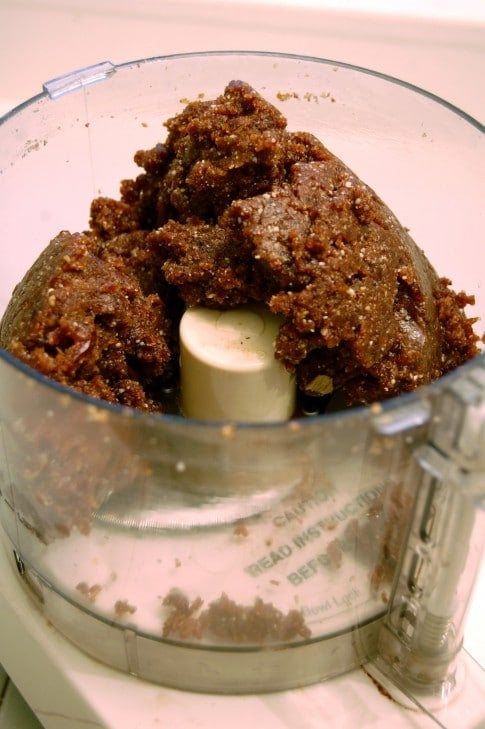 Roll the dough into a long tube.  I'm really sorry, but it will look like poo.
Slice the dough whatever size you want.
Form into cookie shape and refrigerate.
Depending on the dates and how long you process the dough for, the ies may become oily.  This is normal.
No matter how I tried, I could not make these ies look delicious in a photograph.
They still look like poo.  They look better in real life.  But not much.  They taste much better than they look.
A few notes from my fella, the cook.  The original recipe called for Medjool dates. Apparently these are kind of expensive.  Approximately the same price per pound as plutonium.  So he substituted with honey or cooking dates and says he likes them better anyway.
Also, I forced him to make these cookies smaller than he normally makes them.  If I allowed him to make them his regular size you'd be looking at 3 massive cookies, one with a bite out of it.
This recipe will make approximately 36 normal sized cookies.
If you think you might be sharing them with an actual wood nymph make em a bit smaller.  If you think you might be sharing them with an actual hippie, make 'em a bit more filled with pot.
I apologize for the quality of the pictures. I was in a rush and we were doing the photos at night and I don't own Photoshop to properly correct the lighting and weirdo hue of the photos. If you still have a problem with my pictures either a) fix them yourself and send them to me via email, or buy me Photoshop.