A no-sew face mask. If you have a napkin, 2 elastic bands and ears you can make it right now. A simple cloth face mask will not protect you from anything. It will however, protect those around you if you're sick.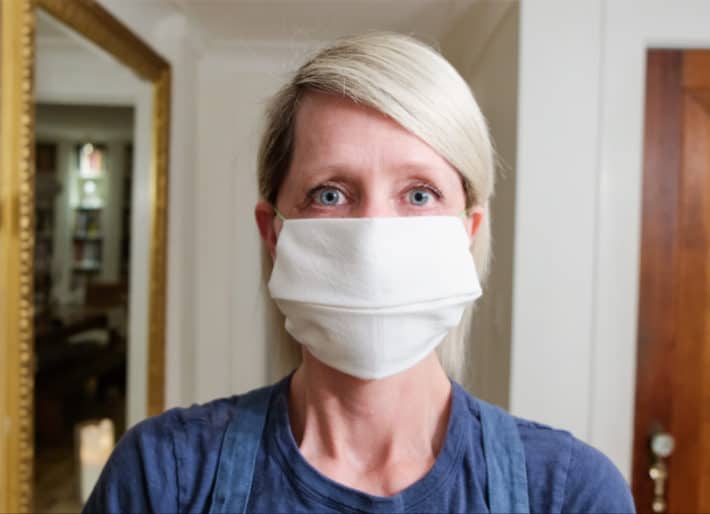 I've been waiting to post anything like this. I didn't want to for a variety of reasons, the number one being that these types of homemade masks do not protect you against anything. What a simple face mask will DO however is 1) help keep you from touching your face and 2) they can minimize the chances you'll infect someone else if you're sick.
And everyone knows that you can be a carrier and not show any symptoms of being sick at all. Some of you reading this right now have the virus and don't don't it because you don't have any symptoms. Everyone knows that. Everyone but the Governor of Alabama at least.
With CDC regulations in the United States now recommending that if you go out, you should wear some form of mask I am finally posting a DIY mask.
I didn't want to do a mask you had to sew because so many of you don't sew and wouldn't make one immediately because it would be a pain. I sew (granted it's not my favourite thing to do) and even I have put off making a face mask for a couple of weeks.
Instead I have this. I did not come up with the idea, but I do think it's important to share it.
Also - If you would like to buy a pre-made, form fitting face mask, as of this moment these are the highest rated form fitting face masks available on Amazon.
I want to REITERATE that this isn't something you can throw on and feel safe. You know that right? I figured you knew that but just for my own peace of mind I had to say it out loud. Again.
No Sew Face Mask Tips and Facts
This is NOT a medical mask. It only blocks a small amount of particulate matter.
A face mask should feel slightly difficult to breath through due to its thickness. (N95 masks for instance can only be worn for about a half an hour before you start feeling like you need to take it off to breath properly)
Any elastic will work but it needs to be fairly stretchy to not pull on your ears.
The mask should be as tight against your face as possible. Breath out heavily and if you can feel air coming up towards your eyes, that's germs that are escaping. Either reposition the mask or ...
If you have a pliable piece of metal you can clamp that over the face mask at the bridge of your nose to help make the mask tighter to your face.
No napkins or bandanas on hand? Blue shop towels work surprisingly well at blocking particulate.
I am working with a 16" x 16" napkin here but use what you have.
Wash your mask daily and let it dry in the sun if you can because the sun acts as a germicide.
I will use this mask only until I can buy or sew a proper face mask that fits tightly around my whole face.
Again,
to buy pre-made face masks from Amazon, click here.

Back to the regularly scheduled hilarity tomorrow.
→Follow me on Instagram where I often make a fool of myself←