A diverter shower is the perfect solution if you have a bathtub but no shower. Unscrew your old tub faucet, screw in a new tub diverter faucet and then attach a shower hose and head. No wall smashing, no plumbing, no $$$$$. Here's how ...
When I bought my rental property after having paid off my own mortgage I bought it *almost* sight unseen. The house belonged to a neighbour of mine and I purchased it from their estate. I didn't even do a walk through. I bought it just from my memory of being in the house a few times.
The house had never been really updated but it wasn't falling apart, it had good bones and it was close by. Those were the things I knew about it. What I didn't know were the little things.
Like the fact that there was no shower.
In my very extensive research I've found that more people than you'd think bathe. Sometimes daily. And most of them prefer to do it with water raining down on them as opposed to basting in their own dirt in bathtub water.
I had another "as luck would have it" moment when I started stripping the bathroom wallpaper and realized the drywall hadn't been primed before the room was wallpapered. That meant when I stripped the wall paper, all the drywall paper came off with it which in turn meant I was going to have to skim coat the entire bathroom.
I ate McDonalds for dinner and that night. It seemed like the right thing to do.
This shower situation was going to have to be fixed but I didn't want to get into a huge "thing". I didn't want to have to smash out the drywall and have a plumber install a shower pipe. I didn't want to have to smash the tile for the same reason. I didn't want to get into another big job of retiling.
I wanted an easy solution for installing a shower. So I started to search for alternatives and found the idea of a shower diverter.
A shower diverter, (also known as a diverter valve or a tub diverter or a spout diverter) does exactly what it sounds like. It diverts the water from the tub spout to something else - in this case a shower head.
A tub diverter spout has an extra bib on it that you can screw in a handheld shower hose. So you replace your old tub spout with a spout with a diverter and BAM you're minutes away from installing a shower.
Once you screw in a shower hose and handheld shower into the diverter - YOU'VE GOT A SHOWER.
Installing a shower diverter
MATERIALS
Hand held shower kit with line
Wall mounted shower head bracket
Hacksaw and/or Dremel
Metal file
Remove the old tub spout. It will either simply unscrew off or there will be a small screw on the underside that you can loosen and then slip the faucet off. Mine unscrewed.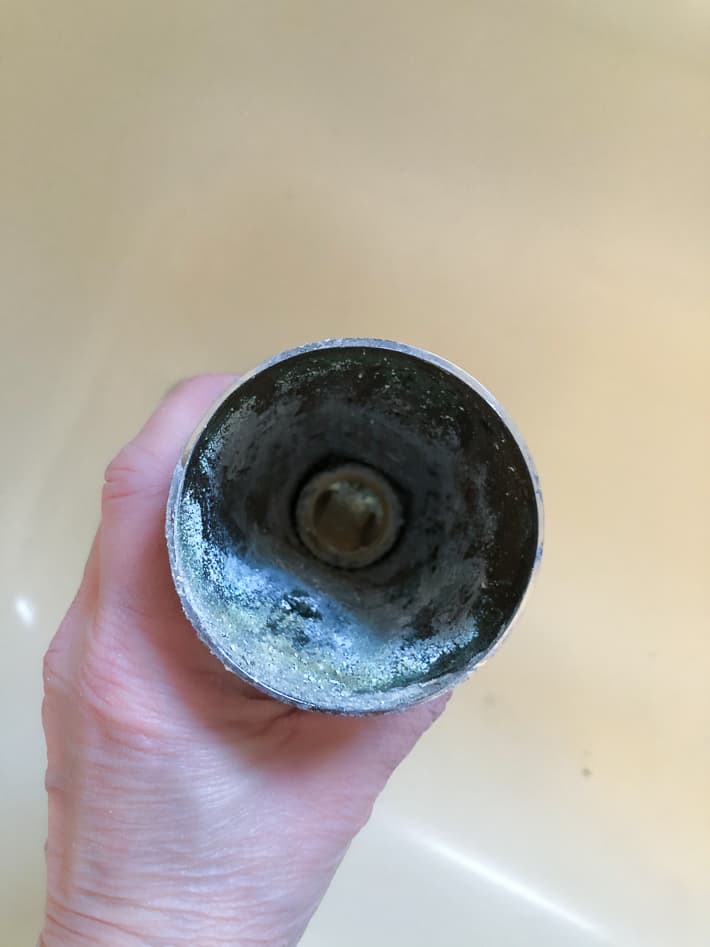 Beneath the old spout on my tub was a plastic extender that was needed. The extender can be removed as well if it's no longer needed for the new faucet.
2. Remove the old silicone.
3. Using the measurements that came with your new diverter spout, check to see if you need to extend or shorten the pipe coming out of the wall.
I needed a very small amount of threaded pipe out from the wall so I had to shorten the pipe.
3. Mark the pipe at the length you need then using a hacksaw or Dremel cut the pipe, being careful to cut it STRAIGHT. If you don't cut it straight it won't thread properly.
I started off using a hacksaw but then needed to straighten up the cut using a Dremel.
4. Use a file to clean up and smooth the edges of the newly cut pipe then wrap it with plumbing tape.
5. Refill the gap around the pipe with silicone (specifically tub and shower silicone.)
6. Once it has dried screw in the new tub diverter and silicone around the edge.
Unless there are miracles flying around that hit you in the head, chances are the spout won't fit perfectly to the wall. Or it might be a bit wonky and off kilter with a bit of a gap on one side or the other. Don't worry about it. This is not what you'd call a high end renovation.
To engage the shower, you pull up on the faucet knob which engaged a rubber stopper. That stopper blocks the water from coming out of the faucet and forces it to the shower.
7. Once the silicones have set you can screw on a handheld shower hose and handheld shower to the faucet.
The wall mounted bracket I bought is a Moen that matches the handheld shower kit I bought. However, it took me a couple of months to get it and I think it's discontinued or close to it. Either way, my exact bracket will be difficult for you to find, but there are a lot of wall mounted shower bracket options.
8. Screw a wall mounted handheld shower bracket to the wall. If your shower wall is tile you can also get suction cup/adhesive backed brackets. The shower head should sit 74" - 80" above the floor.
---
If your handheld shower kit came with a bracket, chances are it won't be the right one. It will probably be a bracket that screws into an existing shower pipe coming out of the wall. Which you do not have.
---
For a total cost of about $70 and an hour or so (there was probably an additional hour that was dedicated to fretting) I installed a shower.
The renters could now bathe and I could relax and spend my time and money on more fun things. Like radon testing! Repairing the old roof, installing new flooring, updating the bathroom, painting the house, ripping out the carpeting on the porch (?!), keeping the lawn mowed and weeded and figuring out why the thermostat hates me.
I also might (when I have time) want to look into therapy so I can get to the bottom of why I don't find relaxing to be relaxing. It seems like a smarter place to put my money than behind a bathroom wall.
→Follow me on Instagram where I often make a fool of myself←