Wake up to creamy steel cut oats that are ready for a full week of belly warming. Just start them on your stove at night and they cook overnight while you're sleeping. Plus they can be stored in the fridge for a nutritious, filling grab and go breakfast all week.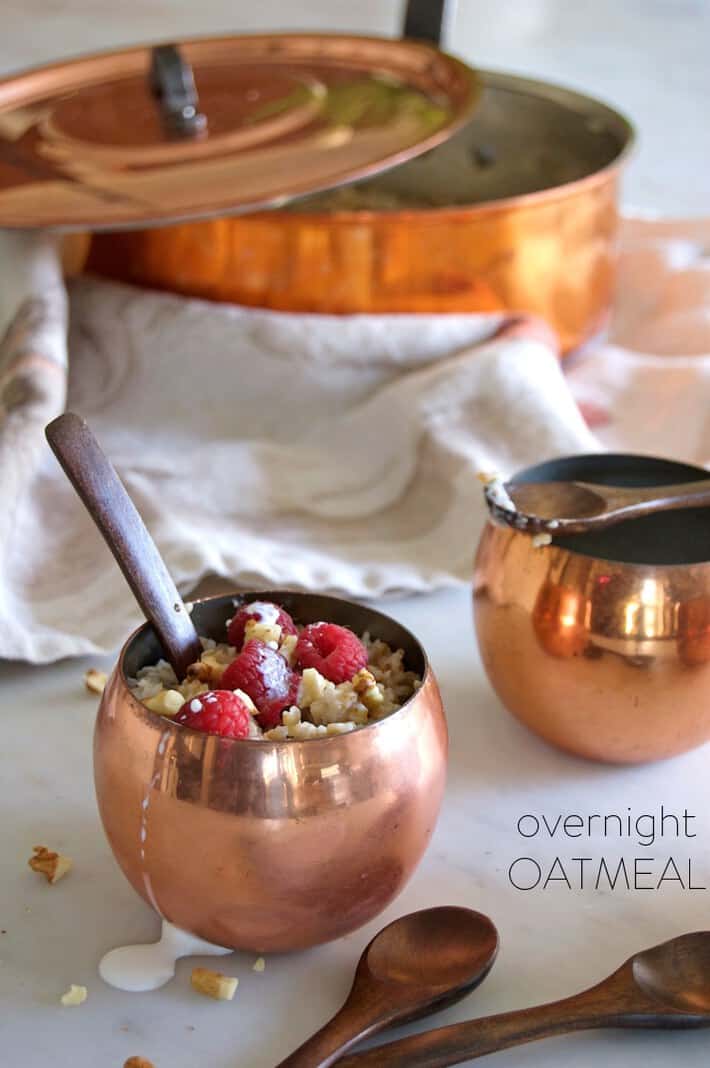 One of my absolute, most favourite parts of winter is OATMEAL. I know, I know. I almost bored myself into a stupor with that sentence. But as dull as a bowl of oatmeal might seem, you can't ignore the stick to you ribs goodness of a pot of warm, creamy oatmeal on a snowy morning. Or a chilly morning. Or a morning.
It was my favourite as a kid too, but back then I wasn't really eating oatmeal, I was eating instant Oatmeal in a packet with kid friendly flavours like Sugar & Sugar. I think the official name for the flavour is Maple & Brown Sugar, but what that amounts to is sugar and sugar flavour, which I then topped off with a little extra sugar while my mother had her breakfast of a cigarette and cup of Sanka.
There are 3 types of Oatmeal
Steel cut oats – this is oat exactly how it comes off of the stalk of the Oat plant, but it's been cut into smaller pieces. Processed by roasting at a low temperature before sale for shelf stability. Chewy.
Rolled oats – exactly what it sounds like. Oat from the plant is cooked to soften it a bit, then rolled 'til it's squished flat. Processed by steaming then pressing flat. Mushier than steel cut.
Instant oats – These are rolled oats that have been completely cooked and pressed even flatter than rolled oats.
Steel cut oats take the longest to cook (25-30 minutes), followed by rolled oats and lastly of course, the instant oats.
This weekend try making a big pot of overnight Steel Cut oatmeal. It eliminates any time you need to stand around the stove stirring AND you end up with a big pot of oatmeal that you can dip into all week long.
I started making overnight oatmeal (as opposed to cooking up a pot in the morning) about a year ago and there are 2 reasons I love it so much. The first being, overnight oatmeal has a creamier texture than oatmeal you've cooked for half an hour on the stove. I assume this is because all of the water is absorbed into the oat mixture as opposed to simmering away into the air.
The second reason I love the overnight oatmeal is because you wake up, and breakfast is not only done, it's ready and waiting on the stove for you.
The steps are easy. Grab a pot, throw a pat of butter or coconut oil into the pot and let it melt. Once it's melted, throw in 1 cup of Steel Cut Oats and stir it all together.
Keep cooking and stirring until your oats smell toasty. That's my spurtle by the way. It's the official stir stick of the world of Oatmeal. I got mine from Cattails Woodwork.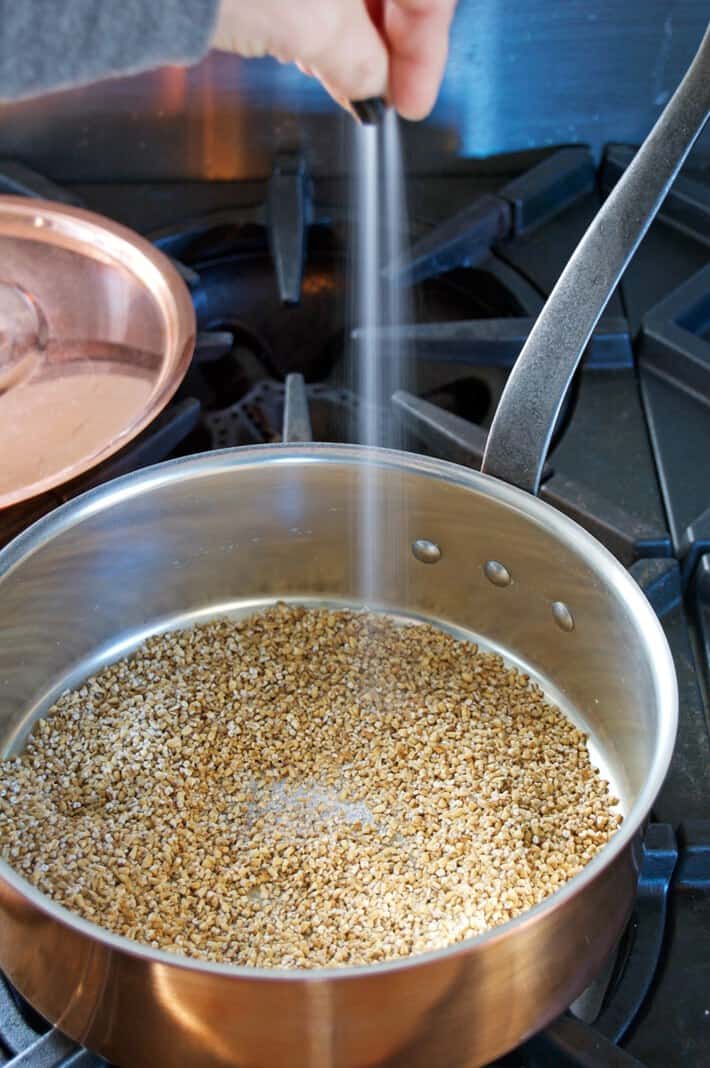 Once it's all toasty, add a big pinch of salt.
Throw in 3 cups of water, and bring it to a rolling boil.
As soon as it boils ….
Turn the heat off and put a lid on the pot. Then go to bed and dream sweet dreams.
In the morning when you remove the lid from the pot your oatmeal will be perfectly cooked and creamy, with just the right amount of bite left in the oat pieces.
Give it a stir and add a slosh of milk if you like (I like) and heat that pot back up. Breakfast for the family is ready.
Or you can do what I do, which is portion the oatmeal into individual containers and keep them in the fridge. In the morning you can just grab it and go.
I top my oatmeal with different things, but my go-to topping is red berries (strawberries or raspberries), chopped nuts like walnuts, pecans or almonds and a splash of Almond milk or regular milk. To bring the whole thing to the next level I drizzle it with my homemade Maple Syrup, but a sprinkle of regular old store bought Maple Syrup would be exactly as good.
You just wouldn't get the satisfaction of saying "Hey! I made that maple syrup myself you know!", to anyone who walked by while you were eating.
Also, don't rule out good old brown sugar. Sure it's a bunch of white sugar with molasses added to it to church it up a bit, but you're eating oatmeal for breakfast. Who's gonna yell at you for having a little brown sugar on it? Not me.
SUNDAY NIGHT OATMEAL
Overnight oatmeal creates a creamier, chewier version of Steel Cut Oats than regular simmering in a pot does. PLUS breakfast is served the second you wake up.
Print
Pin
Rate
Ingredients
1

cup

Steel Cut Oats

3

cups

water

pinch

salt

1

tsp

butter of coconut oil

Regular milk or Almond milk to taste.
Instructions
Melt 1 tsp. of butter of coconut oil in heavy bottom pot.

Stir in 1 cup of Steel Cut Oats and cook until toasty smelling.

Add 1 pinch of salt and 3 cups of water to pot and bring to boil.

As soon as the mixture comes to a boil, turn heat off and cover pot with lid.

Leave on stove overnight.

In the morning just stir in a bit of milk to loosen the mixture up a tiny bit, heat and serve.

Makes enough for 4 medium servings.
OATMEAL VARIATIONS
Use 1/4 cup of quinoa in your oatmeal. (just sub it in for 1/4 of the oats – so instead of 1 cup of steel cut oats use 3/4s of a cup of steel cut oats and 1/4 cup of quinoa)
Use 1/2 cup of coconut milk to add HUGE flavour and creaminess. (just sub it in for 1/2 of the water – so instead of 3 cups of water, use 1/2 cup of coconut milk and 2 1/2 cups of water.
Throw in some chia seeds. Chia seeds thicken the oatmeal as it cooks overnight and also boost the good health properties.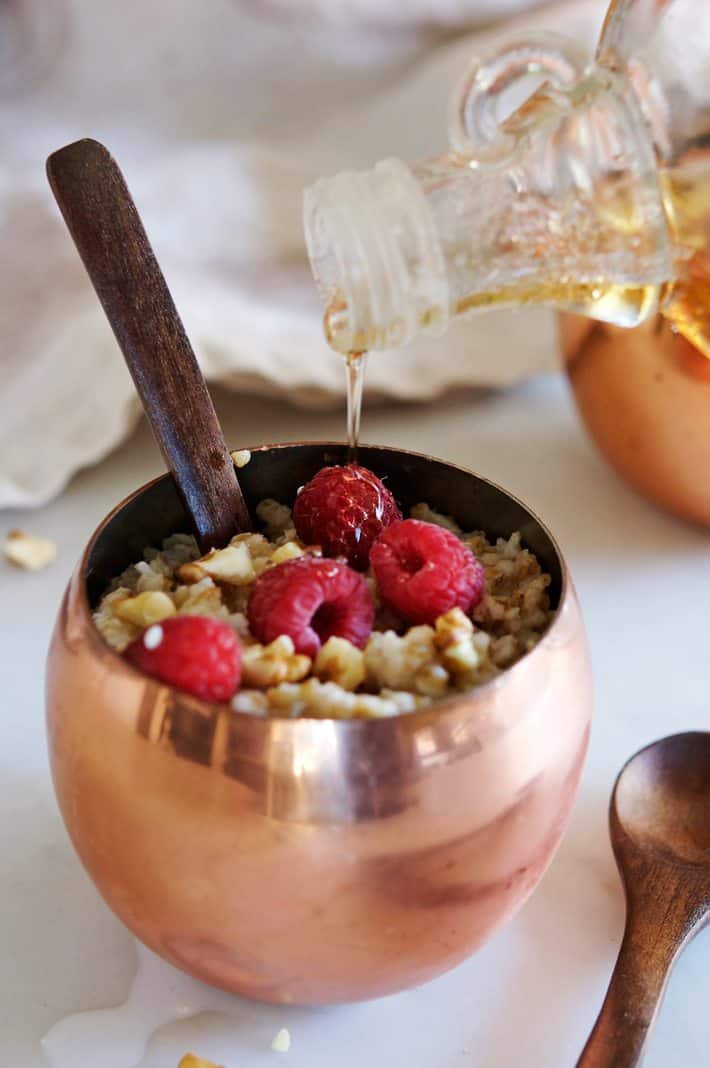 So this is what I'm recommending you do this Sunday night. Put your pajamas on, watch some television or listen to music. Have some sex. Wash your hands. Then head into the kitchen to put on a pot of Overnight Oatmeal.
The coziest, most nostalgic way to make Monday morning bearable.