Say hello to my push mower.  It's green and red and old.  Not olden days old, but old.  Floppy disk old.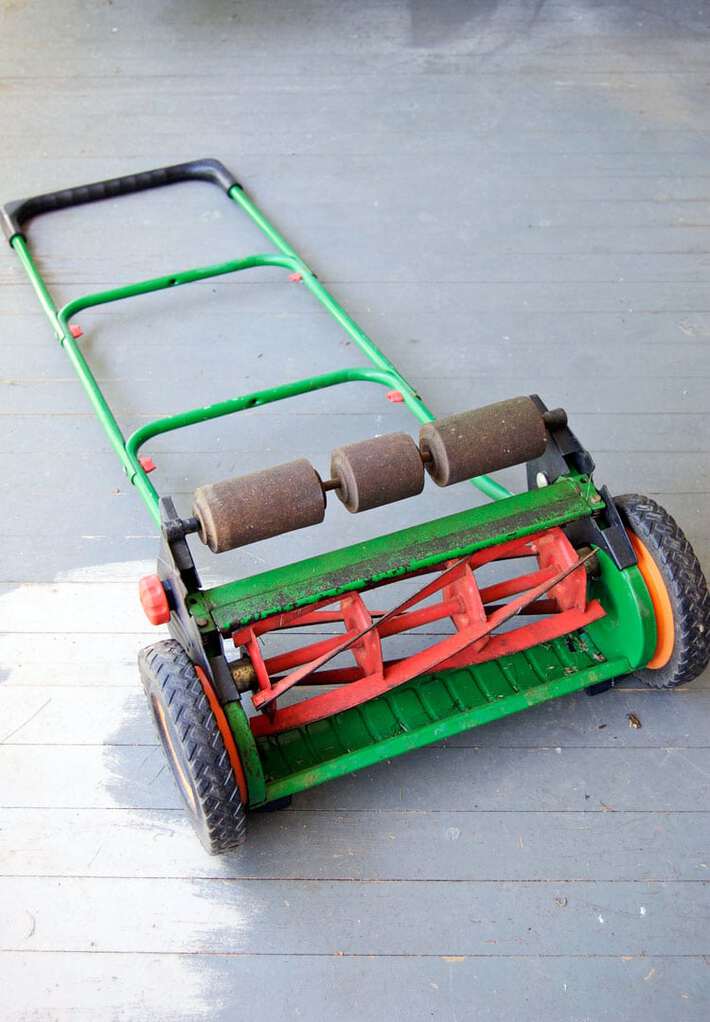 I knew how to *tighten* the blades on this push mower so they ran across the metal bar, but I could never quite figure out how to actually sharpen it.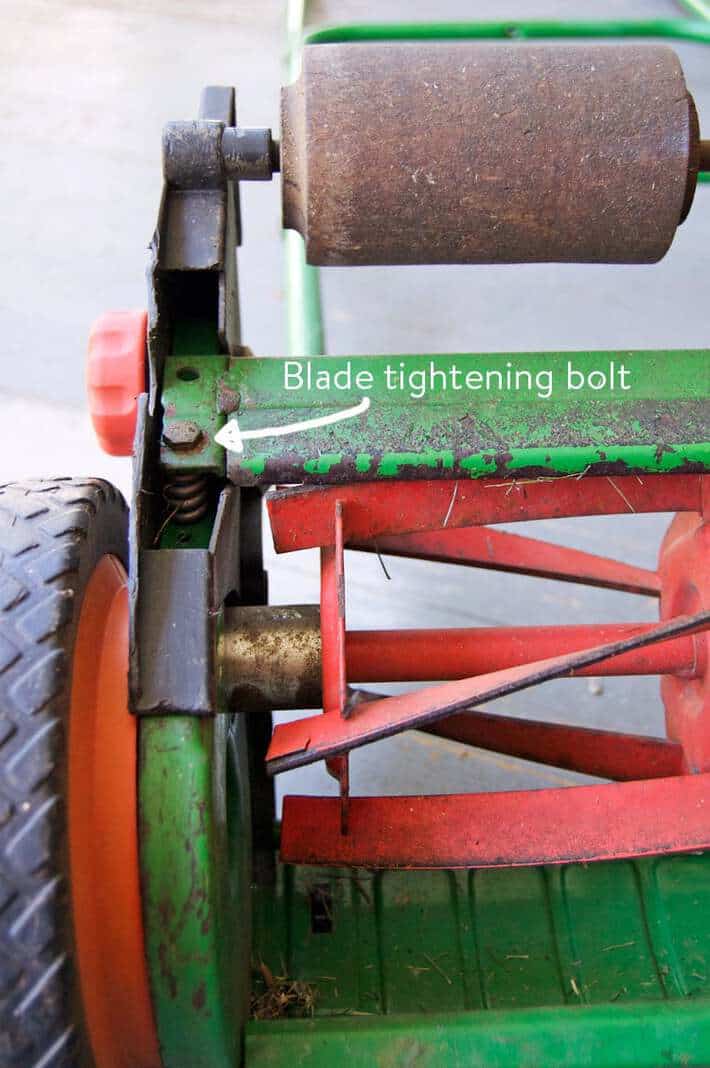 To move the cutters closer to the bar so your lawn mower makes that cool "click, click, click" sound reminiscent of an episode of Leave it to Beaver, you just have to tighten the blade tightening bolt on either side of the lawn mower.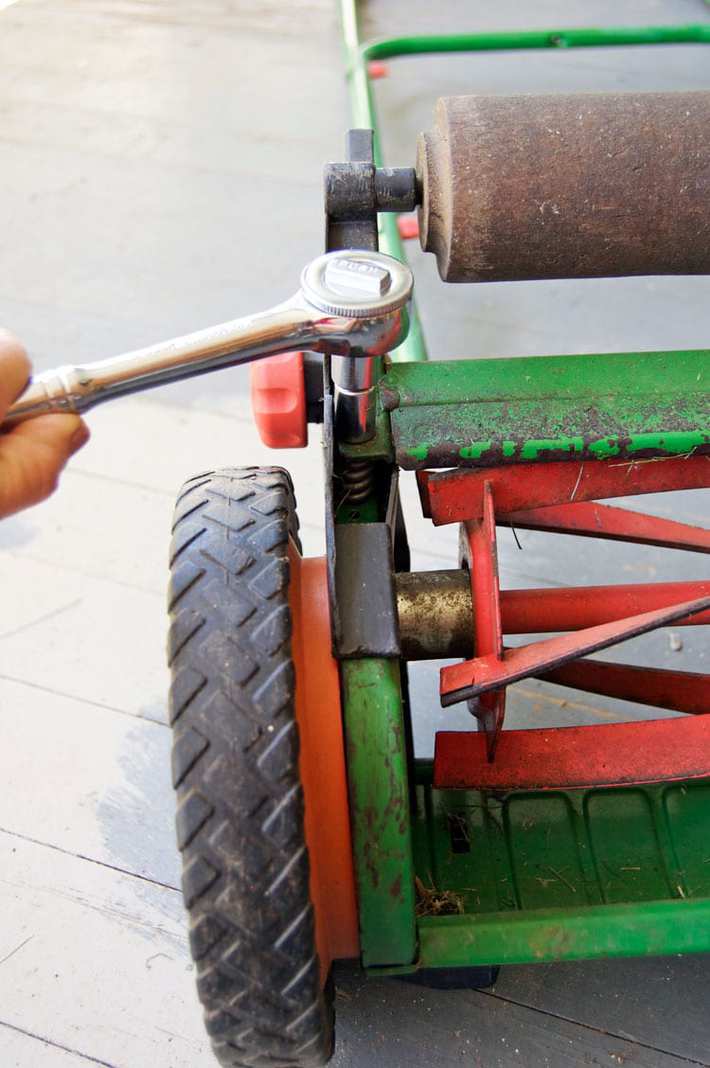 Easy.
But sharpening the actual blades is something else entirely. And without sharp blades on your lawnmower, you might as well try cutting it with a sock puppet. You'll get the same results.
And then I found out how to sharpen my lawnmower blades.  With a blade sharpening kit.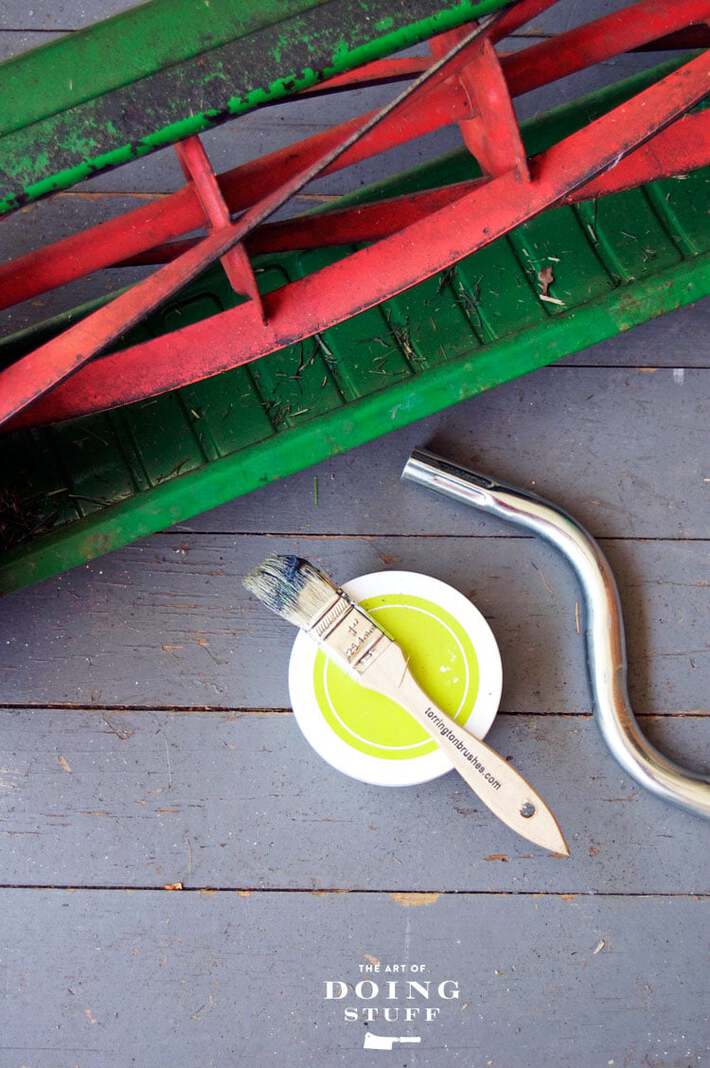 And angels sang and neighbours joined hands in song.
My lawn would no longer look like a 1980's haircut.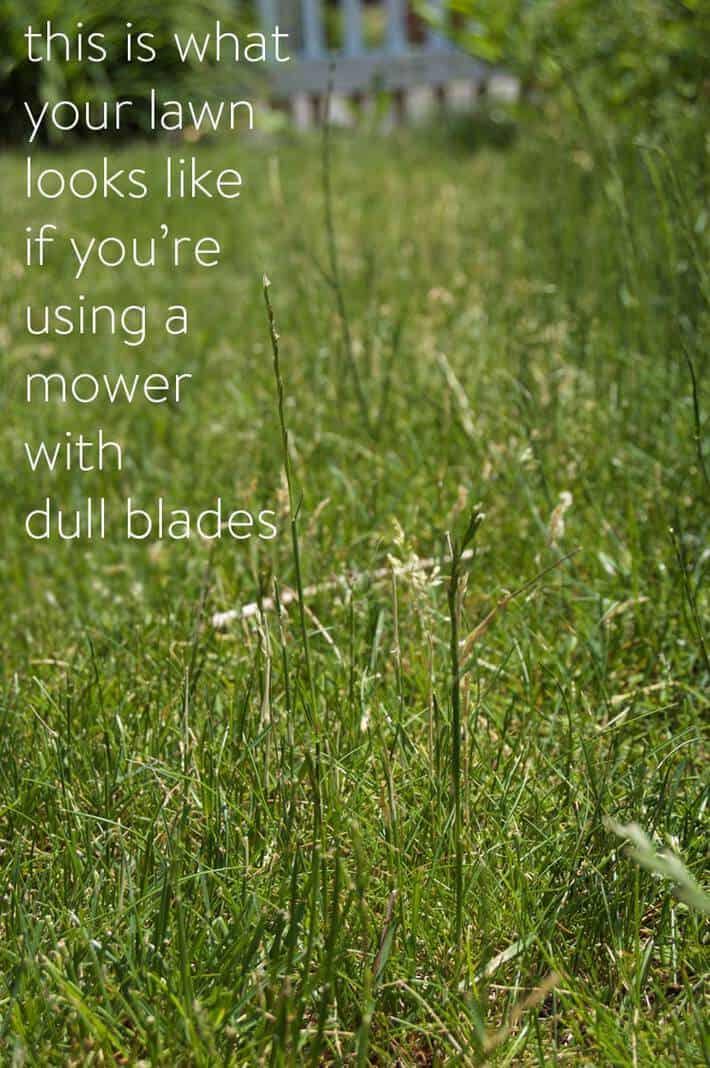 A blade sharpening kit is just some blade sharpening compound and a brush.  But it also comes with something very important. A handle that you have to insert into the wheel assembly so you can turn the mower blades over and over again to sharpen them.
To sharpen your push mower you need to take one of the wheels off.
This part might be scary to you; taking your lawn mower apart.  But you only partially take it a part.  Just a little bit.  Barely at all. Just a little off the top.
I know it scares you because it kind of frightened me too.  And I don't frighten all that easily.  I even got in bed with Jerry Springer once. I have photographic evidence. Which I didn't spend too much time searching for.
I accidentally found this blade sharpening kit at Lee Valley one day when I was wandering around but you can get the same one on Amazon for $14.
O.K. let's sharpen those lawn mower blades!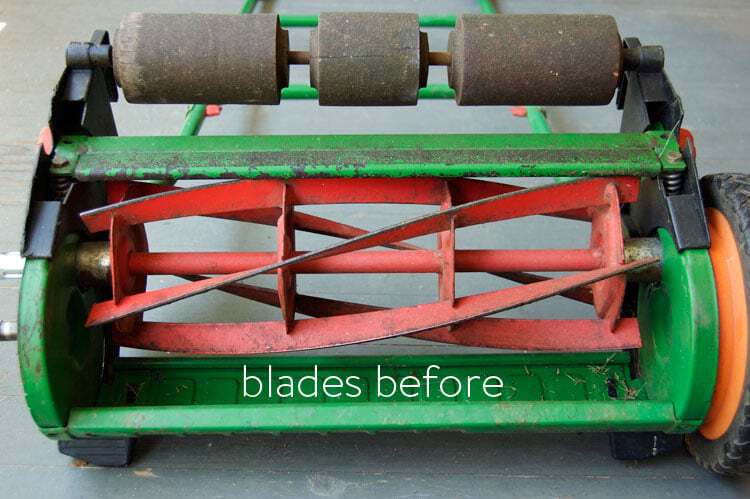 Before I get to the steps for sharpening, here's a look at the blades before.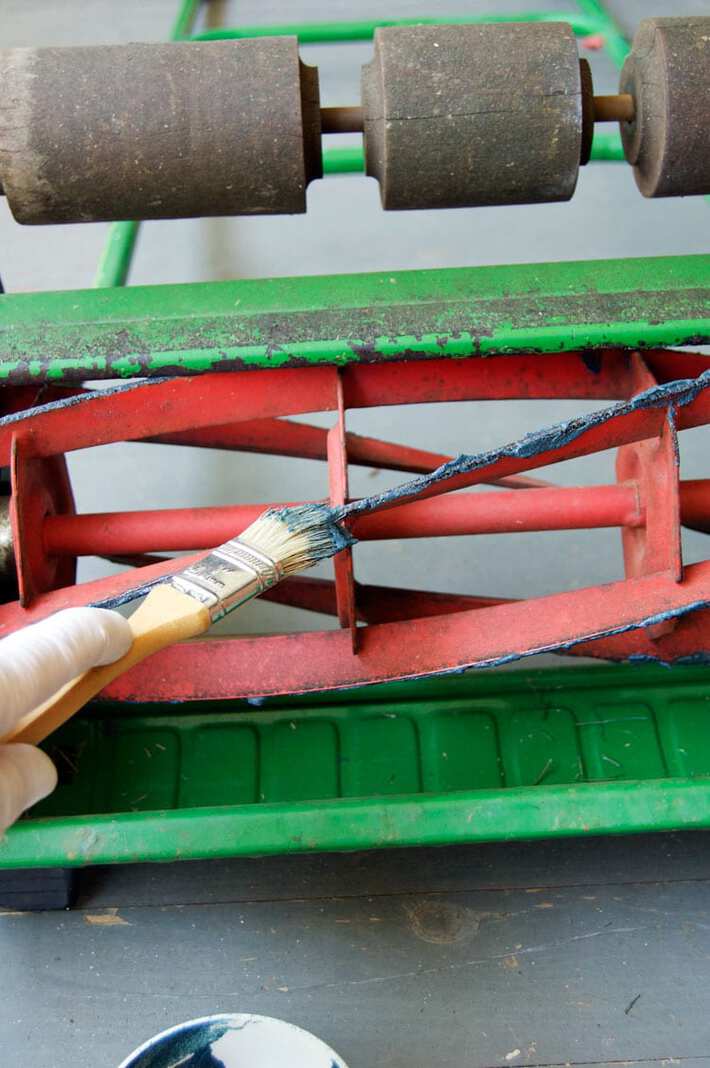 Brush the sharpening compound on the edges of all the mower blades.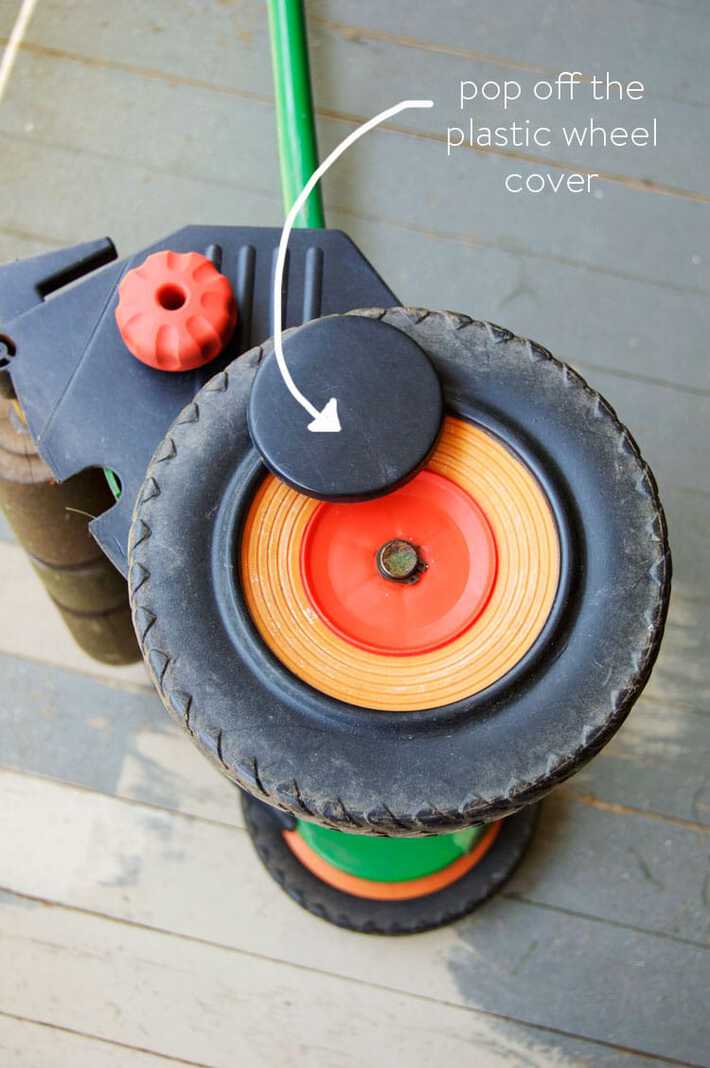 2.  Pop off the plastic cover on the left  wheel (the left wheel when you're pushing the mower).  It'll just pop off easily.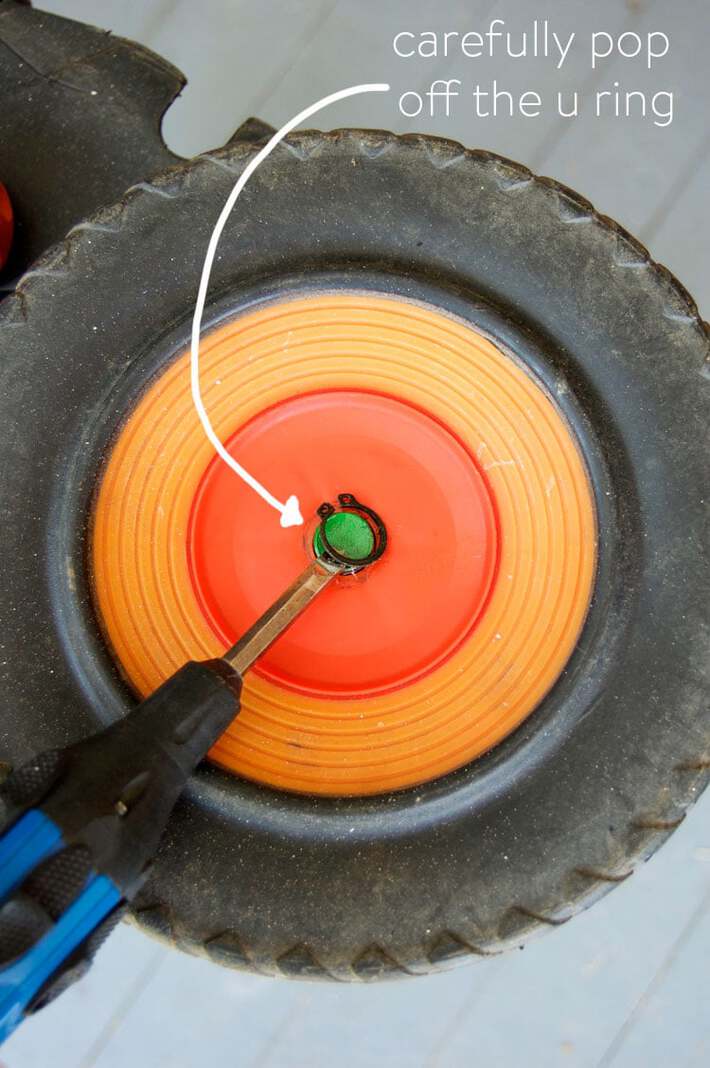 3.  Remove the U Ring. This one's trickier.  Don't try to bend it or force it.  Just use a screwdriver or knife and stick it under the U ring and gently pry the U ring up.  It'll seem like it'll never come off but all of a sudden it'll PING right off and you'll spend the next 10 minutes looking for it.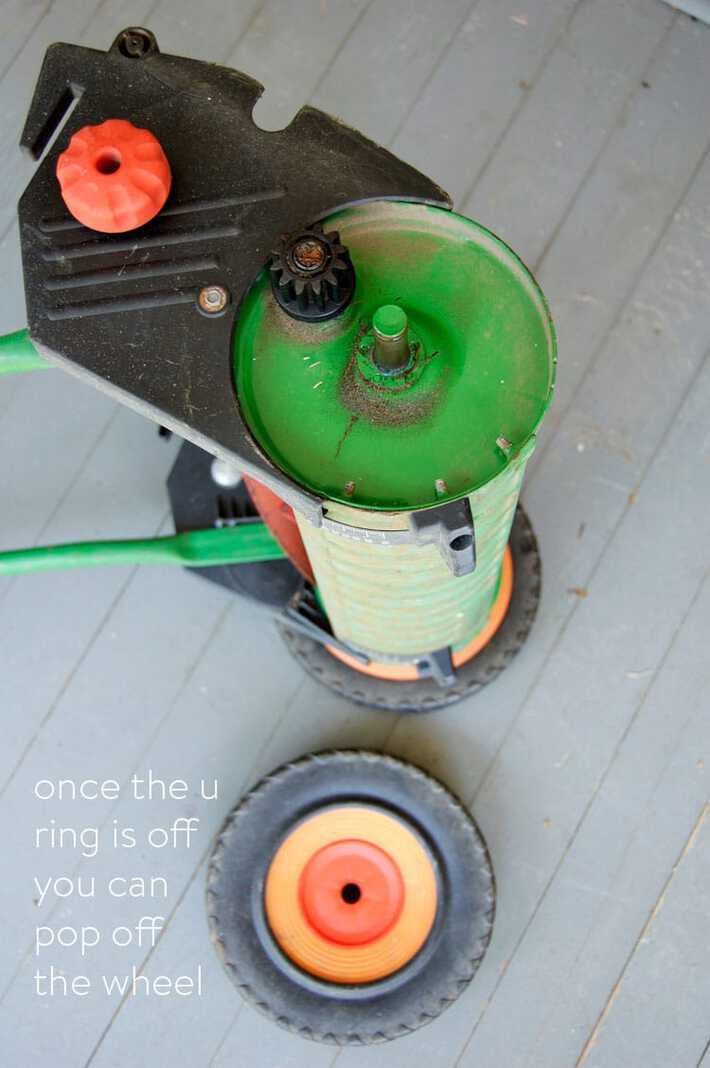 4.  Once the U ring is off you can just lift the whole wheel right off.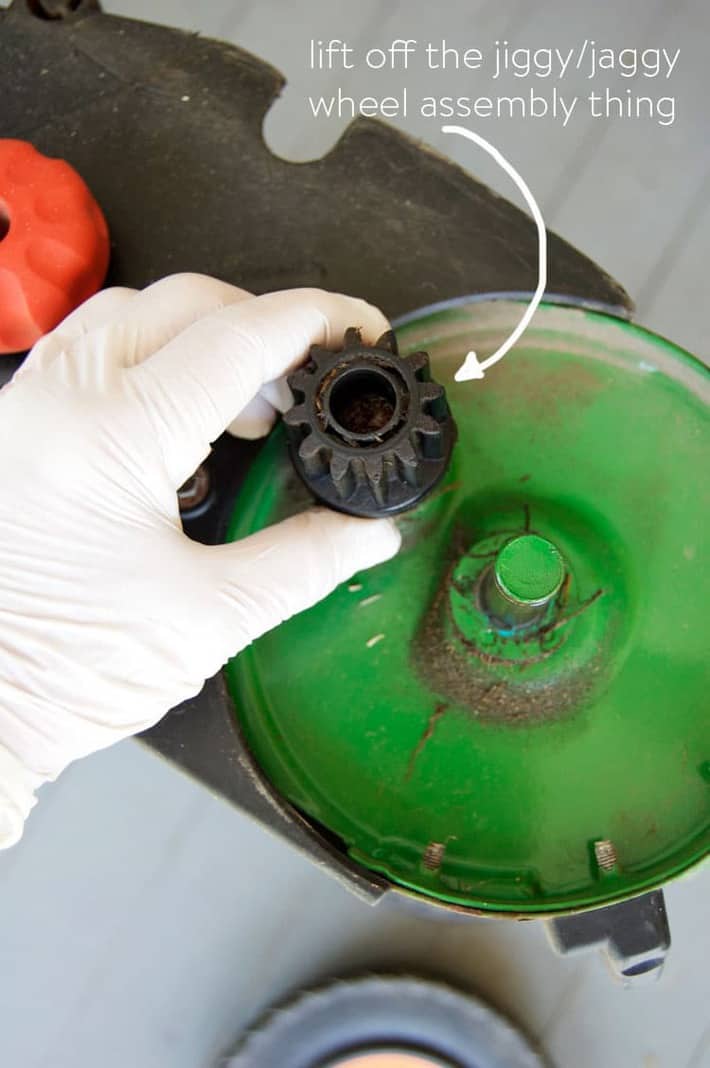 5.  Under the wheel you'll find the cogged jiggy/jaggy wheel assembly thing.  Gently pull it straight up and it will come off.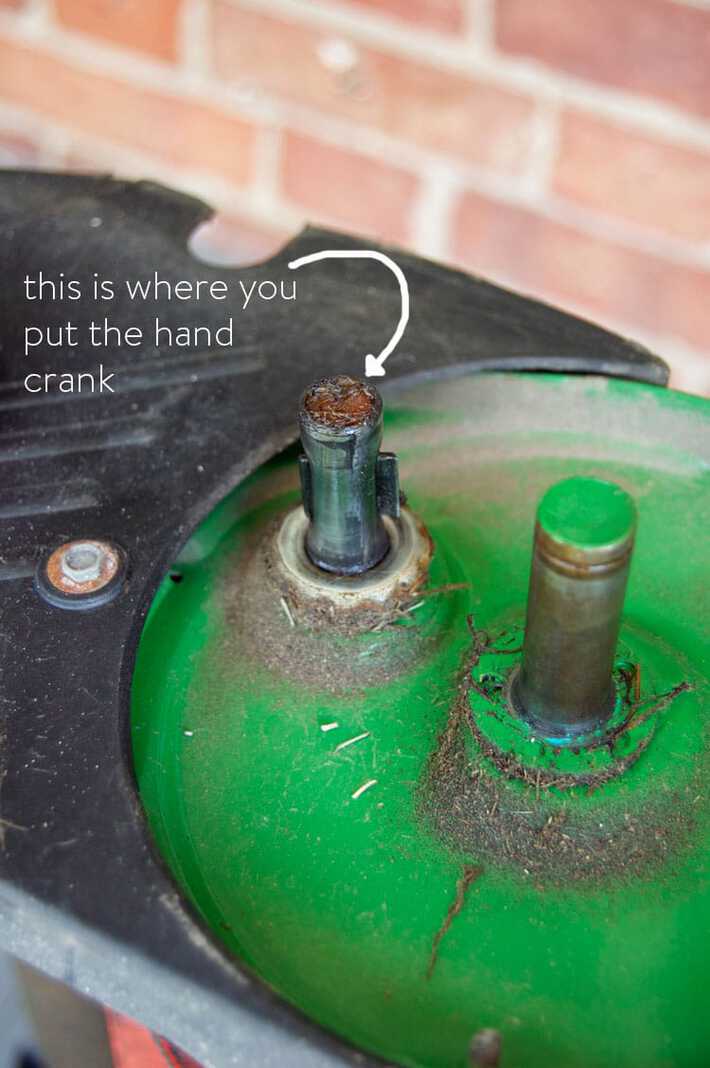 6.  Under the jiggy/jaggy thing is where you'll attach the hand crank that came with your kit.  Which is the whole reason you had to remove the wheel.
7. Attach the hand crank and turn, turn, turn in a counter clockwise motion.  You'll be going in the opposite direction than how the blades normally turn when you push the mower.  For 10 minutes you'll turn.
Then check your blades.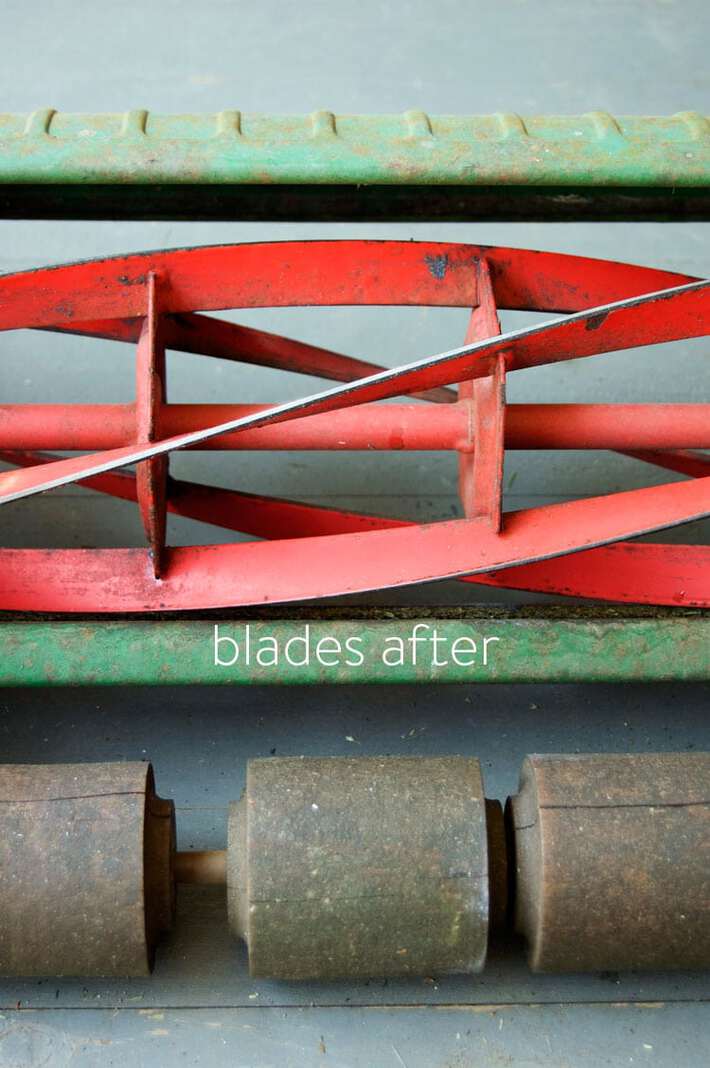 If your blades are evenly shiny and clean looking you're doing a good job.  If not, put a little more compound on and keep turning.  I had to do it twice and frankly could have done it another time but I got sick of turning.
8. Wipe off any remaining sharpening compound.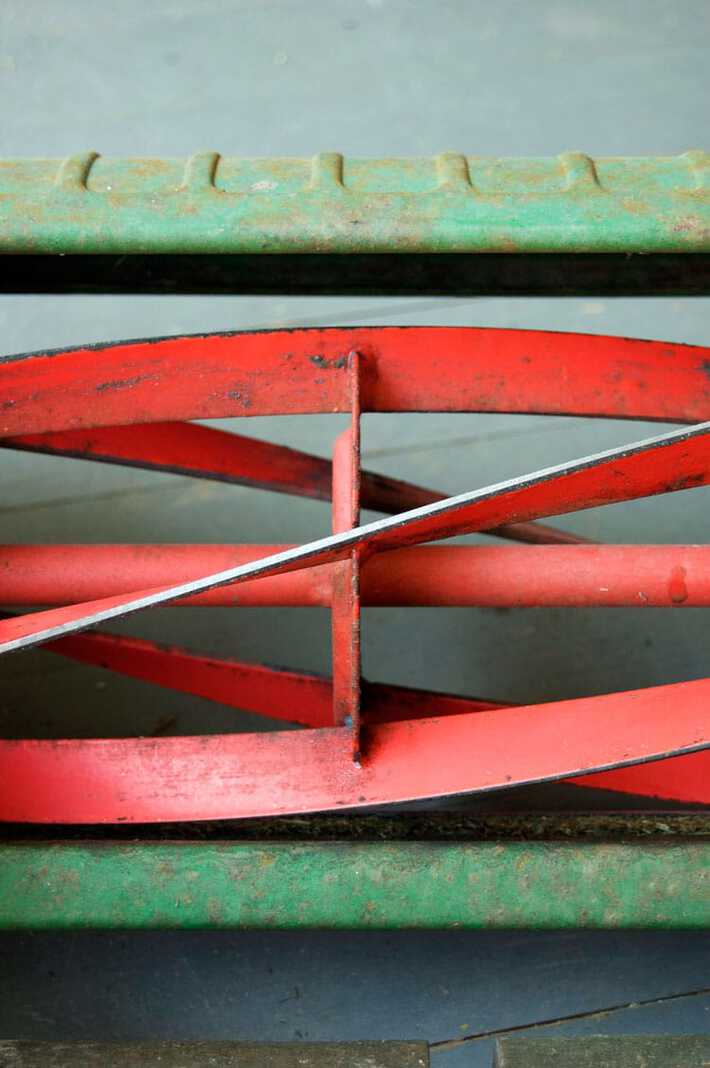 After sharpening the blades, put everything back together in the opposite order of how you took it apart.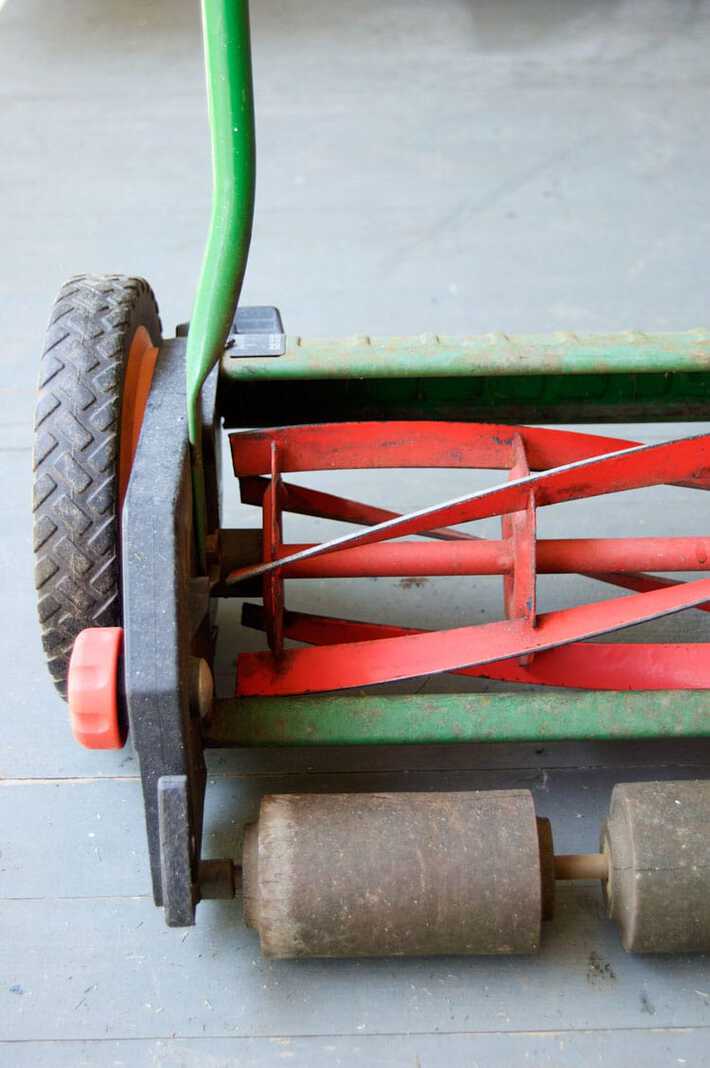 Then take your mower for a test run.  It should be much smoother, with a cleaner cut.  Also if you've noticed your grass looks brown on top where you cut it, sharpening and adjusting your lawn mower will stop that.
How to Sharpen your Push Mower
Apply blade sharpening compound to blades.
Remove mower wheel.
Insert hand crank.
Turn counter clockwise for 10 minutes.
Reassemble.
Wipe off excess compound.
Cut grass.
Maintaining things like your lawn mower, dryer, dishwasher will help them last a lot longer.  If I keep this up with my push mower in years I'll be saying "It's old. Not olden days old, but old.  The Cloud old."