More appropriate wording for this title would be red, blue & white as opposed to red, white & blue but that isn't as catchy. See what I got for the low, low price of $20 last week at the flea market.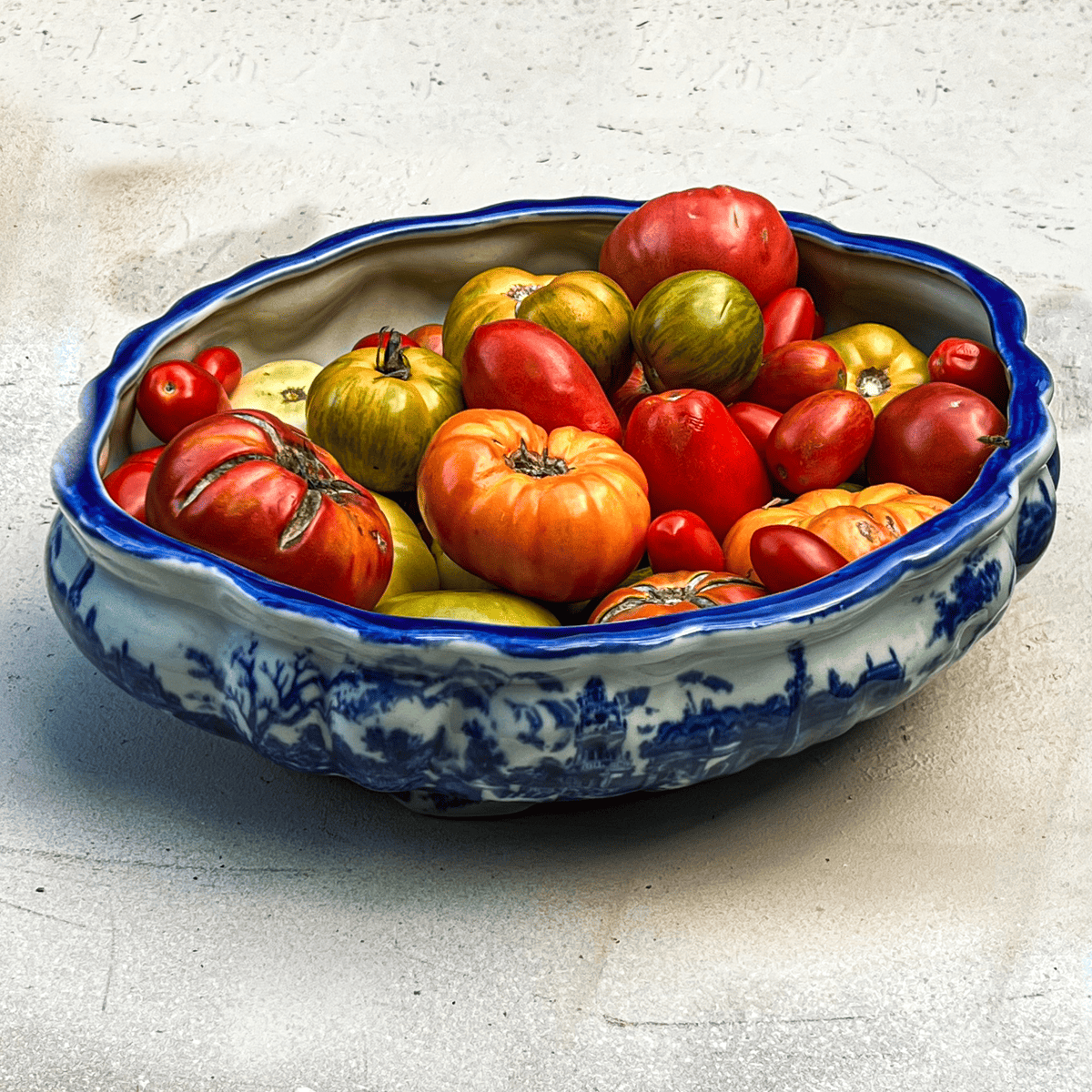 This isn't what you'd call a fine example of collectible flow blue. In fact, it isn't even flow blue. It's reproduction Victoriaware, probably made in the 80's or 90's.
But it has a good look and I liked it as soon as I saw it for my dining room table. Which is why as soon as I got it home I put it in the kitchen and filled it with tomatoes.
It looks good in there too.
Yep. It's full of fruit flies. Yep. I'm using this to get rid of them. I'm also using these mason jar screw on caps which I've never had success with before, but this year I gave them another shot and they're working great.
I always forget to mention (advice I've ignored right here) that to get rid of fruit flies you HAVE to get rid of their main source. In this case the tomatoes in the fake flow blue bowl.
For a while this summer I covered my village of tomatoes on the counter with cheesecloth to keep the fruit flies off.
It would have been a success had I not completely forgotten they were under there until a few started to liquify.
Out of sight, out of mind, out of tomato salad ingredients.
The 16 Piece Puzzle
You can now make the puzzle with as many or as few pieces as you want.
WANT MORE PUZZLE PIECES?
CLICK THE 3 DOTS ON THE UPPER RIGHT OF THE PUZZLE. Then click "CHANGE NUMBER OF PUZZLE PIECES". You'll be able to select however many pieces you want up to over 200 pieces.
To make the puzzle as reliable as possible:
Sign up for a Jigidi account and sign in before you do the puzzle. This will automatically save your puzzle for you so you don't lose it if you walk away from it for too long.
Hold your phone or tablet horizontally, not vertically.
1:06 for me. For a 16 piece puzzle. That was so pathetic, I thought I'd do it again. So I did. 51 seconds for the second try.
Now I felt like I was kind of on a roll so I did it again.
44 seconds.
One more time. Because now it's a game.
34 seconds.
This is where I cashed my chips in, called myself a winner and made a tomato sandwich
Have a good remainder of your weekend!