After much debate about the benefits and drawbacks, my boyfriend and I jointly decided to take up smoking about a month ago. It's totally worth it and completely cool. Don't let anyone tell you different. Sure ... it stinks up the house a little bit, but that's a small price to pay for something that's so mindnumbingly enjoyable.
And I can tell you right now, no way, no how am I going to quit. Ever. We all know it's addictive but I had no idea how quickly it would take hold. Like, instantly! It really isn't surprising that you rarely see people smoking in movies and on television. If people saw more of it, EVERYONE would take up the habit.
The very best part and worst part about it is, smoking becomes your best friend. A part of the family. Something that makes the hard times easier and the fun times even MORE fun!
Everyone has different tastes but this is my favourite thing to smoke.
Yup. Today I'm going to show you how to make bacon. From scratch.
A Step by Step Guide on How to Smoke Bacon
You'll need a pork belly.
You'll need a curing mixture like ReadyCure or Morton's Tender Quick.
You'll need brown sugar.
You'll need a smoker.
(It is possible to do this on a regular BBQ as well, but I'm just giving instructions for a smoker here)
(January and February are popular months for making products out of pork, so bellies are readily available in supermarkets at this time)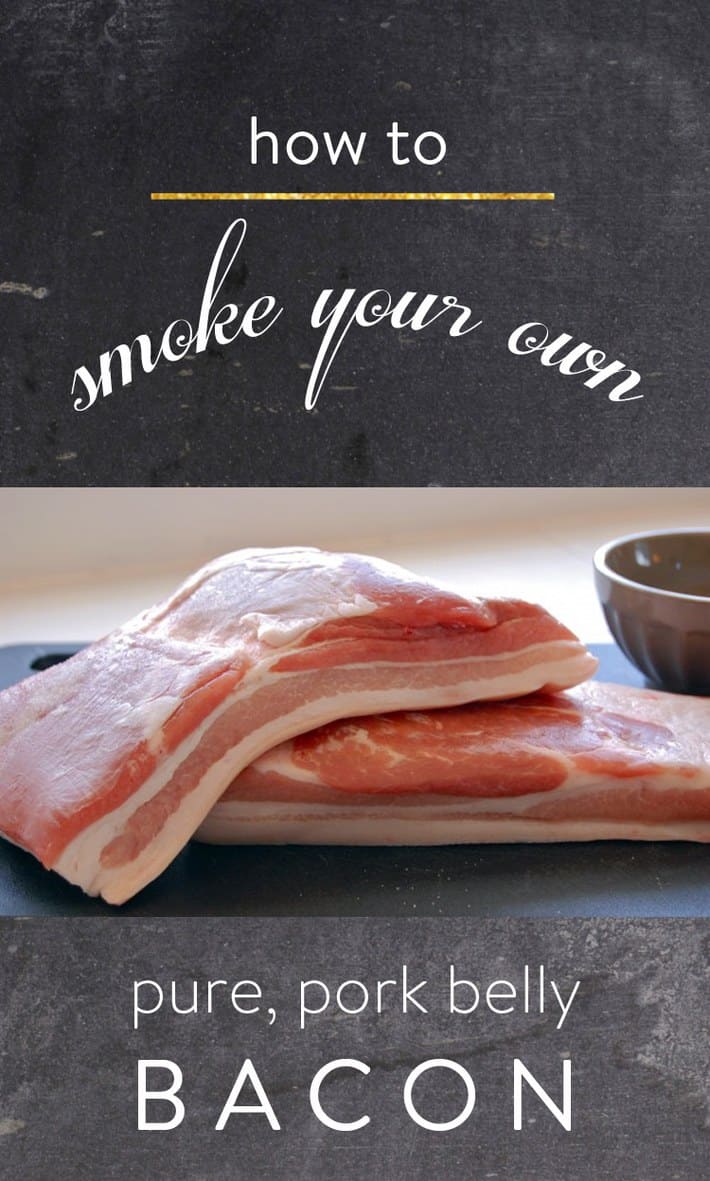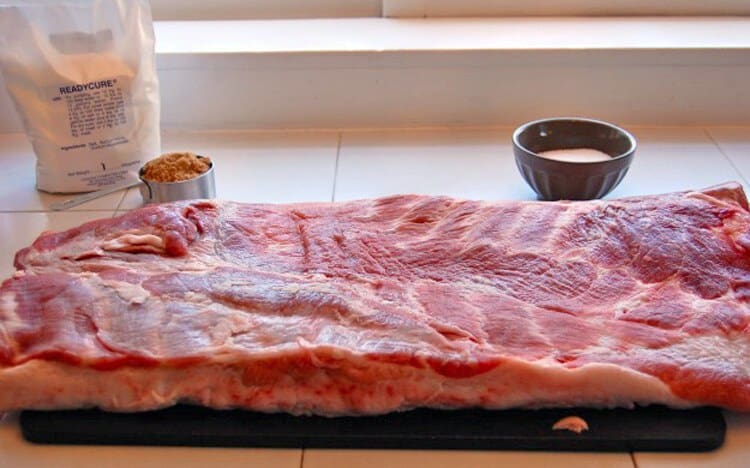 Your package of Cure will tell you how much you need to use per pound of meat. For me, it was ¼ lb of Ready Cure for the 12.5 lbs of meat I had.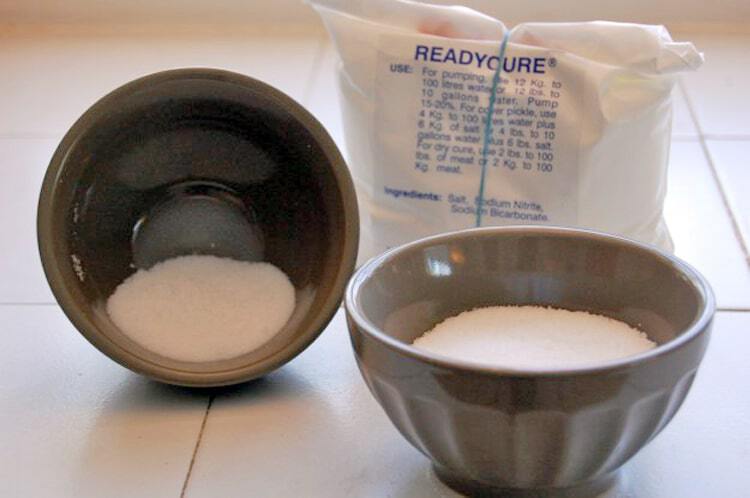 Mix the Ready Cure (or whatever curing salt you have bought) with an equal amount of brown sugar and set aside.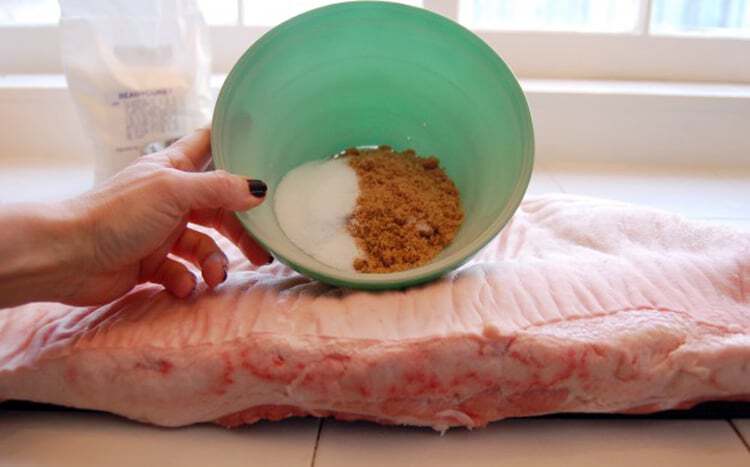 As you can see ... the pork belly comes with its skin attached. Sometimes as an added bonus, you also get nipples.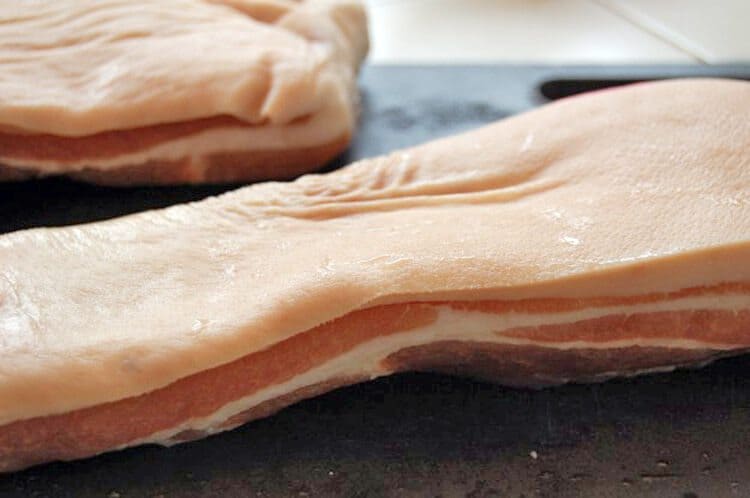 Before you cure your pork belly, you need to remove the skin. As long as you have a really sharp knife you'll be fine. It's easier to remove the skin if you cut your pork belly into 3 pieces. Just cut it into 3rds, running widthwise. (not the length of the belly)
Slip your knife under the skin, trying not to remove too much of the fat.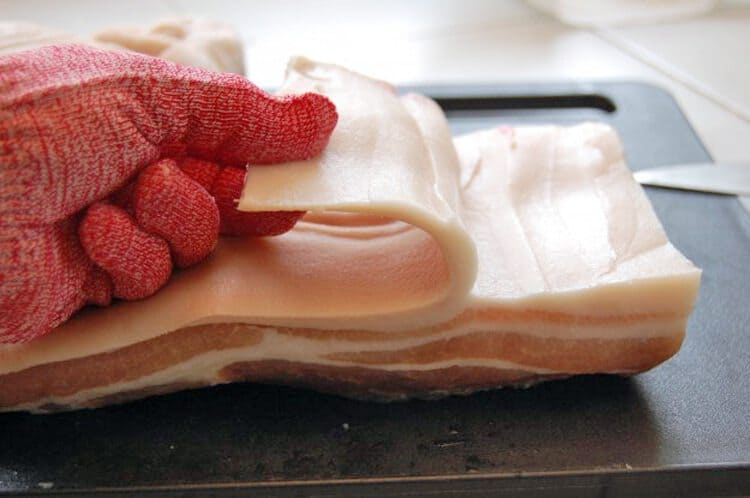 That's a butcher's glove I'm wearing. It's cut resistant. As I am cut prone.
Once you have the skin removed you can sprinkle the salt/sugar mixture over the entire pork belly. Do it the same way you'd put any dry rub on.
Sprinkle it on, then rub it in.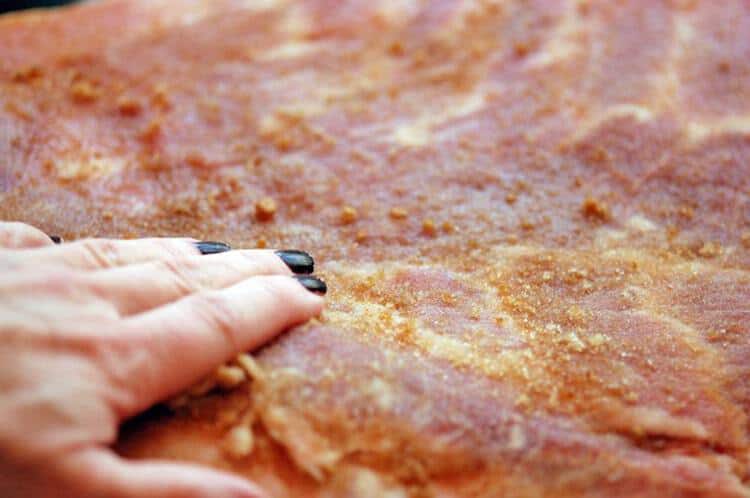 Once all your pieces are covered in rub, wrap then up tightly in a plastic bag, or put them in a large Tupperware container. They now go in the fridge for 5-7 days. I cured mine for 7 full days. Every day flip the bags/Tupperware over. Juices will form and settle in the bottom of the container. You want to make sure every side of the bacon is getting an even coating, so flip, flip, flip.
Once the 7 days of curing are up, remove the bacon from the fridge and rinse the pork belly under water. Once it's rinsed, let it soak in a sink full of water for 2-4 hours. The longer you soak the bacon, the less salty it will be. I accidentally soaked mine for 4 hours. I would have preferred 2. The bacon is still quite salty after 4 hours ... just not quite as salty as it would be if you only soaked it for 2 hours.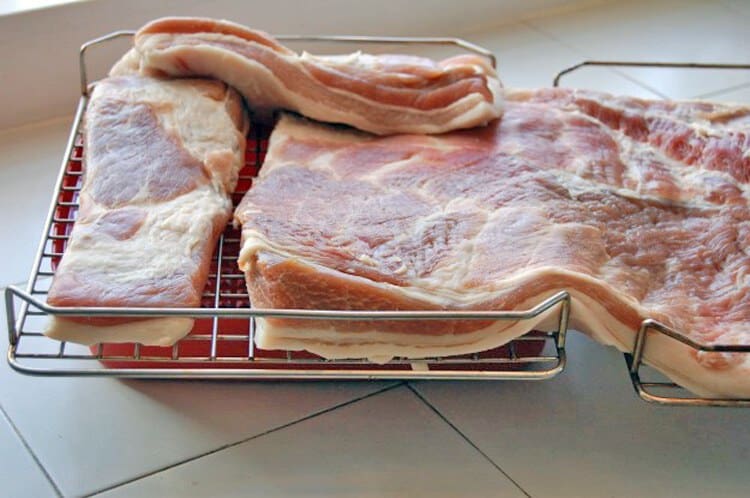 Your pork belly now needs to air dry. After removing it from the water in the sink, dry it with paper towels or a clean cloth.
Elevate it on a cookie cooling rack or something. It needs to get good air circulation all the way around it. Put it back in the fridge on the racks for another ½ day. (I did this step overnight so the bacon was ready to start smoking in the morning) The reason you dry the pork belly like this is so the meat forms a layer of pectin. Or something like that. I'm not really sure. It has to do with pig science. Also, wet meat won't take smoke. So in order to smoke your pork belly, you need meat that is dried.
By now you have approximately 8 days into this fiasco and you're thinking, I believe I will just buy a pound of bacon next time. That's only because you haven't had the fun part yet. The smoking. Well today, day 8 is fun day. Get your smoker fired up!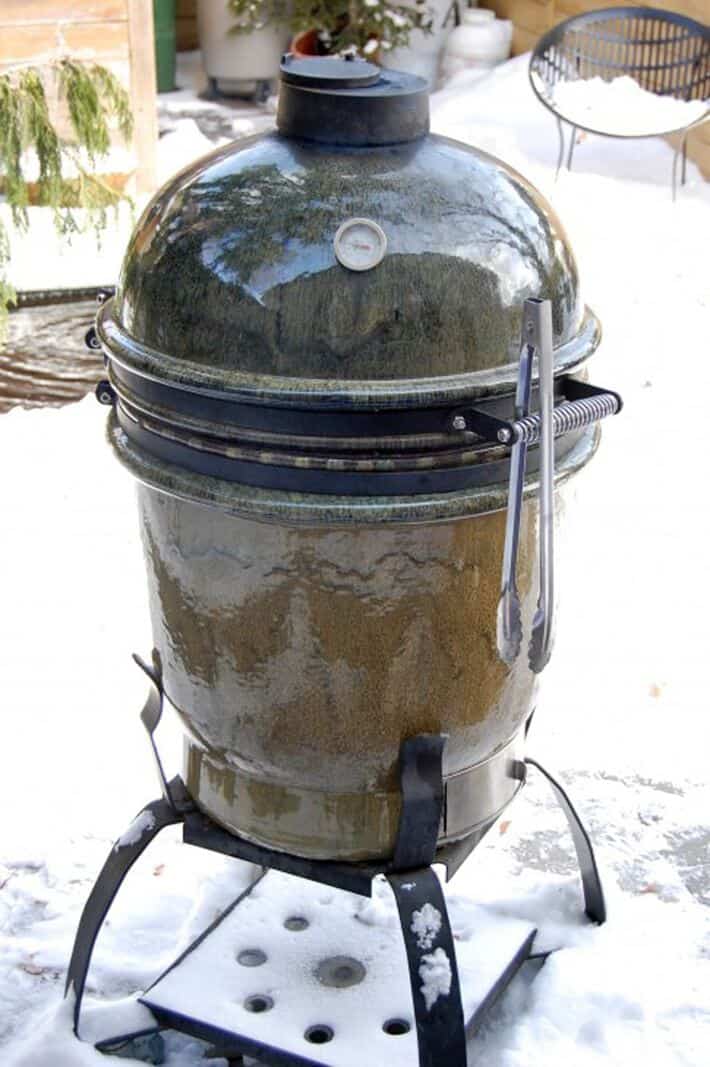 You want to slowly bring the smoker up to 180 degrees. Give it about an hour, with your drafts only open a minuscule amount.
Once your smoker is at temperature and a stream of nice blue smoke it coming out add 1 or 2 pieces of your favourite fruitwood. Bacon loves fruitwood. Apple and Cherry are the most popular. I chose Cherry. Because that's what I had in the shed.
And a quick note here about smoking with wood. Unless you're some kind of freakish smoke connoisseur you are not going to be able to tell what kind of wood your meat was smoked with. Your bacon will not taste like Apple or Cherry. It'll taste like bacon. So don't fret too much about the wood you use. Any piece of hardwood will work quite frankly.
Go ahead ... add your wood.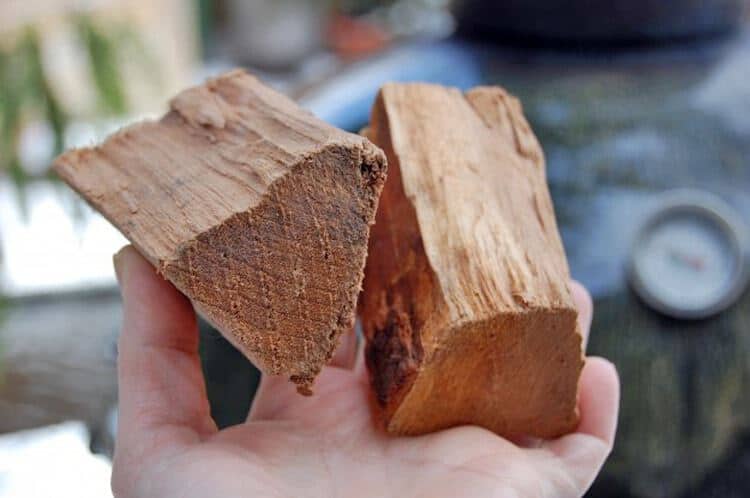 Now it's fun time. Time to put your pork belly on the smoker. I had both one full pork belly and 2 smaller centre cut pieces. The centre cut is the prized cut because it has the best distribution of fat to meat. It is literally the hunk of meat in the centre of the pork belly.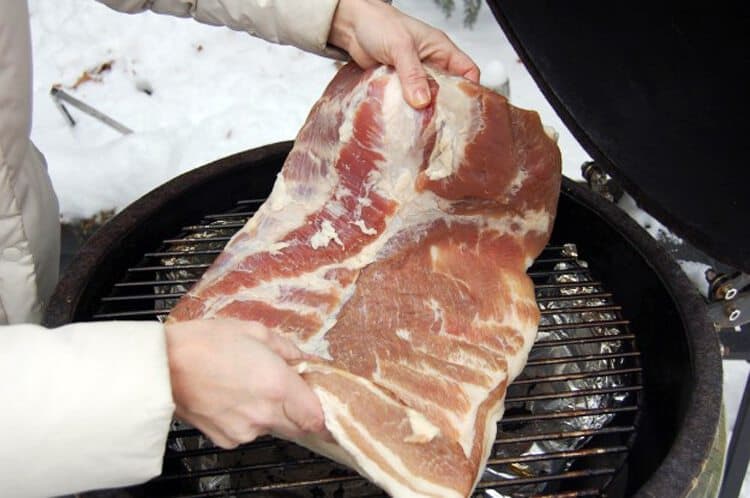 Since I had several pieces of pork belly, and not a lot of surface area on my smoker, I improvised a rack with my cookie cooling racks.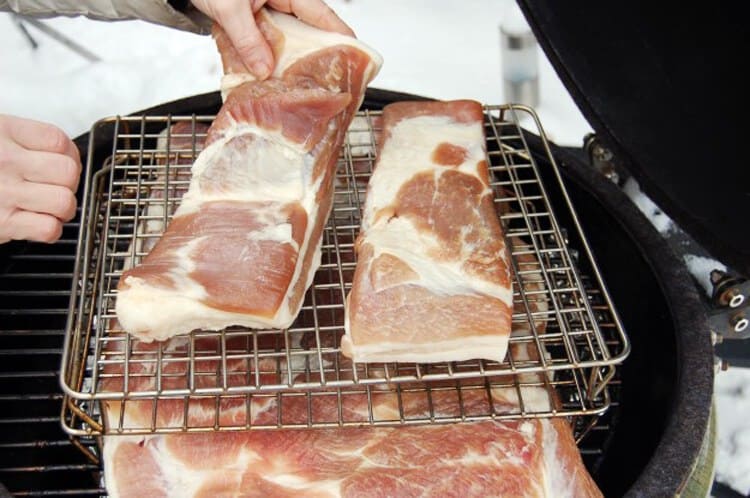 Now the difficult part. You have to close the lid and leave it alone. Do not open the lid. Do not be tempted to look at it. Just leave it. Keep an eye on your temperature. You need to smoke the bacon at 180 for 3 hours. At the end of 3 hours, slowly bring the temperature up to 220 by opening your bottom vent a little bit. Smoke for another 2 hours.
At this time (if you aren't using a remote meat thermometer) you can go out and check your bacon. You are looking for an internal temperature of 145°.
You DO NOT want your bacon to reach a higher temperature than this because the fat will start to render. And that is bad for your bacon.
I checked my bacon after 3 hours at 180° and 2 hours at 220°. It was over 150°!!! HOLY CRAP! Off it came.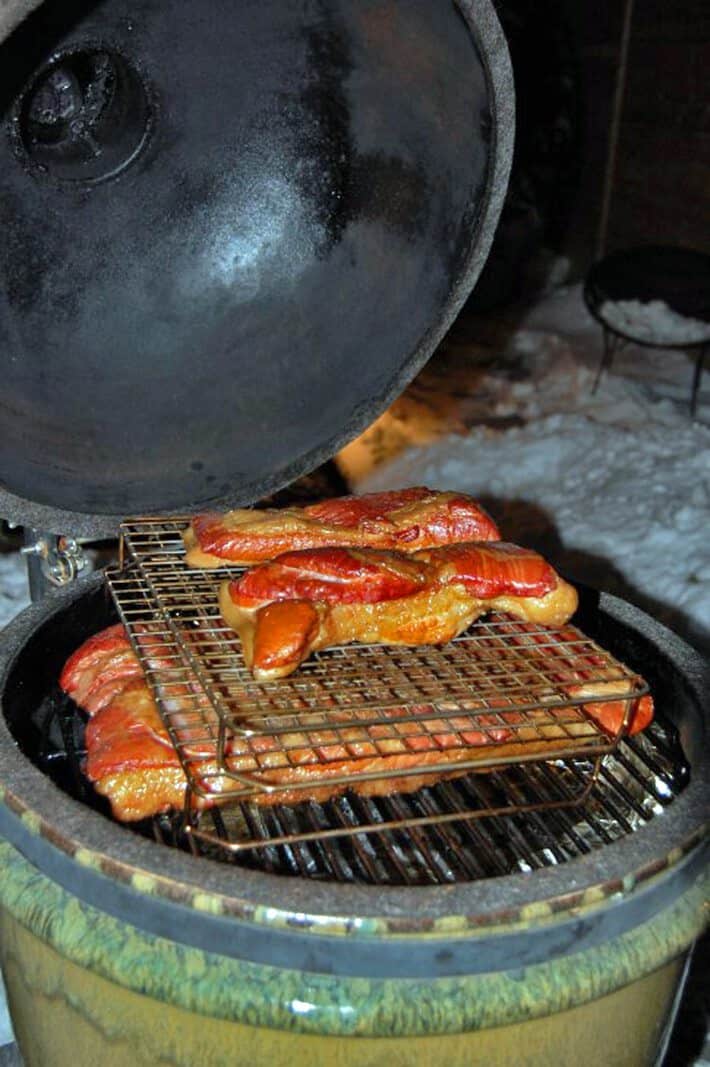 Bring your bacon inside and admire it. If you're anything like me (and I think you are) you'll be shocked ... because it looks just like bacon.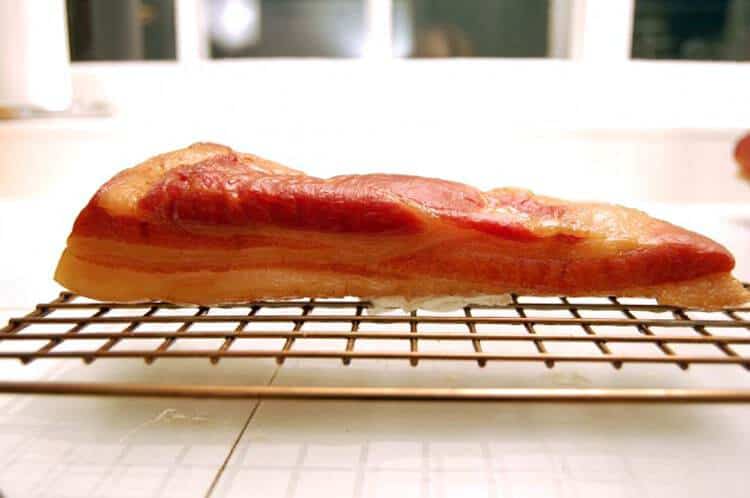 This is where you can see the fat that has rendered. It's drippy. Luckily I caught the meat in time ... I SAVED THE BACON.
Now it'll probably be late at night so you can just stick the bacon in the fridge until you're ready to slice it tomorrow.
To slice the bacon, either partially freeze it and slice it with a very sharp knife by hand or use a meat slicer. We used a meat slicer.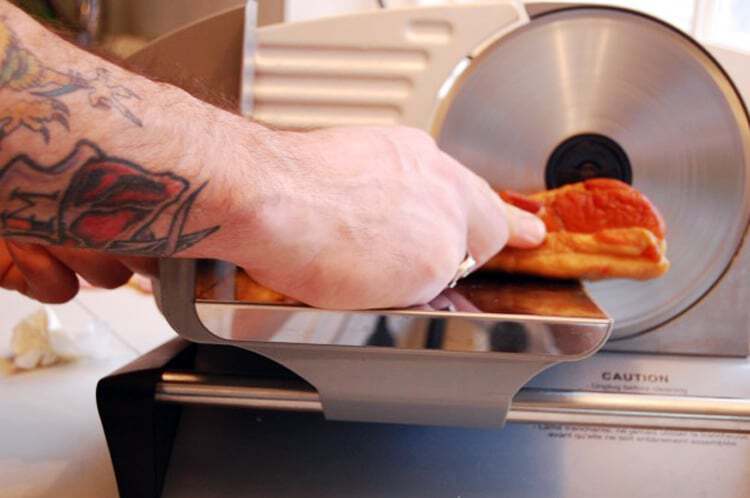 When you cut the bacon, you're cutting it across the width. Not the length.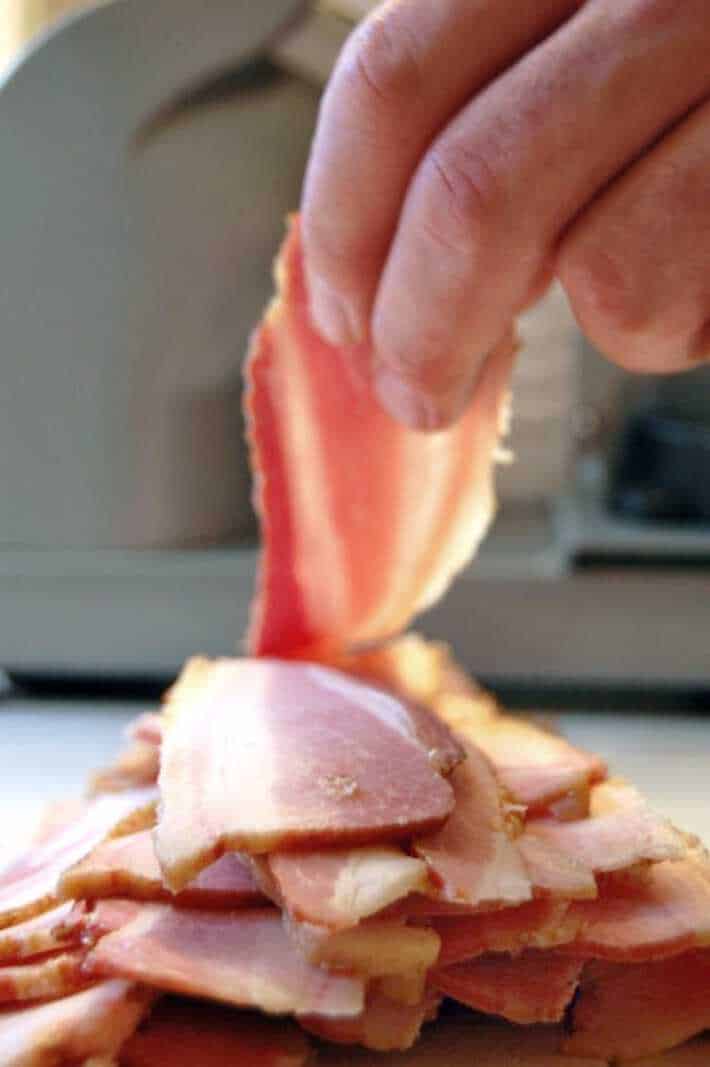 Once you have your bacon all cut into pieces, wrap it in plastic wrap in the amounts you eat at once. Nothing says you HAVE to wrap it in pound packages, like you buy it in the grocery store. I find for us, 7 pieces is about the right number.
Put it all in the freezer, unless you CANNOT wait to try it. Obviously ... because I'm of sound mind and body ... I could not wait to try it.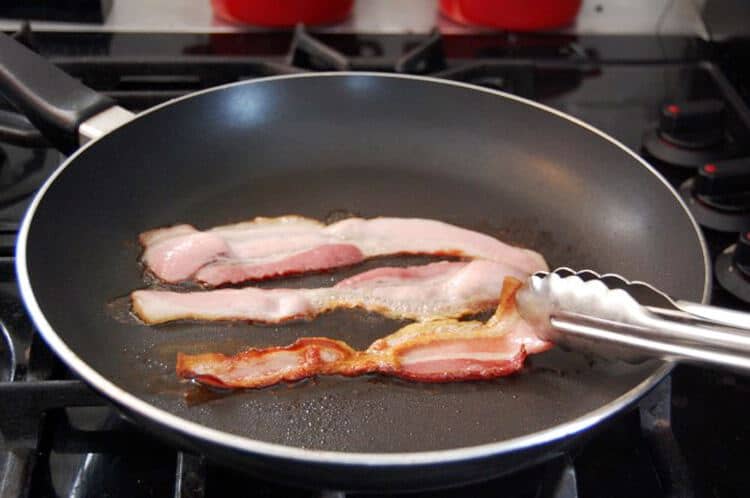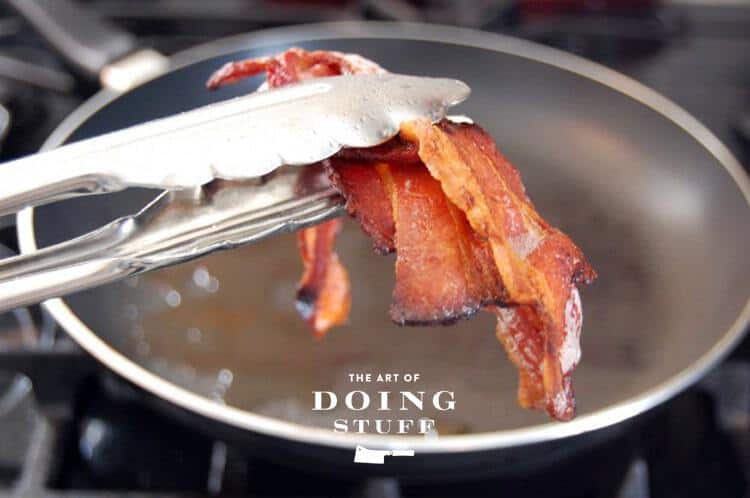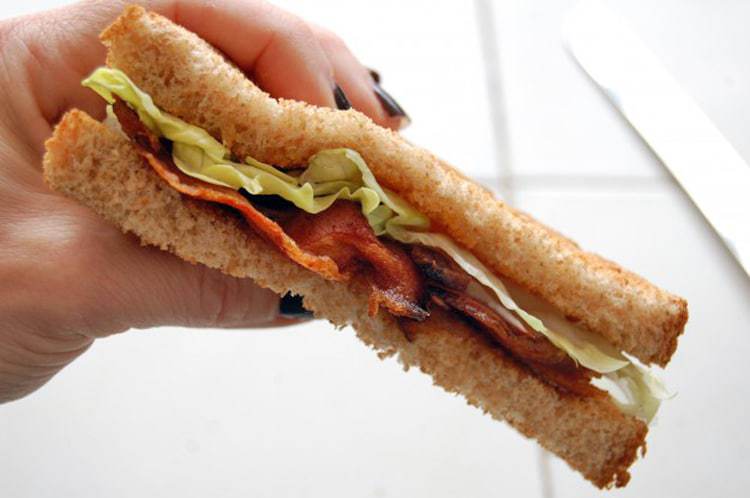 And there you have it. From the pig to the pan. How to make a bacon sandwich.
Please note. Smoking is addictive and habit forming.
Special thanks to Mike Callaghan from The Black Pig BBQ team. Whenever I had a bacon makin' question ... he was right there to answer it.